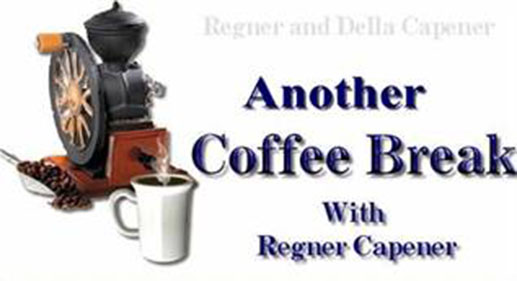 ANOTHER COFFEE BREAK: A NEW ONOMA, Part 1
May 17, '08 1:50 PM
Today's thought
from
Bible Friend.
May 17.
(Joh 10:27) My sheep hear my voice, and I know them, and they follow me:
(Joh 10:28) And I give unto them eternal life; and they shall never perish, neither shall any man pluck them out of my hand.
(Joh 10:29) My Father, which gave them me, is greater than all; and no man is able to pluck them out of my Father's hand.
(Joh 10:30) I and my Father are one.
Today's thought
from
Bible Friend.
May 16.
(Psa 52:8) But I am like a green olive tree in the house of God: I trust in the mercy of God for ever and ever.
(Psa 52:9) I will praise thee for ever, because thou hast done it: and I will wait on thy name; for it is good before thy saints.
***
God bless you!
dalfrath.
***
This webset page was assembled on Friday May 16, 2008 by dalfrath
with graphics from
the public domain
using one of the many auto-

scripters

available at
Chat_Central_Gateway
All rights reserved
ゥ
KENDOC
2005-7

Regner A. Capener
CAPENER MINISTRIES
RIVER WORSHIP CENTER
Sunnyside, Washington 98944
Email Contact: Admin@RiverWorshipCenter.org
All Coffee Break articles are copyright by Regner A. Capener, but authorization for reprinting, reposting, copying or re-use, in whole or in part, is granted –provided proper attribution and this notice are included intact. Older Coffee Break archives are available at http://www.RegnersMorningCoffee.com. Coffee Break articles are normally published weekly.

If you would like to have these articles arrive each morning in your email, please send a blank email to: Subscribe@AnotherCoffeeBreak.com.To remove yourself from the mailing list, please send a blank email to Unsubscribe@AnotherCoffeeBreak.com.
CAPENER MINISTRIES is a tax-exempt church ministry. Should you desire to participate and covenant with us as partners in this ministry, please contact us at either of the above email or physical addresses, or visit: http://www.RiverWorshipCenter.org.