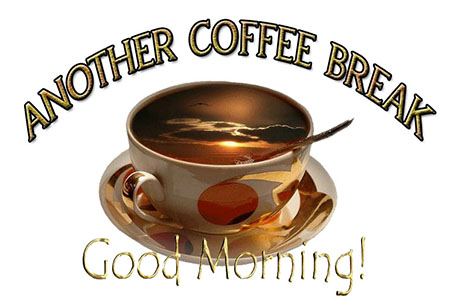 ANOTHER COFFEE BREAK: THE PSALM 23 ADVENTURE, Part 7
July 29, 2016
Good Morning! Did you realize that this is going to be the best day of your life thus far? Expect it!
Over the years people have known me for that phrase, but when you realize that "this is the day that the Lord hath made: we will be glad and rejoice in it," each day we walk with the Lord just gets better and better and better! There is a fascinating aside to the understanding of the "day of the Lord" or the "day that the Lord" makes. Each time you see those phrases in Scripture, it represents a day when God executes judgment against the enemies of His people. It represents God arising in defense of His chosen and beloved.
There's another reason why I use that phrase. It is the confession of my mouth. The words that I speak are creative. They are spoken in agreement with what God has said -- and is saying! We were created in the image and likeness of God. Whenever God speaks, whatever He speaks IS. It is impossible for it not to be. He is the Creator. When He spoke Creation came into being.
Now, perhaps, you begin to understand why David continually spoke -- in agreement -- the Word of God. He meditated on it. We pick up, therefore, with where we left off last week looking at the confessions -- the agreements with God -- that David made just in the 119th Psalm.
David had been immersed -- and immersed himself -- in the Torah his whole life. Those books of the Law were the ONLY books available in his day, and he revered it — NOT as the Mosaic Law, but as the Law of God! Watch how he expresses himself!
Psalm 119:1: Blessed are the undefiled in the way, who walk in the Law of the Lord.
Psalm 119:9-11: Wherewithal shall a young man cleanse his way? by taking heed thereto according to thy word. With my whole heart have I sought thee: O let me not wander from thy commandments. Thy word have I hid in mine heart, that I might not sin against thee.
Psalm 119:16: I will delight myself in thy statutes: I will not forget thy word.
Psalm 119:18: Open thou mine eyes, that I may behold wondrous things out of thy law.
Psalm 119:26-28: I have declared my ways, and thou heardest me: teach me thy statutes. Make me to understand the way of thy precepts: so shall I talk of thy wondrous works. My soul melteth for heaviness: strengthen thou me according unto thy word.
Psalm 119:33-35: Teach me, O LORD, the way of thy statutes; and I shall keep it unto the end. Give me understanding, and I shall keep thy law; yea, I shall observe it with my whole heart. Make me to go in the path of thy commandments; for therein do I delight.
Psalm 119:41-44: Let thy mercies come also unto me, O LORD, even thy salvation, according to thy word. So shall I have wherewith to answer him that reproacheth me: for I trust in thy word. And take not the word of truth utterly out of my mouth; for I have hoped in thy judgments. So shall I keep thy law continually forever and ever.
Psalm 119:57-64: Thou art my portion, O LORD: I have said that I would keep thy words. I entreated thy favour with my whole heart: be merciful unto me according to thy word. I thought on my ways, and turned my feet unto thy testimonies. I made haste, and delayed not to keep thy commandments. The bands of the wicked have robbed me: but I have not forgotten thy law. At midnight I will rise to give thanks unto thee because of thy righteous judgments. I am a companion of all them that fear thee, and of them that keep thy precepts. The earth, O LORD, is full of thy mercy: teach me thy statutes.
Psalm 119:97-104: O how love I thy law! it is my meditation all the day. Thou through thy commandments hast made me wiser than mine enemies: for they are ever with me. I have more understanding than all my teachers: for thy testimonies are my meditation. I understand more than the ancients, because I keep thy precepts. I have refrained my feet from every evil way, that I might keep thy word. I have not departed from thy judgments: for thou hast taught me. How sweet are thy words unto my taste! yea, sweeter than honey to my mouth! Through thy precepts I get understanding: therefore I hate every false way.
Psalm 119:105-112: Thy word is a lamp unto my feet, and a light unto my path. I have sworn, and I will perform it, that I will keep thy righteous judgments. I am afflicted very much: quicken me, O LORD, according unto thy word. Accept, I beseech thee, the freewill offerings of my mouth, O LORD, and teach me thy judgments. My soul is continually in my hand: yet do I not forget thy law. The wicked have laid a snare for me: yet I erred not from thy precepts. Thy testimonies have I taken as an heritage for ever: for they are the rejoicing of my heart. I have inclined mine heart to perform thy statutes alway, even unto the end.
And THAT is just a fraction of David's expressions of love for the Lord and love for the Word! You'll recognize some of these passages as songs that we sing from time to time.
David was consumed with a thirst for the Word of the Lord. As I have already shared with you, when I sat with him and we talked for hours on end, his desire for the God's Word, his desire to please the Lord manifested in the songs he sang by the hour.
You'll recall that this was firmly established in his nature, character and daily behavior when he was called as a "minstrel" to come and play in the court of King Saul. The Word was so ingrained in him and in his music that when he played, evil spirits fled.
THAT, folks, is the power of the Word — whether that power is expressed through our lives, through the words we speak, or through the music that flows from our being under the direction and inspiration of the Holy Spirit. We MUST BE THE WORD MADE FLESH! And the ONLY way that can happen is that we first ingest it, then digest it into our beings!
Now, do you understand, "He maketh me to lie down in green pastures?" Good, then watch what comes next.
In John 4, we read of an event that took place as Jesus was in Samaria. A woman of poor repute comes to Jacob's well at mid-day to draw water and sees Jesus sitting at the well. Here's how the exchange between them is recorded.
John 4:7-13: There cometh a woman of Samaria to draw water: Jesus saith unto her, Give me to drink. (For his disciples were gone away unto the city to buy meat.) Then saith the woman of Samaria unto him, "How is it that thou, being a Jew, askest drink of me, which am a woman of Samaria? for the Jews have no dealings with the Samaritans."
Jesus answered and said unto her, "If thou knewest the gift of God, and who it is that saith to thee, Give me to drink; thou wouldest have asked of him, and he would have given thee living water."
The woman saith unto him, "Sir, thou hast nothing to draw with, and the well is deep: from whence then hast thou that living water?
"Art thou greater than our father Jacob, which gave us the well, and drank thereof himself, and his children, and his cattle?"
Jesus answered and said unto her, "Whosoever drinketh of this water shall thirst again: But whosoever drinketh of the water that I shall give him shall never thirst; but the water that I shall give him shall be in him a well of water springing up into everlasting life."
Have you ever given consideration to exactly what Jesus was saying and what He was revealing? David understood this revelation when he wrote in the 23rd Psalm,
"He leadeth me beside the still waters."
This is a place that we are led to — NOT a place we are compelled to go, and either are we being compelled to drink. Jesus was making it clear that "whosoever" would drink, would receive in return a "well of water springing up" within them that would literally change their lives. They would NEVER be thirsty again.
How could that be? What was Jesus referring to? Remember where we left off in "He maketh me to lie down in green pastures"? We were compelled to focus on the Word. We were compelled to KNOW the Word Himself, to thirst after it, to eat of it until it filled every nook and cranny of our lives. THAT was just the foundation that had to come before we could be led to the still waters.
Before we move on, consider what John sees in Revelation:
Revelation 22:1-2: And he showed me a pure river of water of life, clear as crystal, proceeding out of the throne of God and of the Lamb. In the midst of the main street coming from the throne, and on either bank of the river, grew the tree of life, bearing twelve different kinds of fruits, a different kind of fruit for each month; and the leaves of the tree were for the healing of the nations. (RAC Translation & Amplification)
Are you seeing the "waters" that Jesus was referring to? These waters feed the Tree of Life! To make Jesus Lord and Shepherd of our life, we MUST depart from the Tree of the Knowledge of Good and Evil. We MUST begin to eat of the Tree of Life. Before that can happen in the most practical sense, we have to move beyond just eating of the Word to that place where the Word now becomes revelation in our beings. It is no longer words that our mind can understand, or that our reasoning can deal with.
Revelation is that which makes the Word come alive in us. Revelation is that which causes the Word to spring up in our beings. Revelation is that which causes us to become the Word made flesh in the most demonstrative way.
Take a look at another revelation that David shares in the very first of the Psalms:
Psalm 1:1-3: Blessed is the man that walketh not in the counsel of the ungodly, nor standeth in the way of sinners, nor sitteth in the seat of the scornful. But his delight is in the law of the LORD; and in his law doth he meditate day and night. And he shall be like a tree planted by the rivers of water, that bringeth forth his fruit in his season; his leaf also shall not wither; and whatsoever he doeth shall prosper.
That brings us to the central theme of this discussion, He leadeth me beside the still waters.
In the previous step, we were compelled to lie down in the green pastures. The Lord was making it clear that without the foundation of His Word, there is no going forward in Him. There are many folks who think that if they hear the "voice" of God speaking to them, that's all they need. The problem with that assumption is that without the foundation of the Word laid firmly in their lives, they have no guideline, no means by which they can measure the "voice" they are listening to.
I'm not quibbling with folks who hear the voice of God and respond to it. Believe me when I say that this becomes critical to us as we continue on in our growth and relationship with the Lord Jesus Christ.
What I'm saying is that if indeed what we hear is coming from Holy Spirit speaking in us, it will be firmly and authoritatively backed by the written Word. Remember, the Word of the Lord is ALWAYS affirmed out of the mouth of two or more witnesses! ANYTHING that God speaks to us directly will be backed up in His written Word. If what we hear cannot be supported by the written Word, what we are hearing is a Spirit of Error, and that spirit is trying to lead us down the primrose path.
OK, I kind of started running down a rabbit trail there, but it was necessary before we continue.
Notice the big difference in the choice of words Holy Spirit uses here.
a. He "makes us" to lie down in green pastures.
b. He "leadeth us" beside the still waters.
This is no mistake! Let me say this again. When it comes to the foundation of the Word in our lives, we cannot continue in our growth and development in Jesus Christ — and that growth is based on our foundation in the Word. Hence we are compelled to eat of the Word.
Let's not forget that we all began this with making the Lord Jesus Christ our Shepherd, our Guide, our Companion, our Friend — but most of all, our Lord!
Now we come to a place in our lives where there must once again be a conscious decision to respond to Holy Spirit's leading and direction. So, instead of "making us" drink of the waters of the Holy Spirit, He "leads us" beside those waters.
What the Lord is doing is to open us up to a dimension in Him that was not previously possible or accessible. We can liken this experience in a very real way to the Baptism of the Holy Spirit in which we MUST yield ourselves to His flow within us. With that yielding comes the speaking in tongues.
That experience is only the first step. Speaking in tongues is the evidence that you have given up the most stubborn part of your being — your tongue — to the flow of Holy Spirit within and through you.
This has been a very controversial subject in many parts of the body of Christ. In the weeks ahead, I'd like to show you why this is so essential to what lies ahead in God's economy, and why --without this yielding -- we can NEVER move into that realm we often consider "supernatural." See you next week.
I remind those of you in need of ministry that our Healing Prayer Call normally takes place on the first Monday of each month at 7:00 PM Eastern (4:00 PM Pacific). Our call-in number is (712) 775-7035. The Access Code is: 323859#. For Canadians who have difficulty getting in to this number, you can call (559) 546-1400. If someone answers and asks what your original call-in number was, you can give them the 712 number and access code.
At the same time, in case you are missing out on real fellowship in an environment of Ekklesia, our Sunday worship gatherings are available by conference call – usually at about 10:45AM Pacific. That conference number is (605) 562-3140, and the access code is 308640#. We hope to make these gatherings available by Skype or Talk Fusion before long. If you miss the live call, you can dial (605) 562-3149, enter the same access code and listen in later.
Blessings on you!

Regner A. Capener
CAPENER MINISTRIES
RIVER WORSHIP CENTER
Sunnyside, Washington 98944
Email Contact: Admin@RiverWorshipCenter.org
All Coffee Break articles are copyright by Regner A. Capener, but authorization for reprinting, reposting, copying or re-use, in whole or in part, is granted –provided proper attribution and this notice are included intact. Older Coffee Break archives are available at http://www.RegnersMorningCoffee.com. Coffee Break articles are normally published weekly.

If you would like to have these articles arrive each morning in your email, please send a blank email to: Subscribe@AnotherCoffeeBreak.com.To remove yourself from the mailing list, please send a blank email to Unsubscribe@AnotherCoffeeBreak.com.
CAPENER MINISTRIES is a tax-exempt church ministry. Should you desire to participate and covenant with us as partners in this ministry, please contact us at either of the above email or physical addresses, or visit: http://www.RiverWorshipCenter.org.