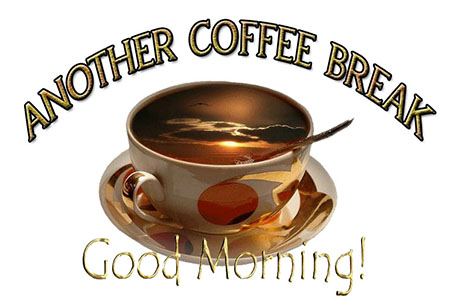 ANOTHER COFFEE BREAK: THE PSALM 23 ADVENTURE, Part 41
May 26, 2017
Good Morning, Y'all!  This is the best day of your life!  Yup.  That's right.  This is the day the Lord has made, and it's only going to get better.
Grab your cup of French Roast (or whatever blend you like) and let's see if we can get this part of our discussion wrapped up today.  We're still talking about the Table of the Lord that's been set before us in the midst of our enemies as a demonstration of God's vindication.
Matthew 5:43-44:  Ye have heard that it hath been said, Thou shalt love thy neighbour, and hate thine enemy. But I say unto you, Love your enemies, bless them that curse you, do good to them that hate you, and pray for them which despitefully use you, and persecute you;
During the past months, Della and I have experienced repeated circumstances in which people we have extended ourselves to repeatedly, both financially and personally, have turned on us and done their best to get rid of us.  The presence of the Spirit of God in us has been exposing wrong behavior and wrong motives in them without our having to say anything whatever. Our very presence makes them uncomfortable, so they have made false accusations, picked at us, done everything possible to find fault with our labors — which, by the way, have been to bless them.
Many of you have no doubt experienced the same kind of thing in your life at one time or another — and I suspect that because of what God is preparing to pour out upon His people that they (perhaps you, specifically!) are under more attack than ever before in their lives.  It isn't fun, is it?!
When the normal instinct of one's flesh is to strike back, the requirement of the Lord has been to love them and to continue to speak peaceably.  We've even found ourselves in the position of having to continue to meet their needs.  That, my friends, is blessing those that curse us and doing good to them that hate (or at the very least, resent) us.
Here's the spectacular demonstration of the Table that the Lord has set before us.
We've seen the provision of God on our behalf grow to such proportions as to stagger the imagination.  Whenever some unusual financial circumstance and/or need cropped up, the Lord has come through on our behalf with a dazzling display of His blessing.  The more we are spoken evil of, and the more that our would-be opponents attempt to see us removed or otherwise treated, the more we see the hand of the Lord exhibiting His blessing and His vindication.
Let's take this another step.
When we declared, decreed and prophesied over our lives that, "The Lord is my Shepherd," we effectively entered into a covenant relationship with the Lord.  We may not have understood or perceived it that way, and the significance of a covenant relationship with Him may not have dawned in our understanding, but this covenant is something absolutely powerful.
When David wrote, Thou preparest a table before me in the presence of mine enemies, he set the stage for our revelation of the Table of the Lord.  It's going to seem like I've really run down a rabbit trail with what I'm about to share, so bear with me.
The Table of the Lord is a covenant table.  The fact that He sets His Table before us in the presence of our enemies is proof positive of His covenant with us, and our covenant with Him.  Consider what the apostle Paul wrote to the Ekklesia in Corinth.
I Corinthians 11:17-34:  Now in this that I declare unto you I praise you not, that ye come together not for the better, but for the worse.  For first of all, when ye come together in the church, I hear that there be divisions among you; and I partly believe it.  For there must be also heresies among you, that they which are approved may be made manifest among you.
When ye come together therefore into one place, this is not to eat the Lord's supper.  For in eating every one taketh before other his own supper: and one is hungry, and another is drunken.  What? have ye not houses to eat and to drink in? or despise ye the church of God, and shame them that have not? What shall I say to you? shall I praise you in this? I praise you not.
For I have received of the Lord that which also I delivered unto you, That the Lord Jesus the same night in which he was betrayed took bread:  And when he had given thanks, he brake it, and said, Take, eat: this is my body, which is broken for you: this do in remembrance of me.
After the same manner also he took the cup, when he had supped, saying, This cup is the new testament in my blood: this do ye, as oft as ye drink it, in remembrance of me.  For as often as ye eat this bread, and drink this cup, ye do show the Lord's death till he come.  Wherefore whosoever shall eat this bread, and drink this cup of the Lord, unworthily, shall be guilty of the body and blood of the Lord.
But let a man examine himself, and so let him eat of that bread, and drink of that cup.  For he that eateth and drinketh unworthily, eateth and drinketh damnation to himself, not discerning the Lord's body.  For this cause many are weak and sickly among you, and many sleep.
For if we would judge ourselves, we should not be judged.  But when we are judged, we are chastened of the Lord, that we should not be condemned with the world.  Wherefore, my brethren, when ye come together to eat, tarry one for another.  And if any man hunger, let him eat at home; that ye come not together unto condemnation.
I can see your thoughts!  You're thinking, What in the world does this have to do with what David wrote?
For the most part, the body of Christ as a whole has not really understood the significance of the Table of the Lord as a covenant act, nor do they see that this Table is proof of God's provision and vindication of His people in the world at large.  We drink the Cup as a commemoration of the fact that Jesus shed His blood as an example of our deliverance from the curse of death.  When Jesus rose from the dead — and I've shared this with you on prior occasions — He rose with light in Him instead of blood.
Being created in the image of God brings with it certain fundamental characteristics.  Adam was first and foremost a spirit being with the ability to function "trans-dimensionally" between Earth and the Spirit realm — and whether that included Heaven or not is unclear.
Neville Johnson suggests that prior to the fall, Adam and Eve had light flowing in their veins   instead of blood — the reason being that God was not and is not a flesh and blood being.  He is both spirit and light.
There are several Scriptures which support this concept.  Let me just take a couple of them for the sake of brevity today.
Matthew 16:17:  And Jesus answered and said unto him, Blessed art thou, Simon Barjona: for flesh and blood hath not revealed it unto thee, but my Father which is in heaven.
I Corinthians 15:50:  Now this I say, brethren, that flesh and blood cannot inherit the kingdom of God; neither doth corruption inherit incorruption.
Hebrews 2:14-15:  Forasmuch then as the children are partakers of flesh and blood, he also himself likewise took part of the same; that through death he might destroy him that had the power of death, that is, the devil;  And deliver them who through fear of death were all their lifetime subject to bondage.
We can also point to the statement that Jesus made when He rose from the dead and visited the disciples.
Luke 24:39:  Behold my hands and my feet, that it is I myself: handle me, and see; for a spirit hath not flesh and bones, as ye see me have.
He did not refer to himself any longer as "flesh and blood," but "flesh and bones."
Bear with me, folks!  I am getting to the point of this discussion.
The other aspect of the Table of the Lord is His whole and complete provision.  It is and was demonstrated in Jesus' statements:
John 6:35: And Jesus said unto them, I am the bread of life: he that cometh to me shall never hunger; and he that believeth on me shall never thirst.
John 6:47-48: Verily, verily, I say unto you, He that believeth on me hath everlasting life. I am that bread of life.
Do you understand why this is critical to our understanding of the Table of the Lord that has been set before us?  I know that lots of folks think they have to use flatbread or unleavened bread (or crackers) when they partake of the Lord's Table, but they confuse  the Table of the Lord with Passover, and the two are very distinctly different!
Two words occur in both the Greek and Hebrew texts for bread.  The word for bread in the sense of the Passover, or the celebration thereof is matsah (in Hebrew) and azumos (in Greek).  This is the unleavened bread or "flatbread."
On the other hand, the word which occurs when Jesus broke bread with the disciples, and the same word that He used when describing Himself as "the bread of life" is the word, lechem, (in Hebrew) and artos (in Greek).  In this case, it means "whole bread" or "raised bread."
Thus, Jesus describes Himself as being the source of wholeness or completeness.  When the prophets prophesied that Jesus would be born in Bethlehem of Judah (Judea), they were prophesying precisely what Jesus would be, and what He would demonstrate to the world.  Bethlehem is, in fact, the contraction of two Hebrew words, bet, (meaning, house) and lechem (meaning, whole bread).  Thus, Jesus was born in "The House of Whole Bread."
I know it seems like I've really gotten off track here, but consider the prophetic significance of this, and the prophetic significance of "Thou preparest a table before me in the presence of mine enemies."
The table that the Lord prepares for us in the midst of our enemies is the table of full provision.  It is the table of wholeness.  It is the table of His completeness — in us and for us!
And just look where the provision comes: right after we've come through the Valley of the Shadow of Death!
Jesus' death on the Cross was our deliverance from our final enemy: death.  His resurrection was the restoration of completeness in Him, through Him, and with Him.  It was our resurrection as well.
Don't forget that one of the requirements of our covenant relationship with the Lord Jesus Christ is baptism in water.  We've been delivered and set free from death, and have been raised to newness of life in Christ Jesus.  The command, therefore, for us to commemorate Jesus' death and resurrection with the Table of the Lord, is the command to show to the world that we've been delivered from and vindicated from the curse that befell the human race when Adam ate of the Tree of the Knowledge of Good and Evil.
I've just been scratching the surface of this revelation, and there's a lot more we could cover, but let's wrap up today with a picture of just how important it is for us to knowingly participate in what we generically refer to as "the communion table."  This isn't just communion, folks!  This is covenant.  This is the celebration of what Jesus accomplished on our behalf, and what that covenant shows the rest of the world.
I Corinthians 11:29-30:   He that eats and drinks [at the Table of the Lord] treating it as just another commemorative act and "one more religious thing to do," eats and drinks of the same judgment and decree God made [when He said to Adam, "In the day you eat thereof, you shall surely die"], not differentiating between this Table and any other table. Because they treat the Table of the Lord as commonplace, many people are weak and infirm and suffer the various sicknesses and diseases that afflict human flesh; and many die -- most prematurely.  (RAC Translation and Amplification)
Does that make sense to you?  Now do you understand just how phenomenal – and how very significant – the Table is that the Lord sets for us in the midst of our enemies?  This is a covenant relationship folks, and this is also a stupendous adventure.
See you next week.
I remind those of you in need of ministry that our Healing Prayer Call normally takes place on the first Monday of each month at 7:00 PM Eastern (4:00 PM Pacific).  Our call-in number is (712) 775-7035.  The Access Code is: 323859#.  For Canadians who have difficulty getting in to this number, you can call (559) 546-1400.   If someone answers and asks what your original call-in number was, you can give them the 712 number and access code.
At the same time, in case you are missing out on real fellowship in an environment of Ekklesia, our Sunday worship gatherings are available by conference call – usually at about 10:45AM Pacific.  That conference number is (712) 770-4160, and the access code is 308640#.  We are now making these gatherings available by Skype.  If you wish to participate by video on Skype, my Skype ID is regner.capener.  If you miss the live voice call, you can dial (712) 770-4169, enter the same access code and listen in later.  The video call, of course, is not recorded – not yet, anyway.
Blessings on you!

Regner A. Capener
CAPENER MINISTRIES
RIVER WORSHIP CENTER
Temple, Texas 76504
Email Contact: Admin@RiverWorshipCenter.org
All Coffee Break articles are copyright by Regner A. Capener, but authorization for reprinting, reposting, copying or re-use, in whole or in part, is granted –provided proper attribution and this notice are included intact. Older Coffee Break archives are available at http://www.RegnersMorningCoffee.com. Coffee Break articles are normally published weekly.

If you would like to have these articles arrive each morning in your email, please send a blank email to: Subscribe@AnotherCoffeeBreak.com.To remove yourself from the mailing list, please send a blank email to Unsubscribe@AnotherCoffeeBreak.com.
CAPENER MINISTRIES is a tax-exempt church ministry. Should you desire to participate and covenant with us as partners in this ministry, please contact us at either of the above email or physical addresses, or visit: http://www.RiverWorshipCenter.org.