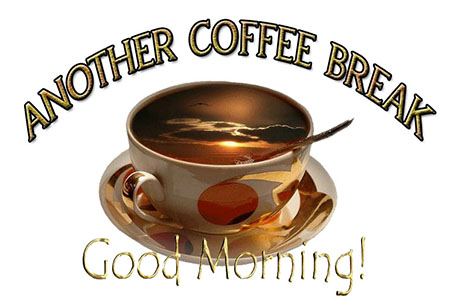 ANOTHER COFFEE BREAK: THE PSALM 23 ADVENTURE, Part 40
May 19, 2017
This is probably going to be as different an approach as any I've ever taken, but the picture of the Table of the Lord that He sets for us in the midst of our enemies is perhaps one of the least understood and the most rewarding.  This is a revelation which, if you can get a hold of, will literally bless your socks off!
Remember where we've just come from?  The Valley of the Shadow of Death.  The presence of enemies on every side.  Opposition that has required our steadfast trust in the Lord and the comfort that comes with knowing that He is the One Who has led us, He is the One whose rod of correction AND rod of authority have been the ever-present source of comfort and satisfaction in all that He has wrought in our lives from the moment we made Him our Lord and Shepherd.
David rightly put it when he wrote:
Psalm 23:5: Thou preparest a table before me in the presence of mine enemies.
The last part of that statement is critical to understanding what the Lord is doing with us right now!  Remember: our enemies have not departed.  They haven't left us alone.  They haven't stopped in their efforts to defeat us.  They haven't ceased to throw darts of doubt, fear and unbelief our way in order to get us to give up.  They haven't given up on the idea that they are the ones in authority, that we are really losers who have followed false claims and illogical beliefs that make no reasoning sense at all.
Remember what Isaiah prophesied (and this is exactly what David is referring to in his statement)?
Isaiah 54:17: No weapon that is formed against thee shall prosper; and every tongue that shall rise against thee in judgment thou shalt condemn. This is the heritage of the servants of the LORD, and their righteousness is of me, saith the LORD.
Weapons have been formed against us!  Let's be clear.  The Valley of the Shadow of Death is no picnic.  It isn't an easy time.  The Enemy absolutely does not want us to make it through this place.  He surrounds us with accusers, with doubters, with folks who tell us that we've just misunderstood the Word and that what we've hoped for and expected just isn't going to happen.
But the Lord IS with us, and even though we will be attacked in the Valley experience (and that's a guarantee!) we've not been forgotten by the Lord.  He takes a dim view of His people being taken advantage of, falsely accused, physically assaulted or shamed in some way.  That said, consider these promises:
Isaiah 49:18-19: Lift up thine eyes round about, and behold: all these gather themselves together, and come to thee. As I live, saith the LORD, thou shalt surely clothe thee with them all, as with an ornament, and bind them on thee, as a bride doeth.  For thy waste and thy desolate places, and the land of thy destruction, shall even now be too narrow by reason of the inhabitants, and they that swallowed thee up shall be far away.
Notice that the Lord is promising to bring your accusers and your attackers and "clothe you with them" in such a way that they become "an ornament" — a sign and symbol to all who see you that His approval is on you — not on those who've falsely attacked and accused you!
That's a strange way to put it – and this is a Hebrew metaphor – but what God is saying is that those who've been your greatest detractors will see the vindication of the Lord upon you, in you and with you, and they will yield.  In fact, in many cases, your erstwhile greatest enemies may well become your greatest friends and supporters.
Now that's being clothed with them "as an ornament!"
Isaiah 59:16-19: And he saw that there was no man, and wondered that there was no intercessor: therefore his arm brought salvation unto him; and his righteousness, it sustained him.  For he put on righteousness as a breastplate, and an helmet of salvation upon his head; and he put on the garments of vengeance for clothing, and was clad with zeal as a cloak.
According to their deeds, accordingly he will repay, fury to his adversaries, recompense to his enemies; to the islands he will repay recompense.  So shall they fear the name of the LORD from the west, and his glory from the rising of the sun. When the enemy shall come in like a flood, the Spirit of the LORD shall lift up a standard against him.
Do you see it?  Do you see how the Lord avenges you?  In Isaiah 59:19, the Hebrew is even stronger.  The phraseology goes like this:
"When, like a flood, the enemy shall come, the Spirit of the Lord shall lift up a standard against him."
The Hebrew word, nus, is the word translated in this instance as "standard."  "Standard" really doesn't properly translate the word, nus.  It means: to flick away, as with one's finger, to cause to disappear, to drive away hastily.
This has a double meaning.  The first and most obvious meaning is that the enemy is caused to be driven away hastily, or to be made to disappear.  (I'll come back to this one momentarily.)  The second meaning is that the problems caused by the Enemy are made to disappear, or to be "flicked away."
This second meaning is the one we would more likely associate with, "Thou preparest a Table before me in the presence of mine enemies."  The problems caused by our enemies are brought to naught (zip, nada, nothing!) while they are still around and watching what is taking place as the Lord vindicates and prospers His people in the face of attack and opposition.
Now, take a deeper look at the first meaning.  Consider the event that unfolded when the Moabites and the Ammonites came up against Judah and Jerusalem when Jehoshaphat was King.  A virtually innumerable army was assembled against Judah.  Jehoshaphat had absolutely no chance of defeating an army of such size with the relatively small contingent of fighting men in his army.  So Jehoshaphat calls for a day of fasting (Hmmm … that's the opposite of "feasting," isn't it?).  At the end of the fast, a descendant of the singer/prophet, Asaph, who was a key part of David's tabernacle, stood and prophesied the following:
II Chronicles 20:15-17: And he said, Hearken ye, all Judah, and ye inhabitants of Jerusalem, and thou king Jehoshaphat, Thus saith the LORD unto you, Be not afraid nor dismayed by reason of this great multitude; for the battle is not yours, but God's.  Tomorrow go ye down against them: behold, they come up by the cliff of Ziz; and ye shall find them at the end of the brook, before the wilderness of Jeruel.  Ye shall not need to fight in this battle: set yourselves, stand ye still, and see the salvation of the LORD with you, O Judah and Jerusalem: fear not, nor be dismayed; tomorrow go out against them: for the LORD will be with you.
So Jehoshaphat instructed the priests – in fact, that same assemblage of singers and musicians who were descendants of the original three families in David's tabernacle – to go out before their very modest military with singing and praising God.  Here's how the next part of this event unfolds – and watch how the Lord "flicks the enemy" with His finger.
II Chronicles 20:20-24:  And they rose early in the morning, and went forth into the wilderness of Tekoa: and as they went forth, Jehoshaphat stood and said, Hear me, O Judah, and ye inhabitants of Jerusalem; Believe in the LORD your God, so shall ye be established; believe his prophets, so shall ye prosper.  And when he had consulted with the people, he appointed singers unto the LORD, and that should praise the beauty of holiness, as they went out before the army, and to say, Praise the LORD; for his mercy endureth forever.
And when they began to sing and to praise, the LORD set ambushments against the children of Ammon, Moab, and mount Seir, which were come against Judah; and they were smitten.  For the children of Ammon and Moab stood up against the inhabitants of mount Seir, utterly to slay and destroy them: and when they had made an end of the inhabitants of Seir, every one helped to destroy another.  And when Judah came toward the watch tower in the wilderness, they looked unto the multitude, and, behold, they were dead bodies fallen to the earth, and none escaped.
You see it now, don't you?  Oh, but wait!  There's more!  Remember, we are talking about the Table of the Lord and the provision He makes for you in the presence of your enemies.
II Chronicles 20:25-30:  And when Jehoshaphat and his people came to take away the spoil of them, they found among them in abundance both riches with the dead bodies, and precious jewels, which they stripped off for themselves, more than they could carry away: and they were three days in gathering of the spoil, it was so much.  And on the fourth day they assembled themselves in the valley of Berachah; for there they blessed the LORD: therefore the name of the same place was called, The valley of Berachah, unto this day.
Then they returned, every man of Judah and Jerusalem, and Jehoshaphat in the forefront of them, to go again to Jerusalem with joy; for the LORD had made them to rejoice over their enemies.  And they came to Jerusalem with psalteries and harps and trumpets unto the house of the LORD.  And the fear of God was on all the kingdoms of those countries, when they had heard that the LORD fought against the enemies of Israel.  So the realm of Jehoshaphat was quiet: for his God gave him rest round about.
Talk about a demonstration!  The enemy slaughtered each other.  It all happened in the midst of praise and worship.  When Israel came upon the site of the expected battle, their enemies were dead to the last man!  The Table that the Lord set for Israel in the face of their erstwhile enemy included provisions and such wealth that it took them three days to gather it all and carry it away.
The end of that story is that because of the great victory that the Lord gave Jehoshaphat and Judah over the Moabites and Ammonites, the whole of the surrounding countryside – the neighboring nations – heard about it and it frightened the living daylights out of them.  It was a supernatural victory,  The Lord set the stage for His people against all natural – let's call it "human reasoning" – odds.  From that day forth, so long as Jehoshaphat sat on the throne in Jerusalem, they had peace, and their enemies stayed away from them.
Thus, when the Enemy attempts to overwhelm you or inundate you with negative circumstances or apparent "doom and gloom" events, to use an old cliché, the Lord comes down on your enemies "like ugly on an ape."
Isaiah 61:7:  For your shame ye shall have double; and for confusion they shall rejoice in their portion: therefore in their land they shall possess the double: everlasting joy shall be unto them.
Get it?  This is that table that has been set before you in the midst of your enemies.  And that's only a fraction of what God has for us.
Take a look at one of the most unusual tables of the Lord, set in the midst of Israel's enemies.  I'm quoting the entire story from II Kings so that you can get the context of God's intervention for Israel, and the "standard" He set up against them.
II Kings 6:8-23:  Then the king of Syria warred against Israel, and took counsel with his servants, saying, In such and such a place shall be my camp.  And the man of God sent unto the king of Israel, saying, Beware that thou pass not such a place; for thither the Syrians are come down.  And the king of Israel sent to the place which the man of God told him and warned him of, and saved himself there, not once nor twice.
Therefore the heart of the king of Syria was sore troubled for this thing; and he called his servants, and said unto them, Will ye not show me which of us is for the king of Israel?  And one of his servants said, None, my lord, O king: but Elisha, the prophet that is in Israel, telleth the king of Israel the words that thou speakest in thy bedchamber.
And he said, Go and spy where he is, that I may send and fetch him. And it was told him, saying, Behold, he is in Dothan.  Therefore sent he thither horses, and chariots, and a great host: and they came by night, and compassed the city about.
And when the servant of the man of God was risen early, and gone forth, behold, an host compassed the city both with horses and chariots. And his servant said unto him, Alas, my master! how shall we do?  And he answered, Fear not: for they that be with us are more than they that be with them.  And Elisha prayed, and said, LORD, I pray thee, open his eyes, that he may see.
And the LORD opened the eyes of the young man; and he saw: and, behold, the mountain was full of horses and chariots of fire round about Elisha.  And when they came down to him, Elisha prayed unto the LORD, and said, Smite this people, I pray thee, with blindness. And he smote them with blindness according to the word of Elisha.  And Elisha said unto them, This is not the way, neither is this the city: follow me, and I will bring you to the man whom ye seek.
But he led them to Samaria.  And it came to pass, when they were come into Samaria, that Elisha said, LORD, open the eyes of these men, that they may see.  And the LORD opened their eyes, and they saw; and, behold, they were in the midst of Samaria.  And the king of Israel said unto Elisha, when he saw them, My father, shall I smite them? shall I smite them?
And he answered, Thou shalt not smite them: wouldest thou smite those whom thou hast taken captive with thy sword and with thy bow? set bread and water before them, that they may eat and drink, and go to their master.  And he prepared great provision for them: and when they had eaten and drunk, he sent them away, and they went to their master. So the bands of Syria came no more into the land of Israel.
In this instance, Elisha did to the King of Syria exactly what Jesus instructed in His "Sermon on the Mount."
Gotta stop here for today.  We will finish this next week!
I remind those of you in need of ministry that our Healing Prayer Call normally takes place on the first Monday of each month at 7:00 PM Eastern (4:00 PM Pacific).  Our call-in number is (712) 775-7035.  The Access Code is: 323859#.  For Canadians who have difficulty getting in to this number, you can call (559) 546-1400.   If someone answers and asks what your original call-in number was, you can give them the 712 number and access code.
At the same time, in case you are missing out on real fellowship in an environment of Ekklesia, our Sunday worship gatherings are available by conference call – usually at about 10:45AM Pacific.  That conference number is (712) 770-4160, and the access code is 308640#.  We are now making these gatherings available by Skype.  If you wish to participate by video on Skype, my Skype ID is regner.capener.  If you miss the live voice call, you can dial (712) 770-4169, enter the same access code and listen in later.  The video call, of course, is not recorded – not yet, anyway.
Blessings on you!
.

Regner A. Capener
CAPENER MINISTRIES
RIVER WORSHIP CENTER
Temple, Texas 76504
Email Contact: Admin@RiverWorshipCenter.org
All Coffee Break articles are copyright by Regner A. Capener, but authorization for reprinting, reposting, copying or re-use, in whole or in part, is granted –provided proper attribution and this notice are included intact. Older Coffee Break archives are available at http://www.RegnersMorningCoffee.com. Coffee Break articles are normally published weekly.

If you would like to have these articles arrive each morning in your email, please send a blank email to: Subscribe@AnotherCoffeeBreak.com.To remove yourself from the mailing list, please send a blank email to Unsubscribe@AnotherCoffeeBreak.com.
CAPENER MINISTRIES is a tax-exempt church ministry. Should you desire to participate and covenant with us as partners in this ministry, please contact us at either of the above email or physical addresses, or visit: http://www.RiverWorshipCenter.org.