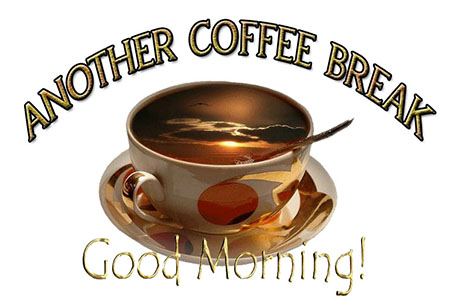 ANOTHER COFFEE BREAK: THE PSALM 23 ADVENTURE, Part 35
March 31, 2017
Last week, I left you hanging with my story of God's miraculous provision, so let me re-cap a part of it before we finish this narrative.  We are still on the topic of For Thou art with me!
I was working with Dwain McKenzie in the early 1970's at Long Beach Christian Center (California).  LBCC was a growing fellowship, but the income from the church couldn't even begin to take care of one family, much less two.  Because of my engineering background and inclination to develop various products and inventions for clients, I was able to earn enough of a living for a family of six (at the time).
Being self-employed has its benefits, but it also has its drawbacks.  If you run out of business — and you are operating on a cash basis — you soon face the need for money to pay bills or buy food.  I hit those dry times more than once.
We were in the midst of a dry spell financially.  Most of the bills were paid, but we were running out of food.  After putting the family to bed, I went into the kitchen and opened the refrigerator and the cabinets.  There was enough food left for one meal, and that was it!  I pointed to the refrigerator and the cabinets and prayed the following:
"Lord, you are the One who called us here.  You've placed us in this ministry, so our needs are your responsibility.  You've made it clear that you will provide abundantly above all we can think or ask.  We're on your payroll, and we need food for the family.  I expect you to make the provision necessary, and I thank you for it."
The family was well aware of our needs but hadn't really expressed any concerns because I told them that the Lord would make whatever provision was necessary.
I closed the cabinets and refrigerator and went to bed at complete peace.  About 2:30 in the morning, I awoke, thirsty and wanting a glass of water.  Going into the still-dark kitchen and reaching into the cabinet where the glasses were normally kept, my hand bumped something unfamiliar.
I turned the lights on and began opening kitchen cabinets.  They were stocked to the max!  Not only were the basics there (like flour, sugar, salt, spices, etc.), there was a variety of cereals for the kids, soups – you name it!  The refrigerator was full.  There were fresh vegetables and fruit, eggs and milk.  Anything you could think of had been provided.  The freezer was full of meat.  It was as though the angel of the Lord had gone on a major shopping expedition!  (chuckle)  The supply was so abundant that I woke up the whole household to see the provision of the Lord.
Some months down the road, we were in another of those dry spells financially.  It was a Sunday morning.  We had enough to make a good spaghetti meal with a tossed salad.  I figured if we were careful, we could make it last for two or even three meals.
Coming home from church, we set the table and got ready to sit down to our meal.  The doorbell rang.  It was Dick and Jeannie Parrish who were part of the ministry staff at Long Beach Christian Center.  Their two children were with them.  Without a second thought, I invited them to have dinner with us.
In I Kings 17, we have the event recorded where the widow of Zarephath is instructed to prepare a meal for Elijah.  It is a time of famine in the land, and she resists, saying that she only has enough meal in the house, and a little oil to make some cakes for herself and her son.  Elijah instructs her to fix him the meal first, and then for herself.
Despite the fact that it was totally illogical on the face of it, the widow obeyed.  Suddenly, she had enough to take care of herself, her son and Elijah during the remainder of the famine.  Here's how the Scripture records it:
I Kings 17:14-16:  For thus saith the LORD God of Israel, The barrel of meal shall not waste, neither shall the cruse of oil fail, until the day that the LORD sendeth rain upon the earth. And she went and did according to the saying of Elijah: and she, and he, and her house, did eat many days. And the barrel of meal wasted not, neither did the cruse of oil fail, according to the word of the LORD, which he spake by Elijah.
This event was implanted deeply in my spirit to the place that I knew Dick and Jeannie's appearance with their children was being orchestrated by the Lord for another demonstration.  We pulled up extra chairs and added places at the table for us so that there were ten people seated together.  We dug into the bowls of spaghetti, meatballs and salad and everyone ate until they were full. 
"Stuffed" was the common expression.  We fellowshipped together for several hours before the Parrish's finally left.  Have to say that I was utterly amazed when I went to put the remaining food in the fridge.  The bowls were full – each one separately: the spaghetti, the meatballs and the salad -- as though they'd never been touched. 
The following Monday morning, I was on my knees in the living room praying around 4:00 AM when the doorbell rang.  I got up, went to answer the door and no one was there.  Looking up and down the street, there was no sign of anyone.  What was immediately apparent, however, were the boxes and bags of groceries outside the front door.  Once again, the angel of the Lord had been sent to make provision for us.  We lacked for nothing!
Time has passed, and it is perhaps a year that has gone by.  Again, the cupboards were down to virtually nothing.  I was up early, trying to get some breakfast together for the children before they headed off to school.  We had a six-foot wooden fence that surrounded our yard and my shop behind the house.  The fence began just in front of the kitchen door and had a padlocked gate.
Were anyone to try and get into the back yard, they would have to be pole-vaulters or exceptionally athletic in order to scale that fence.  I've said all that to say that we had a doorbell specific to the kitchen door.  I was fixing the kids' breakfast when suddenly that doorbell rang.  You'll appreciate my puzzlement when I heard that particular ring.
It was a repeat of the event that had occurred roughly a year previously.  There were bags of groceries filling the steps to the kitchen door.  Once again, I saw and knew that the angel of the Lord had made provision.
If we are going to walk with the Lord and follow Him in the paths of righteousness, we've got to come to the place that "For Thou art with me" is engraved in our spirits.  Our lives are not based in "God and our job," or perhaps "God and the doctor," or "God and anything else."  Either the Lord Jesus Christ is in us, or He is not.  Either we are in Him, or we are not!  There's no way around it.
Let me be clear.  I'm not criticizing the use of doctors, and I'm certainly not downplaying the need for us to be working.  We simply have to place our focus in the right place.  God uses doctors, but they aren't the ones who heal us.  Jesus is the healer!  God uses our jobs and our employment, but He is the One who has enabled us with the skills of our trades.
Jesus made this promise to His disciples:
Matthew 28:19-20: Go ye therefore, and teach all nations, baptizing them in the name of the Father, and of the Son, and of the Holy Ghost: Teaching them to observe all things whatsoever I have commanded you: and, lo, I am with you alway, even unto the end of the world. Amen.
Let's put that statement in its proper context.  First of all, Jesus gives us a command to go and disciple all nations.  To disciple means to bring someone under the discipline of the Master and Teacher.  It means to demonstrate that discipline so that it becomes real to those around.
Secondly, He instructs us to immerse those same people into the onoma — the character, the nature, the very essence — of Father, and Son, and Holy Spirit.  If we are not thoroughly immersed ourselves in Father's character, how then do we immerse someone else is something we don't possess?
Take it the next step.
How do we immerse someone into the nature, the character and the very essence of the Lord Jesus Christ, if we haven't first been immersed in Him — and know that He is immersed in us?  Finally, how do we immerse someone into the very nature, character and essence of Holy Spirit if we have not first been immersed, baptized, overwhelmed and saturated by Holy Spirit ourselves?
Lastly, He instructs us to teach and instruct these "disciples" according to all that He has commanded us and instilled, engraved and poured into us!  If we've not been submissive to His Word and His Will in the first place, anything we have to offer or teach will be empty, to say the least — devoid of His character and nature.
Let's wrap it up today with this one!
Hebrews 13:5b-6:  ….be content with such things as ye have: for he hath said, I will never leave thee, nor forsake thee. So that we may boldly say, The Lord is my helper, and I will not fear what man shall do unto me.
This is absolutely essential and critical to our being able to avoid absorbing and acquiring what we commonly refer to as "the mark of the beast."  If the fact that Jesus is with us 24 hours per day, 365.25 days per year, then there is nothing whatever that the world can do to intimidate us or coerce us into thinking the way it does and/or operating and conducting business like the beast system.  The answer is, "For Thou art with me!"
If it seems that I've gotten off track here with my discussion of the "mark," please understand that people unwittingly take this mark.  They do so because there is not an awareness of the presence of the Lord with them.  They just don't know, and don't understand the incredible significance of having the Lord constantly with them, in them, operating through them, and their dwelling in Christ Jesus.  When we know of a certainty that the Lord is with us, there are no threats whatever, including the threats of not being able to buy or sell, that can intimidate or coerce us into anything ungodly.
I've talked about the Hebrew metaphors for the "mark," and let me be clear.  If indeed there comes a day where some agency or governmental institution demands that we accept a subdermal device in our forehead or right hand, those who accept it will have long before accepted the real mark – the way of thinking and the way of doing business of the beast and the beast system.
Now, let's wrap up today with how David put things:
Psalm 118:6-12: The LORD is on my side; I will not fear: what can man do unto me?  The LORD taketh my part with them that help me: therefore shall I see my desire upon them that hate me.
It is better to trust in the LORD than to put confidence in man.  It is better to trust in the LORD than to put confidence in princes.
All nations compassed me about: but in the name of the LORD will I destroy them.  They compassed me about; yea, they compassed me about: but in the name of the LORD I will destroy them.  They compassed me about like bees; they are quenched as the fire of thorns: for in the name of the LORD I will destroy them.
Now that's the way one thinks, believes and responds when they know that the Lord is with them.
One more time, let's recap what David says about this:
Yea, though I walk through the Valley of the Shadow of Death, I will fear no evil, for Thou art with me.  Thy rod and thy staff, they comfort me.
We've already covered our deliverance from the Fear of Evil, and we've spent the last two weeks on For Thou art with me.  Next week, we will take up a discussion on the rod.
I remind those of you in need of ministry that our Healing Prayer Call normally takes place on the first Monday of each month at 7:00 PM Eastern (4:00 PM Pacific).  Our call-in number is (712) 775-7035.  The Access Code is: 323859#.  For Canadians who have difficulty getting in to this number, you can call (559) 546-1400.   If someone answers and asks what your original call-in number was, you can give them the 712 number and access code.
At the same time, in case you are missing out on real fellowship in an environment of Ekklesia, our Sunday worship gatherings are available by conference call – usually at about 10:45AM Pacific.  That conference number is (712) 770-4160, and the access code is 308640#.  We hope to make these gatherings available by Skype or Talk Fusion before long.  If you miss the live call, you can dial (712) 770-4169, enter the same access code and listen in later.
Blessings on you!

Regner A. Capener
CAPENER MINISTRIES
RIVER WORSHIP CENTER
Temple, Texas 76504
Email Contact: Admin@RiverWorshipCenter.org
All Coffee Break articles are copyright by Regner A. Capener, but authorization for reprinting, reposting, copying or re-use, in whole or in part, is granted –provided proper attribution and this notice are included intact. Older Coffee Break archives are available at http://www.RegnersMorningCoffee.com. Coffee Break articles are normally published weekly.

If you would like to have these articles arrive each morning in your email, please send a blank email to: Subscribe@AnotherCoffeeBreak.com.To remove yourself from the mailing list, please send a blank email to Unsubscribe@AnotherCoffeeBreak.com.
CAPENER MINISTRIES is a tax-exempt church ministry. Should you desire to participate and covenant with us as partners in this ministry, please contact us at either of the above email or physical addresses, or visit: http://www.RiverWorshipCenter.org.