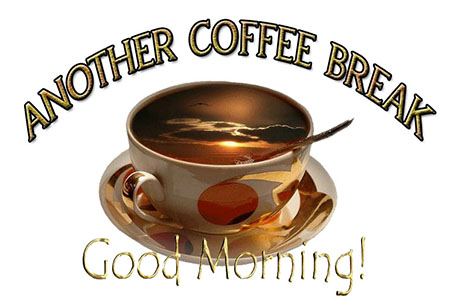 ANOTHER COFFEE BREAK: THE PSALM 23 ADVENTURE, Part 33
March 17, 2017
My apologies if it seems like I've gone overboard on this, but when Della and I get to see the phenomenal things happening with our grandchildren, it's hard to not share with everyone – especially when we are in a season of miracles unfolding across this nation and around the world on a scale hitherto unknown.
Sunday, a week ago, Della took our grandchildren to children's church as she usually does on Sundays.  Even though we have our own fellowship, we are currently set up for children's ministry specifically.  During the time of praise and worship, a young girl – perhaps Jasmine's age around 8 years old – got up and began to dance before the Lord.  That dancing had an impact on all of them.
Late in the afternoon, when we were all just relaxing, Jasmine came up to Della and said, "Grandma, is it OK for me to dance to the Lord?"  "Why of course you can," Della answered.  "Then can I dance to the kind of worship music we listen to at home every day?"  "Sure, Grandpa will put the music on for you."
We have come to really appreciate the spontaneous worship of Alberto and Kimberly Rivera, and that was the kind of music I put on.  Jasmine stood in front of the TV where the music was playing, closed her eyes and clasped her hands across her chest.  She stood there silently for perhaps five or six minutes.  Finally, Della said to her, "Honey, what are you seeing?"  Jasmine's answer was, "I'm watching angels dance before the Lord."  Della then said, "Then, you do whatever you see the angels doing."
Jasmine closed her eyes again and began to dance around the living room.  The dancing was absolutely gorgeous!  Della and I just began to bawl our eyes out as we watched our granddaughter move like this, anointed by Holy Spirit.  Her younger sister, Trinity, had tears streaming down her cheeks and finally looked up to Della and said, "Grandma, is it OK if I dance to the Lord, too?"  Della nodded her head and Trinity closed her eyes and began to dance as well.  You'll appreciate that we currently have a very small living room, and for Jasmine and Trinity to both be dancing with eyes closed and not bumping into one another was nothing short of amazing!
Trinity danced for perhaps the last seven minutes of Jasmine's dancing which lasted for not less than 20 minutes.  When they both finally opened their eyes and sat down, Alden was next.  He said to me, "Grandpa, I want to dance to the Lord, too, but I need a different kind of worship music."  I put on worship that was more prophetic and militant, and for the next ten minutes we watched Alden – with his eyes closed as well – dancing forcefully and prophetically.
When the Lord promised us from Isaiah 59:20 that: My spirit that is upon thee, and my words which I have put in thy mouth, shall not depart out of thy mouth, nor out of the mouth of thy seed, nor out of the mouth of thy seed's seed, saith the LORD, from henceforth and forever, we really felt like we were seeing some of the evidences of that promise.  Della and I are still overwhelmed!
Let's get back to our discussion on the Valley of the Shadow of Death, and review some of what we shared last week.
A transition is underway.  Yes, we still exist in mortal bodies, but that mortality is being erased as we come into an understanding of what it means to have the curse eradicated — both the curse of death, and the curse of the Law. ­ The transition takes place in our spirits to begin with, but then becomes a part of our minds, our thoughts, our reasoning, our emotions — and then becomes the very substance of our beings.  Hence, we are "a new species."  We are becoming, we have become, and we will become, something that cannot come out of the DNA of unredeemed man.
Again, we said last week that we are now (and we are transitioning into being) "naturally supernatural" and "supernaturally natural."  .  Our behavior has undergone and is undergoing radical change.  Our lives are no longer subject to the curse of the Law.
Romans 8:2: For the law of the Spirit of life in Christ Jesus hath made me free from the law of sin and death.
And then Paul amplifies this so that we can understand why we are not subject to the law of sin and death — and this brings us back to what we are experiencing as we are being led in the Paths of Righteousness into the Valley of the Shadow of Death:
Thus, when one purposes in his thoughts and focus to do only those things that gratify and please the lusts and desires of the flesh, they set themselves in opposition to God; and, indeed, that way of thinking and reasoning is insubordinate and disobedient to the laws and principles of God.  It is impossible for that kind of mindset to be anything but insubordinate and disobedient.
Hence, those whose mindsets, thinking and purposed intents are focused on pleasing and gratifying fleshly lusts cannot at any time, and will not under any circumstances please and satisfy the Lord God.  (Romans 8:7-8, RAC Translation & Amplification)
We skip down a few verses to see the kicker in what Paul is writing to the Romans:
So then, if the Holy Spirit — the Spirit of Father God — that awakened and raised up Jesus from the dead has taken up permanent residence in you, occupies, cohabits (and exercises ruling authority), He that awakened, raised up and re-infused the Anointed One (with His anointing) from physical death shall revitalize, restore and endue your physical and spiritual being by that same indwelling and residing and authoritative Holy Spirit.  (Romans 8:11, RAC Translation & Amplification)
This is what our walk in the Paths of Righteousness has been all about.  Through the lessons, the instruction, the experiences and the spiritual adventures we have as we have followed Jesus Christ, the authority and power, the very personality of the Lord have been being developed in us.  That same authority and power — and personality — have been overtaking us, transforming us into His image and likeness.
I will continue to say this again and again and again!
We were never designed to die in the first place.  Adam chose to eat of the fruit of the Tree of the Knowledge and Good and Evil, despite the warning that death would result as a consequence.  It was an emotional decision he made with the right motives but still wrong.  Adam had failed to really understand the consequences that would follow to the subsequent generations.
Jesus, however, paid the penalty and took death upon Himself so that we could — once and for all — be set free of that curse and delivered from death.
Matthew puts it like this:
Matthew 4:16-17:  The people which sat in darkness saw great light; and to them which sat in the region and shadow of death light is sprung up. From that time Jesus began to preach, and to say, Repent: for the kingdom of heaven is at hand.
Do you see it?
The transition from death to life begins with metanoeo.  This is the Greek word, translated "repent."  It has some very interesting connotations.  It literally means: to reconsider your mode and pattern of thinking.
The essence of this is: to cease eating of the Tree of the Knowledge of Good and Evil; to stop the old kind of reasoning and to begin eating of the Tree of Life where one's life is restored and the death spiral ends.
Jesus made several statements like this:
"And whosoever liveth and believeth in me shall never die."
Jesus is literally saying that even death — whether by natural or unnatural means — is reversible.  More than that, He is saying that we've been given power over death.  We've been given the same authority of Father God, who raised up Jesus from the grave.
That is the power of the Resurrection, and yet it is more than that!
Paul expressed himself in numerous ways regarding the authority we have over death but in his letter to the Philippians, we see this very intense prayer coming out of the core of his being.
Philippians 3:10-11:  That I may know him, and the power of his resurrection, and the fellowship of his sufferings, being made conformable unto his death; If by any means, I might attain unto the resurrection of the dead.
Despite all that Paul had experienced in his walk with the Lord, despite the revelations he'd received, and despite the fact that — by this time — he had raised numerous individuals from the dead, he still wanted and desired that depth of revelation which would allow Him to know the very nature of the Lord Jesus Christ.  He desired to know by revelation — so that it was infused and implanted in his being and engraved into his spirit — just exactly what it was that Father God had in His makeup, His character and personality that enabled Him to have that kind of authority over death.
When Paul prays, " ….. being made conformable unto His death," he is asking to be so changed in his being that he would be summorphos — "jointly formed" — into that same nature of Jesus so that facing death would not be the least bit intimidating or threatening.
That, folks, is an authority that brings real boldness!  Thus, the dynamic power of Jesus' resurrection is synonymous with "the fellowship of His sufferings, being jointly formed with Him" in such a way that death was no threat.  The curse that came upon the human race by virtue of eating of the Tree of the Knowledge of Good and Evil incorporated permanent physical death — not to mention separation from a relationship with the Lord God.
Let's break down this statement a bit more so that we can understand just what Paul was trying to say.
The revelation of the power of the resurrection, the fellowship of Jesus' sufferings, and being made conformable to His death is all one, single revelation.
I'm repeating myself.
It is not possible to have a revelation of the power of the Resurrection without first understanding "the fellowship of His sufferings" and "being made conformable unto His death."
This word, "fellowship" comes from a translation of the Greek word, koinonia.  This is one of those 64 dollar words that means: to partner with, to have intimate knowledge of, to jointly participate.
And what, exactly, is it that we are "partnering with?"
Here again, we have a word in the Greek which is the root of our English word, "passion."  That word is: pathema.  While the translation in the KJV (and other translations as well) is the word, "sufferings," it goes a whole lot farther than pain — whether physical or emotional.
Paul is describing the intense passion of Jesus' love, mercy, and desire to free us from the curse of sin, the curse of the Law, and the curse of death.  That passion for us is what enabled Jesus to willingly endure the torture, the cursing, the beatings, the crown of thorns, and his ultimate death by crucifixion.
Jesus was able to ignore the pain of rejection from His own people, as well as the world.  He was able to set aside the betrayal He experienced.  He was able to endure the physical extremes His body was subjected to with the torture and crucifixion because He could see in His spirit the end result on behalf of the world.
Paul obviously had that revelation when he wrote the following in his second letter to the Ekklesia in Corinth (and so that you understand the context, this was a letter he wrote many years after the first one was written:
II Corinthians 11:23:30:  Are they ministers of Christ? (I speak as a fool) I am more; in labours more abundant, in stripes above measure, in prisons more frequent, in deaths oft.  Of the Jews five times received I forty stripes save one.
Thrice was I beaten with rods, once was I stoned, thrice I suffered shipwreck, a night and a day I have been in the deep;  In journeyings often, in perils of waters, in perils of robbers, in perils by mine own countrymen, in perils by the heathen, in perils in the city, in perils in the wilderness, in perils in the sea, in perils among false brethren;  In weariness and painfulness, in watchings often, in hunger and thirst, in fastings often, in cold and nakedness.
Beside those things that are without, that which cometh upon me daily, the care of all the churches.  Who is weak, and I am not weak? who is offended, and I burn not?  If I must needs glory, I will glory of the things which concern mine infirmities.
Looks like I need to pause here before I get into the next part of this discussion, so let's quit for today and pick this up next week.
I remind those of you in need of ministry that our Healing Prayer Call normally takes place on the first Monday of each month at 7:00 PM Eastern (4:00 PM Pacific).  Our call-in number is (712) 775-7035.  The Access Code is: 323859#.  For Canadians who have difficulty getting in to this number, you can call (559) 546-1400.   If someone answers and asks what your original call-in number was, you can give them the 712 number and access code.
At the same time, in case you are missing out on real fellowship in an environment of Ekklesia, our Sunday worship gatherings are available by conference call – usually at about 10:45AM Pacific.  That conference number is (712) 770-4160, and the access code is 308640#.  We hope to make these gatherings available by Skype or Talk Fusion before long.  If you miss the live call, you can dial (712) 770-4169, enter the same access code and listen in later.
Blessings on you!

Regner A. Capener
CAPENER MINISTRIES
RIVER WORSHIP CENTER
Temple, Texas 76504
Email Contact: Admin@RiverWorshipCenter.org
All Coffee Break articles are copyright by Regner A. Capener, but authorization for reprinting, reposting, copying or re-use, in whole or in part, is granted –provided proper attribution and this notice are included intact. Older Coffee Break archives are available at http://www.RegnersMorningCoffee.com. Coffee Break articles are normally published weekly.

If you would like to have these articles arrive each morning in your email, please send a blank email to: Subscribe@AnotherCoffeeBreak.com.To remove yourself from the mailing list, please send a blank email to Unsubscribe@AnotherCoffeeBreak.com.
CAPENER MINISTRIES is a tax-exempt church ministry. Should you desire to participate and covenant with us as partners in this ministry, please contact us at either of the above email or physical addresses, or visit: http://www.RiverWorshipCenter.org.