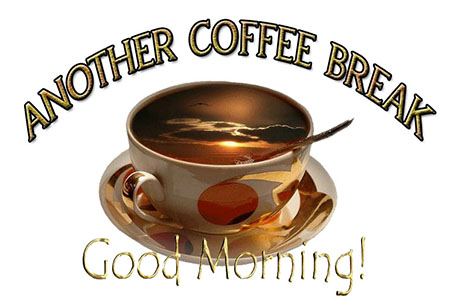 ANOTHER COFFEE BREAK: THE PSALM 23 ADVENTURE, Part 30
February 24, 2017
Let's see if we can wrap up this part of the adventures in Yea though I walk through the valley of the shadow of death.
I had hired two men who were professed "brothers in the Lord" to run North Slope Communications for me, and take care of the actual RF equipment installations. In the spring of 1981, I received a phone call from the local electric utility company indicating that they were going to contract with us for the installation and maintenance of a new two-way radio system. It was a rather large contract, and the caller indicated that they had a $140,000 deposit on this contract ready to give us that afternoon. I called "Bob" and asked him to pick up the check for me.
He left as instructed, and I didn't think too much about it when he didn't return that afternoon. It was close to quitting time, and I expected that he would bring the check into the office the following morning. He didn't show for work the next day, and I couldn't raise "Dan" (his co-worker in the company) on the phone. That concerned me, so I called Dave Dobbs. Dave was my associate pastor at Inupiat Christian Center, and he was also working as a dispatcher for the local police department. Dave sent an officer out to check on both of them and discovered that they had grabbed a flight out of Barrow immediately after picking up the check.
As it turned out, while the police officer was checking up on them, they were in Anchorage opening a business account in the name of my business with themselves as the signers. They successed in  forging my name on the check and deposited it in that account; and then absconded with the funds. There's a lot more to this picture, but I won't take the time to fill in all of the details -- not today, anyway.
The repeated thefts from the Arctic Slope Audio retail store coupled with this theft left me facing financial ruin, and I was compelled to file for bankruptcy protection. My once platinum-plated credit rating was shot to pieces.
David begins the 91st Psalm like this: He that dwelleth in the secret place of the Most High shall abide under the shadow of the Almighty. I will say of the Lord, He is my refuge and my fortress; my God; in Him will I trust.
The key phrase that opens the 91st Psalm is I will say of the Lord. Get it? It is the confession that comes out of our mouths during the time of the "noisome pestilence," the time of the "fowler" when deliberate traps are set for your destruction or your hurt.
The fourth verse says, He shall cover thee with his feathers, and under his wings shalt thou trust: his truth shall be thy shield and buckler.
Again, it is "His truth" which must be our defense, our shield of protection during these times. I've shared this many times before, and I'll say it again. Things are not what they seem to be; they're what God says they are. The facts may declare one thing, but often times those facts are at odds with what God's Word clearly says. One cannot dwell on "facts." Your meditation, your daily cogitation must be on what God's Word says in the midst of these so-called "facts." That is what MUST be your daily confession.
For me -- in the midst of the non-stop series of attacks against my well-being, my family's well-being, our finances, our vision, our credibility, the ongoing ministries -- I could not afford to dwell on what was going wrong. Had I done so, it would have put me in an institution as a babbling idiot. My mind had to be stayed on the Lord, on His Word, on His promises to me, and on the commission He had given.
We had launched an assault on the kingdoms of darkness. We were out to take back and reclaim territory stolen by Satan. The ministry of CBN and the 700 Club was growing. Lives were being transformed by the Gospel of Jesus Christ. People were being delivered from evil spirits. Folks were receiving prophetic words from Pat Robertson and Ben Kinchlow on the 700 Club -- words that had been given sometimes weeks earlier and recorded on video tape -- which met them precisely where they were at that given moment in time they heard the words. When they heard and received those prophetic words, healings took place, evil spirits departed, miracles of outstanding proportion followed in the lives of people scattered throughout remote Alaskan communities and villages.
Beyond that, we were impacting the community of Barrow. People were being saved, healed, delivered and set free from lifetime bondages. The sufferings we were enduring were of little consequence compared to the revealing of the Glory of the Lord in the lives of all these people. But Satan was out to stop us, and he was literally throwing his entire arsenal at us.
I've already told you of the attacks that began once "Johnny" believed the lie that he couldn't be being afflicted by evil spirits -- never mind his background and upbringing as the heir-apparent shaman in Barrow. I've told you of the beatings two of my children suffered; how our oldest daughter, Debbie was shot at; how unidentified individuals made two specific attempts to take me out by assassination; how threats against my life took place on an almost-daily basis for months; how the contractor who had come to Barrow to build our new church had his life threatened, along with his employees, at rifle-point; how our businesses were robbed six times; how two employees of my communications business fled with $140,000, and how the thefts and robberies ultimately forced me into bankruptcy.
All of the aforementioned events took place over the period from early 1980 through the summer of 1981. And we were a long way from coming out the other end of the valley of the shadow of death. Although my oldest daughter, Debbie (who is an adopted Eskimo) chose to stay in Barrow to finish high school, I sent Chris and Melodie out of Barrow to be with my parents at Saint Paul Island, and to keep them away from the fracas until the dust had settled.
During the last few years as I've shared these Coffee Breaks, you've heard me talk about the wonderful things we've seen God perform. You've heard me talk about the miracles, the blessings that have unfolded, the provision of God in the face of the impossible, the stupendous and marvelous deliverances from evil spirits, the transformation of lives -- up to and including an entire community being won.
What I have not talked a lot about is the opposition, the persecution, the failures, the battles, along with the betrayal of erstwhile friends and "brethren." Why? Because they pale in comparison. They are not the focus of my life.
Jesus put it like this, These things I have spoken unto you, that in me ye might have peace. In the world ye shall have tribulation: but be of good cheer; I have overcome the world. (John 16:33)
Sometimes, the opposition, the persecution and afflictions just seem to go with the territory. But they are not what life is all about. One does not become an "overcomer" unless one has things to overcome. One does not become a victor in battle unless there is first a battle, and there is an opponent who is determined to do you in, whom you defeat.
Writing his second letter to the Ekklesia in Corinth, Paul says, Are they ministers of Christ? (I speak as a fool) I am more; in labours more abundant, in stripes above measure, in prisons more frequent, in deaths oft. Of the Jews five times received I forty stripes save one. Thrice was I beaten with rods, once was I stoned, thrice I suffered shipwreck, a night and a day I have been in the deep;
In journeyings often, in perils of waters, in perils of robbers, in perils by mine own countrymen, in perils by the heathen, in perils in the city, in perils in the wilderness, in perils in the sea, in perils among false brethren; In weariness and painfulness, in watchings often, in hunger and thirst, in fastings often, in cold and nakedness.
Beside those things that are without, that which cometh upon me daily, the care of all the churches. Who is weak, and I am not weak? who is offended, and I burn not? If I must needs glory, I will glory of the things which concern mine infirmities. (See II Corinthians 11:23-30)
Are you getting the picture? If it is necessary for me to express glory -- that manifestation of the blessing of the Lord, then I will express the glory of the Lord that has come in the midst of my own weaknesses -- in the times of my own failings, those times when everything seemingly went wrong or against me -- when God showed up on the scene! (II Corinthians 11:30, RAC Translation & Amplification)
Shortly after having to file for bankruptcy, a lady was appointed by the bankruptcy judge as a "master" to come to Barrow and try to get a handle on our assets. This woman had a personal hatred of Christianity and Christians in general, and when she discovered that our businesses were being used to fund the growth of CBN's ministry throughout Alaska, she decided -- on her own -- that Inupiat Christian Center and its assets could and should be seized as assets of the businesses, never mind the fact that each of these were separately incorporated entities. Her excuse was that since I was the President of ICC -- an Alaska non-profit corporation -- AND the President of Alpha-Omega Industries, Inc. (the holding company for Arctic Slope Audio and North Slope Communications), that alone was prima facie evidence that I was co-mingling assets.
She proceeded to show up at the door of our home with two police officers one evening with a search warrant to go through our home looking for assets of Inupiat Christian Center. They literally ransacked the house, taking not just personal electronic equipment, but bedding, clothing and personal tape recordings and records -- more accurately, whatever they laid eyes on that they wanted personally. For a while, I thought I was living in a Communist country.
I contacted an attorney-friend in Fairbanks who went to court to get an injunction against the illegal seizure of church assets and personal effects that -- under any interpretation of law -- were exempt from seizure, and an order for the immediate return of those items. It took almost a month before an injunction and an order were forthcoming. Everything that had been seized somehow mysteriously disappeared. Months later, I learned that our personal sound equipment and the church's equipment was in the homes of the police officers that had accompanied the "master." Reclaiming them was an impossibility since there was no prosecutor or judge who would listen to the evidence. I was left with only one recourse: give it to the Lord and trust Him to be my vindication.
In Psalm 50:16-23, David writes, But unto the wicked God saith, What hast thou to do to declare my statutes, or that thou shouldest take my covenant in thy mouth? Seeing thou hatest instruction, and castest my words behind thee. When thou sawest a thief, then thou consentedst with him, and hast been partaker with adulterers.
Thou givest thy mouth to evil, and thy tongue frameth deceit. Thou sittest and speakest against thy brother; thou slanderest thine own mother's son. These things hast thou done, and I kept silence; thou thoughtest that I was altogether such an one as thyself: but I will reprove thee, and set them in order before thine eyes.
Now consider this, ye that forget God, lest I tear you in pieces, and there be none to deliver. Whoso offereth praise glorifieth me: and to him that ordereth his conversation aright will I show the salvation of God.
This Psalm is a rebuke to those who think they can get away with slander and thievery; and the promise to the believer is that, to those who order their conversation aright -- those who continue to confess the promises of God in the midst of the slander and thievery -- they will see God's salvation and intervention.
I had felt prompted some months earlier by the Holy Spirit to begin a transition of our main operations for CBN-Alaska, Inc. from Barrow to Fairbanks. Although I had been somewhat slow to respond to this prompting, some of our equipment and supplies had been transferred, and new operations in Fairbanks begun -- and as it turned out, this equipment was just about all that survived the raids and the thievery.
One lone police officer who had been a part of our church fellowship (other than Dave Dobbs, my associate pastor, who was not an active officer but rather a police-dispatcher) took it upon himself to negotiate for, and/or reacquire some of the lost equipment on his own. He saw the shenanigans of his fellow-officers, and while he wouldn't take up arms against them (figuratively speaking, of course), he considered it his duty to rectify as much of the wrong-doing as he could.
Accusations against me began to surface within the community. The thought process seemed to go like this: Where there's smoke, there must be fire. If all these things are happening to this guy, he must really be on the outs with God: therefore, he must be guilty of some kind of hidden sins.
Next thing I knew, a phone call came from the Naval Commander at the Arctic Research Laboratories. He advised me that one of the native corporations had filed suit against him for "illegally" donating the surplussed building materials to Inupiat Christian Center and crossing the so-called "church-state" boundaries under the U.S. Constitution. I was pretty sure I knew where the suit had originated, and by whom, but told the Commander that I understood his dilemma and if he wanted to withdraw the offer to avoid the lawsuit, he was welcome to do so. He immediately thanked me and advised me that all materials still on site at the laboratories would be disposed of at public auction instead.
Within days I received another phone call. This time the call was from the UIC -- the native corporation which had granted us the land upon which to build the new church. The phone call was simply a notification that the board of directors had rescinded the grant, and that the native corporation was taking possession once again of the land.
The threatening phone calls from muffled voices had not ceased during this time, and now they took on a more personal aspect. One phone call in particular came from an "elder" in another church. "We know that God didn't call you, and He didn't send you to Barrow. You are under a curse because you left the church of your father; and you'd better get out of town while you still can."
Wow! That caller didn't bother to disguise his voice, and I easily recognized who it was. I laughed at him and said, "Friend, you have nothing to do with my call from the Lord, and you will have nothing to say about any decision on my part to leave Barrow."
Added to all of the pressure, the accusations, the slander, the thievery and the betrayal by folks I had considered as fellow-laborers in the Gospel, we were now advised that the lease on the house we were living in (we had vacated "Johnny's" house some months before) was being canceled and the place sold. When you see the sequence of events the way they unfolded, it isn't hard to develop a conspiracy theory, but I wasn't going there.
Isaiah had prophesied, Say ye not, A confederacy (conspiracy), to all them to whom this people shall say, A confederacy; neither fear ye their fear, nor be afraid. Sanctify the LORD of hosts himself; and let him be your fear, and let him be your dread. And he shall be for a sanctuary... (Isaiah 8:12-14)
If there was a conspiracy, it was one in the realm of the spirit, and the conspirators were evil spirits operating in and through willing people who had been sucked in by demonic lies.
We weren't done with the valley of the shadow of death yet, but there was developing in me a very clear sense of "I will fear no evil." Beyond that, the sense of the presence of the Lord and David's declaration, "For thou art with me," were more real than I could possibly express. It took no imagination whatever to know that the Lord had been Protector, Shield, and Rock of Defense in the midst of all of it.
I remind those of you in need of ministry that our Healing Prayer Call normally takes place on the first Monday of each month at Eastern (4:00 PM Pacific).  Our call-in number is (712) 775-7035.  The Access Code is: 323859#.  For Canadians who have difficulty getting in to this number, you can call (559) 546-1400.   If someone answers and asks what your original call-in number was, you can give them the 712 number and access code.
At the same time, in case you are missing out on real fellowship in an environment of Ekklesia, our Sunday worship gatherings are available by conference call – usually at about Pacific.  That conference number is (712) 770-4160, and the access code is 308640#.  We hope to make these gatherings available by Skype or Talk Fusion before long.  If you miss the live call, you can dial (712) 770-4169, enter the same access code and listen in later.
Blessings on you!

Regner A. Capener
CAPENER MINISTRIES
RIVER WORSHIP CENTER
Temple, Texas 76504
Email Contact: Admin@RiverWorshipCenter.org
All Coffee Break articles are copyright by Regner A. Capener, but authorization for reprinting, reposting, copying or re-use, in whole or in part, is granted –provided proper attribution and this notice are included intact. Older Coffee Break archives are available at http://www.RegnersMorningCoffee.com. Coffee Break articles are normally published weekly.

If you would like to have these articles arrive each morning in your email, please send a blank email to: Subscribe@AnotherCoffeeBreak.com.To remove yourself from the mailing list, please send a blank email to Unsubscribe@AnotherCoffeeBreak.com.
CAPENER MINISTRIES is a tax-exempt church ministry. Should you desire to participate and covenant with us as partners in this ministry, please contact us at either of the above email or physical addresses, or visit: http://www.RiverWorshipCenter.org.