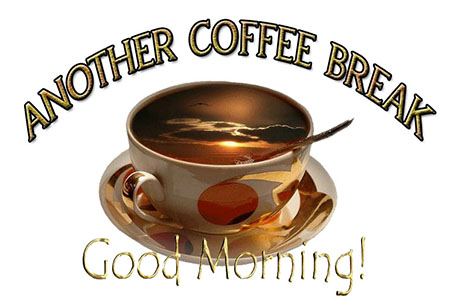 ANOTHER COFFEE BREAK: THE PSALM 23 ADVENTURE, Part 29
February 17, 2017
We're continuing our way through the 23rd Psalm, and I'm sharing with you a series of events that unfolded in 1980 – 1981 as a firsthand walk through the valley of the shadow of death.
We were talking last week about "Johnny" and his having been "anointed" (literally, by the way) and reared to become the next-in-line shaman. Shamanism -- for those of you unaware of its true nature -- is based in "nature worship" and "animism" (or animal worship). The Eskimo culture of old ascribed divine characteristics to whales, to walruses, to the arctic white fox, to the arctic tern (a very small bird), to the wolf, and to various other birds and creatures.
I was out on a whaling crew when I was a teenager and helped to pull in a 52 or 53-foot beluga whale. (Lest there be any misunderstanding in what I'm saying, when I say that I helped to pull in a whale, we were using a huge block and tackle to pull it out of the ocean onto the ice floe [about 12 miles out to sea on the ice pack]. There were perhaps 60 or 70 people on the block and tackle because the whale weighed one ton per lineal foot.) The ritual they went through -- both in cutting up the whale for meat, and then in disposing of the whale bones -- was rather eye-opening for me. I realized that despite the conversion to Christianity among many of these native whalers, they were still holding fast to superstitions and traditions that had come out of shamanism: traditions and superstitions, incidentally, rooted firmly in an extreme fear of death.
Throughout the years I grew up in the arctic, and then being in ministry and pastoring some of these same people, those people who were filled with the Holy Spirit and set free from those traditions and superstitions would come to me and say, "we will never go to those feasts, and we will never participate again in the Eskimo dances." Because I wasn't very well versed at the time in some of the myths and demonic practices of shamanism, I quizzed these people. They quickly told me of the evil and the curses associated with the dances, and the satanic worship that went with those dances.
By the time Johnny came to me and related his story, there wasn't a lot left to the imagination. It took no great rocket science to know that he was in over his head in practices that would lead to his early death if he didn't renounce shamanism and be set free of the evil spirits associated with this idolatry. Johnny had already seen several members of his family die at any early age.
Another Eskimo brother in our fellowship joined me in ministry to Johnny as we prayed with him, and he accepted Jesus Christ as His Lord and Savior. We shared at some length with him; and then I instructed Johnny to go home and fast for three days in preparation for his deliverance. The purpose of fasting is to subdue the flesh -- not to twist God's arm to get Him to do something He might not otherwise do -- and I knew that shamanism produces some real strongholds in the flesh.
Johnny agreed, and we three set ourselves to fast and pray during those three days. On the third day of the fast, I saw Johnny on the street and he was excited over the prospect of being free. We had agreed to an appointment with him for deliverance the next day and he expressed his anxious desire for the moment of deliverance to come.
In case you think Satan easily gives up territory he has held for a long time, think again! The morning of the appointed day came, I was in one of our local restaurants and Johnny came in. He was glad to see me and said he would see me that evening at our appointed time.
The native brother who had previously joined me in ministry to Johnny showed up on schedule, and we had a real sense of anticipation at seeing him set free. The appointed time came and went, and there was no Johnny. We waited for two hours, but he never showed.
The following day, I went to track him down and he couldn't be located. It was a week before I saw Johnny again, and the Johnny I saw was not the same excited, joyful Christian I had seen the morning of the appointed day. His whole demeanor was one of blackness, of hatred and anger. When I buttonholed him and said, "Johnny, what happened? We were waiting for you," he told me that he had gone to do some carpentry work for another pastor in town on the appointed day. He had been excitedly sharing with that pastor over his expected deliverance.
Sadly and tragically, that pastor was indoctrinated with a religious doctrine that says if you have accepted Jesus Christ, you can't have evil spirits tormenting you -- that you are already delivered. Over a period of some four hours, this pastor systematically shredded all of the foundational work that had been prepared in Johnny. Johnny was a newborn Christian who did not have the work of salvation yet established in his life. He had no training or background in the Word to enable him to know that what that pastor was saying was in error.
By the same token, what that pastor did not realize was that he also condemned Johnny to death by his doctrine. No, it didn't happen in a day, a week, a month, or even a year, but it set up a religious wall in Johnny that stopped him from hearing anything else that would set him free.
There is a law of the Kingdom of God that Jesus stated when He was talking with the Pharisees one day. It goes like this:
John 8:31-36:  Then said Jesus to those Jews which believed on him, If ye continue in my word, then are ye my disciples indeed; And ye shall know the truth, and the truth shall make you free. They answered him, We be Abraham's seed, and were never in bondage to any man: how sayest thou, Ye shall be made free? Jesus answered them, Verily, verily, I say unto you, Whosoever committeth sin is the servant of sin. And the servant abideth not in the house for ever: but the Son abideth ever. If the Son therefore shall make you free, ye shall be free indeed.
You see it, don't you? "Whosoever committeth sin is the servant of sin." Johnny had become the servant of sin by virtue of his longtime training and involvement in shamanism. Because he hadn't yet been delivered from the evil spirits which drove the lie of that idolatry in his life, and someone else came along with a religious doctrine that reinforced the existence of those demons in Johnny's life, it stopped him from knowing the truth and being set free.
It also unleashed such persecution and opposition as I had never known in my life against me personally, and against my family. The same evil spirits that afflicted Johnny now afflicted that pastor who had opened himself up to them by virtue of the lying doctrine of demons he had spoken. That pastor now began to speak out publicly against me and against the ministry of deliverance.
So far as I know, Johnny never darkened the door of another church. Here's the funny(?) thing. The house my family and I were living in there in Barrow was one we had leased from Johnny. It had begun as an old shack, and we had restored it. Where it had previously been just a shelter, we had enlarged it, wired the place for electricity, put in plumbing and bathroom facilities, tiled the kitchen and carpeted the rest of the house. It had become a home instead of an old shack. It was the same place our youngest daughter, Ariella, had seen and experienced angels when she was two and three years old. (More about this house in a minute.)
My apologies for taking so much time on this story, but I wanted you to understand the scope of what unfolded, and how we as a family were faced with the valley of the shadow of death.  You've seen me share parts of this story before, so pardon the repetition.
In the weeks that unfolded thereafter, all hell broke loose on us. Debbie, our oldest daughter, was shot at six times. Chris and Melodie (oldest son and second daughter) would come home from school beaten and bloodied. Adults would wait for them in the darkness (we were in the midst of the 66-day dark cycle when the sun never rises) and catch them on their way home from school, pick them up in mid-air and hurl them against buildings, pick them up and do it again, and then disappear into the darkness.
I began receiving death threats on the telephone. The phone would ring and a muffled voice at the other end would say, "The next time you step out the door, you'll get a bullet through the face."
I found myself continually declaring from Psalm 91, He shall cover thee with his feathers, and under his wings shalt thou trust: his truth shall be thy shield and buckler. Thou shalt not be afraid for the terror by night; nor for the arrow (make that, bullet!) that flieth by day; Nor for the pestilence that walketh in darkness; nor for the destruction that wasteth at noonday. A thousand shall fall at thy side, and ten thousand at thy right hand; but it shall not come nigh thee. Only with thine eyes shalt thou behold and see the reward of the wicked. (Remember this one! You'll see the fulfillment of it before this story is finished.)
Because thou hast made the LORD, which is my refuge, even the most High, thy habitation; There shall no evil befall thee, neither shall any plague come nigh thy dwelling. He shall give His angels charge over thee to keep thee in all thy ways.
When you are in the midst of unfolding terror, you'd BETTER know what God's Word says, and what the promises of God are concerning you. And the terror (or threat of it) increased.
Driving to my office one day in a van I had purchased for the church, a shot rang out and a bullet penetrated the van perhaps 12 to 18 inches from me, passing through the van just behind the driver's seat. I stopped the van and got out. Not seeing anyone, I got back in, shrugged my shoulders and drove to my office.  Hate mail started showing up. A postcard came in the mail one day that literally tickled me. It hit my funny bone and I decided to post it on the bulletin board at our retail store. It read, "Go directly to hell. Do not pass Go, Do not collect $200, Go directly to hell."
The contractor I had hired to begin construction on our new church building finally had everything in place. His crew began transporting the heavy logs from the Naval Arctic Research Laboratories (NARL) to put into the ground for the foundations. All construction in the arctic requires buildings to be built on pilings sunk ten feet or more into the ground. The buildings are floated on these pilings above the ground in order to deal with the freezing and thawing of the permafrost and to keep them from shifting and breaking up. The ground is nothing but tundra which sits on hardened ground (matted vegetation which dates back before the time of Noah's flood when the entire globe was surrounded in a warm vapor).
All that to say that the contractor was driving piling into the ground in preparation for the actual construction. One day, men armed with rifles showed up at the building site and pointed the rifles at the work crew, ordering them to stop their work. They told the contractor they were taking possession of the ground, and that I no longer owned it. It scared the living daylights out of the crew and they dropped everything. The contractor came to see me and told me what had happened. He said, "Get this sorted out and we will return. Until then, we're leaving town." He and his men wasted no time getting on the first Wien Alaska Airlines flight out of Barrow.
I decided to take the family out of Barrow for a short break and get away for a week. We took a trip to California, and I took the kids to Disneyland and Knott's Berry Farm. When we got back, one of my friends on the local police force met me at the airport and told me that Johnny had moved back into our house, and that he had given away a lot of our things. The police had recovered much of what had been given away, but some of it was unusable.
When we got to the house, Johnny was just leaving. I said to him, "Johnny, what's going on here?" He wouldn't answer me and left without a word. It took us several days to get the house cleaned up and back in order.
No one has ever called me a quitter, and I wasn't about to begin now. Although I still didn't have the title deed to the property the UIC had given us to build the new church, the president of the corporation assured me that it would be forthcoming, and that no change had taken place in their decision to grant us that land. I took one of the elders from our fellowship to the construction office that had been set up on the land, and we were reviewing the building plans together and discussing our next move.
During the course of our conversation, we were standing together in front of a window next to the drafting table. It was as though the angel of the Lord suddenly pulled us apart from each other (we'd been standing pretty close to one another) and the window suddenly exploded between us as a rifle bullet shattered the silence. A man was standing out on the road about 250 - 300 feet away with his gun aimed at us. He'd obviously thought to kill me (or both of us) and the angel of the Lord had prevented it.
I opened the door and saw the man aiming his rifle again at us. Now, I'm not known as a coward, but my middle name isn't "Stupid," either. Nevertheless, a holy boldness came on me and I shouted at the man, "Hey, what do you think you're doing?" I took off running towards him. That, obviously, was the last thing he expected. He turned to run, dropped his rifle, then grabbed his rifle off the ground and took off towards a waiting vehicle. Although I reported the incident to the police, nothing ever came of it.
It isn't necessary for me to repeat some of the events that took place surrounding this time, and I've shared with you previously how the Lord spoke to me almost in an audible voice one day and said, "Close the doors of the business." Because it was right at the Christmas season, I reasoned that it was OK to close after Christmas and take advantage of the seasonal sales. Bad reasoning! Brother! If you hear the Lord speak like that to you, don't try to rationalize and figure things out: just do exactly what He says. You'll save yourself a lot of grief.
In the weeks that followed, my store was broken into not less than six times and cleaned to the four walls of expensive audio and television equipment. Some of the equipment was recovered, the thieves found and tried in court for burglary, but scarcely one piece of equipment retrieved was re-sellable. The police had found it under a house in the snow, and some of lying in raw sewage.
Well, this story still isn't finished. I didn't make it through the valley of the shadow of death in six months, or even a year. It took me nearly three years before it was all said and done. But the Lord was truly with me -- every step of the way. I'll try and finish this part of the Valley of the Shadow of Death next week
I remind those of you in need of ministry that our Healing Prayer Call normally takes place on the first Monday of each month at 7:00 PM Eastern (4:00 PM Pacific).  Our call-in number is (712) 775-7035.  The Access Code is: 323859#.  For Canadians who have difficulty getting in to this number, you can call (559) 546-1400.   If someone answers and asks what your original call-in number was, you can give them the 712 number and access code.
At the same time, in case you are missing out on real fellowship in an environment of Ekklesia, our Sunday worship gatherings are available by conference call – usually at about 10:45AM Pacific.  That conference number is (712) 770-4160, and the access code is 308640#.  We hope to make these gatherings available by Skype or Talk Fusion before long.  If you miss the live call, you can dial (712) 770-4169, enter the same access code and listen in later.
Blessings on you!

Regner A. Capener
CAPENER MINISTRIES
RIVER WORSHIP CENTER
Sunnyside, Washington 98944
Email Contact: Admin@RiverWorshipCenter.org
All Coffee Break articles are copyright by Regner A. Capener, but authorization for reprinting, reposting, copying or re-use, in whole or in part, is granted –provided proper attribution and this notice are included intact. Older Coffee Break archives are available at http://www.RegnersMorningCoffee.com. Coffee Break articles are normally published weekly.

If you would like to have these articles arrive each morning in your email, please send a blank email to: Subscribe@AnotherCoffeeBreak.com.To remove yourself from the mailing list, please send a blank email to Unsubscribe@AnotherCoffeeBreak.com.
CAPENER MINISTRIES is a tax-exempt church ministry. Should you desire to participate and covenant with us as partners in this ministry, please contact us at either of the above email or physical addresses, or visit: http://www.RiverWorshipCenter.org.