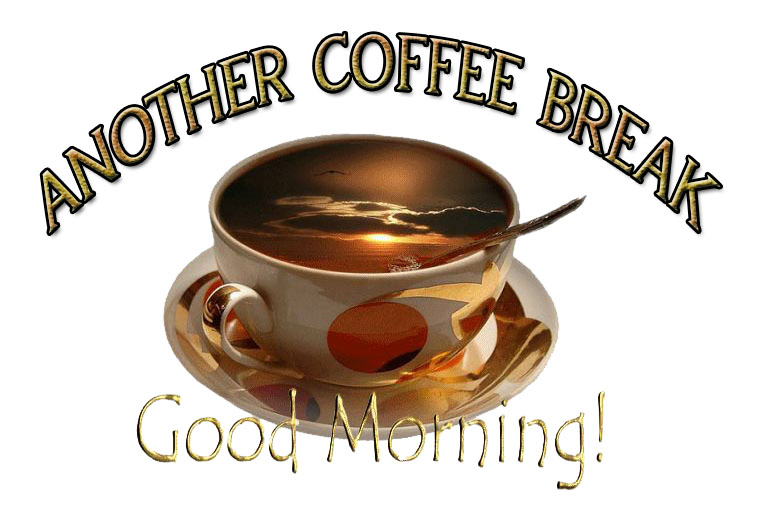 ANOTHER COFFEE BREAK: THE PSALM 23 ADVENTURE, Part 26
January 27, 2017
Good Morning, all you early birds!  Most of you know, I think, that these Coffee Breaks come out in the wee hours of the morning, and some folks even write me asking if I'm up at 2:30 in the morning sending them out.  Nope.  Rich Hoffman is our webmaster and he gets them published very late Thursday night or very early Friday morning.
Before we get into today's discussion, I have to share something with you.  Many of you already know that Della and I have inherited our four youngest grandchildren because of a serious crisis with their parents.  Being parents again to children, aged 4 to 8, is an adventure all by itself.  What it means is that we have counseling, comforting, encouragement and spiritual building up in the lives of these young ones.
Jasmine, our eight-year-old, has been through her own traumas, apart from the other three.  A couple nights ago, I was praying with her before she went to sleep.  Part of my prayer over her was that she would receive a visitation from the Lord Jesus Christ during the night.  The next morning, she came bounding out of bed, excitedly saying to me, "Grandpa, Jesus came and sat down with me last night.  He and I got to sing together."
The next morning was almost a repeat of the day before.  As she was getting dressed, I heard her singing, "I love Jesus, and He loves me."  Then I heard her singing another tune that was completely new, so I asked her where she learned it.  This time Jasmine said, "Grandpa, Jesus came and sat down on my bed last night, and we sang together again." I asked her if the song she was singing was one that Jesus taught her and she nodded her head, "Yes!"
Have to say that when Della and I hear these kinds of reports from the grandchildren, it gets really exciting, heart-warming, and encouraging to see the responses and know that we are making headway.
Last week, we tried to wrap up our discussion on being led in the Paths of Righteousness.  There's so much more that we could cover, but I do want to move on today with the next phase of this adventure in Psalm 23.  That brings us to, Yea,  though I walk through the Valley of the Shadow of Death.
Let's do a quick re-cap of all that has transpired up to this point.
Our adventure began with a decree, a declaration of our total commitment to the Lord Jesus Christ when we stated unequivocally, "The Lord is my Shepherd!"  It began a walk for us in life that spelled radical change from the past.  This was the beginning of a transition from darkness and ignorance of the spiritual realm to light, to a revelation of a dimension the world does not know.
Next came the decree with a promise and confident expectation when we said, "I shall not want!"  It was a prophetic declaration over our lives that we would never again live a life of want, of need, of continual "getting" of "things" because of an ingrained spirit of The Fear of Death.
That followed the compelling of Holy Spirit to eat of the Word when we experienced the discipline of "He maketh me to lie down in green pastures."  This is that time of laying and establishing the foundations of the written Word, as well as coming to know and understand that Jesus IS that Word – that He is more than words and letters on paper.  What we eat of, and carefully digest, are the principles and purposes of Jesus Christ being both Shepherd and Lord of our lives.
Both the Azusa Street Revival at the turn of the 20th Century and the Charismatic Renewal which unfolded some 60 years later were introductions to the entire body of Christ to the very next adventure, where David writes, "He leadeth me beside the still waters."  The difference between this step and the previous is quite obvious.  Instead of "He maketh me," now it has become, "He leadeth me."  It has been often said that Holy Spirit is a gentleman.  He does not force people into doing something against their will.
In this instance, the leading – rather than compelling – is because we are about to enter a dimension that our flesh may well rebel against.  This is that realm where we submit our flesh and our will to Holy Spirit and allow Him to begin to flow through us.  This is evidenced in the fact that we allow Him to take control of our tongues in order to speak under His aegis and use our tongues to speak with the languages of both men and angels.  James makes it clear in his letter to the body of Christ that "the tongue is a little member and boasteth great things."  Hence the need to submit it to Holy Spirit for His control so that we can speak according to the will of God the Father.
Having submitted our entire beings to this realm of the Spirit, we are now ready for the fifth step in this amazing adventure, and one – again – to which our flesh will want to rebel.  Here is where spiritual surgery begins in our lives so that healing and restoration to the image we were first created in can begin.  Hence, "He restoreth my soul."  That restoration is critical and must take place if we are going to meet all of the challenges and events that will occur as we walk with the Lord, following Him in the Paths of Righteousness.
The Paths of Righteousness are going to take us into – and through! – the Valley of the Shadow of Death.
You'll recall that one of the areas of deliverance, healing and restoration is being set free of all fear.  As we have discussed, there are three families of fear: The Fear of Evil, the Fear of Man and the Fear of Death.  It is important to have our freedom from these areas where the Enemy has tormented us put to the test.  Holy Spirit does not put us to the test so that we can fail but rather so we can see what He has accomplished in us.
Consider something that Matthew writes concerning Jesus.
Matthew 4:13-16: And leaving Nazareth, he came and dwelt in Capernaum, which is upon the sea coast, in the borders of Zabulon and Nephthalim: That it might be fulfilled which was spoken by Esaias the prophet, saying, The land of Zabulon, and the land of Nephthalim, by the way of the sea, beyond Jordan, Galilee of the Gentiles;  The people which sat in darkness saw great light; and to them which sat in the region and shadow of death light is sprung up.
We can add to this with what Paul writes to the Hebrews:
Hebrews 2:14-15: Forasmuch then as the children are partakers of flesh and blood, he also himself likewise took part of the same; that through death he might destroy him that had the power of death, that is, the devil; And deliver them who through fear of death were all their lifetime subject to bondage.
The Fear of Death and the Fear of Evil are frequently working hand in hand with each other to bring destruction to people – and perhaps the most vulnerable are those who are seeking after the Lord Jesus Christ.  The need to be free from these wicked spirits is paramount in our walk in the Paths of Righteousness.
Because a major part of the restoration process involves being set free from these spirits, it is important for us to see and experience the victory that Christ has given us.  Thus, the Paths of Righteousness MUST lead is into and through the Valley of the Shadow of Death.
First of all, lets understand this "valley."  There are several words or derivatives of the root word in Hebrew for "valley."  In this instance, Holy Spirit has chosen a derivative word which would be all too familiar to David's experiences, and properly describes it as "the Valley of the Shadow of Death.  To the south and west of the city of Jerusalem runs a deep and narrow valley that is more "gorge" in our understanding than "valley."  We see it occasionally referred to throughout Scripture as "the Valley of Hinnom."
What makes this valley so distinct from other valleys is the fact that it was narrow with high walls on either side, making side egress from the valley difficult, if not impossible.  It was a place to which the Jebusite inhabitants of what was called at the time, "the City of Jebus," or "Jebusi."  
For those of you who've read the rather lengthy Coffee Break series I did ten or eleven years ago titled, Seven Nations, Seven Letters, you'll remember that the city of Jerusalem did not get its proper name until David, as King of Israel, overthrew the Jebusite king who ruled there.  The name, Jebus, was a name given to the father of the Jebusites by his children because of his military tactic of "crushing."  Not only did he have crushing military victories over his opponents, he physically crushed their skulls and bodies.  He was born as a son of Canaan, originally named, Jerus (which meant: foundations), but his sons thought Jebus to be more fitting, and he was known thereafter and throughout time as "Jebus," with all of his descendants referred to as "Jebusites."
I've shared all that to say that this particular valley became the sight of human sacrifice: hence, the "Valley of the Shadow of Death."  Anyone entering the valley experienced the long shadows and the dread and foreboding it gave of death because of the way it was used.  An uncountable number of people were put to death in that valley and burned as human sacrifices to Baal and Astarte (or Ashteroth.)
Now!  Put that concept into the picture when you think the phrase, "Yea, though I walk through the Valley of the Shadow of Death."  Takes on a whole new dimension, doesn't it?  David emphasizes, however, the fact that we walk through that valley.  We don't stop there, and we don't remain there!  We do come out the other end of the valley.  Some very important foundations are established in our lives in the process, and we will get to those in the next few weeks.
David gives us another perspective of the Valley of the Shadow of Death in Psalm 107, and what he writes here bears directly on what we will – and MUST – learn along the way.
Psalm 107:8-14: Oh that men would praise the LORD for his goodness, and for his wonderful works to the children of men!  For he satisfieth the longing soul, and filleth the hungry soul with goodness.  Such as sit in darkness and in the shadow of death, being bound in affliction and iron;  Let's pause in this narrative for a minute and consider exactly what is taking place.
As Matthew prophesied of Jesus, He brought light into the darkness and shadows where death existed.  David sees prophetically into that day and makes it clear that those who are sitting in that darkness and in the valley of the shadow of death need to praise the Lord and rejoice in their deliverance.  David knew from experience that even in the midst of the crises and places of affliction that the answer was praise!
The 34th Psalm was a song sung, along with rejoicing and dancing, when he was in danger of death from the Philistine king, Abimelech.  The shadow of death hung around him.  Part of his song goes, "I sought the Lord, and He heard me, and delivered me from all my fears."
 Thus, he could write in the 107th Psalm, "For He satisfieth the longing soul, and filleth the hungry soul with goodness."  That satisfaction came because of the light of the presence of the Lord in the midst of what for all practical purposes for him was the valley of the shadow of death.
Now, he describes a condition that causes folks to be in the shadow of death.
Because they rebelled against the words of God, and contemned the counsel of the most High:  Therefore he brought down their heart with labour; they fell down, and there was none to help.
Rebellion against that which the Lord was saying to them is what started their predicament.  David adds that they scorned and ridiculed the counsel of the Lord.  Thus He permitted them to suffer the consequences of their rebellion and scorn.  The Hebrew phraseology in this statement indicates that the consequences of their disobedience included worry, grief, and hard labors (trying to escape the results of their scorning of God's counsel) resulting in wavering, tottering and ultimate failure.
When folks find themselves in that condition after their rebellion, stubbornness, disobedience to the Word and counsel of the Lord, and they awaken spiritually to realize the why and where of their predicament, there is a cry that erupts from their being.  In this instance, the Hebrew phraseology describes a corporate cry where folks who are all in that state of suffering cry out together asking God for His salvation.
Then they cried unto the LORD in their trouble, and he saved them out of their distresses.  He brought them out of darkness and the shadow of death, and brake their bands in sunder.
The deliverance of the Lord to those who've rebelled against Him and His counsel when they cry out for help is nothing less than astounding.  David says that God delivered them, set them free, brought light and life to their circumstances and broke the emotional, mental (and even physical) chains that held them captive.  That same light illuminated what had been the shadow of death, bringing revelation in its place.
In the 136th Psalm, David's song begins, "O give thanks unto the Lord, for He is good: for His mercy endureth forever."  NO KIDDING!!!
We've only laid foundations today for understanding the significance of the Valley of the Shadow of Death and why the Paths of Righteousness lead us into that place.  Next week, we will expand on this.
I remind those of you in need of ministry that our Healing Prayer Call normally takes place on the first Monday of each month at 7:00 PM Eastern (4:00 PM Pacific).  Our call-in number is (712) 775-7035.  The Access Code is: 323859#.  For Canadians who have difficulty getting in to this number, you can call (559) 546-1400.   If someone answers and asks what your original call-in number was, you can give them the 712 number and access code.
At the same time, in case you are missing out on real fellowship in an environment of Ekklesia, our Sunday worship gatherings are available by conference call – usually at about 10:45AM Pacific.  That conference number is (605) 562-3140, and the access code is 308640#.  We hope to make these gatherings available by Skype or Talk Fusion before long.  If you miss the live call, you can dial (605) 562-3149, enter the same access code and listen in later.
Blessings on you!

Regner A. Capener
CAPENER MINISTRIES
RIVER WORSHIP CENTER
Sunnyside, Washington 98944
Email Contact: Admin@RiverWorshipCenter.org
All Coffee Break articles are copyright by Regner A. Capener, but authorization for reprinting, reposting, copying or re-use, in whole or in part, is granted –provided proper attribution and this notice are included intact. Older Coffee Break archives are available at http://www.RegnersMorningCoffee.com. Coffee Break articles are normally published weekly.

If you would like to have these articles arrive each morning in your email, please send a blank email to: Subscribe@AnotherCoffeeBreak.com.To remove yourself from the mailing list, please send a blank email to Unsubscribe@AnotherCoffeeBreak.com.
CAPENER MINISTRIES is a tax-exempt church ministry. Should you desire to participate and covenant with us as partners in this ministry, please contact us at either of the above email or physical addresses, or visit: http://www.RiverWorshipCenter.org.