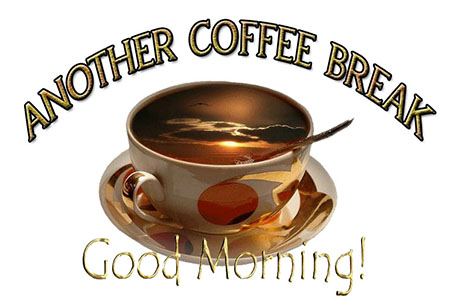 ANOTHER COFFEE BREAK: THE PSALM 23 ADVENTURE, Part 20
October 28, 2016
Three weeks ago, we took a break in our discussion of the purposes and objectives that the Lord has for us in walking in these Paths of Righteousness. At the same time, let's not forget what is taking place here is "for His Name's sake."
Once again, that phrase, "for His Name's sake," is representative of His onoma and in order that His onoma would become ours. Jesus' onoma is His very makeup, His character, His personality, His authority, rank, power and position.
That word, "sake" in this phrase comes from the Hebrew word, ïòÇîÇ, ma'an (purpose, to the intent, because of, to the end that). It has its roots in another Hebrew word, äðˆòÈ, 'anah (to testify to, to bear witness of). Thus you understand why we are being led in these Paths of Righteousness.
We stopped in the middle (three weeks ago) of our discussion on the critical importance of governing the words that come out of our mouths. Today, I want to begin with a fistful of examples in the Word as we finish that third item in the list of purposes for this walk in the Paths of Righteousness.
Before we get to those examples, let me bring up one more Hebrew word that might help to clarify where we are going. That Hebrew word is, øá˜cŸ, dabar. This term is much more than simply the words that come out of your mouth, or the words you read on a piece of paper. Dabar is: a matter, an event, a thing. It is: business, occupation, acts.
NOW you can understand why when God spoke, events took place. Things happened. Business was conducted. Acts and actions unfolded at His speaking. The words that came out of His mouth were the precipitators of events, acts, actions, the business of Heaven taking place.
Got that? Good! Now you can see why we have the following examples in the Word.
Joshua 1:8: This book of the law shall not depart out of thy mouth; but thou shalt meditate therein day and night, that thou mayest observe to do according to all that is written therein: for then thou shalt make thy way prosperous, and then thou shalt have good success.
Psalm 1:1-2: Blessed is the man that walketh not in the counsel of the ungodly, nor standeth in the way of sinners, nor sitteth in the seat of the scornful. But his delight is in the law of the LORD; and in his law doth he meditate day and night.
II Corinthians 4:13: We having the same spirit of faith, according as it is written, I believed, and therefore have I spoken; we also believe, and therefore speak;
Romans 10:8-11: But what saith it? The word is nigh thee, even in thy mouth, and in thy heart: that is, the word of faith, which we preach; That if thou shalt confess with thy mouth the Lord Jesus, and shalt believe in thine heart that God hath raised him from the dead, thou shalt be saved. For with the heart man believeth unto righteousness; and with the mouth confession is made unto salvation. For the scripture saith, Whosoever believeth on him shall not be ashamed.
Mark 11:23-24: For verily I say unto you, That whosoever shall say unto this mountain, Be thou removed, and be thou cast into the sea; and shall not doubt in his heart, but shall believe that those things which he saith shall come to pass; he shall have whatsoever he saith.
Therefore I say unto you, What things soever ye desire, when ye pray (proseuchomai - worship), believe that ye receive them, and ye shall have them. And when ye stand praying (proseuchomai - worshiping), forgive, if ye have ought against any: that your Father also which is in heaven may forgive you your trespasses. But if ye do not forgive, neither will your Father which is in heaven forgive your trespasses.
Let me share the following principles derived from these examples in the Word.
A. We MUST understand the purpose of words. Without that understanding, we abuse and mis-use them.
B. We desensitize our thinking by the repeated abuse and mis-use of words.
C. We don't believe what we say because our language and our conversation have been contaminated by our repetitious acts of wrong speaking.
D. When our words come out of contaminated emotions, we speak contrary words to the Word of God. When we speak contrary to the Word of God, we get contrary results.
E. Until your heart is in a state of believing (and not just believing, but KNOWING), you won't have what you say. Therefore, until your heart believes and knows, SHUT YOUR MOUTH, because what you say, you sow!
F. Word "seed" is what determines increase.
OK, so far? Good. Meditate on those principles. Get the Word of the Lord so ingrained in you, in your thinking, and in your speaking that it literally changes everything about your life going forward!
Now, I think we can move on to the next principles in this list. We've just finished Number 3.
4. One of the primary objectives of walking – and learning this walk – in the Paths of Righteousness is to take us from academic learning to knowing by revelation. You'll recall that one of the promises to the overcomer (in Revelation 2:17) is "to him that overcometh will I give to eat of the hidden manna."
I can't take the time today to go back into that third letter of the seven letters written to the body of Christ, but suffice it to say that this was a promise given to those who would overcome the attempts to twist the Word of God into man-pleasing, rational thinking, humanistic speaking.
The term, "hidden manna" is always representative of having the things of God revealed to you supernaturally, rather than by trying to "study them" or learn them according to, and out of, the doctrines and teachings of man. It also applies to our every-day life, encountering obstacles or problems that we have no answers for, and having the Lord give us supernatural revelation as to the answers.
A couple of examples will help you understand what I'm talking about.
One of our longtime friends, Lynn Smith, loves to tell the story about her old refrigerator. Della had gone to visit Lynn and found her having moved her food out of the refrigerator into ice-boxes. Lynn explained that the refrigerator had quit working. She had called a repairman to come and take a look at it. The repairman had taken the compressor out (it was laying on the floor beside the now-dismantled refrigeration parts) and was trying to find a replacement for it. Della had just been listening to Fred Price share on the ability we have in Christ to speak things into existence, and she was absolutely "wired" with that word.
She laid hands on the refrigerator and commanded it to begin working. Instantly the refrigerator came on. They both laughed and turned to other things. An hour or so later, they checked to see if the refrigerator was really working. Lynn opened the refrigerator door and expressed amazement that it was nice and cold inside. So Della helped her move all of her food back into the refrigerator and the freezer compartment (which was working very well, thank you!). Lynn called the repairman and told him he didn't need to come back. The refrigerator ran and continued to work for the next ten years. It was still working when Lynn decided she wanted a new and more modern one and replaced it.
Technically, that was impossible. By any rational or reasonable thinking, that refrigerator couldn't possibly work! When you have the Word of the Lord working in you, and you allow that Word to become your word, creative things take place!
OK? Try this one for size.
Back in the late 1980's and early 1990's I was Chief Engineer for the FOX television station – KTBY -- in Anchorage. I'd only been on the job for a few short weeks when I got a call at 2:00 AM from the Master Control operator saying that the station was off the air. The station was running on a WW-II vintage-designed RCA transmitter that had run for years at KOMO in Seattle before being taken out of service. The transmitter had been designed for Black and White operation, but had been modified to put out programming in color. There were no modification drawings or prints to go by to analyze the problem.
When I walked into the transmitter room, it was filled with smoke. The final output tube had melted down, literally destroying the high-voltage cage. It took me some three hours to rebuild that part of the transmitter, and when I finished, it was clear that the destruction had been caused by some other internal fault within the transmitter.
This transmitter was way out of my paradigm. I'd worked on many transmitters before, but nothing like this one. With all the modifications that had been made, and the lack of schematics to go by, trying to locate the actual cause was going to be a tedious task. There was nothing to do but rely on what the Lord had long since taught me: get your answer by revelation!
I laid hands on the transmitter and began to pray. "Father, I'm totally lost with this one. I need you to show me what the problem is, and what needs repair."
Immediately He gave me a vision of a failed component. I went to the back of the transmitter, opened it up, and there in front of me was the exact picture I had just seen in the vision. I removed the part, checked it with my equipment, and – sure enough – it was shorted out. That part was long since gone from manufacturing and unavailable, but I knew that I could manufacture one out of the available supplies in the parts storage cabinets. In less than 30 minutes, the replacement was installed and I fired up the transmitter. We were back on the air.
It's a story that has long since followed me – and one that has brought a lot of laughs from fellow-engineers who've faced similar situations.
When Michael Sharpe was with me at KTLM in McAllen, Texas (this was in the early days of the station's beginning), we had what turned out to be a prototype transmitter that had been shipped to us. We'd been told that we were getting a state-of-the-art transmitter – and it was – but it was one whose design had never been fully tested in the field. When we first fired it up and went on the air, we were off the air within less than an hour.
After days of debugging it and trying to figure out why we were having so many issues, Michael and I started laying hands on the transmitter and praying over it. One by one, Holy Spirit began to reveal design flaws, and even construction flaws. Michael became the guy who virtually lived at the transmitter site because of issues that kept cropping up.
One day, after repeated outages, he laid hands on the transmitter and said, "Lord, I need you to show me what is causing this continual issue. Immediately, the Lord gave him a vision of a connector on the top of one of the four cabinets that made up this 5 Megawatt transmitter. He shut that cabinet down, climbed up on the top and removed the connector. To his surprise, there was a tiny piece of aluminum foil left over from stripping some wires that had fallen down inside the receptacle, shorting out a couple of the contacts. He was able to retrieve that piece of foil with a pair of needle nose pliers and plug the connecting cable back into the receptacle.
This time, he had success! The issues that had kept tripping that cabinet offline and resulting in a cascade effect to the transmitter were gone.
There were, of course, many other issues that created trouble for that transmitter. After much documentation and conversation with the factory, they sent a world-renowned transmitter expert to have a look at it. This was a gentleman who had traveled the world on behalf of many companies, manufacturers and radio or television networks to solve issues they couldn't seem to get a handle on.
Michael and I picked him up at the airport. The drive back to the transmitter site was an hour long so it gave us plenty of opportunity to talk to him. He shared some of his stories with us. I asked him how he was able to solve so many diverse issues. He said, "Oh, that's easy! I just lay hands on the transmitter and the answer comes to me."
It turned out that although he had a spiritual background, he had never committed his life to the Lord. We explained to him that his answers were coming by means of revelation from Holy Spirit. By the time we got to the transmitter site, he was ready. He knelt down on the concrete floor and accepted Jesus Christ as his Lord and Savior. For the first time in his life, he understood the gift of God that had been given to him, and he was ready to commit himself wholeheartedly
These kinds of stories abound! We've met many other folks over the years who understand that their success in solving problems is due to the fact that they receive direct revelation from the Lord. It's not that any of us are such geniuses! When you respond to Holy Spirit and allow Him to be the source of your knowledge and understanding, people treat you like you are a genius.
Didn't mean to get off and such a story-telling track today, but these are real life experiences in walking in revelation. This is how Adam and Eve were able to tend the Garden of Eden during their time began being compelled to leave. It's how the Garden of Eden grew to encompass most of the middle east before access was cut off.
There's too much to share here, so let's continue this next week.
I remind those of you in need of ministry that our Healing Prayer Call normally takes place on the first Monday of each month at 7:00 PM Eastern (4:00 PM Pacific). Our call-in number is (712) 775-7035. The Access Code is: 323859#. For Canadians who have difficulty getting in to this number, you can call (559) 546-1400. If someone answers and asks what your original call-in number was, you can give them the 712 number and access code.
At the same time, in case you are missing out on real fellowship in an environment of Ekklesia, our Sunday worship gatherings are available by conference call – usually at about 10:45AM Pacific. That conference number is (605) 562-3140, and the access code is 308640#. We hope to make these gatherings available by Skype or Talk Fusion before long. If you miss the live call, you can dial (605) 562-3149, enter the same access code and listen in later.
Blessings on you!

Regner A. Capener
CAPENER MINISTRIES
RIVER WORSHIP CENTER
Sunnyside, Washington 98944
Email Contact: Admin@RiverWorshipCenter.org
All Coffee Break articles are copyright by Regner A. Capener, but authorization for reprinting, reposting, copying or re-use, in whole or in part, is granted –provided proper attribution and this notice are included intact. Older Coffee Break archives are available at http://www.RegnersMorningCoffee.com. Coffee Break articles are normally published weekly.

If you would like to have these articles arrive each morning in your email, please send a blank email to: Subscribe@AnotherCoffeeBreak.com.To remove yourself from the mailing list, please send a blank email to Unsubscribe@AnotherCoffeeBreak.com.
CAPENER MINISTRIES is a tax-exempt church ministry. Should you desire to participate and covenant with us as partners in this ministry, please contact us at either of the above email or physical addresses, or visit: http://www.RiverWorshipCenter.org.