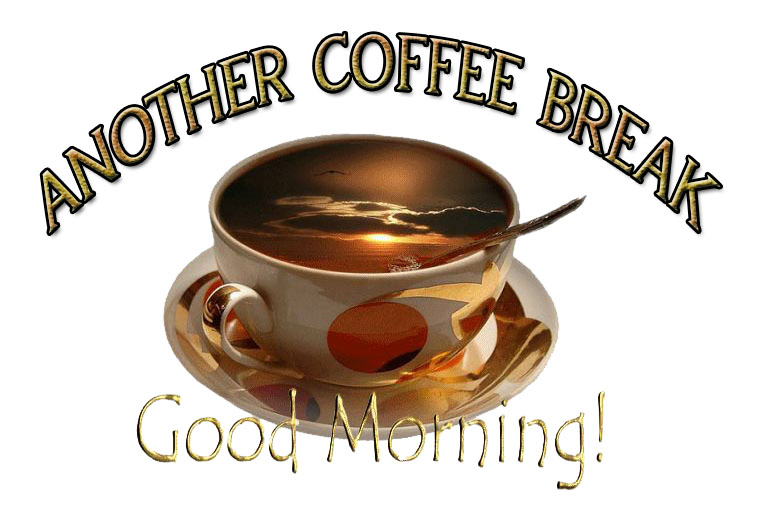 ANOTHER COFFEE BREAK: THE PSALM 23 ADVENTURE, Part 19
October 21, 2016
Last week I had to stop when we started talking about baptism, and Jesus' understanding of this. Let me do a bit of a refresher for you on the significance of what was about to take place.
Jesus gave us the following command as He prepared to ascend into Heaven:
Matthew 28:18-20:And Jesus came and spake unto them, saying, All power is given unto me in heaven and in earth. Go ye therefore, and teach all nations, baptizing them in the name of the Father, and of the Son, and of the Holy Ghost: Teaching them to observe all things whatsoever I have commanded you: and, lo, I am with you alway, even unto the end of the world. Amen.
Consider, then, the statement that Paul makes in his letter to the Ekklesia in Rome:
Romans 6:3-11 (NASB):"Do you not know that all of us who have been baptized into Christ Jesus have been baptized into His death? Therefore we have been buried with Him through baptism into death, so that as Christ was raised from the dead through the glory of the Father, so we too might walk in newness of life.
For if we have become united with Him in the likeness of His death, certainly we shall also be in the likeness of His resurrection, knowing this, that our old self was crucified with Him, in order that our body of sin might be done away with, so that we would no longer be slaves to sin; for he who has died is freed from sin.
"Now if we have died with Christ, we believe that we shall also live with Him, knowing that Christ, having been raised from the dead, is never to die again; death no longer is master over Him.
When Jesus, therefore, made the statement, "All power(the word in the Greek text is exousia – authority) is given unto me in Heaven and in Earth,"He clearly understood – and was communicating this to us – that baptism was a critical part of the necessary ability to transition from the so-called "natural realm" to the "supernatural." And that brings us back to where we left off last week.
Jesus well understood the purposes of baptism. The "normal" man, Jesus, had to die and be buried so that the Spirit-led and Spirit-filled Jesus could begin to show the world — and specifically those who would accept and acknowledge Him for Who and What He was and is — just how it is possible to return to that place of intimacy with God we were first designed and destined for.
He, therefore, found his "natural" cousin, John the Baptist. Matthew records the following narrative:
Matthew 3:13-17: Then cometh Jesus from Galilee to Jordan unto John, to be baptized of him. But John forbad him, saying, I have need to be baptized of thee, and comest thou to me? And Jesus answering said unto him, Suffer it to be so now: for thus it becometh us to fulfil all righteousness. Then he suffered him.
And Jesus, when he was baptized, went up straightway out of the water: and, lo, the heavens were opened unto him, and he saw the Spirit of God descending like a dove, and lighting upon him: And lo a voice from heaven, saying, This is my beloved Son, in whom I am well pleased.
We've also discussed this in time past, but Jesus had to transition from teknonto Huios. As a teknon, He was — as Paul describes in Galatians 4:2 --"being under tutors and governors until the time appointed of the father" — walking, learning obedience, learning what it meant to hear and respond ONLY to what Father said, and watching how Father would conduct Himself in His place (in other words, what Father would do.)
That appointed day came. The natural man, Jesus, died and was buried in the waters of baptism. What came out of the water was a Jesus (still operating in human form, yet now having access as a human being to the realm of the Spirit), raised into newness of life and readied by Father to demonstrate to the world just what a Holy Spirit-filled and –led individual could accomplish when they walked in the Spirit.
Jesus saw the heavens opened. He heard Father's voice repeating what every Jewish boy had heard for centuries when they transitioned in life to a place where their father would release his authority to them, giving them the signet ring and seal of his authority to conduct business exactly as he would conduct business: "This is My Beloved Son, in Whom I AM well pleased!"
Jesus was now a matured (still human) Son of God, empowered with God's seal of authority in and by the presence and indwelling of Holy Spirit. He was ready to show us where the Paths of Righteousness would lead.
The very first thing Jesus had to do was to have that power of the Holy Spirit in Him put to the test. Matthew says He was led of the Spirit into the wilderness to be tempted by the devil. Mark says He was "driven" by the Spirit into the wilderness. In any case, the beginning place of this phase of walking in the Paths of Righteousness absolutely HAD to be the overcoming of the same fears that beset the human race with Adam and Eve's partaking of the Tree of the Knowledge of Good and Evil.
Jesus had to overcome the Fear of Evil, the Fear of Man and the Fear of Death in order to accomplish what Father sent Him to do. And Satan was about to make a play that — if successful — would render Jesus a slave just like the rest of humanity.
Satan waits until Jesus is at his weakest — following 40 days of fasting — and tempts Him to use His newly-returned access to the God-powers He had forsaken to come to earth .
"IF thou be the Son of God, command that these stones be made bread."
Every question Satan throws at Jesus is going to be pretty much the same basic question thrown at Eve in the Garden. "You're NOT REALLY created in the image and likeness of God, are you? Come on now! If you eat of the fruit of the Tree of the Knowledge of Good and Evil, THEN you will prove that you are as God!"
And the first temptation came with eating. Jesus' human flesh was at its weakest, not having had any food to eat for 40 days. The first temptation Satan throws at Him is like the first temptation in the Garden. "IF you are really the Son of God, then you can prove it by commanding these stones to become bread so you can eat and satiate your hunger."
It may not be immediately obvious, but when a person passes the 39th day of fasting, actual starvation begins and the flesh begins to die a slow process. Hence, the temptation to eat at that moment was to challenge the Fear of Death by natural reasoning, and Jesus wasn't having any of it! Watch how He deals with the natural cravings and demands of His own flesh.
"It is written! Man shall not live by bread alone, but by every Word that proceedeth out of the mouth of God."
Get it? Father God had not yet released Jesus to eat food! He was ONLY going to live and operate based on the living rhema Word that was actually being spoken at THAT moment by God — never mind what His flesh was screaming.
Ahh, but Satan isn't even beginning to be through yet.
The next thing he does is to transport Jesus into Jerusalem and set Him on the pinnacle of the temple. "You still believe that you are the Son of God? OK. Prove it! Throw yourself off the pinnacle!"
(And now Satan uses a trick he's been using for millennia against people. He quotes the Word of God — but totally out of context. "It is written, He shall give His angels charge concerning thee, and in their hands they shall bear thee up, lest thou dash thy foot against a stone."
Do you see it? Now Satan is using God's Word as a lever. He's challenging the Word of God, and at the same time trying to get Jesus to prove that He is not afraid of death and dying. And the Fear of Death is once again put to the test.
Jesus' answers again from the Word, "It is written again: thou shalt not tempt the Lord Thy God!"
Just as happened previously, the Fear of Evil is also being put to the test. Satan's temptation is for Jesus to be afraid that God won't really keep His Word to Him. The temptation is to take things into His own hands and make his own decision as to what He will do. And Jesus was overcoming the Fear of Death and the Fear of Evil.
The Fear of Evil is going to be put to the test one more time, but this time we are going to see how Jesus responds to the Fear of Man.
This time Satan transports Jesus into a very high mountain to show Him the kingdoms of the world, along with their glory and magnificence (in the way that men and women respond and react to the seeming power and authority of the governments of man.) As we saw earlier in the example of Balaam's responses, people are awed; they are impressed at how individuals are elevated to high positions with authority and power.
They fear that kind of power and authority.
"All these things will I give thee, if thou wilt fall down and worship me."
And one more time, Jesus demonstrates just how much boldness and fearlessness He has, having been empowered by the Holy Spirit.
"Get thee hence, Satan! For it is written, Thou shalt worship the Lord Thy God, and Him only shalt thou serve."
Right! No yielding to the Fear of Man, and certainly no yielding to the Fear of Evil! And Satan has no option but to flee from Jesus.
[Note: The Greek text uses a fascinating word to describe Satan's departure: aphiemi. This is the same word used to describe "the remission of sins." It literally means: to eradicate from existence, to send away (as though it was never there).]
Now we see what Father does for us when we overcome the Enemy: "and, behold, angels came and ministered unto him."
That word, "ministered," in the Greek text is diakoneo: to be a servant, to wait upon, to serve food and drink to, to supply food and the necessities of life. This is the Greek word that the religious church world mis-translates as a title and a position in the church rather than simply recognizing it as a function: Deacon.
In any case, Father sent angels to wait upon Jesus, to serve Him, to provide Him with food and sustenance — both natural and supernatural — in preparation for the journeys yet ahead.
Jesus began His walk in this phase of the Paths of Righteousness in precisely the same way that we must: He overcame the Fear of Evil, the Fear of Man and the Fear of Death. And the overcoming was made possible because Jesus was filled and empowered by Holy Spirit.
Again, we see the necessity of responding to the opportunity presented to us when we are taken by the still waters of Holy Spirit. Without that empowerment, we simply have nothing to stand on and nothing to sustain us when the Enemy attempts to seduce, to manipulate, to deceive, to steal and/or to destroy us. These paths are going to get exciting!
Next week we will pick back up where we left off a couple of weeks back, the discussion of the many purposes and objectives set before us in the Paths of Righteousness.
I remind those of you in need of ministry that our Healing Prayer Call normally takes place on the first Monday of each month at 7:00 PM Eastern (4:00 PM Pacific). Our call-in number is(712) 775-7035. The Access Code is: 323859#.For Canadians who have difficulty getting in to this number, you can call (559) 546-1400.If someone answers and asks what your original call-in number was, you can give them the 712 number and access code.
At the same time, in case you are missing out on real fellowship in an environment of Ekklesia, our Sunday worship gatherings are available by conference call – usually at about 10:45AM Pacific. That conference number is (605) 562-3140, and the access code is 308640#. We hope to make these gatherings available by Skype or Talk Fusion before long. If you miss the live call, you can dial (605) 562-3149, enter the same access code and listen in later.
Blessings on you!

Regner A. Capener
CAPENER MINISTRIES
RIVER WORSHIP CENTER
Sunnyside, Washington 98944
Email Contact: Admin@RiverWorshipCenter.org
All Coffee Break articles are copyright by Regner A. Capener, but authorization for reprinting, reposting, copying or re-use, in whole or in part, is granted –provided proper attribution and this notice are included intact. Older Coffee Break archives are available at http://www.RegnersMorningCoffee.com. Coffee Break articles are normally published weekly.

If you would like to have these articles arrive each morning in your email, please send a blank email to: Subscribe@AnotherCoffeeBreak.com.To remove yourself from the mailing list, please send a blank email to Unsubscribe@AnotherCoffeeBreak.com.
CAPENER MINISTRIES is a tax-exempt church ministry. Should you desire to participate and covenant with us as partners in this ministry, please contact us at either of the above email or physical addresses, or visit: http://www.RiverWorshipCenter.org.