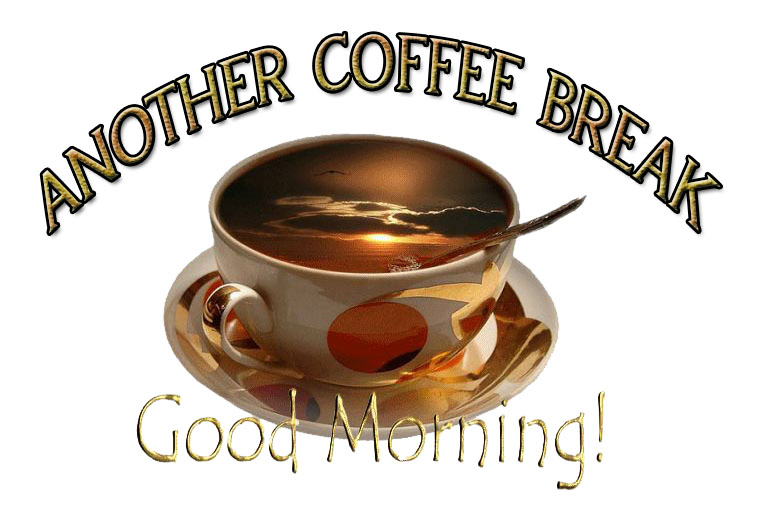 ANOTHER COFFEE BREAK: THE PSALM 23 ADVENTURE, Part 18
October 14, 2016
I sort of got ahead of myself last week in sharing the pictures I had started on. During the week, Holy Spirit unfolded an understanding for me of just what Jesus walked, and how He prepared the Paths of Righteousness ahead of us. Jesus had to prepare these paths, or else we wouldn't have the pattern set for us.
Let me begin today by sharing something that Paul wrote to the Hebrews as He shared with them(and us, of course) just why we have these paths in the first place.
Hebrews 2:10-18: For it became him, for whom are all things, and by whom are all things, in bringing many sons unto glory, to make the captain of their salvation perfect through sufferings. For both he that sanctifieth and they who are sanctified are all of one: for which cause he is not ashamed to call them brethren, Saying, I will declare thy name unto my brethren, in the midst of the church will I sing praise unto thee. And again, I will put my trust in him. And again, Behold I and the children which God hath given me.
Forasmuch then as the children are partakers of flesh and blood, he also himself likewise took part of the same; that through death he might destroy him that had the power of death, that is, the devil; And deliver them who through fear of death were all their lifetime subject to bondage. For verily he took not on him the nature of angels; but he took on him the seed of Abraham. Wherefore in all things it behoved him to be made like unto his brethren, that he might be a merciful and faithful high priest in things pertaining to God, to make reconciliation for the sins of the people. For in that he himself hath suffered being tempted, he is able to succour them that are tempted.
Do you see it? It was necessary for Jesus to partake of flesh and blood. You'll recall that I've shared in the past that when Adam and Eve were first created, they did not have blood running in their veins. They were created as children of light. It is my conviction – and you don't have to agree with me, if you don't want to – that for the first couple thousand years of their walk with God in the Garden, they had light in their veins. That light shown upon and through them as the Glory of God. They were clothed in His Glory.
Once they responded to Satan's deception and lies and ate of the Tree of the Knowledge of Good and Evil, that light congealed into blood. With the loss of that light and the Glory that clothed them, the Lord shed the blood of lambs as a prophetic picture of what was to come in the redemptive process that would unfold – first through the laws of sacrifice, and then through the sacrifice of Jesus' blood. Don't forget! The Lord clothed them with the sheepskins as their covering once they became flesh and blood beings. It was a "type and shadow" of their blood covering for their sin.
Now, we need to take a look at what Jesus walked. It is important to understand that the Lord does not require us to walk in paths He, Himself, did not first walk.
A few years ago, I put the 23rd Psalm to music (actually three different times with entirely different musical themes) and the song we sing most often is, "Where He leads me, I will follow." That, really, is what this discussion is all about. He is leading us in these paths so that His righteousness becomes part and parcel of our lives.
Take a look at something that Paul writes in his letter to the Philippians:
Philippians 2:5-11: Let this mind be in you, which was also in Christ Jesus: Who, being in the form of God, thought it not robbery to be equal with God: But made himself of no reputation, and took upon him the form of a servant, and was made in the likeness of men: And being found in fashion as a man, he humbled himself, and became obedient unto death, even the death of the cross.
Wherefore God also hath highly exalted him, and given him a name which is above every name: That at the name of Jesus every knee should bow, of things in heaven, and things in earth, and things under the earth; And that every tongue should confess that Jesus Christ is Lord, to the glory of God the Father.
Some of what Paul writes here gets a bit lost or obscured in the KJV, so let me re-translate and amplify it like this.
Cause this manner of thinking – to exercise and discipline your mind – in the same way that Jesus did, who, being part of the Godhead, did not consider it an inappropriate assumption, even illegal plunder, to be on par with Father God, being like Him in every respect,
But now finding Himself in the nature and makeup of a natural man, humbled Himself, emptying Himself and neutralizing all of His God-powers and authority so that He could become an ordinary man (taking on the position of the fallen Adam) – even debasing Himself to the level of a servant; and in so doing submitted Himself to the curse of death, even the cursed death of the Cross;
As a result, and consequence of Jesus' submission, Father God has elevated and exalted Him, granting and ascribing to Him that name – character, nature, makeup, authority, position and power – which is above and beyond all names (with their nature, makeup, authority, position and power)
So that at the sound and presence of Jesus' name – all that He is, and Who He is – every single knee MUST bow, submitting to the authority of Jesus Christ, including beings in Heaven, beings in and on Earth, as well as the spirits of departed beings;
And every tongue, manner of speech and language should agree (with Father's decree and declaration) that Jesus Christ is Lord – supreme in authority and controller of all – in the process bringing glory, honor, praise and magnificence to Father God.
(Philippians 2:5-11, RAC Translation & Amplification)
It may not be obvious at first glance, but take another look at what Paul is saying.
What he is telling us is that although Jesus was indeed part of the God-head and on par with Father and Holy Spirit, when He allowed Himself to be born into this world as a flesh-and-blood being, He divested Himself of His God powers.
Let's not forget that the entire objective for Jesus' coming was to redeem a people who had been created for Him and for His pleasure in the first place.
When Adam partook of the Tree of the Knowledge of Good and Evil, he subjected all of his descendants — and the earth as well — to a curse. That curse was death. That curse was separation from an intimate relationship with the Lord. Nevertheless, there were a few individuals throughout the intervening millennia who bypassed their human intellect to walk with the Lord in a relationship totally foreign to the world around them.
Let's see, there was Enoch, then Shem, then Abraham. Then there was David — and how about some of the prophets, like Isaiah, Jeremiah, Ezekiel and Daniel. There were others, of course, but you get the picture. You can almost count on two hands the number of individuals — among millions of people — who actually broke past the barriers of human reasoning to walk with the Lord in a level of relationship of which the world around had no understanding.
Consider this statement that Paul makes of Abraham in his letter to the Hebrews:
Hebrews 11:9-10: By faith he sojourned in the land of promise, as in a strange country, dwelling in tabernacles with Isaac and Jacob, the heirs with him of the same promise: For he looked for a city which hath foundations, whose builder and maker is God.
Understand? Abraham saw into the realms of the Spirit. He looked for City of God, that place where what was natural was actually supernatural – by human reasoning and perspective.
But he wasn't alone! Paul continues this discourse.
Hebrews 11:13-16: These all died in faith, not having received the promises, but having seen them afar off, and were persuaded of them, and embraced them, and confessed that they were strangers and pilgrims on the earth. For they that say such things declare plainly that they seek a country. And truly, if they had been mindful of that country from whence they came out, they might have had opportunity to have returned. But now they desire a better country, that is, an heavenly: wherefore God is not ashamed to be called their God: for he hath prepared for them a city.
Nevertheless, there was not a single person among them who actually got to walk in the dimension that Jesus intended from the beginning. In order for that level of fellowship and intimacy (not to mention the authority and power) to be restored, Jesus had to break the curse.
That curse had subjected the world and all that is therein — including the human race — to the lies, the deception, the seduction, and the attacks of Satan, along with the manipulation and control of evil spirits. But it didn't stop there.
The entire seed of humanity became corrupted with the seed of Satan. Satan was exerting his control of the human race and subjecting it to slavery.
Every single person who lived and died did so because the same curse that Satan was under became the curse of humanity. Adam and Eve, and their seed after them, had been created from the beginning to live forever. Death was never supposed to be a part of the human experience. Sickness, disease, weakness, emotional and mental problems were never designed to be a part of anyone's life or experiences.
Because every single human — including those prior to Jesus' coming who actually lived lives of faith and obedience to the Lord — were subject to the curse, He had to reverse that curse. All of humanity, up to this point, was living sub-normally.
In order for redemption and restoration to the original design and purpose, as well as cancelation of the curse of sickness, infirmity, every disease known to man, mental and emotional illnesses, weakness — and death itself — Jesus had to reverse the curse that came by eating of the Tree of the Knowledge of Good and Evil.
He had to become an ordinary man. It became necessary for Him to divest Himself of all of His God powers. Let's not forget that even as a human being of flesh and blood, Jesus KNEW who He was, and what He was to begin with. Yet, He did not try to access those powers and authority. To do so would have negated his living and walking as an ordinary person, subject to the curse, subject to the same fears that beset men and women, and subject to all the same temptations we struggle against.
Jesus had to walk as a human being, refusing to submit to Satan, learning to overcome the same temptations we must overcome, learning how to overcome all disease and sickness,
learning how to conduct himself in the sight of men and women, learning how to deal in the business world, learning how to live with great wealth and not have it affect his character and nature in order to prepare the paths that we must walk in. For the first thirty years of His life, He had to walk the same overcoming paths that we walk in order to set the standards of Righteousness.
Let's not forget something else. There's an aspect of Jesus' humanity that most folks seem to miss. Every human being born into this world since Adam was, for all intents and purposes, a slave. That meant that slaves had no right to contest Satan's hold. Slaves were property — and universal law holds that slaves have no rights.
Jesus had to be born into this world as a human being, but NOT be of the seed of Adam in order to contest Satan's hold. He was, therefore, born as the seed of God, supernaturally implanted into a woman, and — as was prophesied in the Garden — became the seed of a woman (Mary) in order to qualify as a human being. At the same time, by being of the seed of God, He was not born a slave without the right to contest Satan's hold on the human race.
A process had to unfold in such a way that Jesus could take on the power of the Holy Spirit and demonstrate to the world — as a human being — His defeat of Satan.
A day came when He knew that it would be necessary to prepare the stepping stones necessary for men and women to begin walking in the realm of the Spirit — rising above the whims, the desires, the temptations of the flesh — and living in this world, still as flesh-and-blood human beings — but begin tasting of the realm they were once designed for.
In order to make that possible, Father had to approve and implement a demonstration through Jesus that would show to those who would see, hear, understand, believe and obey that which is necessary for these steps to be possible for us.
Jesus well understood the purposes of baptism. The "normal" man, Jesus, had to die and be buried so that the Spirit-led and Spirit-filled Jesus could begin to show the world — and specifically those who would accept and acknowledge Him for Who and What He was and is — just how it is possible to return to that place of intimacy with God we were first designed and destined for.
And we're only scratching the surface here. We'll stop at this point and continue this discussion next week.
I remind those of you in need of ministry that our Healing Prayer Call normally takes place on the first Monday of each month at 7:00 PM Eastern (4:00 PM Pacific). Our call-in number is(712) 775-7035. The Access Code is: 323859#.For Canadians who have difficulty getting in to this number, you can call (559) 546-1400.If someone answers and asks what your original call-in number was, you can give them the 712 number and access code.
At the same time, in case you are missing out on real fellowship in an environment of Ekklesia, our Sunday worship gatherings are available by conference call – usually at about 10:45AM Pacific. That conference number is (605) 562-3140, and the access code is 308640#. We hope to make these gatherings available by Skype or Talk Fusion before long. If you miss the live call, you can dial (605) 562-3149, enter the same access code and listen in later.
Blessings on you!

Regner A. Capener
CAPENER MINISTRIES
RIVER WORSHIP CENTER
Sunnyside, Washington 98944
Email Contact: Admin@RiverWorshipCenter.org
All Coffee Break articles are copyright by Regner A. Capener, but authorization for reprinting, reposting, copying or re-use, in whole or in part, is granted –provided proper attribution and this notice are included intact. Older Coffee Break archives are available at http://www.RegnersMorningCoffee.com. Coffee Break articles are normally published weekly.

If you would like to have these articles arrive each morning in your email, please send a blank email to: Subscribe@AnotherCoffeeBreak.com.To remove yourself from the mailing list, please send a blank email to Unsubscribe@AnotherCoffeeBreak.com.
CAPENER MINISTRIES is a tax-exempt church ministry. Should you desire to participate and covenant with us as partners in this ministry, please contact us at either of the above email or physical addresses, or visit: http://www.RiverWorshipCenter.org.