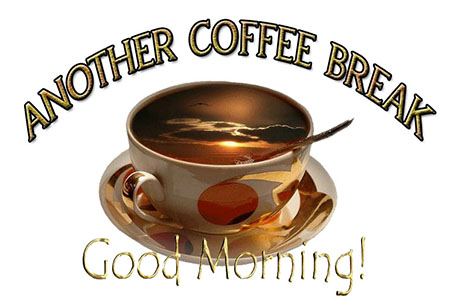 ANOTHER COFFEE BREAK: THE PSALM 23 ADVENTURE, Part 15
September 9, 2016
From beginning to end, the Word of God is literally filled with graphic pictures of how men and women reacted to the various spirits of fear. Their lives were so compromised by fear that the Lord almost had to shout in their ears in order for them to hear what He was saying. For those who responded to the Word of the Lord, deliverance took place. For those who didn't, the consequences that followed were of their own making.
Let's not forget that in each case where we see the judgment of the Lord manifested towards those who refused to listen, there had been clear warning from the Lord of the consequences. When Creation unfolded, there were certain immutable laws that were put in place. We talk about the judgment of God, but it's not like God was deliberately and maliciously targeting people who ignored Him.
Think about Adam and Eve, for example. They were warned that if they were to eat of the Tree of the Knowledge of Good and Evil, death would result. God wasn't out to destroy them or hang the proverbial "Sword of Damocles" over their heads. In his love for them, He was careful to warn them. They simply were not designed as flesh beings to withstand the impact of having access to the knowledge of good or the knowledge of evil, apart from it being revealed according to God's time plan. Hence the warning.
The Lord warns us in the same way. He isn't threatening us; His love lets us know when we are in danger and where the guidelines are to the paths of righteousness.
Let me continue where I left off last week.
Remember the sequence of events with Balaam? He's just said all the right words, "If Balak would give me his house full of silver and gold, I cannot go beyond the word of the Lord my God, to do less, or more."
Oh, we must impress them with our righteousness, mustn't we? We really have to let them know that this is "my God," and not "their God." We are very elite, and exclusive, aren't we?
But, look at what happens next.
"Now, therefore, I pray you, tarry ye also here this night, that I may know what the Lord will say to me more."
What!? Balaam, you schmuck! The Lord has already made it explicitly clear that you are not to curse Israel; that they are blessed -- by Him, no less! God is going to change His mind, maybe? Riiiight! Just so you can be promoted to honor by Balak, and receive all that money!
Balaam! You're in trouble! You can't go back and ask the Lord if He changed His mind -- especially after He has made His will explicitly clear -- and not expect to pay the consequences.
"And God came unto Balaam at the night, and said unto him, 'If the men come to call thee, rise up and go with them; but yet the word which I shall say unto thee, thou shalt do."
Reeeaally? Has God changed his mind? Nope! He's going to use Balaam's fear to reverse the situation.
"And Balaam rose up in the morning, and saddled his ass, and went with the princes of Moab. And God's anger was kindled because he went: and the angel of the Lord stood in the way for an adversary against him."
Wait a minute! Why would the Lord be angry with Balaam for going, if He told him it was all right to go? Easy. It wasn't all right for him to go.
That's right! When we respond to the Fear of Man, instead of the expressed desire of the Lord, we're going to pay the piper. The Lord will even orchestrate the circumstances which will take us into trouble, just to bypass our intellect, and give us the opportunity to respond to His Spirit.
So what happened with Balaam?
An angel that he couldn't see, stood in the way, and blocked the path of the donkey. The donkey sees the angel (now there's a graphic illustration for you!), turns and heads into an open field. Balaam starts beating the donkey, and it heads another direction.
The angel of the Lord moves and stands again in the path of the donkey, right smack through some vineyards. So the donkey, trying to avoid the angel, bangs up against a stone wall separating the vineyards, and crushes Balaam's foot. Balaam, in his fury, begins beating the donkey unmercifully. Once more, the donkey heads down the path. Once more, the angel of the Lord stands in a place too narrow for the donkey to pass. This time, the donkey collapses, and dumps Balaam on the ground.
Think Balaam has gotten the message, yet? Nope! See what the Fear of Man does to a person!
Balaam takes his staff and begins beating the donkey -- and the Lord opens the donkey's mouth to speak. "What have I done to deserve this," says the donkey.
Says the donkey? Imagine Balaam's shock. Who ever heard of an animal speaking coherently and intelligently. This is nothing less than supernatural. Think Balaam gets the message? Nope. See what the Fear of Man does to a person!
"I would there were a sword in mine hand, for now would I kill thee."
Whoaa! Now, wait a minute, Balaam. How stubborn and obstinate can you get?
"Then the Lord opened the eyes of Balaam, and he saw the angel of the Lord standing in the way, and his sword drawn in his hand: and he bowed down his head, and fell flat on his face."
I'll bet!
"And Balaam said unto the angel of the Lord, 'I have sinned; for I knew not that thou stoodest in the way against me: now, therefore, if it displease thee, I will get me back again."
Good grief! How stupid can you get? This has to be the ultimate in obstinacy and hard-headedness! See what the Fear of Man does to a person! Notice Balaam's words.
"I have sinned; for I knew not that thou stoodest in the way against me."
How obtuse! One does not sin because the angel of the Lord is standing in the way. One does not sin because they are beating their animal. And that is not justification for the beating of animals -- it is just not the point. They sin because they continue to press forward when the Lord has said, "No!" They sin because they prefer the rulership of the Fear of Man, and respond to an evil spirit instead of the Lord.
But wait! It gets even worse! "Now, therefore, if it displease thee, I will get me back again," says Balaam. "If it displease thee!?"
To even consider making such a remark, and responding in this manner, demonstrates that Balaam still intended to press forward -- in spite of the Lord's supernatural manifestation of the angel with the sword, and the donkey speaking to him.
The Fear of Man is not reasonable! Neither are those who are ruled by it. They become irrational, obstinate, and blind!
So the Lord let Balaam go on with Balak's "honorable men" -- and let him become the epitome of the Fear of Man as he headed to his ultimate death (see Numbers 31:5) -- to be commemorated forever in Israel as: "Balaam," whose counsel "caused the children of Israel to commit trespass against the Lord in the matter of Peor."
What was Balaam's counsel? Bear in mind that the counsel coming forth from Balaam was no longer that of Balaam, since he had yielded himself completely to that wicked spirit, The Fear of Man. It was The Fear of Man doing the speaking.
Then why was it referred to as "the counsel of Balaam?" Because it was Balaam who gave himself over, willingly........Hmmmmm.......check that! Stubbornly! Rebelliously! To fear. See what the Fear of Man does to a person!
So what was Balaam's counsel? To sacrifice unto Baal. To eat the things which were offered to idols. To intermarry with people of another race whom God had forbidden. To commit adultery against the Lord. See what the Fear of Man does to a person!
It causes the worship of dead, dumb things. It causes people to eat from the Tree of Knowledge, food which has been offered to -- and from -- the Beast (who is very much alive and functioning in our society today).
It causes people to give attention and preeminence to things which distract one from a very personal love-relationship with the Lord Jesus Christ. It causes men and women to marry interracially with those who have no real relationship with the Lord -- under the guise that they "will lead them to Christ." Suuuure! Or under no guise at all, but just because they have determined to do it, because "they want to."
(Lest anyone misunderstand my intent, let me pause for a moment to clarify "interracially." Those who have entered into a genuine love-relationship with the Lord, and live a life of worship towards Him, become alien to this world, and all that is therein. We become a "new race" a supernatural race, with supernatural abilities, living in a natural world. To intermarry with a race of "naturals" -- except when specifically directed to by the Lord -- is to bring compromise and disaster.)
Got it? But, we are not done, yet, with these pictures.
In case it has not already become obvious, The Fear of Man is a liar.
Consider the first thing that happened to Adam and Eve when they were cast out of the Garden. The Lord had said to Eve, "I will greatly multiply thy sorrow and thy conception; in sorrow shalt thou bring forth children...." Now we are told that the very first thing which happens when they are cast out of the Garden is, "And Adam knew Eve his wife; and she conceived, and bare Cain...."
This is not to take away from the intimacy intended by the Lord between husband and wife, but the very first thing Adam and Eve did was to seek after an intimate relationship with one another. Why? They had "known" the Lord intimately.
They were now told by The Fear of Man that they had been rejected by the Lord. Adam and Eve believed that lie because it was easier to believe that God had rejected them than accepting the truth that they had rejected Him, choosing instead to be "in control" of their situation through the knowledge of "good" and "evil." Thus, they tried to fill the gap created by the "rejection" by turning to one another -- in the midst of a sexual relationship. They tried to compensate for "rejection" with sex.
And Cain was the product of that "compensation for rejection." Conception was multiplied. Not only was a human being conceived, The Fear of Man was conceived in another human being, and he brought with him -- into Cain -- the Spirit of Rejection, and The Fear of Rejection.
How do we know this?
Simple! What happens to Cain when a brother -- Abel -- is born? He is vying for the acceptance and approval -- not only of his father, but -- of the Lord. When Abel's sacrifice is found acceptable and Abel finds the approval of the Lord, but Cain's sacrifice is not acceptable, and Cain hears the reproof of the Lord, he, likewise, buys into "the Fear of Rejection." (The Lord wasn't rejecting Cain: it was just the sacrifice he was attempting to offer.) There is no way he is going to stand by and allow Abel to be accepted while he is "rejected," so he finds Abel and murders him!
Now, there will be no one to stand in the way of his receiving approval and acceptance! So there!
Well, yes there was! It was an entity who was conceived at the same time he was -- an entity who was alive and well, and operating through him: The Fear of Rejection, who like his father, was also a liar. And this liar was going to make certain that Cain would never really hear the truth of what the Lord was communicating.
The Lord speaks to Cain, following his murder of Abel, and says, "And now art thou cursed from the earth, which hath opened her mouth to receive thy brother's blood from thy hand; when thou tillest the ground, it shall not henceforth yield unto thee her strength; a fugitive and a vagabond shalt thou be in the earth."
Listen to Cain's response: "Behold, thou hast driven me out this day from the face of the earth; and from thy face shall I be hid...."
No He hadn't. The Lord had not driven Cain out from the face of the earth. The Lord had not chosen to hide His face from Cain. Those were lies told by an unrepentant Spirit of Rejection, whose whole purpose was to make Cain believe that he was being rejected by the Lord. All Cain had to do was to fall on his face before the Lord and repent, and he would have experienced acceptance, forgiveness, and approval from the Lord. But Cain believed the lies.
Gotta leave it here for today. We'll get back to the letter to Pergamos next week.
I remind those of you in need of ministry that our Healing Prayer Call normally takes place on the first Monday of each month at 7:00 PM Eastern (4:00 PM Pacific). Our call-in number is (712) 775-7035. The Access Code is: 323859#. For Canadians who have difficulty getting in to this number, you can call (559) 546-1400. If someone answers and asks what your original call-in number was, you can give them the 712 number and access code.
At the same time, in case you are missing out on real fellowship in an environment of Ekklesia, our Sunday worship gatherings are available by conference call – usually at about 10:45AM Pacific. That conference number is (605) 562-3140, and the access code is 308640#. We hope to make these gatherings available by Skype or Talk Fusion before long. If you miss the live call, you can dial (605) 562-3149, enter the same access code and listen in later.
Blessings on you!

Regner A. Capener
CAPENER MINISTRIES
RIVER WORSHIP CENTER
Sunnyside, Washington 98944
Email Contact: Admin@RiverWorshipCenter.org
All Coffee Break articles are copyright by Regner A. Capener, but authorization for reprinting, reposting, copying or re-use, in whole or in part, is granted –provided proper attribution and this notice are included intact. Older Coffee Break archives are available at http://www.RegnersMorningCoffee.com. Coffee Break articles are normally published weekly.

If you would like to have these articles arrive each morning in your email, please send a blank email to: Subscribe@AnotherCoffeeBreak.com.To remove yourself from the mailing list, please send a blank email to Unsubscribe@AnotherCoffeeBreak.com.
CAPENER MINISTRIES is a tax-exempt church ministry. Should you desire to participate and covenant with us as partners in this ministry, please contact us at either of the above email or physical addresses, or visit: http://www.RiverWorshipCenter.org.