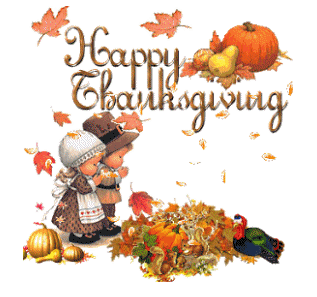 ANOTHER COFFEE BREAK: THE BLESSING OF GIVING THANKS
November 25, 2016
Well, you know how it is!
When Thanksgiving comes, everyone's scurrying around, getting their turkey, the dressing fixin's, cranberries, sweet potatoes, and all that other stuff that goes with a Thanksgiving dinner. If you're like a lot of folks, you wait until the last moment, hoping for sales, looking for turkeys at 39 cents a pound (is there such a thing as turkeys at 39 cents a pound anymore?), and everything becomes a mad rush.
Anyway, Good Mornin' to ya!
Hope you're not in that group of last-minuters. Hmmmmm.......is there such a word as "minuters"? If not, guess I just invented it.
I made the statement once upon a time that tradition holds that the first Thanksgiving was celebrated in 1621 between the Wampanoag Indians and the Pilgrims. My friend, Jim -- being a good Virginian and all -- was quick to correct me, and sent me the following bit of history.
________________________________________

The First Thanksgiving was Celebrated in Virginia

Come see where it all began! Visit
Virginia's Berkeley Plantation, and see where English colonists first held a thanksgiving celebration, one year and 17 days prior to the landing of the Pilgrims in
Massachusetts!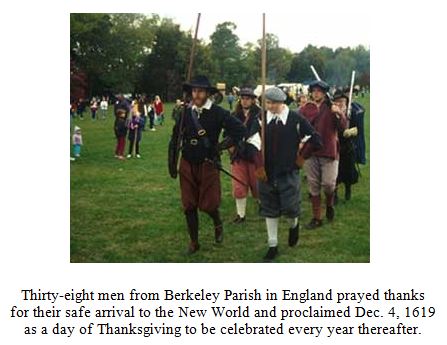 They Gave Thanks for their Safe Arrival in the New World

The first Thanksgiving occurred when Captain John Woodlief led the newly arrived English colonists to a grassy slope along the James River and instructed them to drop to their knees and pray in thanks for a safe arrival to the New World.

On this day, Dec. 4, 1619, these 38 men from Berkeley Parish in England were given the instructions:

"Wee ordaine that the day of our ships arrivall at the place assigned for plantacion in the land of Virginia shall be yearly and perpetually keept holy as a day of Thanksgiving to Almighty God."

This saying is now carved on a brick gazebo, where it is believed that Woodlief knelt down beside the
James River
.

Visit Berkeley Plantation and tour the grounds, gardens and three-story manor house built in 1776. See this birthplace of Benjamin Harrison, a signer of the Declaration of Independence, and of his son, the ninth U.S. President William Henry Harrison. Harrison's grandson, another Benjamin Harrison, became the 23rd U.S. president.
________________________________________
OK, Jim! Correction noted!
Now, let's get to the meat of this Coffee Break.
Ephesians 5:18: In everything give thanks: for this is the will of God in Christ Jesus concerning you.
Ever wonder why?
Let's take a quick look at a couple other verses of Scripture.
In Psalm 116:16-19, David writes, O LORD, truly I am thy servant; I am thy servant, and the son of thine handmaid: thou hast loosed my bonds. I will offer to thee the sacrifice of thanksgiving, and will call upon the name of the LORD. I will pay my vows unto the LORD now in the presence of all his people, In the courts of the LORD'S house, in the midst of thee, O Jerusalem. Praise ye the LORD.
Now, let's reverse course for a minute and draw a picture of the unthankful.
Paul, in writing to Timothy, says (see II Timothy 3:2-7), For men shall be lovers of their own selves, covetous, boasters, proud, blasphemers, disobedient to parents, unthankful, unholy, Without natural affection, trucebreakers, false accusers, incontinent, fierce, despisers of those that are good, Traitors, heady, highminded, lovers of pleasures more than lovers of God; Having a form of godliness, but denying the power thereof: from such turn away.
Let me pause for a second to point out that one of the attributes of this "last days" people is unthankfulness. Notice what the unthankful possess otherwise as attributes: they are boastful, proud, disobedient to parents, unholy, lacking natural affection (this also applies to homosexual relationships), truce or agreement-breakers, false accusers, all over the place on just about anything you can think of, (including being double-minded and lacking in self-control), savage in their attacks on others, despising and rejecting things that are virtuous or have any virtue, traitorous, arrogant, preferring the satiating of their flesh to obeying the Word and Will of God, and -- most importantly -- being religious: that is, having the pretense of a relationship with the Lord Jesus Christ, but denying AND LACKING the power and the authority that goes with a true relationship.
Whewww!!! How's that for a description of the unthankful?
But there's more.
For of this sort are they which creep into houses, and lead captive silly women laden with sins, led away with divers lusts, Ever learning, and never able to come to the knowledge of the truth.
There you go! Apart from the fact that the unthankful are burdened with sexual promiscuity, these are the folks that are always seeking after more and more education, more and more learning, and NEVER have the ability to come to any knowledge of the Truth.
Know what that is? Yup. That's a curse!
The unthankful continually eat of the Tree of the Knowledge of Good and Evil, learning more and more and more....and staying just as ignorant of the Truth as they were before they began their quest for knowledge.
So, if that's the curse of unthankfulness, what's the blessing?
Glad you asked.
In Deuteronomy 28, God is speaking to Moses and telling him of all the blessings that will come upon Israel, and specifically those people that keep His commandments, and He says -- in part:
And it shall come to pass, if thou shalt hearken diligently unto the voice of the LORD thy God, to observe and to do all his commandments which I command thee this day, that the LORD thy God will set thee on high above all nations of the earth: And all these blessings shall come on thee, and overtake thee, if thou shalt hearken unto the voice of the LORD thy God.
Blessed shalt thou be in the city, and blessed shalt thou be in the field. Blessed shall be the fruit of thy body, and the fruit of thy ground, and the fruit of thy cattle, the increase of thy kine, and the flocks of thy sheep. Blessed shall be thy basket and thy store. Blessed shalt thou be when thou comest in, and blessed shalt thou be when thou goest out....
And there's more -- a whole LOT MORE!!!
So how do we connect this to thanksgiving. Watch.
After reciting a whole list of curses that will come upon Israel if they don't keep God's commandments, He says, Moreover all these curses shall come upon thee, and shall pursue thee, and overtake thee, till thou be destroyed; because thou hearkenedst not unto the voice of the LORD thy God, to keep his commandments and his statutes which he commanded thee: And they shall be upon thee for a sign and for a wonder, and upon thy seed for ever. Because thou servedst not the LORD thy God with joyfulness, and with gladness of heart, for the abundance of all things.
Whoaa! See it?
Because you didn't serve the Lord with joyfulness and with gladness of heart for the abundance of all that the Lord gave you. In short, because you were unappreciative and unthankful for the blessings of God.
Put two and two together, and you have blessings that come upon those who are thankful and appreciative -- those who give the Lord the due honor and thanksgiving for His being the source of all that they have. The opposite corollary is that a curse -- make that many curses -- comes upon those who are unthankful, unappreciative of that which they have, and neglect to give credit and honor to the Lord God as the source of that which they have.
No nation on the face of the earth has been so blessed as
America
. No nation on earth has ever prospered the way we have. And no other nation on earth has the unique distinction of honoring the Lord and giving Him the due credit for the blessings this nation has enjoyed for more than two centuries.
One more thing and I'll quit for today.
There is an interesting word in the Hebrew that gets translated, "thanksgiving." That word is todah, and it has an interesting etymology. Deriving from yadah, which means: to stretch forth one's hands (with an accompanying confession), it denotes a place of subjection or obeisance to one's benefactor.
Those of you familiar with
Middle East
customs know that when a Jew or an Arab desires to thank someone, they do it with a physical demonstration. There is no specific word for "thank you" in either Hebrew or Arabic, but rather there is the custom of putting one's hands together with palms upright and extending them forward, then bowing somewhat toward the individual they wish to acknowledge or honor as the giver of some gift or blessing.
The word, yadah, comes from its root, yad, which denotes one's hand as a symbol or extension of power and authority. The extension of the open hands with palms upward of the recipient acknowledges the power, therefore, of the giver to give or bestow a gift or a blessing or a reward upon one deemed worthy -- hence it was a way to say, "Thank You".
When David refers to "the sacrifice of thanksgiving," he is referring to a practice of demonstrating honor and acknowledgement to the Lord as His being the source of everything -- and giving that "sacrifice" in the face of one's need.
Thus, putting this in present context, if I have need of something I come before the Lord and thank Him for that which I need -- even before I have actually received it. It is both a sacrifice and an offering of thanks. It is a recognition that my job is not my source of supply, that my friends are not my source of supply, that the bank is not my source, that my talents and skills are not my source: God is my entire and total source of supply -- whether He chooses to use my skills, my talents, my employment or whatever.
He, therefore, is the recipient of my thanks -- and I am all the more blessed because of it.
That said, take some time -- lots of time -- over the next few days to consider where you are, what you have, and all that the Lord has built and developed in you. If you aren't satisfied with what you see, give the Lord thanks anyway for everything. Continue to thank Him and bless Him. Then watch in the days and weeks and months ahead as things change for the better, as your lot improves, as you begin to be even more and more blessed.
Don't -- whatever you do -- be counted among the unthankful wretches who demand their "rights" and never bother to thank and to acknowledge the Lord for all they do have.
Enjoy this Thanksgiving season.
Success is not determined by the will of man, but by the Word and Blessing of God!

I remind those of you in need of ministry that our Healing Prayer Call normally takes place on the first Monday of each month at 7:00 PM Eastern (4:00 PM Pacific). Our call-in number is (712) 775-7035. The Access Code is: 323859#. For Canadians who have difficulty getting in to this number, you can call (559) 546-1400. If someone answers and asks what your original call-in number was, you can give them the 712 number and access code.
At the same time, in case you are missing out on real fellowship in an environment of Ekklesia, our Sunday worship gatherings are available by conference call – usually at about 10:45AM Pacific. That conference number is (605) 562-3140, and the access code is 308640#. We hope to make these gatherings available by Skype or Talk Fusion before long. If you miss the live call, you can dial (605) 562-3149, enter the same access code and listen in later.
Blessings on you!

Regner A. Capener
CAPENER MINISTRIES
RIVER WORSHIP CENTER
Sunnyside, Washington 98944
Email Contact: Admin@RiverWorshipCenter.org
All Coffee Break articles are copyright by Regner A. Capener, but authorization for reprinting, reposting, copying or re-use, in whole or in part, is granted –provided proper attribution and this notice are included intact. Older Coffee Break archives are available at http://www.RegnersMorningCoffee.com. Coffee Break articles are normally published weekly.

If you would like to have these articles arrive each morning in your email, please send a blank email to: Subscribe@AnotherCoffeeBreak.com.To remove yourself from the mailing list, please send a blank email to Unsubscribe@AnotherCoffeeBreak.com.
CAPENER MINISTRIES is a tax-exempt church ministry. Should you desire to participate and covenant with us as partners in this ministry, please contact us at either of the above email or physical addresses, or visit: http://www.RiverWorshipCenter.org.