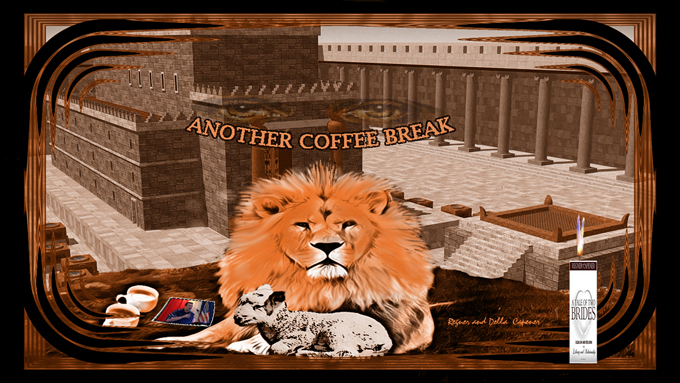 ANOTHER COFFEE BREAK: SUPERNATURAL MATURITY, Part 7
July 1, 2022
In the next couple of Coffee Breaks, as we continue with the truths of Jesus' character expressed in the Sermon on the Mount, I'd like to deal with something that some folks may consider as controversial and even heretical -- and that is the ability we have IN CHRIST to literally change the chaos and strife around us by the same simple declaration that Jesus used.
We are prone, even as Christians, to argue and even bring division among folks rather than exercise this part of the nature of the Lord Jesus Christ. The world often sees this more in a political realm than as a spiritual characteristic. The problem is that it more often than not becomes an effort to generate compromise -- sometimes at any price -- when the truth is that true peace is a natural byproduct of the presence of the Lord, and His Spirit being permitted to rule in and over the circumstances.
Let me show you what I mean. Consider Jesus' declaration:
Matthew 5:9: Blessed are the peacemakers: for they shall be called the children of God.
Here again is a verse that we need to amplify in the same way that we have looked at some of the previous verses.
"Blessed and highly favored by the King [of Kings] are those who know what it means to have the peace of God — those who pursue with all diligence that peace in their being and in their environment — for God will cause them to be known and referred to as His mature and responsible sons (to whom He has entrusted His business." (RAC Translation and Amplification)
We'll come back to this verse in a bit, but I'd like to demonstrate exactly what I believe Jesus is talking about by sharing an event that took place with my father in the summer of 1956. Let me first say that to be a "peace-maker" within the context of Jesus' statement, we become an "enforcer" in a manner of speaking. By that I mean that we bring and enact the peace of God where the Enemy has disrupted things and brought confusion and discontent and conflict.
We were living in Barrow, Alaska at the time, and construction of the new church building there was proceeding in stages.
The church had been built in close proximity to a couple of Eskimo homes — one of which was occupied by a widowed woman named Susan (I'll omit last names in this instance) who had two daughters, Mary Ann and Margaret. Susan had taken up with Simeon, and he was an alcoholic of the worst order. One morning, Mary Ann (who was probably about 12 years old at the time) came running over to our place and pounded on the door. Dad answered and Mary Ann screamed, "Simeon's trying to kill my mom!"
Wasting no time, Dad ran across the alley to the house and opened the door in time to see Simeon, in a drunken rage, raising an axe over the head of Susan to take her head off. Immediately, he raised his right hand in the air and spoke one single word, "Peace!"
Simeon's face and entire demeanor went through an instant change. He dropped the axe and fell to his knees, crying. A very battered Susan had been cowering on the floor, and she got to her feet and moved over to the nearby bed to sit down.
Within moments, Simeon had sobered up. A miracle had taken place as Dad led him to Jesus Christ.
It began a process that would emerge in the coming days and weeks as the entire family accepted Jesus Christ as Lord and Savior. Mary Ann wound up spending more and more time in our home as Mom ministered to her, and she ultimately became our unofficially adopted "sister" — her sister, Margaret, as well, although perhaps to a lesser degree.
Simeon was no mean musician and over the months that followed became a favorite banjo picker who joined my brother and I, and a couple other Eskimo brothers in a string praise band for our Sunday (and mid-week) services.
It was a classic example of the rulership of God's peace. The KJV uses the term, "peace-maker" as a translation of the Greek word, eirenopoios, which is a conjunction of two words, eirene (to join together, to set at one again), and poieo (to make, to execute, to perform, to ordain, to cause).
Several years ago, I put a couple of verses from Colossians 3:15-16 to music, like this:
Let the Word of Christ dwell in you richly
In all wisdom;
Teaching and admonishing one another
In Psalms and hymns and spiritual songs,
Singing with grace in your hearts to the Lord -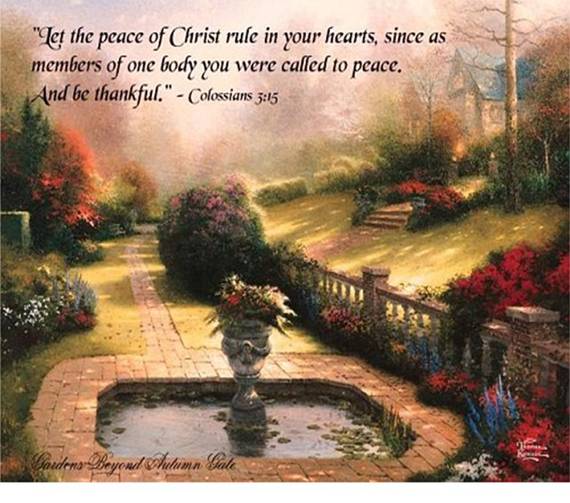 <![if !vml]><![endif]>And Let the peace of God rule in your hearts
Let the Word of Christ dwell in you!
And let the Peace of God rule in your hearts
Rule in your hearts
Rule in your hearts
To the which also ye are called
In One Body
And be ye thankful!
(Repeat Verse 16)
The word in the Greek text translated, "rule," is the word, brabeuo. This word literally means: to direct, to control, to decide, to determine, to rule.
This is not a passive word by any means. It is active and it perfectly describes just how we are expected to operate with the peace of God. The last two descriptive meanings spell it out as clearly as anything can be. This is rulership over chaos. It is the manifestation of His presence in the midst of conflict.
God's peace is NOT an absence of conflict but a serenity of spirit that literally overtakes and overcomes the violence and confusion, the sin and iniquity and darkness that pervades the earth and our societies at large. Neither is God's peace an absence of war. God's peace is a declaration of war -- AND VICTORY -- over spiritual forces in opposition to His presence.
Have you ever considered how Paul begins virtually every single letter or epistle he writes in the New Testament? Here's how he begins his first letter to the Ekklesia in Corinth:
I Corinthians 1:3: Grace be unto you, and peace, from God our Father, and from the Lord Jesus Christ.
Do you see it? The peace of God is the same peace we have in Christ Jesus. It's that same peace that literally superintends our environment when we are in Christ, and He is in us!
And here, again, we have the same root word in Greek that we find in Matthew 5:9, which is eirene (to join together, to set at one again).
Understand?
In the same way that the word, brabeuo, denotes action or force or control, the word, eirene, also denotes action — rulership over a negative situation. God's peace sets things right. It brings order in the midst of chaos, and that applies in more than just mental, emotional, physical or spiritual situations.
I'll share with you another story in next week's Coffee Break from my father's experiences that has been with me since my very early childhood, but let me first lay a foundation for that story and show you a couple demonstrations from Jesus' life.
Mark 4:35-41: And the same day, when the even was come, he saith unto them, Let us pass over unto the other side. And when they had sent away the multitude, they took him even as he was in the ship. And there were also with him other little ships.
And there arose a great storm of wind, and the waves beat into the ship, so that it was now full. And he was in the hinder part of the ship, asleep on a pillow: and they awake him, and say unto him, Master, carest thou not that we perish?
And he arose, and rebuked the wind, and said unto the sea, Peace, be still. And the wind ceased, and there was a great calm. And he said unto them, Why are ye so fearful? how is it that ye have no faith?
And they feared exceedingly, and said one to another, What manner of man is this, that even the wind and the sea obey him?
Are you seeing this picture? When we talk about the peace of God that passes all understanding, we are talking about a spiritual force which easily overrules the elements, wind, rain, snow, hurricanes, tornadoes, blizzards -- you name it. I can't tell you how many times Della and I have commanded storms to either cease, stop in place, or steer another direction, and see the immediate manifestation. That's a different story that I'll get to another time.
Then we see and consider the time when Jesus gathered His disciples together and sent them forth to minister and extend the domain of the Kingdom of God in His authority and power. This is peacemaking with some of its most visible and demonstrable manifestations.
Matthew 19:7-15: And as ye go, preach, saying, The kingdom of heaven is at hand. Heal the sick, cleanse the lepers, raise the dead, cast out devils: freely ye have received, freely give.
Provide neither gold, nor silver, nor brass in your purses, Nor scrip for your journey, neither two coats, neither shoes, nor yet staves: for the workman is worthy of his meat.
And into whatsoever city or town ye shall enter, inquire who in it is worthy; and there abide till ye go thence. And when ye come into an house, salute it.
And if the house be worthy, let your peace come upon it: but if it be not worthy, let your peace return to you. And whosoever shall not receive you, nor hear your words, when ye depart out of that house or city, shake off the dust of your feet.
Verily I say unto you, It shall be more tolerable for the land of Sodom and Gomorrha in the day of judgment, than for that city.
The illustration that comes from Jesus' teaching is that when we go forth in His Kingdom authority, we have command of environments; we have command over spirits of confusion and contention. We have command over demonic spirits of every characteristic and nature. We have command over sickness, infirmity, disease and physical manifestations of weakness. Even more, we have command of death with the ability to raise people from the dead and restore life to them.
I must say, however, that there is a catch to this. This ability to command takes place when we are in Christ, and He is in us.
In this picture that Jesus describes, He declares that when we speak peace in a situation where the household is anaxios (the same word that appears in Paul's description of our partaking of the Table of the Lord) — treating the presence of the Lord as "commonplace" (unworthy, KJV), that peace comes back to us, and judgment falls upon that place, not unlike that which happened to Sodom and Gomorrah.
That's where we will take things next week.
I remind those of you in need of ministry that our Healing Prayer Call takes place on Mondays at 7:00 PM Eastern (4:00 PM Pacific). Once again, the number to call for healing is (805) 399-1000. Then enter the access code: 124763#.
At the same time, in case you are missing out on real fellowship in an environment of Ekklesia, our Sunday worship gatherings are available by conference call – usually at about 10:45AM Pacific. That conference number is (559) 726-1300, and the access code is 308640#. We hope to make these gatherings available by Skype or Talk Fusion before long.
Blessings on you!

Regner A. Capener
CAPENER MINISTRIES
RIVER WORSHIP CENTER
Sunnyside, Washington 98944
Email Contact: Admin@RiverWorshipCenter.org
All Coffee Break articles are copyright by Regner A. Capener, but authorization for reprinting, reposting, copying or re-use, in whole or in part, is granted –provided proper attribution and this notice are included intact. Older Coffee Break archives are available at http://www.RegnersMorningCoffee.com. Coffee Break articles are normally published weekly.

If you would like to have these articles arrive each morning in your email, please send a blank email to: Subscribe@AnotherCoffeeBreak.com.To remove yourself from the mailing list, please send a blank email to Unsubscribe@AnotherCoffeeBreak.com.
CAPENER MINISTRIES is a tax-exempt church ministry. Should you desire to participate and covenant with us as partners in this ministry, please contact us at either of the above email or physical addresses, or visit: http://www.RiverWorshipCenter.org.