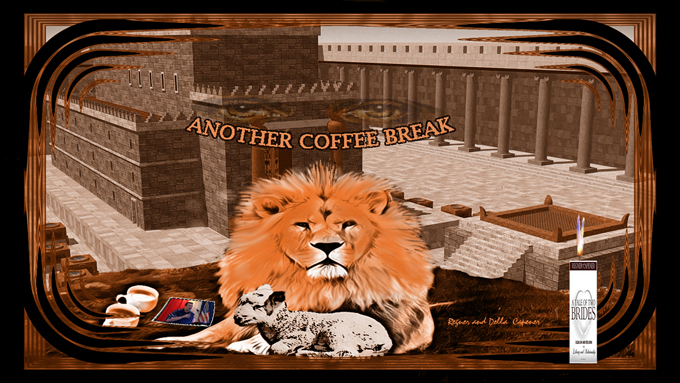 ANOTHER COFFEE BREAK: SUPERNATURAL MATURITY, Part 3
June 3, 2022
For those of you with children who are running from God or who simply ignore the call of Holy Spirit in their lives, let me share a quick story of encouragement before we begin today's sharing.
Our youngest son, Joshua, has had his battles for years. He has had anger issues stemming from abuse and rejection from his biological father -- anger which has gotten him into trouble more than once and even landed him behind bars on several occasions. That anger was often explosive and hair-triggered and if he felt confronted or corrected, he would fly off the handle. Despite the fact that he was instructed in the ways of the Lord and -- in his youth -- manifested the compassion of the Lord for the underprivileged and downtrodden, as the years unfolded he went his own way, winding up in the company of "friends" who led him into the world of alcohol and drugs.
During a period of a couple years in which we were able to help him get a job working for a Canadian mining company under contract in Alaska, (a job which he still holds today, some eight years later) he met and married an Eskimo girl, Michelle, who has become the love of his life and one of the best things that could have ever happened to him. Today they have four children -- four kids who have become little treasures for Grandpa and Grandma!
Unfortunately, the drug use and alcohol abuse picked up again in the midst of keeping bad company, and that substance abuse became a real issue for Michelle and the kids, creating fear, mistrust and real tension in his family. Attempts by Della and me to counsel Josh went unheeded and things were reaching a break point with his family.
During the past few years, Josh found a way to release the pent-up anger in cage fighting and gained a reputation as a fierce competitor. As an "MMA" fighter, his fists became classified as a lethal weapon. A few months ago an incident occurred which scared the daylights out of him and highlighted for him his own need to get rid of the anger issues and surrender his life to the Lord.
Joshua called us for prayer. The awakening that took place in his spirit triggered repentance and correction in his life that have been nothing less than astounding. A few weeks ago, he called his wife and children together, knelt down in front of them and asked them to forgive him for having been "such a lousy dad." From that day forward, he has been reading the Word and praying with his family on a daily basis. We are watching a progression in him, in Michelle, and in the children that brings continual joy for Della and me and a continual reminder of the covenant that the Lord made with us many years ago concerning our children. It is a prophetic Word you can hang onto as well from Isaiah's prophecy.
Isaiah 54:13: And all thy children shall be taught of the LORD; and great shall be the peace of thy children.
OK, my story wasn't quite a "quick" as I intended, but I just wanted to encourage those of you who may despair of ever seeing your children walking with the Lord. God IS a Covenant-keeping God, and His Word is what we can hang onto no matter what the outward circumstances may appear to be. As my longtime friend and brother in the Lord, Dwain McKenzie, once said, "Things are not what they appear to be; they're what God says they are!"
Now, then, let's get on with today's wrap up of Matthew 5:6.
Matthew 5:6: Blessed are they which do hunger and thirst after righteousness, for they shall be filled.
Consider how Isaiah describes the conditions of this hunger.
Isaiah 61:1-3: The Spirit of the Lord GOD is upon me; because the LORD hath anointed me to preach good tidings unto the meek; he hath sent me to bind up the brokenhearted, to proclaim liberty to the captives, and the opening of the prison to them that are bound;
To proclaim the acceptable year of the LORD, and the day of vengeance of our God; to comfort all that mourn;
To appoint unto them that mourn in Zion, to give unto them beauty for ashes, the oil of joy for mourning, the garment of praise for the spirit of heaviness; that they might be called trees of righteousness, the planting of the LORD, that he might be glorified.
Have you ever noticed how much Isaiah's prophecy of Jesus in this instance so closely parallels Jesus' "Sermon on the Mount"? Just about everything that Jesus declares is incorporated in this prophecy.
Then take a look at how Luke describes the beginning of Jesus' ministry as soon as He returns from the wilderness after being tempted by the Devil.
Luke 4:14-21: And Jesus returned in the power of the Spirit into Galilee: and there went out a fame of him through all the region round about. And he taught in their synagogues, being glorified of all. And he came to Nazareth, where he had been brought up: and, as his custom was, he went into the synagogue on the sabbath day, and stood up for to read.
And there was delivered unto him the book of the prophet Esaias. And when he had opened the book, he found the place where it was written, The Spirit of the Lord is upon me, because he hath anointed me to preach the gospel to the poor; he hath sent me to heal the brokenhearted, to preach deliverance to the captives, and recovering of sight to the blind, to set at liberty them that are bruised, To preach the acceptable year of the Lord.
And he closed the book, and he gave it again to the minister, and sat down. And the eyes of all them that were in the synagogue were fastened on him. And he began to say unto them, This day is this scripture fulfilled in your ears.
It's safe to say that ALL of Jesus' ministry was aimed at delivering folks from the contamination and infection of the Tree of the Knowledge of Good and Evil.
Isaiah's prophecy of Jesus was that His purpose in ministering "good tidings to the meek, binding up the brokenhearted, delivering the captives, restoring sight to the blind, and opening up the prison to those who were bound" was to transform them back into "trees of righteousness, the planting of the Lord, so that He could be glorified!"
Remember what Jesus said to John when asking him to baptize Him in the Jordan and John objected?
Matthew 3:15: And Jesus responded to him, saying, 'Erase your preconceived ideas of what is appropriate; suspend your emotions for the moment, for it is necessary in this way or manner for us to furnish, execute and make available ALL righteousness and justification." And John baptized Jesus, setting aside and erasing his thoughts and emotions. (RAC Translation and Amplification)
You'll recall that John the Baptist prophesied of Jesus saying, "And now also the axe is laid to the root of the Tree," (see Matthew 3:10) referring to the Tree of the Knowledge of Good and Evil.
Follow that line of thinking to the fact that both Peter and Paul refer to Jesus as having been hung on that Tree (see Acts 5:30 and Galatians 3:13) in order to deliver us from its curse and restore our access to the Tree of Life.
Take a quick look at how Paul phrases this in his letter to the Galatians:
Galatians 3:13-14: Christ hath redeemed us from the curse of the law, being made a curse for us: for it is written, Cursed is every one that hangeth on a tree: That the blessing of Abraham might come on the Gentiles through Jesus Christ; that we might receive the promise of the Spirit through faith.
Before we continue on, let's review the Greek words translated "blessed" or "blessing."
Throughout the beginning statements in Jesus' "Sermon on the Mount," each time we see Him use the word, "blessed," He is making use of a word that has a unique etymology to it. The word, makarios, is the word translated, "blessed" throughout what we know as The Beatitudes. While this word indeed refers to being blessed, it has the connotation of a king's approval and subsequent conveyance of unique favor. Thayer describes it as "the supreme blessing," hence, the ultimate favor one can be given.
I can easily illustrate this from my own family's history in my ancestor, William Capron, who joined William the Conqueror in his conquest of the British Isles. When the battles were over and William the Conqueror became King William I of Britain, because of my ancestor's bravery and battle success, he was knighted by the king and granted a huge tract of land in central England we know today as Lancastershire.
That blessing and favor continued on through the generations that followed so that William Capron's grandson, William Capener, became Lord High Chancellor to King Henry I, and his great-great grandson served similarly.
That picture of blessing gets a slightly different flavor when we see how Paul uses it in referring to "the Blessing of Abraham." Here, we see the Greek term, eulogeo. We could liken this to the "rhema" of blessing. Eulogeo is the speaking forth of makarios.
Whereas makarios describes the supreme blessing and favor granted by a king, eulogeo delivers that supreme blessing and favor by enacting it within the framework of Covenant. Eulogeo is a covenant word, and those who receive the declarations or decrees spoken forth do so because they have become participants in the covenant.
Now, let's get back to the verse that started this line of discussion, and let me amplify that for you from the Greek.
Matthew 5:6: Blessed and highly favored by the King [of Kings] are those who are famished and crave after with unquenchable thirst the way of thinking, feeling and acting wholly conformed to the will of God, who has His whole-hearted approval and acceptance, and therefore needs no (man-made) justification, for they shall be satisfied in abundance — being able to literally gorge themselves on and with the nature, character and personality of God. (RAC Translation and Amplification)
Wheww!! That's a mouthful, I know, but my desire was to capture the very essence of what Jesus is communicating when He speaks of His favor towards those who thirst after His nature and character.
Each time we see the preface in our English translations, "Blessed are," we are seeing the express favor of both Father and Son for the following attitudes and behavior. When Jesus revealed His Glory to Peter, James and John in the mountain, and was transfigured before them, He permitted them to see into His supernatural makeup, His character and personality.
This word, transfigured, in the Greek text, describes a dimensional shifting. The word is more often translated "transformed" throughout Paul's letters, but the original word is: metamorphoo, a compound Greek word which denotes undergoing a visible shift in appearance.
Jesus' appearance took on a brightness and a transparent shining such as no one had ever seen. When Moses and Elijah appeared with Him, the disciples failed to understand or to comprehend the prophecy that was taking place before their eyes. He became the fulfillment of the Law as well as the prophetic announcements of Him throughout the centuries.
In Peter's excitement and zeal, he put his foot in his mouth by suggesting that they should build three tabernacles there on top the mountain. He did not yet comprehend the Glory of the Lord that was being revealed before them, and Father had to cause His cloud to overshadow them momentarily while He spoke out of Heaven saying, This is my beloved Son in whom I am well pleased; hear ye Him!(Matthew 17:5)
When righteousness becomes complete within us as the people of God, the Glory of the Lord is revealed and made plain to those around us.
Righteousness enables Holy Spirit to reveal the Glory of the Lord in such a way that the Word — the rhema — of Jesus is heard as we speak.
There's a whole lot more we could cover on the subject of righteousness, but let's move on to the next "be attitude." (smile)
And this is a good place for us to stop. We will continue this again next week.
I remind those of you in need of ministry that our Healing Prayer Call is back on schedule for Mondays & Wednesdays at 7:00 PM Eastern. Once again, the number to call for healing is (805) 399-1000. Then enter the access code: 124763#.
Also want to let you know that our Sunday worship gatherings are available by conference call – usually at about 10:45AM Pacific. That conference number is (559) 726-1300, and the access code is 308640#.
Blessings on you

Regner A. Capener
CAPENER MINISTRIES
RIVER WORSHIP CENTER
Sunnyside, Washington 98944
Email Contact: Admin@RiverWorshipCenter.org
All Coffee Break articles are copyright by Regner A. Capener, but authorization for reprinting, reposting, copying or re-use, in whole or in part, is granted –provided proper attribution and this notice are included intact. Older Coffee Break archives are available at http://www.RegnersMorningCoffee.com. Coffee Break articles are normally published weekly.

If you would like to have these articles arrive each morning in your email, please send a blank email to: Subscribe@AnotherCoffeeBreak.com.To remove yourself from the mailing list, please send a blank email to Unsubscribe@AnotherCoffeeBreak.com.
CAPENER MINISTRIES is a tax-exempt church ministry. Should you desire to participate and covenant with us as partners in this ministry, please contact us at either of the above email or physical addresses, or visit: http://www.RiverWorshipCenter.org.