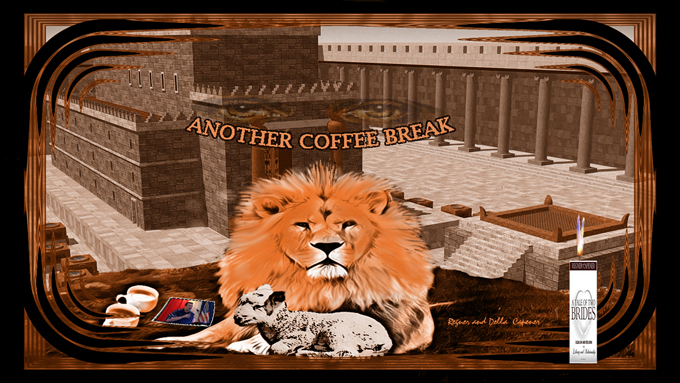 ANOTHER COFFEE BREAK; SUPERNATURAL MATURITY, Part 17
September 09, 2022
We may run long today as we attempt to wrap up this series, so let's see what kind of progress we can make in today's sharing.
Here again is the amplified and re-translated portion of this passage from Matthew 5:14-16:
[When I said, "Light be," that was the light that brought this world into being. I AM that light.] (Because you are in me, and I AM in you, you are — likewise — the light of this world. That is a light one cannot hide.
[As representatives of the New Jerusalem] you are like that City which is elevated on a high hill or mountain and cannot be hidden from view. (You have been made and destined to be visible to this world.) (Matthew 5:14, RAC Translation & Amplification)
No one lights a candle, and then hides it under some kind of covering or utensil. Rather, they put the candle on some kind of lampstand or decorative piece in order to elevate it so as to give light to the whole room.
Let that light (My light) which is in you, therefore, radiate brilliantly in front of all men and women so that the value of your relationship with and in Me — manifested in the works, the signs and wonders — is demonstrated. That, in turn, will cause Father in Heaven to receive glory and honor and praise!(Matthew 5:15-16, RAC Translation and Amplification)
"I must work the works of Him that sent me, while it is day."
In other words, "I have to do those things that Father sent me to do while the time of revelation is still available to those whose spirits and mind are open to see and understand the revelation." (John 9:4, RAC Translation & Amplification)
Then He follows it by saying this:
"A time is coming when My Spirit will no longer be here and available to bring revelation and understanding to those who are spiritually blind; and when that takes place no one will be able to share truths in such a way that those outside My Kingdom will be able to receive and respond.
"As long as I am present in the world (whether in person or in my onoma) — by and with My Spirit moving through you — the light and life and revelation of all that I am continues to be available." (John 9:4-5, RAC Translation & Amplification)
Take another look at what we've just heard and seen Jesus say:
We looked at this verse in the first part of this discussion on salt and light, and here it is again:
Psalm 115:16: The Heaven, even the heavens, are the Lord's: but the earth hath He given to the children of men.
Now, let's put that in the context of Isaiah's prophecy — and this is what Jesus was getting at:
Isaiah 60:1-6: Arise, shine; for thy light is come, and the glory of the LORD is risen upon thee. For, behold, the darkness shall cover the earth, and gross darkness the people: but the LORD shall arise upon thee, and his glory shall be seen upon thee.
And the Gentiles shall come to thy light, and kings to the brightness of thy rising. Lift up thine eyes round about, and see: all they gather themselves together, they come to thee: thy sons shall come from far, and thy daughters shall be nursed at thy side.
Then thou shalt see, and flow together, and thine heart shall fear, and be enlarged; because the abundance of the sea shall be converted unto thee, the forces of the Gentiles shall come unto thee.
The multitude of camels shall cover thee, the dromedaries of Midian and Ephah; all they from Sheba shall come: they shall bring gold and incense; and they shall show forth the praises of the LORD.
This prophecy deserves some serious amplification, and we'll have to expand on that a bit later, but here's the picture.
We are IN CHRIST! He is IN US! If Jesus is the Light of the World, then so are we! And that places a signal responsibility upon each of us.
Isaiah's prophecy spells it out when he says that our sons and daughters will come from afar, that we will be able to see and be literally awestricken because of the abundance of people who will be converted as a result of our light shining. The metaphors that Isaiah uses are spectacular when he speaks of the forces of the Gentiles (nations), the multitude of camels, the dromedaries of Midian and Ephah, along with all those from Sheba bringing gold and incense as they display the praises of the Lord.
THAT, folks, is a description of our commission as the "Light of the World."
There's a whole lot in those metaphors, and we'll get to them as we continue this discussion. We haven't even started yet with the part where Jesus talks about not putting a candle under a bushel, but rather using a candlestick (the Greek text uses a word — luchnia — to describe a portable or moveable lampstand or source of light.) There's another metaphor for you. We'll get there as we move forward with this study.
I know you're looking at me cross-eyed, wondering where this is going, but bear with me.
I want to come back to Isaiah's prophecy regarding the Glory of the Lord being revealed, but first we need to take a look at a command that occurs four times in the New Testament.
John 12: 35-36: Then Jesus said unto them, Yet a little while is the light with you. Walk while ye have the light, lest darkness come upon you: for he that walketh in darkness knoweth not whither he goeth. While ye have light, believe in the light, that ye may be the children of light. These things spake Jesus, and departed, and did hide himself from them.
Before we continue on, let's make sure that we are all on the same page with regard to what Jesus is making reference to.
When He refers to us as "the children of light" He uses the word huios — fully matured, grown into that place of understanding and obedience to what Father says, and what Father does. But there's more than that to it.
We're not just commanded to be huios, we are commanded to be the huios of light — and that's where the rubber meets the road. The "light" to which He makes reference is the revelation of Who He is. It is the revelation of ALL that is encompassed in the nature, the character, the personality of the Lord Jesus Christ.
With that revelation comes the revelation of the power and authority that reside in our tongue. Let's not forget that when Jesus spoke, and the Word came forth from His tongue, Light Be!, all Creation came into being!
When Jesus speaks, light comes forth. When Jesus speaks, demons flee. When Jesus speaks, restoration takes place. When Jesus speaks, healing takes place. When Jesus speaks, storms obey. When Jesus speaks, death vanishes and life returns!
David understood what happens when Jesus speaks:
Psalm 119:130: The entrance of thy words giveth light; it giveth understanding unto the simple.
The word, understanding, in David's statement comes from the Hebrew, biyn, which means in part: perception, discernment, revelation, skill, cunning.
You're getting the picture, I'm sure.
The word, simple, in that same statement draws a picture from the Hebrew of one who is devoid of understanding, one who lacks wisdom, one who is unlearned, one who can be deceived, one who is gullible and can be seduced.
Thus, the entrance (the Hebrew word is pethach, which means: disclosure, an opening) of the Word changes the nature of an individual from one who is foolish, lacks any wisdom, and is subject to deception. It transforms the once-ignorant, non-understanding individual into one who sees and understands the revelation by the Spirit of God.
Writing to the Ekklesia in Thessalonica, Paul speaks of the coming of the Day of the Lord. He makes it clear that those who are not "the children of light" will not see that day coming, that they will listen to the messages of "peace and safety" and be ignorant of the destruction that will take them totally off guard.
Again, the phrase "the children of light" speaks to the huios of light — the fully mature, fully perceiving sons who see and hear by the Spirit of God, and have the necessary revelation to deal with things that the world can neither understand nor cope with.
Writing to the Ekklesia in Ephesus, Paul takes a slightly different approach when he refers to us as "the children of light."
Ephesians 5:6-10: Let no man deceive you with vain words: for because of these things cometh the wrath of God upon the children of disobedience. Be not ye therefore partakers with them. For ye were sometimes darkness, but now are ye light in the Lord: walk as children of light: (For the fruit of the Spirit is in all goodness and righteousness and truth;) Proving what is acceptable unto the Lord.
Let's amplify this out of the Greek to make it even clearer.
Let no one cheat you or hoodwink you with empty, non-productive words, destitute of faith and visible demonstration of truth: it is because of this kind of  charlatanism that God's abhorrence and passionate indignation are visited upon those whose unbelief has reached full maturation. Accordingly, have no fellowship with them, nor be a co-participant in their efforts and communications.
In time past, you suffered from the darkness of ignorance, [lacking revelation by and through the Spirit of Truth] but have since become enlightened, radiating the light (of the Lord Jesus Christ): Walk, therefore, as sons continually in the process of receiving more and greater revelation [by the Spirit of  Truth].
For the visible demonstration and manifestation of Holy Spirit is in the uprightness of your walk and speech, along with your integrity, the way you think, and the manner in which you hold to the truth; testing, examining and proving (in the midst of the crucible) in a practical dimension, that which pleases the very heart of the Lord Jesus Christ. (Ephesians 5:6-10, RAC Translation & Amplification)
Paul's clarification of the manifestation of the light of the Lord shining forth from us gives us a clue as to how that light begins to increase.  David understood this principle and stated it as clearly as anyone could possibly put it.
Psalm 119:105: Thy Word is a lamp unto my feet, and a light unto my path.
Psalm 119:130: The entrance of Thy Word giveth light; it giveth understanding unto the simple.
Psalm 43:3: O send out thy light and thy truth: let them lead me; let them bring me unto thy holy hill, and to thy tabernacles.
Are you seeing the picture? It can't be any clearer. It is the entrance — the open door, the gateway into our spirit and soul — of revelation (by and through Holy Spirit) of the Word, the rhema, that generates His light, His character, His nature, His makeup within us. It is the transforming nature of His Word that changes us.
It lights us up!
That brings us back to the creative authority and power that is part and parcel of Jesus' nature and makeup. We've already talked about this, but let's not forget that when Jesus spoke the Word, "Light BE!," all of creation came into being.
Job had the revelation and expressed it like this:
Job 22:28: Thou shalt also decree a thing, and it shall be established unto thee: and the light shall shine upon thy ways.
And still there is more to go in this discussion. I thought maybe I could wrap this up today, but there's just too much to share, so let's leave it here for today and come back to it next week.
I remind those of you in need of ministry that our Healing Prayer Call takes place on Mondays at 7:00 PM Eastern (4:00 PM Pacific). Once again, the number to call for healing is (805) 399-1000. Then enter the access code: 124763#.
At the same time, in case you are missing out on real fellowship in an environment of Ekklesia, our Sunday worship gatherings are available by conference call – usually at about 10:45AM Pacific. That conference number is (559) 726-1300, and the access code is 308640#. We hope to make these gatherings available by Skype or Talk Fusion before long.
Blessings on you!

Regner A. Capener
CAPENER MINISTRIES
RIVER WORSHIP CENTER
Sunnyside, Washington 98944
Email Contact: Admin@RiverWorshipCenter.org
All Coffee Break articles are copyright by Regner A. Capener, but authorization for reprinting, reposting, copying or re-use, in whole or in part, is granted –provided proper attribution and this notice are included intact. Older Coffee Break archives are available at http://www.RegnersMorningCoffee.com. Coffee Break articles are normally published weekly.

If you would like to have these articles arrive each morning in your email, please send a blank email to: Subscribe@AnotherCoffeeBreak.com.To remove yourself from the mailing list, please send a blank email to Unsubscribe@AnotherCoffeeBreak.com.
CAPENER MINISTRIES is a tax-exempt church ministry. Should you desire to participate and covenant with us as partners in this ministry, please contact us at either of the above email or physical addresses, or visit: http://www.RiverWorshipCenter.org.