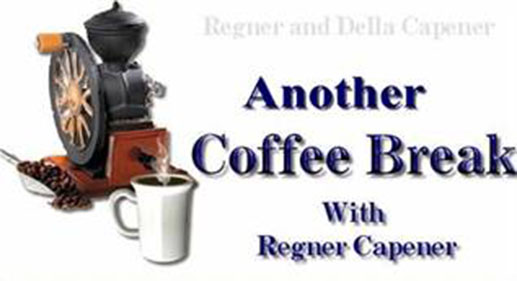 ANOTHER COFFEE BREAK: KINGDOM ECONOMICS XXXVIII
May 17, '09 11:54 AM
By Regner Capener


Coffee's on, folks! Good Morning!

There's an absolutely heavenly aroma filling my office right now. Although the French Press is full and running over, it's the Expresso machine that steaming away on some of that Double-Roast French we picked up at Winco Foods. Mmmmm....Mmmmm Good!

The concept of partnership in ministry is one I've been somewhat aware of for many years, but I'd have to admit that it wasn't until some 16 or 17 years ago or so that I really became aware of its importance in spreading the Gospel. Both Della and I had left our "professional" occupations to travel, sharing the concept of ministering praise and worship to the Lord -- not just singing songs and making music, but making worship our first priority ahead of everything else.

When you transition from six-figure incomes to nothing -- nothing, that is, from a guaranteed paycheck perspective -- things tend to get a bit hairy at first. You'd better know you have a Word from the Lord before you make that kind of move -- and then you have to be prepared to trust the Lord absolutely as the source of your provision.

Let me digress (or appear to) for a minute. We are supposed to live our lives as believers in Christ Jesus with absolute trust and faith in His Word. We are not supposed to trust our jobs AND the Lord; nor are we to trust our "natural" skills or abilities AND the Lord; nor are we to trust our academic training AND the Lord.

Get it? Once we transfer our citizenship from this natural, earthly realm to the Kingdom of God, the entire economy changes. The entire mode of living changes. We don't have the luxury of depending on our own wisdom, our own understanding or our own training. From a Kingdom of God perspective, that is "evil." Fact is, it is idolatry. It puts our natural wisdom, understanding or abilities on par with God. We effectively worship those things.

What was it that was written in Proverbs?

"Trust in the Lord with all thine heart, and lean not unto thine own understanding. In all thy ways, acknowledge Him, and He shall direct thy paths. Be not wise in thine own eyes; fear the Lord and depart from evil. It shall be health to thy navel, and marrow to thy bones." (Proverbs 3:5-8)

So how is it that we can hear this Word, read this Word repeatedly and continually miss its significance? The truth is that we've been programmed by the society in which we live to trust in ourselves and our own abilities. Human nature -- unredeemed human nature, that is -- worships itself. This is the essence of secular humanism. We make ourselves to be god over God, and the reason is because we've all been programmed with a sin nature.

Satan's most skillful tactic is to convince us that no matter what God has done for others He won't do for us. We can't really believe His Word. The body of Christ has been fed doctrines of demons for centuries -- so much so that it is in our DNA to doubt God. Unbelief permeates the body of Christ.

In the fourth century AD, to compensate for the fact that many of the would-be leaders in the body of Christ had so shifted away from the truth of God's Word that the power of the Holy Spirit was absent, and there was no demonstration -- as Paul put it -- "of the Spirit and power", a demonic doctrine we know today as "cessationism" began to be promoted. That doctrine essentially stated that the gifts of the Spirit died out with the apostles. Thus these leaders were able to skillfully deflect criticism of the fact that they themselves lacked the power.

Then another doctrine we know as "dispensationalism" got added to the mix. That doctrine stated that God moved in certain ways during certain eras: that what He did in certain ages past He wasn't doing today; and that there was no need to expect God to do those things. This doctrine -- like cessationism -- excused the fact that people weren't seeing God move through them as in previous times.

This doctrine drew on the KJV translation of the Greek word, oikonomia: which is more accurately translated: administration [of an economy], to oversee, to distribute. Coupled together with the Greek kairos (occasion, opportunity, proper time, always) folks jumped on the coupling of the two words to imply something that isn't there. Notice that kairos is used in the Greek text of Ephesians 1:10 rather than chronos: a fixed or set period of time.

This is the only place in Scripture where you have the coupling of a Greek word for "time" and "administration." Nearly the whole cloth of the argument for "dispensationalism" is predicated on Ephesians 1:10; and yet the word, oikonomia appears nine times (and its root, oikonomos, ten times) in the N.T. used in a very different context. (Sorry. Didn't mean to get sidetracked with this stuff!)

These doctrines of demons -- and that's what they are -- directly contradict what Jesus said and did. They directly oppose His promises to the believer. They are designed to excuse away our lack of understanding of what it means to live in the Spirit, walk in the Spirit, and demonstrate the power of the Spirit. Let me illustrate.

"Jesus Christ is the same yesterday and today and forever." (Hebrews 13:8) He doesn't change. His Word doesn't change. His power and authority in us doesn't change. His promises never change. His commandments to us haven't changed. The Holy Spirit (who is One with Jesus Christ) hasn't lost any of His authority, power or attributes.

"And Jesus came and spake unto them, saying, All power is given unto me in heaven and in earth. Go ye therefore, and teach all nations, baptizing them in the name of the Father, and of the Son, and of the Holy Ghost. Teaching them to observe all things whatsoever I have commanded you: and, lo, I am with you alway, even unto the end of the world. Amen." (Matthew 28:18-20)

Question. How are you going to baptize or immerse someone into the onoma -- the character, the personality, the makeup or the very essence -- of the Holy Spirit if there's no demonstration of the Spirit and power? It all becomes academic. It's all talk with no evidentiary power to back up what we say!

Try this one on for size! How are you going to teach believers to "observe [tereo: to keep, to prevent from escaping] all things whatsoever I have commanded you" if the demonstration of the Spirit through the promised gifts of the Spirit (healing, deliverance, miracles, speaking in previously unlearned tongues or languages, the giving of prophetic words, words of knowledge or words of wisdom) are absent?

Then there's Jesus' command with promise.

"And he said unto them, Go ye into all the world, and preach the gospel to every creature. He that believeth and is baptized shall be saved; but he that believeth not shall be damned. And these signs shall follow them that believe; In my name shall they cast out devils; they shall speak with new tongues; They shall take up serpents; and if they drink any deadly thing, it shall not hurt them; they shall lay hands on the sick, and they shall recover." (Mark 16:15-18)

Hmmmmm..... Somehow Jesus forgot to say that "these signs shall follow them that believe, but only up to the end of the first century." He didn't say that, did He? Well then, "Jesus Christ is the same yesterday, today and forever -- except when it comes to keeping His promises to "them that believe." No? You're right! The Scripture doesn't say that! He's the same forever, PERIOD!

Right! And that's why the apostle Paul declared that "For all the promises of God in him [Christ Jesus] are yea, and in him Amen, unto the glory of God by us." (II Corinthians 1:20)

Get it? Every promise God has ever made to us is available yesterday, today and forever through Christ Jesus. The why is easy! All the promises of God are made available to us so that God receives the glory BY US!

Wheww! Boy, did I ever take a side-trip! But it isn't so much a side-trip as it appears. We started talking about partnership, and I want to amplify this concept for your understanding as an economic principle of the Kingdom of God. Let's go back to a command that God gave to His people.


"But thou shalt remember the LORD thy God: for it is he that giveth thee power to get wealth, that he may establish his covenant which he sware unto thy fathers, as it is this day." (Deuteronomy 8:18)

This is the picture of partnership. God gives us power to get wealth. We gain wealth through His empowerment and covenant with us. The world looks on and sees what God is doing in us and desires what we have.

(Note: Brother, has this concept ever been reversed in the minds of many Christians by another of those doctrines of demons! Christians look at the world's wealth and desire what the world has because of a spirit of poverty that rules them.)

But what we have is not just for our own consumption. The Kingdom of God is spread and multiplied by the Holy Spirit-instructed use of resources: physical, financial and material. We therefore become partners with God. He gives us power to get wealth. We in turn use that wealth for His Kingdom. When God's people become the source of wealth instead of the recipients of handouts, God gets the glory. So long as we are "handout" minded, we are of no use to the Kingdom of God, and He receives no glory from us.

The purpose of partnership with God in wealth and finance is -- as He clearly states -- "that He may establish His Covenant" which He swore to our father (of faith), Abraham. God made a covenant with Abraham. That covenant ensured that Abraham would be blessed -- spiritually, physically, materially, financially, and in every conceivable way -- and that he, in turn, would be a blessing: that through him and his seed all nations of the earth would be blessed.

We are the seed of Abraham by faith. Here is how Paul expressed it when writing to the Galatians.

"Even as Abraham believed God, and it was accounted to him for righteousness. Know ye therefore that they which are of faith, the same are the children of Abraham. And the scripture, foreseeing that God would justify the heathen through faith, preached before the gospel unto Abraham, saying, In thee shall all nations be blessed. So then they which be of faith are blessed with faithful Abraham.

"For as many as are of the works of the law are under the curse: for it is written, Cursed is every one that continueth not in all things which are written in the book of the law to do them. But that no man is justified by the law in the sight of God, it is evident: for, The just shall live by faith. And the law is not of faith: but, The man that doeth them shall live in them." (Galatians 3:6-12)

But the blessing of Abraham isn't just a promise: it is a covenant. It is a covenant between partners. And a covenant is not something any law can supersede or disannul. So Paul continues his explanation.

"Christ hath redeemed us from the curse of the law, being made a curse for us: for it is written, Cursed is every one that hangeth on a tree: That the blessing of Abraham might come on the Gentiles through Jesus Christ; that we might receive the promise of the Spirit through faith. Brethren, I speak after the manner of men; Though it be but a man's covenant, yet if it be confirmed, no man disannulleth, or addeth thereto.

"Now to Abraham and his seed were the promises made. He saith not, And to seeds, as of many; but as of one, And to thy seed, which is Christ. And this I say, that the covenant, that was confirmed before of God in Christ, the law, which was four hundred and thirty years after, cannot disannul, that it should make the promise of none effect. For if the inheritance be of the law, it is no more of promise: but God gave it to Abraham by promise." (Galatians 3:13-18)

Understand?

Our partnership with God in this blessing of Abraham is twofold:

(1) We agree to agree in all things with the Lord by faith. We uphold His Word -- all of it: not just the parts we agree with or find doctrinally comfortable. We agree to be His representative in the earth. We agree to demonstrate His love using all the resources He makes available.

We agree to manifest His character, His integrity, His authority and power; and we agree to show the world that God is a God of abundance -- NOT poverty and need! We agree to use the resources He gives in such a way that He receives the glory, and the world at large sees the benefit of our covenant with Him.

(2) God, in turn, covenants to bless us in all things and in all areas of life. He empowers us to become rich and to get wealth. He promises us long life. He not only provides us with health and wholeness in our physical beings, He also gives us supernatural strength and healing for those times when we are attacked by disease, infirmity, illness or weakness. On top of all that, He provides deliverance and protection from all our enemies.

But there's another dimension to this. Part of what Paul describes in our new covenant, ratified by Jesus Christ with His blood, is "that we might receive the promise (epaggelo: to announce and assert; a divine pledge or guarantee) of the Spirit through faith."

That's what gives us the open door into the dimension of what we would refer to as "the supernatural." This is where we gain the ability and empowerment to show our partnership with the Lord in demonstrating His love for others by healing the sick, raising the dead, cleansing the lepers, casting out demons and bringing spiritual restoration to folks in dire circumstances. This is the realm where the empowerment comes to see the establishment of the covenant that God made with our faith forefather, Abraham.

If we're going to walk in our covenant partnership with God, we have to be ready to embrace wholeheartedly all that this realm requires, all that it may potentially cost us, AND -- wonder of wonders -- the blessing of wealth in order that God receives the kind of glory He deserves.

There's more to come on this, folks! We'll pick it up here next time.

He is no fool who gives up what he cannot keep to gain what he cannot lose. (Sir Isaac Newton)

The Blessing of the Lord: it makes rich and He adds no painful toil and sorrow! (Proverbs 10:22)

Be blessed!

Regner A. Capener
CAPENER MINISTRIES
RIVER WORSHIP CENTER
Sunnyside, Washington 98944
Email Contact: Admin@RiverWorshipCenter.org
All Coffee Break articles are copyright by Regner A. Capener, but authorization for reprinting, reposting, copying or re-use, in whole or in part, is granted –provided proper attribution and this notice are included intact. Older Coffee Break archives are available at http://www.RegnersMorningCoffee.com. Coffee Break articles are normally published weekly.

If you would like to have these articles arrive each morning in your email, please send a blank email to: Subscribe@AnotherCoffeeBreak.com.To remove yourself from the mailing list, please send a blank email to Unsubscribe@AnotherCoffeeBreak.com.
CAPENER MINISTRIES is a tax-exempt church ministry. Should you desire to participate and covenant with us as partners in this ministry, please contact us at either of the above email or physical addresses, or visit: http://www.RiverWorshipCenter.org.