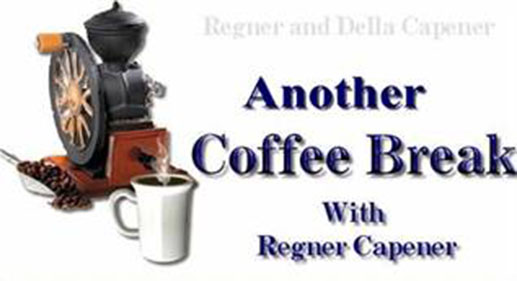 ANOTHER COFFEE BREAK: KINGDOM ECONOMICS XX
Mar 15, '08 11:40 PM
Greetings to you, Oh Great, Wise, and Illustrious Ones!
When's the last time you had a Good Morning greeting like that!
Yeah, Yeah. OK Michael, Robert, Lynn the rest of you smart alecs who've heard it before! No wisecracks from the peanut gallery.
Coffee's poured. Mmmmmm….. Love that aroma!
So, what're you waitin' for? Grab your cup and let's get on with the day.
Ever been in a dentist's chair? Sure you have. For most folks, it isn't the funnest experience. (Sorry 'bout that. Just makin' up words here.) Anyway, I've been seeing a local dentist, Dr. James Stevens, to take care of some dental problems, a couple of chipped teeth, etc. When he discovered that I had a mouth full of old mercury fillings, he told me that I really needed to get rid of them and replace them with ceramic instead.
He proceeded to tell me of a number of his patients who'd been experiencing health problems in which doctors couldn't trace the source or cause. He'd discovered that they also had many mercury-based fillings, and that the mercury was leaching into the body. As he replaced those fillings, their health issues suddenly began to be resolved -- to the surprise of their medical doctors.
For more than two years, I've dealt with an annoying and persistent cough that just wouldn't go away. I've prayed over it, commanded health to my body, and asked the Lord to reveal the source of the problem. When Dr. Stevens identified the mercury fillings in my mouth and began to replace them, he discovered (to no surprise of his own) that they were disintegrating and slowly leaching mercury into my body.
So far, he has removed six of them and replaced them with ceramic fillings. There are perhaps another six to go. For all intents and purposes, the cough is already gone. The Lord answered prayer, and the answer came in a very different manner than I'd expected. Who'd've ever guessed it was old dental fillings creating problems?
Anyway, thought I'd share that with you in case you are experiencing health issues that doctors can't seem to put a finger on. Check with your dentist and find out if you still have some old mercury-based fillings in your mouth. If you do, get rid of them. Dr. Stevens has an impressive list of patients for whom he has replaced those fillings who have also resolved other supposedly non-related health issues.
My two cents on that subject, for what it's worth to you.
We've spent a whole lot more time on tithing in our last few Coffee Breaks than I ever expected to spend, and I'm still not done. Nevertheless, we're going to move along today and talk about an aspect of Kingdom Economics in which every believer in Christ ought to be totally versed and totally functioning. We're talking about seed sowing.
You may recall that we talked about this scripture some time ago from Genesis 8:22 where God says to Noah, "While the earth remaineth, seedtime and harvest, and cold and heat, and summer and winter, and day and night shall not cease."
Absolutely everything that happens within the Kingdom of God is based on this principle. We've spent the last few Coffee Breaks talking about tithing; and tithing is a form of seed sowing. Tithing, however, is only the most basic form of seed sowing. Tithers are promised that their needs will be met. Tithing brings God's provision to meet your need for food, clothing, a roof over your head, and your transportation.
But there is a dimension to seed sowing that goes far beyond the idea of tithing, or giving a measly tenth of your income to the Lord.
Let me share a few pictures with you.
A number of years ago, a preacher who was just getting started in the ministry himself happened to be listening to Oral Roberts share the concept of seed faith.
Seed faith, by the way, is the faith that undergirds the sowing of specific seed which is planted for the purpose of bringing forth a specific harvest. Think about it in these terms. A farmer doesn't plant corn seed and expect to get anything but a field of corn from his seed. He doesn't expect to get a harvest of beans, or peas, or wheat, or rice, or anything but corn!
Seedtime and harvest is the universal and inviolable Kingdom Law established by God that causes everything to bring forth "after his kind." (Genesis 1:12, 24) A man plants his own seed in his counterpart. He doesn't expect to get anything but another human being. He can't plant his seed and expect to get a monkey, or an elephant, or an ox, or anything but another man (or woman).
Plant grass seed, and you get grass, not bushes or trees. Plant apple seed and you get an apple tree. Plant mustard seed and you get the mustard tree. That's the way it has been since the beginning of time.
Getting back to the story of the young preacher, hearing the concept of seed faith generated faith within himself. He took Mark 11:23-24 to heart. You have to realize that this particular preacher was extremely poor. He and his young bride lived in what they euphemistically referred to as "a shotgun house." If you're not familiar with the phrase, it's the way folks in the southern U.S. refer to a house where you can open the front door, point a shotgun towards the back door, fire, and not hit anything as the pellets go through the house and out the back door. You get the picture, I'm sure.
Getting ready to preach one of his first services, he was sitting in church listening to another preacher when he looked at his own clothing and realized how tattered and threadbare his suit actually was. Quietly he said to the Lord, "Father, I believe your Word. I believe Mark 11:24 which says, "What things soever ye desire, when ye pray, believe that ye receive them, and ye shall have them." I believe the parable of the sower in Matthew 13."
He reached into his pocket and couldn't find so much as two pennies to rub together. The offering plate was just being passed. Quickly, he grabbed his tiny pocket knife and cut a button off his suit.
"That's all I've got to sow, Lord," he said, "but it's yours! I need, and I desire a new suit. I believe your Word, and because your Word says I will have what I say, I'm asking you for a new suit. I thank you for that new suit in the name of Jesus, and I believe that I receive it!"
It was scarcely a week that went by. He was getting ready to preach in a church service when a lady motioned that she wanted to speak to him after the service. He nodded his head; and when the service came to a conclusion, she walked up to the front.
"Sir, the Holy Spirit just spoke to me and told me I was supposed to buy you a new suit. If you'll meet me tomorrow at (and she named the clothing store), I'll pay for whatever suit you pick out including any necessary alterations, a new shirt to go with it, socks, shoes, tee-shirt and shorts."
For this young preacher, it was a vivid illustration of the truth of God's Word, and it propelled him into preaching and teaching the Word of faith. Oh, that preacher -- by the way -- was Kenneth Copeland. The year was 1967. It was four years later that I met Kenneth Copeland for the first time. His preaching had already become revelatory as a result of his own personal experiences in walking out the Word of faith, and his sharing began to impact me from that moment forward.
Early in my Dad's ministry, he was exposed to the preaching and teaching of Kenneth E. Hagin, Sr. One of the books that graced his library was Hagin'sTHE AUTHORITY OF THE BELIEVER. Dad understood the concept of seed faith. He practiced it for all 50 years of his ministry. He never had a need that didn't get met. He never sowed a seed in faith that didn't bring forth the harvest he declared.
Seed faith -- the core of the principle of seedtime and harvest -- has two ingredients: (1) believing; and (2) saying what you believe. Unfortunately there are many Christians who've been disillusioned over this teaching, but the truth is that they either (A) speak what they hope, but don't really believe; or (B) they do believe in their heart but fail to speak it.
It was nearly five years ago. Della was traveling the eastern United States doing jewelry shows for Zales, Kay Jewelers, Marks & Morgan, and several other major jewelry chains. One night when she had a break in her schedule (she happened to be in Tallahassee, Florida at the time, as I recall) she decided to watch some Christian television programming.
We were both making really good money at the time, but we'd overspent ourselves helping out some family members in dire straits, along with meeting some ministry needs of folks we knew, and racked up a debt of over $50,000 on some of our credit cards. We'd been discussing the debt and talking to the Lord about it, asking for assistance in getting those credit cards paid off.
Both of us were familiar with the concept of seed faith. Both of us knew well the Scriptures concerning seedtime and harvest, the parable of the sower, and the principles that Jesus taught concerning the sowing of seed. The problem was that despite our knowledge of the Scriptures, we had somehow gotten away from the actual application of the Word in our lives where our personal finances were concerned.
Della was briefly watching a particular TV program when the Holy Spirit spoke to her and instructed her to sow a seed of $1,000 into this particular ministry. She quizzed the Lord on it. "Father, you know how Reg and I seriously question the integrity of this particular minister. Are you sure about this?"
The Holy Spirit immediately said to her, "It isn't your business to question how this man spends the money he receives. That's between him and me. Whether you trust him or not is of little consequence. I trust him. Now, sow the seed!"
"OK, Lord," she said. "I don't have the thousand dollars to sow at the moment, so you'll have to make that provision." Della called me immediately and told me what the Lord had said to her. I scratched my head over it, but didn't argue. We've learned not to argue with the Lord when He gives that kind of instruction. We agreed in prayer together that when the Lord made the provision, we would sow that seed.
There's an interesting principle here. It's based in II Corinthians 8:12, which reads like this: "For if there be first a willing mind, it is accepted according to that a man hath, and not according to that he hath not."
Does that come across to you? Let's put it another way. God looks for the willingness to respond to His Word. He looks for faith put into action by our responses. As He sees that, He treats it as though we had already accomplished and finished that which He instructed -- not that we were derelict or unwilling.
Consider the verse that comes before this -- verse 11. "Now therefore perform the doing of it; that as there was a readiness to will, so there may be a performance also out of that which ye have."
These commands come within the context of giving to meet the needs of others. The whole of the 8th chapter of II Corinthians is devoted to giving, to sowing seed, to partnering in ministry financially (and that's another concept we'll deal with in the days to come).
Della and I knew we didn't have the thousand dollars to sow into this particular ministry at the time, but we resolved between ourselves -- better yet, we covenanted between ourselves -- that we would obey the Word of the Lord as God made the provision. And the Lord treated our resolve, our covenant, as though it were an accomplished fact.
In the 9th chapter of II Corinthians, Paul continues his discourse on giving and sowing seed. Listen to the way he expresses this seedtime and harvest principle.
"But this I say, He which soweth sparingly shall reap also sparingly; and he which soweth bountifully shall reap also bountifully. Every man according as he purposeth in his heart, so let him give; not grudgingly, or of necessity: for God loveth a cheerful giver. And God is able to make all grace abound toward you; that ye, always having all sufficiency in all things, may abound to every good work: (As it is written, He hath dispersed abroad; he hath given to the poor: his righteousness remaineth for ever.
"Now he that ministereth seed to the sower both minister bread for your food, and multiply your seed sown, and increase the fruits of your righteousness;) Being enriched in every thing to all bountifulness, which causeth through us thanksgiving to God." (II Corinthians 9:6-12)
Are you seeing it? The picture that Paul is drawing for us is that of the Lord ministering the seed to us that He instructs us to sow. God doesn't simply give us money (or anything else, for that matter) to sow: He ministers the seed to us. We are the sowers who've been sent forth to sow. But what we've received to sow isn't simply handed out: it is ministered.
Let me explain.
There is a fascinating Greek word that occurs in the original text of this statement: dðé÷ïñçãÝù -- epichoregeo. A contraction of two words -- epi, and choregeo -- it literally means: to fully supply, to aid, to contribute. But the meaning goes even farther. The Greek preposition, epi, means: to superimpose, over, upon; having come down from above. The other half of this contracted word -- choregeo -- means: to orchestrate, to be a dance leader; hence, to lead by example and instruction.
Thus, the concept of ministering, as Paul defines it under the direction of the Holy Spirit, is to orchestrate and to direct the use of the seed that the Lord provides. This is exactly what was happening to us.
Understand that we had begun our discourse with the Lord by expressing our need to Him -- a need to pay off more than $50,000 in accumulated credit card debts. He responded by both directing our giving even before we received the seed, and then orchestrating the provision of that seed.
Less than 45 days after receiving the command to sow the thousand dollars into a ministry we'd have never picked because of our own jaundiced view of this particular ministry, we received a financial windfall. The Lord treated our covenant with Him to give that money as though we had already given according to His command, and made the provision for us to give.
How did it come? Over the years, Della and I had been investing into a certain ministry project without any particular thought of what return might come from it. As far as we were concerned, we were "laying up treasure in heaven." Without any prior notice or foreknowledge, we were suddenly advised that we were going to receive a large return on that investment, and it came in the form of a huge cashier's check.
The $50,000+ debt was erased virtually overnight. But before we paid any debts with the money God provided, we kept our commitment to Him and sent a cashier's check for a thousand dollars to the ministry He'd directed.
Does seed sowing produce a harvest? Does sowing with purpose produce the desired harvest? In a word, YES! It's a spiritual law. We'll talk more about this law in our next Coffee Break.
Poverty is a form of Hell caused by man's blindness to God's unlimited good (and blessing) for him. God's plan for man is the prosperity that comes by living in divine favor. Living in divine favor is the product of direct and committed -- covenanted -- obedience to Him and His Word!
The Blessing of the Lord: it makes rich and He adds no painful toil and sorrow! (Proverbs 10:22) Be blessed!

Regner A. Capener
CAPENER MINISTRIES
RIVER WORSHIP CENTER
Sunnyside, Washington 98944
Email Contact: Admin@RiverWorshipCenter.org
All Coffee Break articles are copyright by Regner A. Capener, but authorization for reprinting, reposting, copying or re-use, in whole or in part, is granted –provided proper attribution and this notice are included intact. Older Coffee Break archives are available at http://www.RegnersMorningCoffee.com. Coffee Break articles are normally published weekly.

If you would like to have these articles arrive each morning in your email, please send a blank email to: Subscribe@AnotherCoffeeBreak.com.To remove yourself from the mailing list, please send a blank email to Unsubscribe@AnotherCoffeeBreak.com.
CAPENER MINISTRIES is a tax-exempt church ministry. Should you desire to participate and covenant with us as partners in this ministry, please contact us at either of the above email or physical addresses, or visit: http://www.RiverWorshipCenter.org.