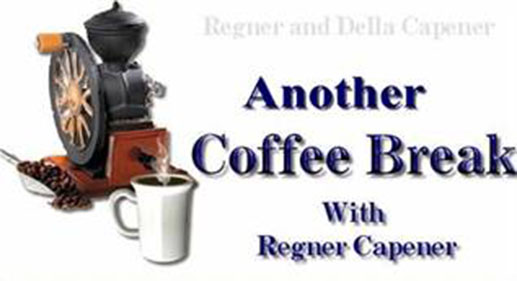 ANOTHER COFFEE BREAK: KINGDOM ECONOMICS V
Nov 7, '07
Yawn! Got any toothpicks to prop my eyes open, anyone?
Whoa!
Gooooooodddd Morrrrrrrnnnnniiinnnnggg! Let's get this day cookin' the right way!
You didn't hear me say that about toothpicks, did you? Nawwww. Sometimes, though, I think I need them when I first wake up in the morning with all the hours I've been keeping lately. Brother!
Believe it or not, I had Kingdom Economics written and ready to publish last Monday. I actually thought I might get three Coffee Breaks out last week, but then reality hit. I won't even try to give you a rundown of the week. You'd get tired just reading about it!
Anyway, we had a spectacular weekend with Ed Silvoso. I -- with tongue firmly in cheek -- in a conversation with some friends laughing referred to Ed as Kenneth Copeland with an Argentinean accent. Besides the fact that the Lord has given Ed a unique revelation for evangelizing and changing whole communities, much of what he has to share might easily fit within the context of what Kenneth Copeland, Jerry Savelle, Bill Winston, Creflo Dollar, Jesse Duplantis, Keith Butler, Keith Moore, and a host of other "Faith" preachers share. Despite the fact that he was not a student at Rhema Bible Institute nor did he sit under Kenneth Hagin's teaching, he obviously has received much of the same revelation that Kenneth Hagin shared and has passed on to thousands of believers in Christ.
Ed Silvoso has his own way -- and revelation -- of sharing the message of faith, believing God's Word and acting on it, and putting shoeleather to the Gospel of Jesus Christ. He doesn't pull any punches, either, despite his humorous presentation. He makes no bones about saying that "Charismatics" and "Pentecostals" who HAVE received the baptism of the Holy Spirit absolutely waste the power and authority available to them by not demonstrating the gifts and miracles of the Spirit on a regular and consistent basis.
I'll leave you with one thing he shared this weekend that really sticks: "The greatest obstacle to walking and operating in faith is memory." Chew on that one for awhile. Then compare that statement to Philippians 3:13-14.
"Brethren, I count not myself to have apprehended: but this one thing I do, forgetting those things which are behind, and reaching forth unto those things which are before, I press toward the mark for the prize of the high calling of God in Christ Jesus."
That's actually a good place for us to pick up with today's discussion. Before we get started, however, don't forget to grab yourself a good cup of that dark-roasted Columbian, or Sumatran, French Roast -- something really dark, you understand so's you don't have so much caffeine or tannic acid to upset your stomach -- and set a spell while we talk.
Ed said it uniquely, but he captured the essence of one of the biggest blockades to Christians operating in faith, or obeying the Word of the Lord when he said that memory was the greatest obstacle to faith.
Why?
It's simple, really. We remember what happened the last time we tried something. We remember our failures. We remember the time we prayed for healing -- maybe over and over and over again -- for ourselves, a family member, or a friend, and nothing happened. We thought we prayed in faith, but there were no results that followed.
We remember our failures in business. We remember the mistakes we've made at different points in our lives, and Satan just loves to bring up these mistakes or failures. Naturally, he amplifies them to such a degree that they've become unbelievably horrible. He instills fear -- the fear of failure -- and reminds us of our failures every time we want to step out in faith in obedience to the Lord.
This, my friends, is the product of eating of the Tree of Knowledge -- and this knowledge brings fear. No wonder, too! We're eating of the Knowledge of Evil.
We also have memories of our successes. We know what worked in the past. We've learned exactly how to accomplish certain tasks, and we pride ourselves on our abilities to accomplish those things. We're proud of our skills and talents. We prize them. We think highly of ourselves and our reasoning ability. We like the fact that we can think our way through difficult situations -- especially situations that no one else around us seems to have the ability to deal with -- and it makes us feel really good! We feel safe and secure in our money-making ability.
Are you beginning to get the picture I'm painting for you? This is also eating of the Tree of Knowledge -- and specifically, the Knowledge of Good. (P.S. Just in case you think I'm saying all these things from a philosophical standpoint, think again! I may be describing you, but I'm also talking about what I've had to overcome personally.)
Whether you eat of the Knowledge of Good or the Knowledge of Evil, both are deadly. Both eventually result in death. The Kingdom of God does not work by, through, or because of "Knowledge." The Kingdom of God operates in the realm of the Spirit. Everything that takes place in a Kingdom economy takes place because it has first been resolved, created in, through and by the Spirit using Kingdom principles that defy human reasoning and rationale.
The apostle Paul put it like this. (Quoting I Corinthians 2:14-16 from the Amplified Version) "But the natural, nonspiritual man does not accept or welcome or admit into his heart the gifts and teachings and revelations of the Spirit of God, for they are folly (meaningless nonsense) to him; and he is incapable of knowing them -- of progressively recognizing, understanding and becoming better acquainted with them -- because they are spiritually discerned and estimated and appreciated.
"But the spiritual man tries all things -- [that is] he examines, investigates, inquires into, questions, and discerns all things; yet is himself to be put on trial and judged by no one (no natural or unspiritual person). -- He can read the meaning of everything, but no one can properly discern or appraise or get an insight into him.
"For who has known or understood the mind (the counsels and purposes) of the Lord so as to guide and instruct [Him] and give Him knowledge? But we have the mind of Christ, the Messiah, and do hold the thoughts (feelings and purposes) of His heart."
That's a mouthful, to be sure, but it illustrates perfectly what I've been saying. No person -- man or woman -- who operates in a natural realm, a thinking or reasoning realm devoid of revelation by and through the Holy Spirit, has the ability to perceive or discern spiritual principles, laws and concepts. For the natural-reasoning mind, the individual who depends on human rationale to arrive at his or her decisions and choices, is simply out to lunch when it comes to the things of the Spirit.
In order, therefore, for Christians to think, move, operate and show forth the power, the authority, the grace, the love, the mercy of the Lord Jesus Christ with provable, demonstrable results, they must "sell" all they've got in the natural realm and "buy" using gold tried in the fires of overcoming.
Before we continue with the story of David Dorsett I was sharing with you in our last Coffee Break, let me give you one other illustration that will help you clarify this picture. This is an illustration that has puzzled many folks because of the wording in our English texts, but hopefully my example will be clear to you.
If you look at the life of Abraham, you see a man whose life exemplified the blessing of the Lord to such a degree that following his death at 175 years of age, the blessing of the Lord that was upon him was forever referred to as "The Blessing of Abraham."
Genesis 25:5 tells us that "And Abraham gave all that he had unto Isaac."
The very next verse seems to contradict that statement. Verse 6 reads, "But unto the sons of the concubines, which Abraham had, Abraham gave gifts, and sent them away from Isaac his son, while he yet lived, eastward, unto the east country."
If Abraham gave all that he had to Isaac, how was it that he could afterward give "gifts" unto the sons of his concubines? What could he have left to give if he gave "all that he had" to Isaac?
The answer is quite simple, really. Abraham gave "stuff" to the other sons. He gave worldly goods, possessions, earthly valuables to them. Isaac certainly received "stuff" from Abraham, but he received the one thing that no one else could receive: the blessing! It was the blessing of God that empowered Abraham to become what was likely the richest man (or certainly one of the richest) on the planet.
Abraham had earlier made it clear to the King of Sodom (see Genesis 14:22-24) that "I have lifted up my hand and sworn to the Lord God Most High, the possessor and maker of heaven and earth, that I would not take a thread or a shoelace or anything that is yours, lest you should say, I have made Abram rich. [Take all] except only what my young men have eaten, and the share of the men [allies] who went with me, Aner, Eshcol, and Mamre (these men were Amorites, RAC); let them take their portion."
Abraham had a covenant with the Lord. That covenant meant that God was the absolute source of all that he had, the source of all he would become, the source of the power and authority that worked in and through him. It was a covenant of God's Blessing. That blessing was the power, the means by which Abraham became so rich and powerful that kings feared him.
For Abraham to give the sons of the concubines worldly goods may have delighted those sons, but they didn't receive the means or the power to continue to possess, to gain even more wealth, riches, power and authority. The "Blessing of Abraham" was an extraordinary empowering by the Spirit of God. It made him who and what he was in the earth.
THAT was what Abraham gave to Isaac. With that blessing, Isaac would continue to operate supernaturally in and through the economy of the Kingdom of God. We'll get into this picture a little more a bit later in this series, but hopefully you are getting the idea. Abraham didn't get all that he had through any great genius or ability of his own. He didn't become rich beyond words because of any inherent business acumen.
He didn't take out Amraphel king of Shinar, Arioch king of Ellasar, Chedorlaomer king of Elam (history refers to him as Hammurabi), and Tidal, king of nations (the Hebrew is Goiim) and their armies using only 318 servants from his own household because of some great, stupendous, military strategy he cooked up on his own. He had supernatural, divine might and power working in, through, and with him in order to achieve such a miraculous defeat of some of the most powerful armies on earth.
There was no way in the natural realm that Abraham could have accomplished all that he did. No natural reasoning was going to get Abraham such military prowess, nor business acumen in order to gain the wealth that he possessed. Those things came because Abraham exercised implicit trust in the Lord and declared by faith "those things which be not as though they were." (See Romans )
It may seem like I'm going around a 40-acre field to get back to my story of David Dorsett, but I wanted you to understand the context in which the Lord spoke to David (DD) and said to him, "Sell all thou hast, and come and follow me."
Because DD was -- as previously noted -- an exceptionally brilliant man with a genius-level IQ, his mind immediately put up a blockade to this Word from the Lord. Over a period of several weeks, I attempted to help him understand what the Holy Spirit was getting at, but he simply did not want to hear it. His stock answer to my sharing was, "What do you mean, "sell" my reasoning? That's dumb. Reasoning is not something you sell. I regard this as a treasure from the Lord that needs to be guarded."
A month or so after I had stood with him in his driveway while he puzzled over having received this Word, David was given another opportunity to hear what God was saying.
Driving from Spokane to Seattle by way of Yakima, he was on U.S. 395 heading south toward the Tri-Cities area when he spotted a hitchhiker standing alongside the road. David was the kind of person who loved to pick up hitchhikers so he could talk to them about the Lord. His immediate reaction was to stop and pick up this man.
A few minutes after they were back on the freeway, he introduced himself and launched into a conversation with the hitchhiker. The hitchhiker listened, smiled, and then introduced himself. He began to talk about his own past and how he had come to know the Lord.
Leaving the Tri-Cities area on I-82, heading towards Yakima, the hitchhiker said to DD, "The Lord sent me on today's journey. Last night, the Holy Spirit told me that you would pick me up. He gave me your name and your description. I knew when you stopped to pick me up that the message of the Lord given me was specifically directed to you."
DD was really piqued. The hitchhiker had his undivided attention, now.
"My name is David Salzburg. Up until about three years or so ago, I was a multi-millionaire with more money and possessions than I knew what to do with. A day came when the Lord tapped me on the shoulder and reminded me of a vow I'd made in a foxhole in Vietnam. I told the Lord if He'd get me out of a crossfire where I faced certain death and get me home from the war whole and in one piece, I'd do whatever He asked of me, go wherever He sent me, and say whatever He said to say."
Of course, you've all heard or read this story (the same one I shared in Kingdom Economics III), so you know what David Salzburg had been through and how the Lord spoke to him.
David Salzburg went on to share with DD how he'd been hitchhiking for more than a year, just going wherever the Lord directed, sharing with folks whatever Word the Lord gave him for them.
"In a way," he said, "I'm in sort of the same place that Jesus was when He was on the road traveling from place to place. Jesus made the statement that 'the Son of Man hath not where to lay His head' meaning that he didn't have houses or hotels or whatever to stay in when he traveled. That's me. Sometimes people open their homes to me. Sometimes I just go to the local Sheriff's office and ask for a jail to sleep in overnight. In any case, the Lord always provides me with a place to stay and food to eat."
DD looked at David Salzburg with a puzzled look on his face and said, "So if you knew you were going to meet me, that I was going to pick you up, and the Lord gave you a specific message for me, WHAT is THAT message?"
"Sell all thou hast, and come and follow me," responded David Salzburg. If I said that DD's mouth dropped open, it would be an understatement. He had heard the Lord speak this same Word to him in an audible voice just over a month earlier. He'd listened to me a few days later explain exactly what the Holy Spirit was trying to communicate.
He'd rejected what I'd shared because it just didn't fit with his logical mind. Now the Lord was giving him the same, exact Word, but this time through a complete and total stranger -- a hitchhiker whose personal story was one of living out that Word at great personal cost.
You can well believe that DD was quiet the rest of the way driving into Yakima. He was both frustrated and angry, but he didn't want David Salzburg to see his anger. As they pulled off the freeway into Yakima, David Salzburg said, "If you would, just drop me at the Sheriff's office. I'll get me a jail cell for the night and be on my way again tomorrow."
"This is a Word you've heard from the Lord before," said David Salzburg to David Dorsett as they parked in front of the Sheriff's office. "I'm only confirming what God has already said to you. Don't let it fall by the wayside."
As I've already noted in this narrative, Della and I were living in Post Falls, Idaho at the time on the 160-acre ranch owned by Earle and Marcia Treend known as "Trails End." The phone rang at the ranch not long after David Dorsett arrived back home in Seattle.
"When will you be coming through Seattle again on one of your round-trips to Anchorage," he asked. "We need to talk."
It was a couple of weeks later that DD related every detail of the foregoing story to me as we stood outside his garage door. His wife was preparing for a floral show and Della was helping her. DD was loading and transporting the displays to the show-site on the waterfront. I lent a hand in the process and it gave us several hours to share with each other.
"David," I said to him, "This is not a complicated Word at all. You've got to come to the place of willingness and readiness to dump all of your thought processes, your personal knowledge, your reasoning -- no matter how brilliant it may be in the natural realm, and simply be open to receive whatever God wants to give you -- no matter how illogical it may seem to your rational mind."
We'll finish the story of David Dorsett and his response to the Lord in our next Coffee Break.
Kingdom Economics is a system under which we return to the priorities of life established by God in the Garden. Our assignment from God is our priority. Our provision is His priority.
The Blessing of the Lord be upon you.

Regner A. Capener
CAPENER MINISTRIES
RIVER WORSHIP CENTER
Sunnyside, Washington 98944
Email Contact: Admin@RiverWorshipCenter.org
All Coffee Break articles are copyright by Regner A. Capener, but authorization for reprinting, reposting, copying or re-use, in whole or in part, is granted –provided proper attribution and this notice are included intact. Older Coffee Break archives are available at http://www.RegnersMorningCoffee.com. Coffee Break articles are normally published weekly.

If you would like to have these articles arrive each morning in your email, please send a blank email to: Subscribe@AnotherCoffeeBreak.com.To remove yourself from the mailing list, please send a blank email to Unsubscribe@AnotherCoffeeBreak.com.
CAPENER MINISTRIES is a tax-exempt church ministry. Should you desire to participate and covenant with us as partners in this ministry, please contact us at either of the above email or physical addresses, or visit: http://www.RiverWorshipCenter.org.