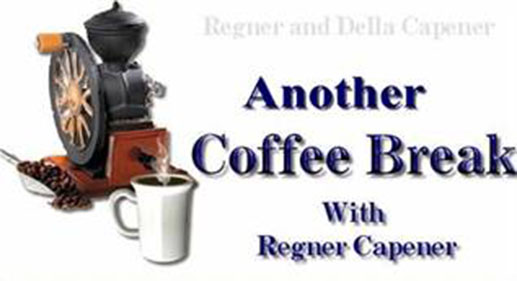 ANOTHER COFFEE BREAK: KEYS OF THE KINGDOM VII
Sept 4, '10 12:30 PM
By Regner Capener
Salutations and Blessings to All!
During the last part of July and the first part of August, Della and I attended a camp meeting/prophetic conference hosted by Peter and Cathryn Nash and Frontline Ministries in Red Deer, Alberta. The principal speakers were Paul Keith Davis, Steven Shelley, Charlie Robertson, Chuck Pierce – and of course, Peter and Cathryn.
The revelations and impartations were almost too numerous to recount, but I had an experience that I must share before we resume our discussion on the Keys of the Kingdom.
Many of you have no doubt heard of the series of really remarkable signs and wonders that have been taking place with increasing frequency in gatherings all over the world. I'm referring in this instance to the appearance of gemstones (some ranging in size from 44 to 54 carats) that have the appearance of diamonds, sapphires, rubies, emeralds, etc. but – according to expert jewelers – have purity, hardness, brilliance and characteristics unknown to the jewelry industry. Two years ago, Mary Ellen had a stone suddenly appear in her lap while Neville Johnson was speaking that seems to be a cross between a blue sapphire and a brilliant green emerald.
Many folks have reported gold dust or gold flakes appearing on their faces, in their hair, and all over their clothing – in quantities ranging from a tiny fraction of an ounce to many ounces. In one of our worship gatherings a couple years ago, both Della and Sandy had very visible gold dust that appeared on their faces and their clothing.
There have been numerous reports of feathers – angel feathers, if you please – suddenly appearing in mid-air and falling all over people during times of intense worship when the spirit of the Lord was being poured out on people. Charlie Robinson has experienced this phenomenon on numerous occasions and even has some funny stories to share where some folks have literally been covered in feathers.
What's it all about? I don't have all the answers, but these are signs and wonders that follow the believer. As I shared with Peter Nash the other day, "We see all these signs, and we wonder at them!" (Grin)
Anyway, during one of Charlie's times of sharing during this conference, a few feathers suddenly appeared in mid-air and floated to the floor. For most of those present – Della and me included – this was a first! We'd only heard about this sort of thing happening, but never seen it. But it was soon to become far more personal.
There was a break in the service during which an offering was taken. Della and I had asked the Lord how much we were to sow into the conference before even leaving the U.S. The amount was set aside in advance, divided proportionally for the number of days, and then put into offering envelopes readied for each meeting.
I had placed this night's offering envelope just inside the cover of my Bible and when it was time for the ushers to take the offering, I opened the flap to take out the envelope. To my utter astonishment, a rather large feather suddenly appeared on the envelope. I took it out and showed it to Della, and then showed it to Charlie who waved it before the gathering shouting, "This is a sign, folks!! This is a sign!"
What was fascinating was that the Holy Spirit flashed before me the verse from Malachi 3:10 about the windows of Heaven being opened and an uncontainable blessing being poured out when I first saw the feather. One of the Frontline ministry team members who was sitting in front of us turned around and said to us, "The Lord wants you to know that He has seen your sacrifice in giving, and that He holds both you and your giving in remembrance." We'd said nothing to anyone about our giving or how sacrificial it really was so the Word was impacting to say the least. The feather is a visible sign for us of the promises of God!
Now, let's get on with today.
THANKSGIVING: THE KEY TO RECEIVING
We all know how crucial is the giving of thanks to the Lord, but its importance far transcends the normal concept of saying, "Thank You, Lord!"
The apostle Paul spells it out in precise language:
Philippians 4:6-7: 6Be careful (merimnao: fretting, anxiety) for (medeis: not so much as one thing, no matter how insignificant) nothing; but in everything by prayer (proseuche: worship [within the framework of our Covenant]) and supplication (deesis: presenting a [legal] petition or request) with thanksgiving (eucharistia: the language of grace [within our covenant] and gratitude towards God) let your requests (aitema: requirements, petitions) be made known unto God. 7And the peace of God (eirene: prosperity, quietness and rest), which passeth all understanding, shall keep (phroureo: be a watcher in advance, act as a sentinel, mount a guard, hem in and protect) your hearts and minds through Christ Jesus.
You see it don't you? There is no request, no demand, and no requirement of any kind that we can or should present before the Lord — under our Covenant with Him — without thanksgiving being given at the same time.
Why?
Thanksgiving is the language of grace. It is the language of faith. If we do believe that God is a covenant-keeping God, that our covenant with and through Christ Jesus is in force, then thanksgiving becomes the language and expression of our hearts. It becomes the statement of absolute faith and trust in the Word.
We don't give thanks for something we haven't received. We give thanks for something we have received!
It matters not that we don't see the actual manifestation yet before our natural eyes. Where we first see the manifestation is before our spiritual eyes.
We see in the realm of the Spirit.
Do we believe what Jesus said, "And I will give you the authority and power to lock and unlock Heaven so what whatever you bind, restrict or stop on earth shall be, having been already bound, restricted or stopped in Heaven.
"And whatever you break up, loose, dissolve or put off on earth shall be, having already been broken up, loosed, dissolved or put off in Heaven."
Do we believe that the Keys of the Kingdom have been given to us? Have we done all that is necessary to ensure that they are available to us?
THANKSGIVING: THE LANGUAGE OF FAITH
The story has been told of a young boy whose grandmother had promised to give him a new bicycle for his birthday. Weeks went by. The birthday came and went. No bicycle had come.
He complained to his father one day that "Grandma promised" but the bicycle hadn't come.
"Maybe if you write a note to your grandmother and thank her for the bicycle, it will make a difference," his father replied.
"But, Dad, how can I say 'thanks' for something she hasn't given?" asked the boy.
"Son, she has given it to you already. You just haven't received it yet. Send the note and say 'Thank You' and see what happens."
So the boy sat down and wrote, "Grandma, I forgot to say thank you for the new bicycle. I really appreciate receiving it."
When his grandmother received the note, she realized she hadn't fulfilled her promise and immediately went out and purchased a new bicycle. She had the store assemble and deliver the bicycle to the boy's home so that it would be waiting for him when he got home from school.
When the young lad arrived home and saw the new bicycle, he had his mother call 'Grandma' so he could talk to her.
"Grandma, I knew you would keep your promise. Thank you for this wonderful bicycle!"
This story was related to me years ago by the pastor who saw this event unfold. It is a classic illustration of faith in action.
THE LANGUAGE OF THE SPIRIT
Now let's take a look at another perspective.
Ephesians 5:15-20: 15See then that ye walk circumspectly, not as fools, but as wise, 16Redeeming (exagorazo: to buy up, ransom, rescue from loss) the time, because the days are evil (poneros: hurtful or calamitous). 17Wherefore be ye not unwise, but understanding what the will (thelema: inclination, desire, pleasure) of the Lord is. 18And be not drunk (methusko: intoxicated) with wine, wherein is excess; but be filled [The tense of this word in the Greek text is present-future, meaning: to be being continually filled or finished] (pleroo: thoroughly furnished) with the Spirit; 19Speaking (laleo: uttering articulate words) to yourselves in psalms (psalmos: specifically from the Book of Psalms and accompanied with other voices, harps or other musical instruments) and hymns (humnos: specific celebratory hymns from the Psalms) and spiritual (pneumatikos: divinely supernatural, ethereal, non-carnal [hence, that which does not come out of the intellect) songs, singing and making melody (psallo: to twang or to pluck on a stringed instrument in celebratory music) in your heart to the Lord; 20Giving thanks (eucharisteo: expressing gratitude [within the framework of our Covenant]) always for all things unto God and the Father in the name of our Lord Jesus Christ;
If you read Paul's instruction and understood the context of what he wrote, it becomes clear that the giving of thanks is integral to the language of the Spirit.
Notice how he begins this discourse: "See that ye walk circumspectly — with eyes wide open — not as fools, but as wise, redeeming the time because the days are evil."
Why would he say that?
It's pretty simple, really. Let me digress for a moment to remind you of our priorities as believers.
We need to observe the state of the world around us as it compares to the standard Jesus set before us in His command concerning prayer.
Remember?
"Your Kingdom come, Your will be done in earth, in the same way that it is done in Heaven."
The objective before us always is that the Kingdom of God be in operational authority (as opposed to delegated) and manifested in the earth.
KINGDOM CHARACTERISTICS AND KINGDOM AUTHORITY
Jesus made it abundantly clear.
Matthew 6:33: 33But seek ye first the kingdom of God, and his righteousness; and all these things shall be added unto you.
Matthew 9:35: 35And Jesus went about all the cities and villages, teaching in their synagogues, and preaching the gospel of the kingdom, and healing every sickness and every disease among the people.
Matthew 10:7-8: 7And as ye go, preach, saying, The kingdom of heaven is at hand. 8Heal the sick, cleanse the lepers, raise the dead, cast out devils: freely ye have received, freely give.
Matthew 11:11-12: 11Verily I say unto you, Among them that are born of women there hath not risen a greater than John the Baptist: notwithstanding he that is least in the kingdom of heaven is greater than he. 12And from the days of John the Baptist until now the kingdom of heaven suffereth violence, and the violent take it by force.
Matthew 12:28: 28But if I cast out devils by the Spirit of God, then the kingdom of God is come unto you.
Matthew 13:10: 10And the disciples came, and said unto him, Why speakest thou unto them in parables? 11He answered and said unto them, Because it is given unto you to know the mysteries of the kingdom of heaven, but to them it is not given.
This last statement — "it is given unto you to know the mysteries of the Kingdom of Heaven" — signifies the fact that He reveals the Kingdom, its authority and power, and its character and nature only to those who are His disciples.
There are literally hundreds of such examples in Jesus' preaching and teaching. In this 13th chapter of Matthew, for example, Jesus describes at least 12 attributes of the Kingdom.
Before Jesus was betrayed, seized and crucified, He made the following prophetic announcement:
Matthew 24:14: 14And this gospel of the kingdom shall be preached in all the world for a witness unto all nations; and then shall the end come.
Now, let's get back to our discussion on the relevance of the Keys of the Kingdom to the giving of thanks.
In our previous discussions we have talked about the use of the Keys of the Kingdom to pray for one another, to declare forgiveness and the remission of the sins — especially those that are committed by brothers or sisters in the Lord.
Within that context, consider now what Paul writes to the Colossians.
Colossians 4:2-4: 2Continue (proskartereoô: persist, contend, persevere, be constantly diligent) in prayer (proseuche), and watch in the same with thanksgiving (eucharistia); 3Withal (hama: at the same time [used as an adverb denoting close association]) praying (proseuchomai) also for us, that God would open unto us a door of utterance, to speak the mystery of Christ, for which I am also in bonds: 4That I may make it manifest, as I ought to speak.
Take note of the fact that there is an inseparable link between prayer and thanksgiving. Every request — EVERY REQUEST — if that request is to be made in faith, MUST be accompanied by and with thanksgiving.
Next: Seeing the release of authority through thanksgiving.
Be blessed!

Regner A. Capener
CAPENER MINISTRIES
RIVER WORSHIP CENTER
Sunnyside, Washington 98944
Email Contact: Admin@RiverWorshipCenter.org
All Coffee Break articles are copyright by Regner A. Capener, but authorization for reprinting, reposting, copying or re-use, in whole or in part, is granted –provided proper attribution and this notice are included intact. Older Coffee Break archives are available at http://www.RegnersMorningCoffee.com. Coffee Break articles are normally published weekly.

If you would like to have these articles arrive each morning in your email, please send a blank email to: Subscribe@AnotherCoffeeBreak.com.To remove yourself from the mailing list, please send a blank email to Unsubscribe@AnotherCoffeeBreak.com.
CAPENER MINISTRIES is a tax-exempt church ministry. Should you desire to participate and covenant with us as partners in this ministry, please contact us at either of the above email or physical addresses, or visit: http://www.RiverWorshipCenter.org.