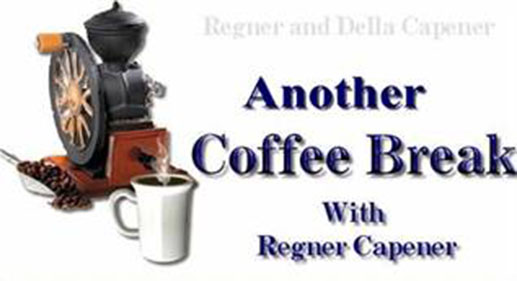 ANOTHER COFFEE BREAK: KEYS OF THE KINGDOM VI
Jul 19, '10 12:40 PM
By Regner Capener
Howdy, Howdy!
My apologies to all the readers of this column for the long break since the last posting in mid-June. We have been in the midst of a transition from our location in Prosser, Washington to new quarters, and that transition is not yet complete. In addition, we've been in Canada for the better part of this past month participating in a prophetic conference sponsored by Frontline Ministries in Sylvan Lake and Red Deer, Alberta, as well as an Open Bible Faith Fellowship pastors' conference immediately following. (More on that in the days to come.) At the same time, we are losing some of our long-time ministry staff who are moving on to other ministries and places as God is opening doors for them. Actually, I should rephrase that to say that we are sending them forth with our blessings and appreciation for their longtime association and fellowship with us.
Robert and Sandy Storer (and their son, Andrew) will be leaving us for a ministry in Arkansas. Della told me some months ago that the Lord had alerted her to the fact that He was going to be drawing them on to other fields of activity and that we should be prepared for their departure. With nearly 19 years of fellowship and ministry together that dates back to our days at Trails' End in Idaho, they have been faithful laborers in the Gospel and effective intercessory prayer ministers – not to mention their musical involvement and participation in our daily worship gatherings.
Sandra Lopez, who has overseen our children's ministry for most of the past four years, has taken on nursing as a career, and is being drawn away from her active involvement because of job responsibilities. Although we don't expect to lose her completely, her new schedule precludes her being with us on Sunday mornings to minister to the children. She has been a good steward of the Gospel and we bless her!
I want to try and wrap up this series – or at least this portion of this series – within the next couple of weeks and move on to share with you a prophetic picture of the body of Christ that the Lord has given to Della and me through parallel dreams within the past few days. By the grace of God we should be able to do that in mid September. In order to accomplish this, I will be publishing these Coffee Breaks every three or four days.
Now, on to today's discussion.
JESUS' OBJECTIVE IS REMISSION AND RECONCILIATION
Let's take a look at one more example in the Word that clearly outlines the heart's desire of the Lord before we shift gears in this study.
Matthew 18:11-20: 11For the Son of man is come to save that which was lost. 12How think ye? if a man have an hundred sheep, and one of them be gone astray, doth he not leave the ninety and nine, and goeth into the mountains, and seeketh that which is gone astray? 13And if so be that he find it, verily I say unto you, he rejoiceth more of that sheep, than of the ninety and nine which went not astray.
14Even so it is not the will (thelema: desire, pleasure, inclination) of your Father which is in heaven, that one of these little ones should perish.
15Moreover if thy brother shall trespass (hamartano: err, miss the mark, sin, commit an offense) against thee, go and tell him (elengcho: admonish, reprove, rebuke [in love] with convincing evidence) his fault between thee and him alone: if he shall hear thee, thou hast gained thy brother. 16But if he will not hear thee, then take with thee one or two more, that in the mouth of two or three witnesses every word may be established. 17And if he shall neglect to hear them, tell it unto the church (Ekklesia): but if he neglect to hear the church, let him be unto thee as an heathen man and a publican.
18Verily I say unto you, Whatsoever ye shall bind (deo: tie up, lock, restrict, or stop) on earth shall be [having been] bound in heaven: and whatsoever ye shall loose (luo: break up, dissolve, unlock or put off) on earth shall be [having been] loosed in heaven.
19Again I say unto you, That if two of you shall agree on earth as touching anything that they shall ask, it shall be done for them of my Father which is in heaven. 20For where two or three are gathered together in my name, there am I in the midst of them.
What is Jesus getting at with this discourse? It's pretty simple, really. He's describing some pretty extreme circumstances to demonstrate that His first objective in every situation is to bring forgiveness, remission of sin, and reconciliation between brethren. With the example of the one lost sheep, He demonstrates His heart to recapture and retrieve those who've fallen by the wayside, been ensnared and are on the verge of losing their lives.
Next, Jesus launches into the picture of dealing with deliberate personal offenses. In this parable, He is not using the word, paraptoma (side slip, lapse in judgment, error—intentional or unintentional, sin) that He used with the disciples in Mark 11.
This time He uses hamartano — the archery term — which defines a missing of the mark or the target (and is used more often throughout the Greek text of the New Testament to define more deliberate or repetitious sins and offenses).
Since His objective is complete remission and reconciliation between His people, Jesus commands a sequence of events which resolves disputes and offenses 99 percent of the time. The first step is to go to the individual whose words or actions clearly evidence wrongdoing towards you; show him in love the nature of the sin or offense and seek to resolve and reconcile the issues. Most of the time, this procedure is going to work — especially when you have two people who love the Lord and are seeking to walk in harmony with Him.
If this fails, however, the next step is to take one or two other brothers (or sisters) in the Lord with you — either or both of whom have been witness to the sin or the offense — who will be able to provide both affirming testimony and secondary counsel to them. It is a rare set of circumstances in which this step does not succeed, particularly when the offender has walked in a bond of love with all the parties concerned.
SUMPHONEO PUT TO THE TEST
But Jesus doesn't leave it there. He is so committed to having agreement (sumphoneo: with the same sound, being in harmony, speaking the same thing) between the members of His body that He provides a third procedure should the first and second fail. If the offending individual fails to hear and receive the rebuke and admonition from the first and second (and even third, if present) brothers or sisters, Jesus now commands that the individual be brought before the entire body — the Ekklesia of which he is a part — and that a serious, all-out effort be made by the entire body to bring healing and remission and reconciliation.
Where there is real agape in operation in a body of believers, it is hard to fathom any conceivable situation in which the offender could not or would not hear and repent. We are talking about a pretty extreme situation in which an individual would refuse to respond in these circumstances. Should it take place, however, Jesus makes clear that this person can no longer be a part of His Ekklesia — that they are now treated as the "unsaved" who are unredeemed.
I hope you are getting the picture here of Jesus' immense love and heart's desire to bring this lost individual back!
They are indeed now "lost." They have refused to hear the counsel, the admonishment, the loving rebuke of their peers in the body, and now must be treated as though they have never been a part. Sounds pretty drastic, doesn't it? But this is agape in motion. When an individual who has been an integral part of a living organism (not an organization!) like this is suddenly cut off from all spiritual life, the natural instinct is to do whatever it takes to get that life back — and this is what Jesus is after. His heart is not to cut folks off so completely that they are totally without redemption, but agape gives them that choice without forcing their decision. They have the opportunity yet to repent and return — and we are commanded to remit their sin and erase it as if it never happened.
Again Jesus uses the example of the use of the Keys of the Kingdom when He says, Whatever you bind, restrict or stop on earth shall be, having been already bound, restricted or stopped in Heaven.
And whatever you break up, loose, dissolve or put off on earth shall be, having already been broken up, loosed, dissolved or put off in Heaven."
What He is effectively demonstrating is that once folks have had access to Heaven's resources, and those resources are suddenly cut off or stopped, there is an awakening to their circumstances. If they turn again and see their error and repent, the Keys of the Kingdom are used to once again unlock Heaven to them. Notice how Jesus wraps up His discourse:
Matthew 18:19-20: 19 Again I say unto you, That if two of you shall agree on earth as touching anything that they shall ask, it shall be done for them of my Father which is in heaven. 20For where two or three are gathered together in my name, there am I in the midst of them.
See the picture? Sumphoneo. This is what He's after: harmony, agreement, speaking the same thing (and seeing the results manifested before your eyes), demonstrating the Kingdom of God effectively before the world!
NONSTOP REMISSION OF SIN
Peter now raises an issue that an uncountable number of Christians have asked in the millennia since.
Matthew 18:21-22: 21Then came Peter to him, and said, Lord, how oft shall my brother sin (hamartano: err, miss the mark, sin, commit an offense) against me, and I forgive (aphiemi: remit, dissolve, cause to cease to exist) [the sins against] him? till seven times? 22Jesus saith unto him, I say not unto thee, Until seven times: but, Until seventy times seven.
490 times? In one day? There aren't that many hours in the day! You get the idea. It seems utterly impossible, but this is what Jesus is getting at: absolutely unstoppable, bottomless, always-replenishing forgiveness and remission of sin. Notice also that Peter's question comes within the same framework of Jesus' previous discourse. Jesus has just been talking about the means for bringing remission and reconciliation between brethren and sisters when a sin or an offense has been committed towards you.
So Peter with his big heart says, "Do I forgive the offending brother as much as 70 times for the same offense?"
Not bad, really. I doubt any of us have ever had someone commit the same sin or offense towards us as much as 70 times in our lives — much less in the same day! But Jesus makes it clear that His ability to forgive and remit is bottomless towards those who will repent. And there is the key to understanding the well of agape in the Lord Jesus Christ. It is always replenishing, always ready to remit and erase all evidence of sin.
Get it? Jesus is always READY to remit. His final parable in this discourse shows that access to that well of agape requires repentance on the part of the would-be recipient.
Matthew 18:23-35: (There isn't sufficient room here to print the entire text, so suffice it to say that we have the picture of a man who is forgiven the equivalent of a billion-dollar debt — an unpayable amount — by the King to whom he owes the debt.) This man, now forgiven, goes out and throws another man into prison who owes him the equivalent of two dollars. The King finds out and reimposes the billion-dollar debt on the first man and has him given over to the "tormentors" — essentially evil spirits.
Jesus wraps up the parable with this: And his lord was wroth, and delivered him to the tormentors, till he should pay all that was due unto him. So likewise shall my heavenly Father do also unto you, if ye from your hearts forgive not everyone his brother their trespasses.
Can it be any clearer? There is a place where there is no access to God's love and mercy. That place is holding onto unforgiveness.
In our next Coffee Break we'll consider the effect and effectiveness that thanksgiving has in the use and operation of the Keys of the Kingdom. Remember: the Keys of the Kingdom – as we have described them thus far in this series – are authority and power, and they are given to us to use in accordance with the Word – the rhema – of God.
Be blessed!

Regner A. Capener
CAPENER MINISTRIES
RIVER WORSHIP CENTER
Sunnyside, Washington 98944
Email Contact: Admin@RiverWorshipCenter.org
All Coffee Break articles are copyright by Regner A. Capener, but authorization for reprinting, reposting, copying or re-use, in whole or in part, is granted –provided proper attribution and this notice are included intact. Older Coffee Break archives are available at http://www.RegnersMorningCoffee.com. Coffee Break articles are normally published weekly.

If you would like to have these articles arrive each morning in your email, please send a blank email to: Subscribe@AnotherCoffeeBreak.com.To remove yourself from the mailing list, please send a blank email to Unsubscribe@AnotherCoffeeBreak.com.
CAPENER MINISTRIES is a tax-exempt church ministry. Should you desire to participate and covenant with us as partners in this ministry, please contact us at either of the above email or physical addresses, or visit: http://www.RiverWorshipCenter.org.