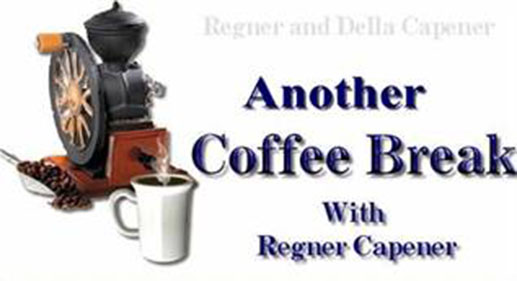 ANOTHER COFFEE BREAK: INTERCESSION, Part 3
Dec 1, '08 8:04 PM
And a Gooooooodddd Morrrrrrrnnnnniiinnnnggg to you!
Yup. It is! And I'm already into my second cup of French Roasted Columbian Supremo -- made in the French Press, of course. Got yours, yet? Well whaddaya waitin' for? Christmas? (oooopppsss...that's just around the corner.) Hehehehehehe........
When I first started this discussion on intercession, I didn't expect it to stretch out like this, but because the Lord has really compelled Della and me to intercede more and more and more in the past weeks, it seems like there is a lot more understanding unfolding for both of us in this realm. That being the case, it is appropriate for me to share this continuing revelation for your growth and understanding as well.
In our last Coffee Break, I quoted from I Timothy 2:1-5: "I exhort therefore, that, first of all, 1supplications, 2prayers, 3intercessions, and 4giving of thanks, be made for all men; For kings, and for all that are in authority; that we may lead a quiet and peaceable life in all godliness and honesty. For this is good and acceptable in the sight of God our Saviour; Who will have all men to be saved, and to come unto the knowledge of the truth. For there is one God, and one mediator between God and men, the man Christ Jesus; Who gave himself a ransom for all, to be testified in due time."
We talked about the four specific commands embodied in Paul's instruction: (1) Supplications, (2) Prayers, (3) Intercessions, and (4) Giving of Thanks.
For the sake of short review, supplications comes from the Greek word, de.esis; meaning petitions or requests. Prayers, in this instance, is taken from proseuchomai, a covenant term better translated: worship. The third word -- intercessions -- is a term we would better frame within the context of a courtroom; and it comes from the Greek enteuxis; and means: to present a legal argument based in Law (that is, to confer with, to mediate on behalf of, or to deal with an unresolved issue). The fourth command -- the giving of thanks -- is another covenant word in Greek eucharistia. This word defines gratefulness, gratitude towards God for His keeping covenant with His people.
Each of these words or phrases are drawn from the picture of the Covenant God made with Abraham. The event is told in Genesis 15 (you can read it for yourself) but I will simply draw the picture for you. We know from all of the references in Scripture that this is the fifth time the Lord has appeared to Abraham. But this time is different. In each previous appearance, God has spoken to him and made some very singular promises. What separates this fifth appearance of the Lord from all previous events is the fact that God now makes a promise to Abraham that -- for Abraham -- is simply impossible to enact by any means of calculating or reasoning. Sarah has been barren in all the years of their married life, and Abraham is well past the age of male fertility; and yet, God promises that Abraham's seed -- of his loins -- will be innumerable as the stars in the heavens and the sand of the seashore.
Verse 6 of this chapter tells us that in spite of the impossibility of the event, Abraham believed God. Now God is going to etch His promises to Abraham in the form of a Legal Covenant, the likes of which Abraham -- and all his generations thereafter -- will clearly understand and be able to relate to: a Covenant of Blood.
I remember during my growing-up years hearing about "the Blood, the Blood, the Blood" and singing all those songs (Oh, the Blood of Jesus; The Old Rugged Cross, Power in the Blood, Nothing But the Blood, etc., etc.), wondering why there was so much importance put on the blood of Jesus being shed. Sure, I knew all the usual things: He died to save us from sin; He paid the price for our freedom, His death and resurrection restored what was lost when Adam and Eve sinned and brought a curse to mankind; but the real significance of what took place on the Cross was not something any of us really understood at the time, and the concept of "Covenant" simply was lost on us.
It never occurred to me that blood was shed from the time Adam and Eve were kicked out of the Garden. Consider for a moment that when they lost their "covering" and clothing of Glory, they were naked. Yet God made a covering for them of animal skins -- a poor substitute for the Glory of God, but a covering nonetheless. In order for God to provide those animal skins, the animals had to die and their blood be shed in the process. It was to set the future pattern for "covering," protection, blessing and redemption.
Now God gives seemingly strange instruction to Abraham.
"Take me an heifer of three years old, and a she goat of three years old, and a ram of three years old, and a turtledove, and a young pigeon. And he took unto him all these, and divided them in the midst, and laid each piece one against another: but the birds divided he not."
There's a prophetic picture in the choice of these animals (and one I don't have time to delve into with all the specifics today) but God's command to Abraham in choosing these animals was very deliberate. These animals would represent every spectrum of the promises to be made, and every kind of character and personality in the generations to follow. The number (5) of animals chosen would -- again -- be prophetic. It denoted kheseed: that remarkable and astonishing grace of God which represented His Blessing, His lovingkindness and tender mercy, His favor, His total covering, protection and provision for every conceivable need or situation.
Now God puts Abraham into a vision-state. He cannot permit Abraham to actually see Him physically, so He places Abraham in a position that will allow him to see what takes place without endangering him by the Glory of His actual physical being. And God shows up in person to enact this Covenant.
What Abraham sees is what Moses and the Children of Israel will see some 400-plus years in the future as God takes them out of bondage in Egypt: a pillar of smoke and a column of fire. And God now walks up and down, back and forth in the blood that is flowing between the divided halves of the animals. As He does so, He declares and decrees His Covenant promise to Abraham.
"And he said unto Abram, Know of a surety that thy seed shall be a stranger in a land that is not theirs, and shall serve them; and they shall afflict them four hundred years; And also that nation, whom they shall serve, will I judge: and afterward shall they come out with great substance. And thou shalt go to thy fathers in peace; thou shalt be buried in a good old age. But in the fourth generation they shall come hither again: for the iniquity of the Amorites is not yet full."
"In the same day the LORD made a covenant with Abram, saying, Unto thy seed have I given this land, from the river of Egypt unto the great river, the river Euphrates: The Kenites, and the Kenizzites, and the Kadmonites, And the Hittites, and the Perizzites, and the Rephaims, And the Amorites, and the Canaanites, and the Girgashites, and the Jebusites."
God had already made this same promise to Abraham, but now He seals it in an unbreakable Covenant. This Covenant is a legal act, a decree which cannot be altered or broken.
As Paul notes in his letter to the Hebrews, "For when God made promise to Abraham, because He could sware by no greater, He sware by Himself, saying Surely blessing I will bless thee, and multiplying I will multiply thee." (Hebrews 6:13-14)
It is important to note that in a Covenant relationship, both parties literally give their all to the other. They become "joined at the hip" to use the old metaphor. Whatever one party to the covenant has, the other is entitled to without question. Each acts for and on behalf of the other. Each watches out for the other.
This is a covenant of blood. Since as we all know "The life of the flesh is in the blood" (Leviticus 17:11), a covenant of blood meant "life for life." If one party were to violate the covenant, his life was forfeit.
That God fulfilled His part of the Covenant -- and continues to this day to fulfill it -- is evident in all that we have and receive through Jesus Christ. Abraham, however, fulfilled his part of the covenant in a way most folks today would find impossible.
During the years, God had withheld nothing from Abraham. He was easily the Bill Gates of his day being the richest and arguably the most powerful man on the planet. It mattered not what Abraham required, God met that need. But now it is God's turn to ask something of Abraham -- and if he is going to perpetuate this extraordinary covenant blessing in the generations to come, he must -- without hesitation -- give God whatever He asks of Abraham.
And God asks him to offer up his only son -- the son in and through whom God has promised the Covenant Blessing would be implemented -- as a burnt sacrifice to Him. Sounds nuts, doesn't it? Sounds like a contradiction! Why would God ask Abraham for the very thing through which His Covenant Blessing was promised?
Easy. Isaac represented literally the whole of Abraham's life, his future, the generations to follow. God had withheld nothing from Abraham. Now Abraham must likewise withhold nothing from God. And here is the crux of the whole picture, the focal point of the Blessing of Abraham, the essence of Covenant with God.
Watch.
"By faith Abraham, when he was tried, offered up Isaac: and he that had received the promises offered up his only begotten son, Of whom it was said, That in Isaac shall thy seed be called: Accounting that God was able to raise him up, even from the dead; from whence also he received him in a figure." (Hebrews 11:17-19)
See it? Abraham's absolute and resolute trust and faith in God and in His Word was so great that even if Isaac died on an altar of sacrifice to the Lord, he knew without question that God would raise Isaac from the dead in order to keep His Covenant Word.
But here's the best part!
Jesus came as the "Seed of Abraham" AND as the Son of God so that both ends of the Covenant were met at once in a single moment and in a single person. God did not require the sacrifice of Isaac from Abraham in order for Abraham to keep his part of the Covenant, but provided him a ram instead at the last second to offer in Isaac's place.
Some seventeen- or eighteen hundred years later, Jesus came along. By reason of his being brought into the earth through Mary, he qualified legitimately as the Seed of Abraham. By virtue of His having been conceived through the Holy Spirit, Jesus was the Son of God. In Him, God offered up His ultimate sacrifice -- the sacrifice of His Only Son. At the same time, as the Seed of Abraham, he was able to legally fulfill the price of Abraham's part in the Covenant of Blessing -- the offering up of his seed to the Lord.
Jesus' willingness to become the fulfillment of the Law of the Covenant on both sides meant that all who come to God through Him have complete and total access to every part of the Blessing, by the Law of God!
OK. Now that we've drawn this picture of the Abrahamic Covenant, let's take it forward in time so that we understand the covenant nature of Paul's command in his letter to Timothy, and how intercession is so intricately woven into covenant.
In the apostle Paul's letter to the Galatians, he writes, "Even as Abraham believed God, and it was accounted to him for righteousness. Know ye therefore that they which are of faith, the same are the children of Abraham. And the scripture, foreseeing that God would justify the heathen through faith, preached before the gospel unto Abraham, saying, In thee shall all nations be blessed. So then they which be of faith are blessed with faithful Abraham." (Galatians 3:6-9)
Paul continues, "Christ hath redeemed us from the curse of the law, being made a curse for us: for it is written, Cursed is every one that hangeth on a tree: That the blessing of Abraham might come on the Gentiles through Jesus Christ; that we might receive the promise of the Spirit through faith." (Galatians 3:13-14)
Have we gotten there, yet? Are you seeing the progression from Abraham to us? We are recipients of the Blessing of Abraham (1) by and through the blood that Jesus shed, (2) our acceptance and acknowledgement of Him as the redeemer and mediator of the Covenant, and (3) our participation in that Covenant by faith.
That being the case, let's return to the four commands Paul gives in I Timothy 2:1-5. The first, of course, is the presentation of the petition. The petition, however, is presented because of the Covenant we have with God through the Lord Jesus Christ. Our request is presented with the full faith and trust of God's Word backing our petition.
What is the nature of our petition? We are coming before God as intercessors, as People of the Covenant, on behalf of God's Word. We are bringing Kingdom Authority into this natural world, overruling the works of the flesh, defeating Satan and his army of demons and demonic princes, and implementing the Kingdom of God on His behalf "for all men, for kings and all that are in authority" so that "all men" will have the opportunity to respond to the redemptive plan Jesus made available.
We are "standing in the gap" putting our lives, all that we have, and all that we are on the line so that Jesus receives His inheritance in us. If we do not stand in the gap, God must (because He is righteous and just) execute His wrath upon "the children of disobedience."
To stand in the gap means that we present ourselves before the Lord in and on His behalf. We do so, both presenting ourselves as an act of worship, and also actually worshiping Him -- "in Spirit and in Truth." Thus the second part of Paul's instruction -- translated "prayers" in the KJV -- is actually "worship." But this isn't simply worshiping the Lord because we want to spend time with Him. This is worship in the context of our Covenant with Him. As the Author, Implementer and Finisher of the Covenant, He is worthy of our worship. He is due that worship. Our worship recognizes and acknowledges Him and the fact that without the redemptive work that Jesus Christ did on our behalf, we could not come before Him at all!
It may seem a bit incongruous that we now intercede in the midst of the worship, but let's put this all in its proper context. We are in the Courtroom of the Universe. This is a legal situation, and we are here for the purpose of implementing God's Word in an environment that is hostile to Him and resists submitting to His Word at every possible instance. We are here to enforce the Word.
Intercession is nothing more and nothing less than presenting our legal arguments before God. What makes those arguments lawful and enforceable is the very Word God has Himself spoken. We come, therefore, into this August Presence armed with the Word, reminding God of precisely what He has decreed and spoken. His Word is the Final Authority. Everything that happens is based on what He has already spoken.
It is important to note that we waste our time and God's time if we attempt to come before Him with requests and petitions NOT based in His Word. That means we'd best KNOW what He has said and be able to declare that Word before Him. As God spoke through the prophet Isaiah, "Put me in remembrance; let us plead together; declare thou, that thou mayest be justified." (Isaiah 43:26)
He, therefore, makes it clear that He wants us to remind Him of what He has already spoken. Our ability to do that means that we are not coming before Him frivolously, that we KNOW His Will, and that we are desirous of implementing it. It isn't that God has forgotten what He said. Far from it! He simply wants us to know and understand just exactly what we actually can do!
And what we can actually do is to stand in the blood of Jesus! Doing so reminds both us -- and the Father -- that we have legal standing in this Court.
Finally, having presented His Word to Him as the legal basis for our petition, faith in Him and faith in that Word we have presented now demands that we offer thanks -- even before we've seen the manifestation of that for which we asked. Thanksgiving -- at this stage -- is again a Covenant act. It is a statement of faith. It is a declaration that we know with absolute assurance He has heard us, we've come before Him with His Word, and He has responded accordingly.
Thanksgiving -- in the Courtroom of the Universe -- acknowledges that our petitions have been heard and that God has ruled in our (and not coincidentally, in His) favor! John put it like this in his first general letter to the body of Christ.
"And this is the confidence that we have in Him, that, if we ask any thing according to His Will, he heareth us: And if we know that He hear us, whatsoever we ask, we know that we have the petitions that we desired of Him." (I John 5:14-15)
So, there you go!
We've presented our petitions. We've come before the Throne of the Universe in worship. We've presented our legal document. We've come before God, standing in the blood of Jesus, and demonstrated that we not only have the right to stand before Him with our petition, but also that our request has the merit of His own Word and the promises He has made. Lastly, we've exhibited absolute and implicit trust and faith by offering up our gratitude and gratefulness for His having ruled in our favor concerning our requests.
That, folks, is exactly what intercession is all about. We put our lives on the line. We put all that we are and all that we have on the line so that God will stay deserved judgment against those who are rightfully due that judgment.
This is the Thanksgiving season in America. If you've been presenting your requests before the Lord, you know that you have both standing, and a sound legal argument before God predicated in His Word, then spend these days in thanksgiving before Him. Worship Him! Pour out your whole being in love to the Lord, KNOWING that you are operating according to His Will and functioning in the Covenant of Blessing God originated through and with Abraham.
See you again in a few days.
The purpose of Covenant is to place God's mark in your forehead, that is, to mark your mind. That Covenant is as valid today as it was in the Garden.
The Blessing of the Lord: it makes rich and He adds no painful toil and sorrow! (Proverbs 10:22) Be blessed!

Regner A. Capener
CAPENER MINISTRIES
RIVER WORSHIP CENTER
Sunnyside, Washington 98944
Email Contact: Admin@RiverWorshipCenter.org
All Coffee Break articles are copyright by Regner A. Capener, but authorization for reprinting, reposting, copying or re-use, in whole or in part, is granted –provided proper attribution and this notice are included intact. Older Coffee Break archives are available at http://www.RegnersMorningCoffee.com. Coffee Break articles are normally published weekly.

If you would like to have these articles arrive each morning in your email, please send a blank email to: Subscribe@AnotherCoffeeBreak.com.To remove yourself from the mailing list, please send a blank email to Unsubscribe@AnotherCoffeeBreak.com.
CAPENER MINISTRIES is a tax-exempt church ministry. Should you desire to participate and covenant with us as partners in this ministry, please contact us at either of the above email or physical addresses, or visit: http://www.RiverWorshipCenter.org.