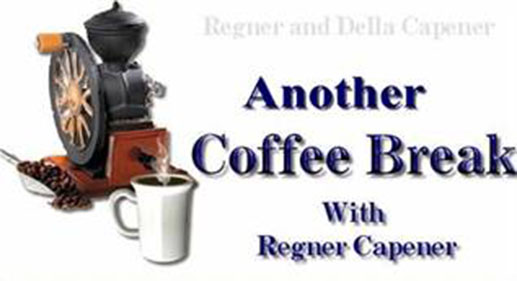 ANOTHER COFFEE BREAK: HOW TO VOTE, Part 2
Feb 24, '08 9:27 PM
Well, Super Tuesday is behind us and there's been a whole lot of fallout from the various primaries, including the fact that we are -- for all intents and purposes -- down to four candidates -- two from each of the dominant political parties. It wasn't my objective to continue this topic, but several emails and responses from our readership have suggested that I might need to clarify some of the things I said.
I also realized that I missed completing a couple of thoughts in the first part of this discussion, so -- without being too windy -- let's see what we can do to clear things up.
Gotta get our coffee, though. Can't begin this discussion without it . (Hehehehehehe...........)
Oh, and by the way......GOOD MORNING! Nice to see you today.
Afore we get started, though, you remember my telling you about the backup of raw sewage into the basement of Chris's home when the septic system stopped up? Well, when it rains, it pours. OK, forget that about rain. How about flooding basements.
I may or may not have mentioned that Chris has had their previous family home in Wasilla, Alaska up for sale. Roughly ten days ago, he received a phone call from his Alaska realtor to let him know that he had a buyer for the house, and that the buyer wouldn't quibble with Chris's asking price.
Four hours later, he received another phone call -- this time to let him know that when the realtor went out to the house, water was pouring out of the garage and running down the driveway. Turns out that the electrical power went out at the house because of an area-wide outage. His furnace was on a 14-hour timer for restarting. The outage exceeded 14 hours stopping the restart-timer. (Normally, if the family had been in the house, they could have manually restarted the furnace and prevented a freezeup.)
The temperature dipped that night to 19 degrees below zero and the water jacket around the furnace froze and broke. The temperatures continued to stay low long enough that the water lines in the walls also broke, the toilets in the two upstairs bathrooms froze and broke the stools, and the water-heated baseboard heaters froze up and broke. When power was restored, the well pump began running, pouring out water through the cracked water jacket and pipes.
If I say that the place was a mess, that would be a masterpiece of understatement. By the time the cleanup folks had pumped water out of the downstairs floor, they had taken eight truckloads and 7,800 gallons of water. And that was just the first round. There was no part of the house untouched by the damage -- except for the new kitchen that Chris and Chelsi had just finished a couple months ago.
But here's the blessing in disguise. The prospective purchaser of the house agreed that if the insurance company would completely restore the place including replacing the now-destroyed furnace, she would up the purchase offer by $16,000. Chris was notified in the last three days that the insurance company will cover everything. It will take them two-to-three months to complete the restoration of the place, but the sale of the house will go through by March 15.
I know that the Scripture instructs us, "In everything give thanks, for this is the will of God in Christ Jesus concerning you." (I Thessalonians 5:18 KJV) Nevertheless, this is one time when I would freely render that verse, "FOR everything give thanks." If ever there was a time when a set of events was designed to drive Chris over the brink of despair, this was it. Yet the Lord turned the seeming disaster around and increased the sale price of his home in the process.
All I can say is, WOW! Ain't God good? This kid is blessed, let me tell you!
We began our last discussion with a quote from Isaiah (9th chapter) where he said, "For unto us a child is born, unto us a son is given: and the government shall be upon his shoulder: and his name shall be called Wonderful, Counsellor, The mighty God, The everlasting Father, The Prince of Peace. Of the increase of his government and peace there shall be no end, upon the throne of David, and upon his kingdom, to order it, and to establish it with judgment and with justice from henceforth even for ever. The zeal of the LORD of hosts will perform this."
Isaiah's prophecy clearly states that the government (of the earth) would be upon the shoulder of the Messiah, the Anointed One; and that His government would never end. Take that statement in history's context and you begin to realize that every government that has ever existed has rested -- in one way or another -- upon the shoulders of the Lord Jesus Christ.
But wait! The apostle Paul clarifies this picture.
[The God of our Lord Jesus Christ] made Him [Jesus] to sit at His right hand in the heavenly places, far above all rule, and authority, and power, and dominion, and every name that is named, not only in this world, but also in that which is to come: and He put all things in subjection under His feet, and gave Him to be head (the Greek word for "head" iskephale) over all things to the church, which is His body, the fulness of Him that filleth all in all." (Ephesians 1:16-23 NASB)
J. H. Thayer, in his commentary concerning the word "kephale" [see The New Thayer's Greek-English Lexicon] tells us that this word is both literal and metaphorical. Literally, of course, it refers specifically to one's head. Here, he writes, "Since the loss of the head destroys the life, kephale is used" to denote authority, headship and "in phrases relating to capital and extreme punishment."
Thayer says, however, that kephale -- speaking metaphorically -- is "anything supreme, chief, prominent; of persons, master, lord."
OK. Now that we've done this picture of Jesus as the "head" of the church (more accurately, the Ekklesia, since there was no such thing as what we have known and come to call "church" for nearly two centuries after Jesus' death and resurrection), which is "His body, the fulness of Him that filleth all in all," it becomes very obvious that the "body" also consists of the "shoulders," since they are not part of the head itself.
Because we are all parts of the body, the responsibility has been given over to us. The Head -- the Lord Jesus Christ -- has given a direct command to the body. It is, therefore, the reflexive response to the Head that the body obeys the commands from the head.
One of those commands is the responsibility for government(s). Ultimately, there is only one REAL government in the earth -- the Kingdom of God -- but every earthly and civic government is answerable to the Kingdom of God. Maybe I'm belaboring this point, but you certainly have the picture by now.
That takes us to Paul's command in his first letter to Timothy. "I exhort therefore, that, first of all, supplications, prayers, intercessions, and giving of thanks, be made for all men; for kings, and for all that are in authority; that we made lead a quiet and peaceable life in all Godliness and honesty. For this is good and acceptable in the sight of God our Saviour; Who will have all men to be saved, and to come unto the knowledge of the truth." (I Timothy 2:1-4)
Peter, in his second general epistle to the body of Christ refers to "them that walk after the flesh in the lust of uncleanness, and despise government. Presumptuous are they, selfwilled, they are not afraid to speak evil of dignities." (II Peter 2:10)
I'll comment further momentarily on Peter's admonition, but let me pause for just a second to point out that the Biblical command to believers is to"pray....for kings, and for all that are in authority."
Nowhere in God's Word is permission given to us to speak evil of those in public office -- no matter how unrighteous they may be. (If you remember the example of David and Saul, he refused to speak evil of Saul even though Saul continued to try to have him killed.) Yet that is exactly what we have surrounding us. It seems that no matter where you go in the body of Christ, someone who professes a relationship with Jesus Christ makes no bones about castigating and name-calling various leaders whether that leader happens to be the local Sheriff, or a member of the state or provincial house (or houses) of representatives, or even the President, Prime Minister or whatever.
We've just passed what we call here in the United States as "Super Tuesday" in which roughly half of the delegates from each of the two major political parties were chosen. It resulted in a subsequent winnowing of the candidates, with each party now having two viable candidates for the office of President. It would be easy for me to tell you who I think you ought to vote for, but that's not what this Coffee Break is about.
What I'm dealing with -- and what the Holy Spirit has been instructing me to share -- is the necessity of our voting according to the direction of the Holy Spirit in conjunction with what God's Word says about the issues the various candidates are discussing.
Paul hits the nail on the head in his letter to Timothy when he commands us to pray, intercede and give thanks "for all men" BEFORE he likewise instructs us to pray for kings and all that are in authority. Ever wonder about that? Let me pose something for you to consider.
Whether Christian or non-Christian, believer or non-believer, we are commanded to pray for everyone. And that command comes in the context of praying for our leaders. If Christians would spend a little more time in prayer and intercession for "all men" AND THEN pray for their presidents, their prime ministers, their kings, their senators, representatives or political delegates, we might just see a very different outcome in our electoral processes.
By our prayer and intercession for all men, we obey Jesus' instruction (see Matthew 6:7-15) to first of all declare, to command, to pray in a place of intimate communion (the Greek word in this text is proseuchomai -- a word which means to ask, to request, to require in the place of communion), the operation of the rulership of God's Kingdom here in the earthly realms in the same dimension in which we see it as accomplished in Heaven.
Understand? Jesus finished His part of this. In Hebrews 1:3 and 10:12-14, the Scripture makes abundantly clear that Jesus accomplished what He was sent to do, and then sat down at the right hand of God, from that moment forward expecting to see what He had established come to pass.
The command was given for us to do the praying, for us to do the declaring, for us to do the commanding, for us to complete that which He set in motion. We are His body. We are the completion of Him. We are the finishing of His authority in the earth. Nothing will happen here unless we fulfill our part of this picture. Jesus has done His part. The rest is up to us, and He has given us ALL AUTHORITY to complete that work.
When we pray, declare, command, and confess the establishing of the Kingdom of God on earth as it is in Heaven, we begin by first of all offering prayer, intercession and the giving of thanks for all men so that the Will of God goes forth among men. Next we pray for kings, presidents, governors, etc., and ALL who are in authority.
Of necessity, that MUST include prayers offered up for those who are running for the office of President. Some of my fellow-conservatives will drop their jaw, I'm sure, when I say that they need to be lifting up those candidates whose political agenda is diametrically opposite to everything they stand for. And yet that is exactly what the Lord is requiring of us.
Think about this for a second.
If I only pray for those candidates (or THE candidate) I support for President, and ignore the others, what happens if one of those "others" gets elected instead of my candidate? Huh? Huh? Huh? Do I get left out in the cold?
Nope! I continue to pray as directed by the Holy Spirit in agreement with God's Word. And in the meantime, before I go into the voting booth to cast my ballot (we vote by mail here in Washington, and Della and I have already cast our ballots), I'd best know the heart of the Father (and He has revealed His heart and purpose in His Word).
Here's a last thing for you to consider as we wrap up for today. I said I'd get back to Peter's admonition and instruction. Within a political context, Peter speaks of Balaam the O.T. prophet who was hired to prophesy against Israel, and refers to folks today just like him.
"These are wells without water, clouds that are carried with a tempest; to whom the mist of darkness is reserved for ever. For when they speak great swelling words of vanity, they allure through the lusts of the flesh, through much wantonness, those that were clean escaped from them who live in error.
"While they promise them liberty, they themselves are the servants of corruption: for of whom a man is overcome, of the same is he brought in bondage. For if after they have escaped the pollutions of the world through the knowledge of the Lord and Saviour Jesus Christ, they are again entangled therein, and overcome, the latter end is worse with them than the beginning."
Sound like any politicians you've heard recently? Yup. That's what I thought. When you go to vote, therefore, remember Peter's admonition and warning.
And that's my counsel on the matter.
When you vote according to the leading and direction of the Holy Spirit, you cannot go wrong.
Citizens of the Kingdom of God are designed, trained and prepared to live a glorious, supernatural life in a natural world so that the world can see what Satan has cheated them out of. We are supposed to be the manifestation of the Glory of God -- not leftover has-beens, used up and discarded by Satan.
The Blessing of the Lord: it makes rich and adds no painful toil and sorrow! Be blessed!

Regner A. Capener
CAPENER MINISTRIES
RIVER WORSHIP CENTER
Sunnyside, Washington 98944
Email Contact: Admin@RiverWorshipCenter.org
All Coffee Break articles are copyright by Regner A. Capener, but authorization for reprinting, reposting, copying or re-use, in whole or in part, is granted –provided proper attribution and this notice are included intact. Older Coffee Break archives are available at http://www.RegnersMorningCoffee.com. Coffee Break articles are normally published weekly.

If you would like to have these articles arrive each morning in your email, please send a blank email to: Subscribe@AnotherCoffeeBreak.com.To remove yourself from the mailing list, please send a blank email to Unsubscribe@AnotherCoffeeBreak.com.
CAPENER MINISTRIES is a tax-exempt church ministry. Should you desire to participate and covenant with us as partners in this ministry, please contact us at either of the above email or physical addresses, or visit: http://www.RiverWorshipCenter.org.