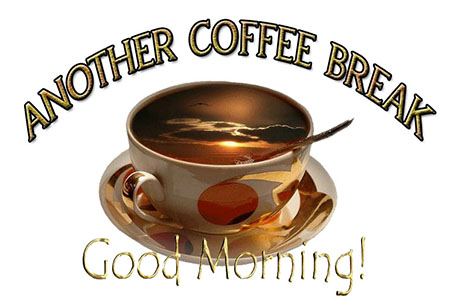 ANOTHER COFFEE BREAK: GOING BEYOND, Part 6
December 19, 2014
Most of the church world treats this as the Christmas season, but this is not the season when Jesus Christ was born. As it turns out, from a historical and astronomical perspective, December 25th was the day on the Julian Calendar when the magi came bearing their gifts to the King of Kings -- a then-toddler of some two years of age. Next week we'll take a short break from this series to talk about that.
Let's get on today with our foundation series -- and today we will deal with the third kind of baptism -- the Baptism of Fire.
When John the Baptist began prophesying of Jesus, he made a statement that was inclusive of all three baptisms:
Matthew 3:11-12, KJV: I indeed baptize you with water unto repentance: but he that cometh after me is mightier than I, whose shoes I am not worthy to bear: he shall baptize you with the Holy Ghost, and with fire: Whose fan is in his hand, and he will thoroughly purge his floor, and gather his wheat into the garner; but he will burn up the chaff with unquenchable fire.
My grandmother related what happened to her and my grandfather, along with a group of folks from the Methodist church that Grandpa was pastoring at the time.
She said that they were unaware of Pentecost per se, or speaking in tongues, or even the term, "baptism in the Spirit." The secret was that they were hungry spiritually and in pursuit of ALL that God had for them. They had no preconceived notions or doctrines one way or another. They were just determined to have all that God had for them.
They gathered in their farmhouse (my grandparents were farmers) in Erie, North Dakota one midweek evening with a few other families from their church. The year was 1921. My grandmother related how as they were praying, she heard what sounded like an approaching tornado. The sound filled the room and the house was vibrating with the sound of this "tornado." Living on the Dakota plains, the family was well aware of the storms that bring tornadoes, and the devastation that often follows. She jumped to her feet from the chair where she had been kneeling and went to look out the window.
Nothing! There was no sign of any wind or things blowing so she opened the door and looked outside. It was as quiet as could be. The sound was entirely in the room. She headed back to her chair, and as she did so, a tiny cloud of fire appeared in the middle of the room. It began to break apart into tiny little pieces (or tongues) of fire which set down on the heads of each of the gathered worshipers in the room.
My grandmother related to me how that as a tongue of fire or flame would touch the head of someone, they would immediately burst out speaking in an unknown tongue. It followed in quick succession until everyone — including her — was speaking in tongues. It continued nonstop throughout the evening and into the early morning hours.
No one left the house without their lives having been radically transformed in every way from that moment forth. Some of those who were there that night left their farming, disposed of their farms and in the months and years that followed became "missionaries" — apostles — who went forth abroad ministering in African countries, South America and other places as well.
My grandfather up to this time had been noted for being fairly quiet and a retiring sort of guy. His preaching and teaching had been "nominal."
Never again!
The transformation that took place in my grandparents caused Grandpa to become a kind of firebrand — certainly by the standards of the Methodist church at the time! They kicked him out of the pulpit and stripped him of his ministerial status as a "heretic."
He decided that the structured church just didn't fit with what God was doing and saying. His ministry continued, but in his home instead. For much of the next fifty years of his life, he ministered out of his home, both there in Erie, ND, then in Detroit Lakes, MN, and finally in Madison, WI until the health of my grandmother began to fail.
My grandparents not only experienced the "Baptism of Fire" in a visible sense on the night that they were baptized in the Holy Spirit, they shortly thereafter began to experience the fire touching the family. Months after their initial experience with Holy Spirit, their then-six-year-old son, Alvin, came down with double pneumonia and died.
Grandma felt that she needed something more. The thrill, the passion, the fire that had accompanied them the night they were baptized seemed to be lacking so, after taking six-year-old Alvin's body out to the barn, she went into her bedroom, closed the door, pulled the shades and got on her knees. As she waited on the Lord, she made a promise to Him.
"Lord, if you'll raise my son back to life, I'll give him to you for the ministry." It was a kind of "Hannah" dedication — the same kind that Hannah did with Samuel.
Grandma stayed on her knees praying until she was assured in her spirit that God had heard and answered. She got to her knees, raised the shades, opened the door and went out to the barn just as the nurse was arriving by horse and buggy from Fargo to certify Alvin's death.
Together they went to the barn, arriving in time to see the color flooding back into his face and him beginning to breathe normally.
The next day, young Alvin was back playing like any normal six-year-old. Though he had been dead for the better part of a day, the Lord had raised him back to life, instilling in him at the same time an apostolic destiny that would begin to play out in the years to come as he took our family to the far north to bring the message of the Kingdom — against all odds — to native communities.
The event that began to play out that night in 1921 in Erie, ND with the Baptism of Fire would repeat itself in the late 1950's and early 1960's in Barrow, Alaska with a fire that would reach from the eastern coasts of Siberia to Greenland as Eskimos from virtually every native tribe in the arctic received Jesus Christ as their Lord and Savior and were baptized in the Holy Spirit with signs following.
We've already talked about the purging that takes place with the fire. Consider the event that took place with Shadrach, Meshach and Abednego.
The king, Nebuchadnezzar, had ordered that everyone bow down to his image. Shadrach, Meshach and Abednego refused to bow to anyone, any image or any god besides the Lord God. The king, in his anger at their refusal, ordered that the furnace he had prepared be heated to seven times its normal heat. He then ordered that the three Hebrew companions be bound and cast into the furnace.
A rather unique and very prophetic picture unfolded. The three companions were thrown into the fire. Their bonds were consumed in an instant but they were completely unhurt to the point that there wasn't even the smell of smoke on them. Those who bound them and threw them into the fire died themselves by virtue of their having to get so close to the fire in order to obey their orders.
Here's the best part! Nebuchadnezzar was astonished because, not only didn't Shadrach, Meshach and Abednego die, they were walking about in the fire with the Lord and enjoying the fellowship with Him. It is precisely the picture we have with the day of Pentecost and the baptism of fire.
The baptism of fire isn't for our hurt or our destruction: it is for our fellowship with the Lord. The fire only burns away the things that keep us in bondage.
Remember what put Adam and Eve in bondage to the Serpent and brought them under the curse? Yup. You got it! The Tree of the Knowledge of Good and Evil. Not only did Adam and Eve suffer the bondage of the Serpent and become subject to death, they lost their ready access to fellowship with the Lord. The only way back to that place of fellowship, and access to the Tree of Life, was going to be through the sword — the Word of God — AND the fire!
Shadrach, Meshach and Abednego refused to allow the intimidation of death, or the fear of the king, or the social stigma of not "following the herd" and bowing down to the image along with the rest of the people, to alter their fellowship with the Lord. So confident were they in their relationship with Him that they could boldly say to the king, "O Nebuchadnezzar, we are not careful to answer thee in this matter. If it be so, our God whom we serve is able to deliver us from the burning fiery furnace, and he will deliver us out of thine hand, O king." (Daniel 3:16-17, KJV)
They were not afraid of the "baptism" of fire — and "baptism" is exactly what it was. They were immersed, covered over, "whelmed" (to use J.H. Thayer's description) by the fire.
There's another prophetic picture with these three "princes" that we need to pay attention to. Shadrach (whose Hebrew name was Hananiah), Meshach (whose Hebrew name was Mishael) and Abednego (whose Hebrew name was Azariah) were all — along with Daniel, their contemporary — seed, descendants of the royal household of David. They demonstrated for us just what it means to be of royal seed. Despite their captivity in the natural sense, they showed a spiritual authority in God that was superior to the earthly authority of the Babylonian king, Nebuchadnezzar.
The "immersion" in the furnace of fire did not destroy them; it only purified, it removed the cords and the bonds that had held them captive.
Some of you have heard me share this before, but take a quick look at something that Paul writes to Timothy:
II Timothy 2:15-16 (RAC Translation & Amplification): "Be instantly responsive to the Lord, making yourself available to Him in the midst of the crucible, a tried and tested laborer who has no fear of being examined – one who, by virtue of God's testing and the time spent in the crucible with Him, knows the proven Word of Truth.
"Stand aloof from, and avoid the untested, untried "word" which comes forth from those who would propagate speculation and create their own doctrines. These profane speculations and so-called "words" are empty babblings which will only serve to advance ungodliness;
"And those who spread these doctrines will only yield a gangrene pasture – a source of poison to those who ingest their "word"….."
Let's take a little deeper look at this instruction by Paul.
"Be instantly responsive to the Lord." That's a mandate for all of us ALL the time! But look where the requirement for responsiveness comes: in the crucible! This is another picture of being in the fire — and this is very distinctly a part of the baptism of fire. "Be instantly responsive — making yourself available to Him!" The baptism of fire is not just for our purification and/or for the removal of all of the residue or contamination from having eaten of the Tree of the Knowledge of Good and Evil, it is that process in us by which we listen ONLY to Holy Spirit's voice and "make ourselves available to Him" for a multitude of opportunities, ministry, giving, sharing, etc., ESPECIALLY WHEN WE LEAST FEEL LIKE DOING SO, OR WHEN WE LEAST FEEL QUALIFIED!!
Consider something that Paul wrote in his second letter to the Corinthian Ekklesia.
II Corinthians 11:21-31 KJV: "I speak as concerning reproach, as though we had been weak. Howbeit whereinsoever any is bold, (I speak foolishly,) I am bold also. Are they Hebrews? so am I. Are they Israelites? so am I. Are they the seed of Abraham? so am I. Are they ministers of Christ? (I speak as a fool) I am more; in labours more abundant, in stripes above measure, in prisons more frequent, in deaths oft.
"Of the Jews five times received I forty stripes save one. Thrice was I beaten with rods, once was I stoned, thrice I suffered shipwreck, a night and a day I have been in the deep; In journeyings often, in perils of waters, in perils of robbers, in perils by mine own countrymen, in perils by the heathen, in perils in the city, in perils in the wilderness, in perils in the sea, in perils among false brethren; In weariness and painfulness, in watchings often, in hunger and thirst, in fastings often, in cold and nakedness. Beside those things that are without, that which cometh upon me daily, the care of all the churches.
"Who is weak, and I am not weak? who is offended, and I burn not? If I must needs glory, I will glory of the things which concern mine infirmities. The God and Father of our Lord Jesus Christ, which is blessed for evermore, knoweth that I lie not."
And we think we go through stuff? The list of things that Paul experienced is enough to last any of us several lifetimes — and he's writing about experiences that took place within a 20-year or so time frame. ALL of these events took place because he responded to the Lord, went where Holy Spirit directed, and preached the Kingdom, laying foundations where none had been laid.
Paul did not allow the sequence of events, the disasters, the perils, the persecutions, the weariness of the constant travels, or even the loss of his family to stop him.
Consider this: before he could become a Pharisee, Paul had to be married. It was part of the sign of maturity and responsibility for every Pharisee. Yet we see from his writings that his wife had to have left him, and he says,
"Art thou bound unto a wife? seek not to be loosed. Art thou loosed from a wife? seek not a wife. But and if thou marry, thou hast not sinned; and if a virgin marry, she hath not sinned. Nevertheless such shall have trouble in the flesh: but I spare you." (I Corinthians 7:21-22, KJV)
Everything we see recorded in these passages from Paul's letters to the Corinthians came in the midst of his total, unreserved, unabashed responsiveness to the direction of Holy Spirit. The fire that bathed Paul allowed him to lay the same foundations and patterns for growth and development in believers that we walk in today!
We have a little more to share on the baptism of fire, and we will return to these discussions on foundations the week after Christmas.
During the rest of this Christmas holiday season, we are only doing our healing prayer call this coming Monday at 7:00 PM. Thereafter, until Monday, January 5th, the calls will be suspended when we will resume our normal schedule. Once again, the number to call for our healing call is (805) 399-1000. Then enter the access code: 124763#. To get into the queue for prayer, when Randy opens the call up for everyone, hit *6-1 on your keypad. Let us minister to your need for healing!
Blessings on you!

Regner A. Capener
CAPENER MINISTRIES
RIVER WORSHIP CENTER
Sunnyside, Washington 98944
Email Contact: Admin@RiverWorshipCenter.org
All Coffee Break articles are copyright by Regner A. Capener, but authorization for reprinting, reposting, copying or re-use, in whole or in part, is granted –provided proper attribution and this notice are included intact. Older Coffee Break archives are available at http://www.RegnersMorningCoffee.com. Coffee Break articles are normally published weekly.

If you would like to have these articles arrive each morning in your email, please send a blank email to: Subscribe@AnotherCoffeeBreak.com.To remove yourself from the mailing list, please send a blank email to Unsubscribe@AnotherCoffeeBreak.com.
CAPENER MINISTRIES is a tax-exempt church ministry. Should you desire to participate and covenant with us as partners in this ministry, please contact us at either of the above email or physical addresses, or visit: http://www.RiverWorshipCenter.org.