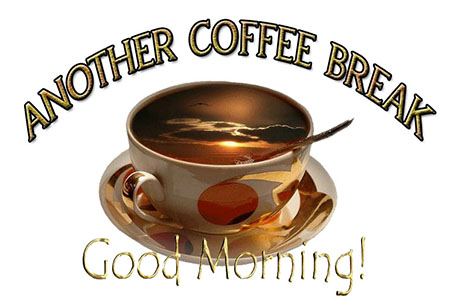 ANOTHER COFFEE BREAK: GOING BEYOND, Part 1
November 7, 2014
The Son has risen on a new era. Strange way to put it, I know, but as the age in which we live comes to a close, society has become so dark and perverted that the previous generation would hardly recognize things. Yet, we live in the most spectacular time in all of history. I have said to many throughout the past years that I wouldn't trade living in this era for any other time in history. We are entering a time when the Glory of the Lord will be revealed in dimensions the body of Christ has never seen, and likely cannot imagine in their wildest fancies.
Isaiah prophesied of this day and time like this:
(Isaiah 60:1-3, NASB) "Arise, shine; for your light has come, and the glory of the LORD has risen upon you. For behold, darkness will cover the earth and deep darkness the peoples; But the LORD will rise upon you and His glory will appear upon you. Nations will come to your light, And kings to the brightness of your rising."
Nevertheless, for the Glory of the Lord to arise upon us in such a way as to draw kings and nations to see and know and understand what is taking place, we MUST as a body of overcoming people -- a Bridal company fit for the Lord Jesus Christ -- move beyond the foundational truths into a spiritual dimension that awaits every believer who will lay aside every mental reasoning and religious weight that holds them back from total, uncompromised, unreserved responsiveness to the requirements of Holy Spirit.
That said, let's begin this series with a statement that Paul makes in writing to the Jewish Christians at large -- a people who had been steeped their whole lives in traditions and legalism before coming to the knowledge and acceptance of Jesus Christ as their Messiah. What Paul writes has the same power and application to us as modern-day believers, many of whom have grown up in the traditions of the church world with many doctrines that are man-made.
Hebrews 6:1-3, KJV: "Therefore leaving the principles of the doctrine of Christ, let us go on unto perfection; not laying again the foundation of repentance from dead works, and of faith toward God, Of the doctrine of baptisms, and of laying on of hands, and of resurrection of the dead, and of eternal judgment. And this will we do, if God permit."
If you don't mind, let's take a deeper look at what Paul is saying. Both the original Greek text and the Aramaic text put these statements in a clearer and much more detailed realm of understanding.
Hebrews 6:1-3, RAC Translation & Amplification: Therefore, and as a consequence, it is critically important that we forsake [what Jesus has already eradicated from existence] the beginnings and commencement of the [initiating] Word of the Anointed One and His Anointing (Jesus Christ), Let us move forward energetically to the place of completion and consummation; not laying down [or setting in front of you as a continual requirement] the legalistic requirement to repent, and re-do your thought processes concerning the old, dead works and requirements of the Law [as though it were necessary in order to attain redemption from past sins or iniquities], under the guise that this builds faith in and toward God, the line-upon-line, precept-upon-precept instruction in the purification processes in baptisms, the necessity of laying on of hands (for impartation or conveyance of power), [the foundational truth that Jesus provides] resurrection from the dead and cancelation of the curse of death, and — finally — the understanding and revelation of the judgment and decrees that exist throughout the eternity of the eternities.
And this is what we will be enabled to do conditional upon God's transfer of authority, granting license and liberty to move past these foundations.
To place Paul's statements in context, it is important to remember that he was writing to Jewish Christians who had grown up under, and subject to, the Law of Moses. For them to walk and live and grow up IN CHRIST — never mind having Christ in them — they needed to totally free from the Law and its constraints. They needed to understand that Jesus was the complete fulfillment of the Law, and that no aspect of the Law could be alive in them, their thinking, or their behavior.
When Paul begins his discourse, he identifies six specific areas of legalistic understanding they have grown up with (and I will label them as they understood them):
(1) Atonement for sins
(2) Trusting God (albeit from a place of fear)
(3) The washing of hands and/or baptism as an act of separation from uncleanness
(4) The laying on of hands (from the perspective of prophetic anointing)
(5) Resurrection of the dead (viewed as an act only after the coming of Messiah, and ONLY for the purpose of being judged by God
(6) Eternal judgment (as being cast off from God)
We are going to try and just deal with the first aspect of this "leaving behind" today: NOT revisiting and reenacting the dead works of the Law.
The Christians of Paul's era were not — and are not — the only people who still live their lives continuing to apply the law (or even modern man-made laws) to themselves as believers. Religion has become so intertwined into the modern life of Christians that they don't realize just how much of their lives are operating in a sub-standard mode.
Religion places performance standards and a set of measurements that folks have to live up to that have absolutely nothing to do with our progress in God. Let me give you a few examples:
1. Don't smoke.
2. Don't drink wine, beer or hard liquor.
3. Don't go to dances.
4. Don't frequent the theaters, watch movies — even television is bad for you.
5. Ladies, make sure you wear long dresses.
6. It is improper for women to wear pants because they will look like men.
7. No wearing of jewelry.
8. No fancy hairstyles — women should keep their hair plain.
9. When you pray, make sure you pray on your knees.
10. You must attend church on Sunday morning, Sunday Evening, and either Tuesday or Wednesday night for Bible Study.
This list could go on and on and on, but you get the idea. Nowhere in the Word do you find any of these things. None of these things are a measure of holiness, and none of these things have anything to do with one's relationship with the Lord — and here's the caveat: UNLESS Holy Spirit says so personally to them!
I grant you that smoking isn't good for you, and drinking hard liquor will create long-term physical problems, but these aren't things that Jesus requires of us in order to come to Him. I don't recommend that people smoke cigarettes or chew tobacco, but that isn't a requirement I can place on anyone! That's something that only Holy Spirit can require of you.
Della and I enjoy a glass of wine — and Paul even encouraged Timothy to "drink a little wine for thy stomach's sake and thine oft infirmities" — but at the same time, our liberty in having a glass of wine is not license to drink to excess or to over-imbibe; and that rule can be applied to just about everything!
It isn't the drinking of wine or having a cup of coffee, or a bottle of beer that is the issue: it is the drinking to excess that creates problems in our responsiveness to the Lord. There is also the instance for some folks who simply cannot have even a single drink of wine or beer or anything alcoholic because of the responses it produces in them. This is, again, something that ONLY Holy Spirit can require as an act of personal obedience.
When Paul addresses the Hebrew Christians, he is also addressing us as modern-day believers in Christ Jesus. When he begins drawing the picture of "going on to completeness" he starts with "not laying again, the foundations of repentance from dead works." That's a mouthful!
My amplified translation of the Greek hardly does justice to what Paul is communicating by the Spirit. First of all, he lays a foundation (pun intended) for our "going on" by saying that the real issue among believers is "religion." He is referring to "the works of the Law," in the same way that John writes under the direction of the Lord to the seven Ekklesias saying, "I know thy works."
Before I continue, let's define "repentance from dead works."
Under the Law of Moses, the Israelites were required to keep not only the ten commandments but a series of some 600-plus laws, statutes, and commandments, not counting a fistful of feast-days.
When Isaiah opens up his prophecies to Israel, the Word of the Lord through him is that God is sick of the sacrifices and burnt offerings, the keeping of the new moon feasts, etc., and that he will hide His face from them and not hear or respond in any way because of the filth they continue in all the while they "keep His commandments."
In Isaiah 28:13, we are told, "But the Word of the Lord was unto them precept upon precept, precept upon precept, line upon line, line upon line, here a little, and there a little; that they might go, and fall backward, and be broken, and snared, and taken."
What Isaiah was driving at, even some 700 years or so before Paul's directive to the Hebrews, was that folks had lost sight of the Spirit of the Law.
Paul takes up this same theme and is essentially saying to the body of Christ, "There is nothing left for you to do! Pleasing the Lord is not in the keeping of laws, statutes and commandments; pleasing the Lord and having fellowship with Him is not in the doing of things, it is in BEING in Him!
Everything that could possibly have been done that had been a part of the past was finished. Jesus was the finishing of the Law, the Statutes and the Commandments. He didn't invalidate them, as the "religionists" of the day would like to believe; He wrapped them into the very agape nature of Father God and fellowship with Him!
That wasn't doing away with them, but it WAS doing away with the observance of them as laws and commandments.
Unfortunately, the body of Christ has been caught up in the same dilemma today with opposite extremes. On one hand, you have those who run with it so far to the right that "Grace" covers everything including their continuance in sin and utterly perverse activities.
Within the GBLT agenda, there are those who profess to be born-again (even supposedly Spirit-baptized) Christians who maintain their right to "love whomever they choose" and/or marry someone of the same sex because "God is a God of love, and His Grace covers us."
On the other side of the pendulum swing are those who preach and teach the necessity of digging into one's past, their family histories, past generations (in some cases attempting to go back ten generations or more) in order to deal with iniquities (a fancy word which essentially describes a character flaw, or a twist in one's way of thinking) or "family curses', or the visiting of the sins of the father upon the children, etc., etc., etc., ad infinitum.
When Jesus went to the Cross Isaiah, seeing things prophetically some 700 years into the future, wrote, "Surely He has suffered and accepted as His own our maladies, our anxieties, our calamities, our disease and sicknesses, and carried our anguish, pain and grief:
"Yet we fabricated and maliciously invented His being stricken violently, beaten, punished, wounded and slaughtered as if by God -- choosing to believe that God browbeat, demeaned and looked down upon Him.
"But He was broken and profaned for our rebellion, our revolt, our apostasy and our [religious] quarrel against God;
"He was crushed, oppressed and smitten, and (emotionally) broken into pieces for our perversity, our evil, our mischief, sins and faults; the breaking and ridiculing of our peace, our welfare, our prosperity, our health and our safety was upon Him;
"And with His bloodied and blue wounds we are cured, mended, repaired and made thoroughly whole." (Isaiah 53:4-5, RAC Translation & Amplification)
Understand?
All of that happened BEFORE He went to the Cross! Do you see anything He didn't cover? Then consider what happened on the Cross.
Remember what happened when the centurion pierced Jesus' side while He was hanging on the Cross? Water and blood came forth from Him. Jesus' last words before He died were, "It is finished!"
And what was finished? Death. What was finished? A new birth was taking place: a bride was being birthed for the Lord Jesus Christ. But this birth was unlike any in history. In the realm of the flesh, a birth takes place in the midst of water and blood. Babies come forth out of the water or amniotic fluid that keeps them alive while they are still in the womb, and blood accompanies the birthing process.
Jesus, however, made it clear that this new birth was NOT of water — not in the normal sense — nor of blood, even though His blood was shed in the process. A supernatural transformation — a regeneration — was taking place. This new birth was taking place in that realm which has authority and power over the flesh and the soul: the spirit. A dimensional change was occurring.
I need to stop here. The illustrations I need to make will make today's Coffee Break much too long if I continue, so this is where we will pick it up next week.
Again, if you are in need of healing -- especially if you have some terminal disease or prognosis of a very short time to live from the doctors -- please join our prayer conference calls on either Monday or Wednesday of each week at 7:00 PM Eastern. Once again, the number to call is (805) 399-1000. Then enter the access code: 124763#. To get into the queue for prayer, when Randy opens the call up for everyone, hit *6-1 on your keypad. Let us minister to your need for healing!
Blessings on you!

Regner A. Capener
CAPENER MINISTRIES
RIVER WORSHIP CENTER
Sunnyside, Washington 98944
Email Contact: Admin@RiverWorshipCenter.org
All Coffee Break articles are copyright by Regner A. Capener, but authorization for reprinting, reposting, copying or re-use, in whole or in part, is granted –provided proper attribution and this notice are included intact. Older Coffee Break archives are available at http://www.RegnersMorningCoffee.com. Coffee Break articles are normally published weekly.

If you would like to have these articles arrive each morning in your email, please send a blank email to: Subscribe@AnotherCoffeeBreak.com.To remove yourself from the mailing list, please send a blank email to Unsubscribe@AnotherCoffeeBreak.com.
CAPENER MINISTRIES is a tax-exempt church ministry. Should you desire to participate and covenant with us as partners in this ministry, please contact us at either of the above email or physical addresses, or visit: http://www.RiverWorshipCenter.org.