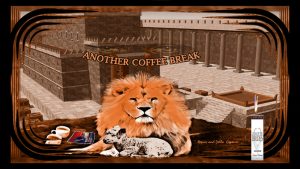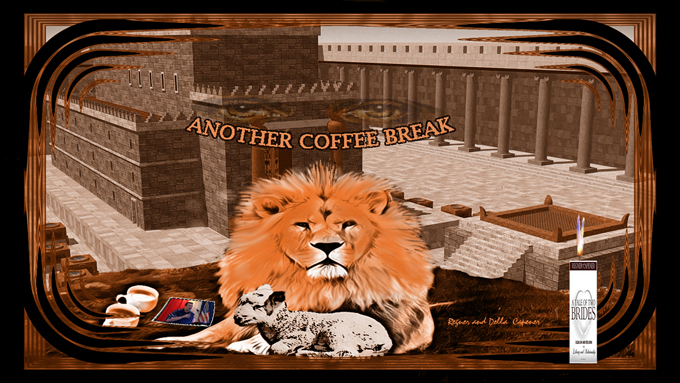 ANOTHER COFFEE BREAK: BABYLON IS FALLING DOWN, Part 12
Reprint: November 3, 2023
Sorry for the delay in getting this edition out, but I was on the road traveling in Canada. This Coffee Break and the next one in sequence will follow closely together.
During the past couple of decades, I have occasionally written about a very close friend of ours -- Eileen Finnman -- who is famous worldwide for her remarkable cinnamon buns, and particularly for her ministry through the Country Kitchen each year at the Calgary Stampede. Before we get back into our primary discussion, let me again honor this lady who has been such a part of our lives.
We first met Jim & Eileen in 1991 when they came to Alaska on vacation and visited us. We had been introduced to them earlier over the telephone by mutual friends. There was an immediate bond formed between us and Della was directed by Holy Spirit to help Eileen that summer at the Stampede. I joined them the following year after we had made our move to Post Falls, Idaho to set up a ministry base for the northwest and Della and I worked with Jim & Eileen at the Stampede each year thereafter until 1996 when, following the close of the Stampede, Eileen felt that her labors were finished there.
In 1993, Eileen felt directed to sow a new Compaq computer into our ministry efforts. That computer became the beginning of a vast array of efforts including editing and assembling the spontaneous worship music we were recording into tapes -- and eventually CD's -- which have been distributed to thousands of people throughout the years. That computer also spurred my writing endeavors which, up to that time, had been long hand followed by an IBM Selectric typewriter -- a painful process (:-) -- and made possible what began as Open Letters to the Ekklesia, which later evolved into Another Coffee Break.
Some six weeks ago or so, Eileen began to suffer some extreme physical issues. The doctors diagnosed her with an aggressive form of cancer and gave her roughly two weeks to live. Della flew down from Alaska to be with Eileen, and I called George Robinson who has a fabulous track record of ministering healing to folks with cancer. We joined together over the phone in prayer and saw immediate improvement in Eileen. Although she is not back to 100% yet, her recovery has been remarkable from the doctors' perspective, and the cancerous tumor continues to shrink.
Della and I spent a couple of days in High River, Alberta with Eileen this past week and shared with her a picture of the multiplication of the seed she has sown over the years. We talked about the thousands of people who have been saved, healed, delivered and set free just as a byproduct of the praise and worship ministry that has taken place. We talked about the million-plus readers who have subscribed to these Coffee Breaks, along with thousands of people in ministry who continue to receive encouragement and sustenance, and then turn around and share with increased multitudes of others in 80-plus countries.
I said to Eileen, "You cannot even begin to count the numbers of people who have come into the Kingdom, or whose lives have been drawn into the presence of the Lord Jesus Christ as a direct result of the seed you have sown, just with us! And that says nothing about the multiplied thousands of people you have shared with and ministered to during the past 70 or more years. Enjoy this time of recovery! Enjoy and just bask in the presence of the Lord, and know that you have a time of reaping from the multiplied seeds you have sown throughout the years."
OK. Let's see how far we can get today as we look at the events that have taken place historically, the prophetic pictures that have been given to us in the Word concerning the bringing down of the spirit of Babylon, the historic (and currently ongoing) war between the people of God as this spirit (we also refer to it as Mammon) asserts itself and attempts to keep believers from walking in true Kingdom life with the prosperity of Heaven manifested.
Wow! That was a mouthful! But so are the pictures I'd like to share with you. Let's go back a ways into the history of God's covenant with His people. It's a bit long, but take a look at the first chapter of the book of Joshua.
"Now after the death of Moses the servant of the LORD it came to pass, that the LORD spake unto Joshua the son of Nun, Moses' minister, saying, Moses my servant is dead; now therefore arise, go over this Jordan, thou, and all this people, unto the land which I do give to them, even to the children of Israel. Every place that the sole of your foot shall tread upon, that have I given unto you, as I said unto Moses. From the wilderness and this Lebanon even unto the great river, the river Euphrates, all the land of the Hittites, and unto the great sea toward the going down of the sun, shall be your coast.
"There shall not any man be able to stand before thee all the days of thy life: as I was with Moses, so I will be with thee: I will not fail thee, nor forsake thee. Be strong and of a good courage: for unto this people shalt thou divide for an inheritance the land, which I sware unto their fathers to give them.
" Only be thou strong and very courageous, that thou mayest observe to do according to all the law, which Moses my servant commanded thee: turn not from it to the right hand or to the left, that thou mayest prosper whithersoever thou goest. This book of the law shall not depart out of thy mouth; but thou shalt meditate therein day and night, that thou mayest observe to do according to all that is written therein: for then thou shalt make thy way prosperous, and then thou shalt have good success. Have not I commanded thee? Be strong and of a good courage; be not afraid, neither be thou dismayed: for the LORD thy God is with thee whithersoever thou goest.
"Then Joshua commanded the officers of the people, saying, Pass through the host, and command the people, saying, Prepare you victuals; for within three days ye shall pass over this Jordan, to go in to possess the land, which the LORD your God giveth you to possess it. And to the Reubenites, and to the Gadites, and to half the tribe of Manasseh, spake Joshua, saying, Remember the word which Moses the servant of the LORD commanded you, saying, The LORD your God hath given you rest, and hath given you this land.
"Your wives, your little ones, and your cattle, shall remain in the land which Moses gave you on this side Jordan; but ye shall pass before your brethren armed, all the mighty men of valour, and help them; Until the LORD have given your brethren rest, as he hath given you, and they also have possessed the land which the LORD your God giveth them: then ye shall return unto the land of your possession, and enjoy it, which Moses the LORD'S servant gave you on this side Jordan toward the sunrising.
"And they answered Joshua, saying, All that thou commandest us we will do, and whithersoever thou sendest us, we will go. According as we hearkened unto Moses in all things, so will we hearken unto thee: only the LORD thy God be with thee, as he was with Moses. Whosoever he be that doth rebel against thy commandment, and will not hearken unto thy words in all that thou commandest him, he shall be put to death: only be strong and of a good courage."
Now, don't look at me in that tone of voice! I know you think I've lost it, and what's running through your head about now is, What in the world does all of this have to do with Babylon?
Let's not forget that the spirit of Babylon has been the tormentor of mankind since before the days of Nimrod. That spirit became manifested in Nimrod's efforts to democratize and socialize the people, his desire for "one world government" under man's control with everyone thinking alike, and living under uniform rules and a lifestyle that applied to all the people.
We don't especially think of Canaan in the same terms as Babylon, but that's only because most folks don't realize that the principal god of the seven Canaanite nations was Baal. I don't want to get into the history and/or the genesis of Baal because that would take us off course in this series, but suffice it to say that Baal was a centuries-old incarnation and representation of Nimrod. In the pantheon of gods worshiped by the Canaanite nations, Baal's consort was Astarte (or Ashtaroth), a representation of the lewd, licentious and sexually perverted Egyptian wife of Nimrod.
Consider now the judgment of God against this manifestation of the spirit of, or the King of Babylon in the command to Joshua:
"Now therefore arise, go over this Jordan, thou, and all this people, unto the land which I do give to them, even to the children of Israel. Every place that the sole of your foot shall tread upon, that have I given unto you, as I said unto Moses. From the wilderness and this Lebanon even unto the great river, the river Euphrates, all the land of the Hittites, and unto the great sea toward the going down of the sun, shall be your coast."
Do you see it? Israel was commanded to dispossess the land of the Canaanite nations. Their houses and lands, their wealth, their vineyards, their groves, their fields, their horses, their oxen, their sheep -- EVERYTHING that pertained to those nations -- was being taken away from them and transferred to God's people. This was due to be a wealth transfer from the wicked to the righteous that made the transfer of Egypt's wealth into the hands of the Israelites pale by comparison.
They were literally being given everything from the Nile to the Euphrates! There was just one catch. Israel was going to have to lay claim to it and fight for it. Let's not forget however, God's promise to Israel in the midst of the battles that would ensue:
"Hereby ye shall know that the living God is among you, and that HE WILL without fail drive out from before you the Canaanites, and the Hittites, and the Hivites, and the Perizzites, and the Girgashites, and the Amorites, and the Jebusites." (Joshua 3:10)
"And the LORD thy God will put out those nations before thee by little and little: thou mayest not consume them at once, lest the beasts of the field increase upon thee. But the LORD thy God shall deliver them unto thee, and shall destroy them with a mighty destruction, until they be destroyed. And He shall deliver their kings into thine hand, and thou shalt destroy their name from under heaven: there shall no man be able to stand before thee, until thou have destroyed them.
"The graven images of their gods shall ye burn with fire: thou shalt not desire the silver or gold that is on them, nor take it unto thee, lest thou be snared therein: for it is an abomination to the LORD thy God. Neither shalt thou bring an abomination into thine house, lest thou be a cursed thing like it: but thou shalt utterly detest it, and thou shalt utterly abhor it; for it is a cursed thing." (Deuteronomy 7:22-26)
By now you should be seeing the picture. The Lord was the one that would be driving their enemies before them, but they were going to have to fight. They were going to have to do battle. They were going to have to seize this wealth by force. The spirit of Babylon was going to do everything in his power to prevent Israel from getting it's inheritance in God. Mammon was going to cheat, deceive, connive, infiltrate and do everything to compromise this wealth transfer, and Israel was going to have to stay focused on the Lord and not get distracted!
(By the way, there's a pretty good parallel between what Israel went through and what God's people today are experiencing as this great wealth transfer from Babylon is taking place. Just as Israel needed to stay focused on the Word of the Lord and the prize before them, so also do God's people have to stay focused on what God is saying, refuse to give up, refuse to be discouraged because of delays and the interference of the enemy and persist in faith, believing!)
We've used this quote before but here it is again: "But thou shalt remember the LORD thy God: for it is He that giveth thee power to get wealth, that He may establish his covenant which He sware unto thy fathers, as it is this day." (Deuteronomy 8:18)
Let's consider this from another angle. The transfer of this wealth is intended to deprive Babylon of its power to influence, to control, to manipulate people and to keep them subservient in poverty and continual need. God's intention is to demonstrate to the world that Babylon, its spirit, its mindset and its mode of doing business are the exact opposite of the covenant life we have in Christ Jesus.
I know that many folks have been utterly discouraged and disheartened because of the delays that have taken place throughout the past few years with the Global Currency Reset, and the revaluation of a number of currencies (including the Iraqi Dinar), especially in view of the promises that God has made to His people in the midst of all that is happening. HE is the one who has ordained this! HE is the one who has gone before us to prepare this day! Now, more than ever before, it is critical that folks NOT lose sight of the covenant God has made with us, and the opportunity (AND responsibility) set before us to demonstrate His covenant!
This is war, folks! We're at war with Mammon. We're at war with the king of Babylon. This demonic principality (or ruler of the darkness of this age) continues to do everything in his power to prevent this wealth transfer into the Kingdom of God. However, the end of this battle has been promised to us in the Word!
Again, I've just scratched the surface of this. There's lots more to talk about, and one thing I want to share with you before we wrap up this series is the unfolding signs of the time -- signs in the heavens, and signs in the earth -- of the final fall of Babylon and the victory of the Bride of Christ promised by the Lord! That's probably still a couple weeks away, but we're headed there.
See you soon.
Blessings on you!

Regner A. Capener
CAPENER MINISTRIES
RIVER WORSHIP CENTER
Sunnyside, Washington 98944
Email Contact: Admin@RiverWorshipCenter.org
All Coffee Break articles are copyright by Regner A. Capener, but authorization for reprinting, reposting, copying or re-use, in whole or in part, is granted –provided proper attribution and this notice are included intact. Older Coffee Break archives are available at http://www.RegnersMorningCoffee.com. Coffee Break articles are normally published weekly.

If you would like to have these articles arrive each morning in your email, please send a blank email to: Subscribe@AnotherCoffeeBreak.com.To remove yourself from the mailing list, please send a blank email to Unsubscribe@AnotherCoffeeBreak.com.
CAPENER MINISTRIES is a tax-exempt church ministry. Should you desire to participate and covenant with us as partners in this ministry, please contact us at either of the above email or physical addresses, or visit: http://www.RiverWorshipCenter.org.