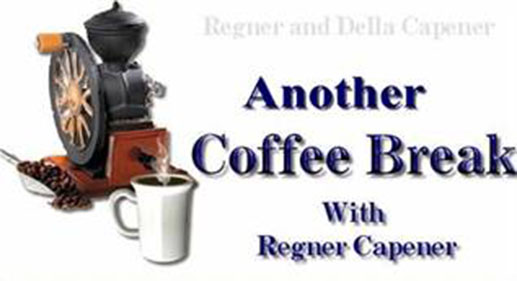 ANOTHER COFFEE BREAK: A NEW ONOMA, Part 8
March 15, 2013
Well......Howdy!
Vitamins! Yeah, you know, those four-inch in diameter old fashioned kind with the holes in the middle and the frosting on the outside. Got a bunch of them on hand for today's discussion. Uhh Ohh. They're not on my change-of-diet. Shhhhh…..don't tell Della. Shelley went to Safeway and brought them home. We're supposed to be in the middle of a major diet change. Gotta lose some of this flab and get back in shape again.
Better grab them before somebody else does. Pour yourself a nice 16-ouncer of Dark Roasted Columbian while you're at it.
Without any preliminaries, reminiscing or new adventures, let's get right back into our discussion on the Seven Spirits of God as the expression of Jesus' onoma -- His character, His makeup, His likeness.....the very essence of Who He is!
We wrapped our last Coffee Break by saying that because the Spirit of Grace and Supplications was at work during the whole act of Creation, He was involved in the selection and ordaining that we should be placed as full-grown, mature and commissioned sons of God alongside the Lord Jesus Christ as His heirs and joint-heirs.
The word translated "adoption" in the KJV is taken from the Greek: huiothesia. This is the word which denotes the giving and granting of equal status as trusted "sons" legally. We've already discussed this in the past, but the word huios is distinguished from teknon – also translated as "son" and nepios.
A teknon is any son between the age of 12 and 30 who is yet (as Paul describes in Galatians) under tutors and governors "until the time appointed of the father."
A nepios is a child under the age of 12 who has no recognized voice of experience or authority to speak, and is therefore regarded as "not speaking." (There are two other Greek words which describe a newborn babe, and one who has not yet been weaned from the milk, but I won't get into those today.)
The word, huios, designates one who has reached the "time appointed of the father" and is recognized as someone who can speak for the father with his authority and exercise the father's power.
When Jesus was baptized in the Jordan River, the Father spoke from Heaven and used the same phraseology the Jews were accustomed to hearing when a son reached "the time appointed of the father." That phraseology was, "This is my Beloved Son (huios) in Whom I am well pleased."
The Spirit of Grace and Supplications was being manifested on that occasion since "sonship" was officially granted. Jesus became the officially recognized "Son of God" in that moment. The Spirit of Grace and Supplications has been tasked with seeing that we are "holy and without blame before Him [The Father] in love."
His objective is to so work in our lives that we become transformed "to the praise of the glory of His grace" in order that we become accepted, recognized and commissioned as "Sons of God" – heirs and joint-heirs with Jesus Christ.
The Spirit of Grace was at work in Jesus Christ when He redeemed us from the curse through His Blood, forgave all of our sins and iniquities, and – together with the Spirit of Wisdom and Revelation – poured Himself into us in such a way that we would manifest the Grace of our Lord Jesus Christ.
John demonstrates how the Spirit of Grace and Supplications was at work in Jesus in the following statements:
John 1:14: And the Word was made flesh, and dwelt among us, (and we beheld his glory, the glory as of the only begotten of the Father,) full of grace and truth.
John 1:16-17: And of his fulness have all we received, and grace for grace. For the law was given by Moses, but grace and truth came by Jesus Christ.
Writing in Acts, Luke tells us the following:
Acts 4:33: And with great power gave the apostles witness of the resurrection of the Lord Jesus: and great grace was upon them all.
Writing to the Romans, the apostle Paul says:
Romans 3:21-26: But now the righteousness of God without the law is manifested, being witnessed by the law and the prophets; Even the righteousness of God which is by faith of Jesus Christ unto all and upon all them that believe: for there is no difference: For all have sinned, and come short of the glory of God; Being justified freely by his grace through the redemption that is in Christ Jesus: Whom God hath set forth to be a propitiation through faith in his blood, to declare his righteousness for the remission of sins that are past, through the forbearance of God; To declare, I say, at this time his righteousness: that he might be just, and the justifier of him which believeth in Jesus.
Are you seeing the picture? The Spirit of Grace and Supplications was at work in Jesus Christ in order to bring redemption to us. The Spirit of Grace releases and declares the Word to us in such a way that we hear the rhema and faith is generated in us in the Blood of Jesus.
We often quote Paul's statement in Romans 4:17 as our authority for "calling those things that be not as though they were", but we need to see the context of that statement.
Romans 4:16-17: Therefore it is of faith, that it might be by grace; to the end the promise might be sure to all the seed; not to that only which is of the law, but to that also which is of the faith of Abraham; who is the father of us all, (As it is written, I have made thee a father of many nations,) before him whom he believed, even God, who quickeneth the dead, and calleth those things which be not as though they were.
Now do you see it? Faith is released by the Spirit of Grace and Supplications so that the promise of this authority can be made "sure to all the seed" of Abraham.
The Spirit of Grace and Supplications is the driving force of faith.
Let's wrap up this part of our discussion with a look at what Paul writes in his letter to the Hebrews.
Hebrews 4:14-16: Seeing then that we have a great high priest, that is passed into the heavens, Jesus the Son of God, let us hold fast our profession. For we have not an high priest which cannot be touched with the feeling of our infirmities; but was in all points tempted like as we are, yet without sin. Let us therefore come boldly unto the throne of grace, that we may obtain mercy, and find grace to help in time of need.
The boldness that drives our faith – that same faith that enables us to come before the Throne of Grace – is empowered within us by the Spirit of Grace. The Throne of Grace is that same Throne John describes (and we've talked about this before) in Revelation 1.
Remember this statement?
Revelation 1:4: John to the seven churches which are in Asia: Grace be unto you, and peace, from him which is, and which was, and which is to come; and from the seven Spirits which are before his throne;
The word translated "before" in the KJV in this verse comes from the Greek enopion, which means: in the place of and occupy.
Thus, the Throne of Grace is the same Throne which all Seven Spirits of God are in the place of, and occupy. This is why we can come boldly before this Throne and receive the grace we need for any and every situation.
Let's move on, now, to the sixth of the Seven Spirits of God.
In a previous Coffee Break, we discussed the fact that Truth was fundamental to Jesus' onoma -- that Truth was the dynamic which went forth when the first words of creation were uttered, "Let there be light." We talked about the fact that it was Truth which clothed Adam and Eve so long as they were in the place of intimate relationship with the Lord God -- that they were stripped naked of Truth when they ate of the Tree of the Knowledge of Good and Evil. Pivotal to Jesus' essence, His character and makeup, is The Spirit of Truth. Without repeating all that I've written on Truth in previous Coffee Breaks, let me share the following perspectives.
Each time we see the word, "truth," used in the New Testament as it relates to either the Father, the Son, or the Holy Spirit, the Greek word, aletheia, or its counterpart, alethos, is used. Aletheia represents: verity, the true state of things, reality, absolute certainty; truth as a personal excellence; that candor of mind which is free from affectation, pretense, simulation, falsehood or deceit; that which does not hide or conceal the actual reality. Beyond these definitions, Thayer states that, "aletheia is opposed to superstitions, inventions of the mind, opinions and precepts."
As we have stated, therefore, on previous occasions, Truth is not a collection of facts, nor the reciting of history, nor a compilation of events, nor the quoting of Scriptures. Each of these things -- facts, history, a recitation of events, or the quoting of Scriptures -- can be used and constructed in such a manner as to convey a lie.
In an earlier Coffee Break, we noted how Satan quoted Scriptures to deceive, and to create a picture for Jesus which was absolutely false. Yet he quoted the Scriptures accurately. The problem was not in the Scriptures but in that spirit that attempted to communicate them.
Some years ago, a sister called me who had been suffering debilitating pain from a degenerative bone condition. She was shouting with joy over the realization that while there were certain medical facts pertaining to her physical condition, they were only facts -- they were not the Truth. After grasping the Truth that Jesus had taken her diseases with Him on the cross, that by those stripes which He suffered, she had been healed nearly two thousand years ago, she was able to gain a large measure of freedom from the pain and began to move about with a liberty she had not seen in months.
In the days and weeks which followed, she realized that each time she focused on the Truth and agreed with the Truth instead of the medical facts, she experienced marked change: the pain would virtually vanish, she would be able to get up and move about with amazing mobility, and she was able to rest at night without interruption -- something which had been impossible for a long time.
Do you see the picture? While the medical facts in the situation certainly existed, they were facts isolated from the Truth -- facts which by themselves communicated a condition which was the polar opposite of what Jesus was saying, and did. The same can be said of those who quote Scriptures to validate some teaching or doctrinal position.
Dwain McKenzie, a friend for more than fifty-five years, close brother (he and I used to be called "the Bobbsey twins") and co-laborer in the gospel with whom I have ministered off and on in the past, once made a statement which has stayed with me, "Things are not what they seem to be: they're what God says they are." No statement could more accurately portray the difference between "facts" and the Truth.
The Truth is not what has been said. The Truth is not some Bible verse or group of Scriptures. The Truth is what Jesus is saying! Truth is always current. Truth is always alive. Truth communicates Life! The Spirit of Truth will often take Scriptures to testify as a "second witness" to that which He is saying, but the attempted use or application of those Scriptures apart from what He is saying -- now -- can convey a false picture which may be diametrically opposed to what the Spirit is saying.
What's the difference? Words and letters on a piece of paper -- even if they are words and letters which communicate a picture of what Jesus may have said and done in the past -- are no substitute for a living relationship. Jesus Christ, our Bridegroom, is not just some historical figure who lived in the past. He is alive, now! Why in the world would anyone want to relegate our Bridegroom, our counterpart and other self, who is the King of Kings and Lord of Lords, to that which was written about Him?
As soon as you do, you turn what is supposed to be a twenty-four-hour-per-day living, breathing, on-going-communicating relationship into a religion. The Bible is not "The Word!" Jesus Christ is The Word!
Paul put it this way, "All Scripture is God-breathed and advantageous and profitable for teaching, for conviction, for correction, for [the] discipline which [comes] in righteousness, that the man of God may be complete and fully fitted for that excellence with which he is occupied." (II Timothy 3:16-17 -- my translation)
Do you get it? Do you understand the significance of this statement? The phrase, "for [the] discipline which [comes] in righteousness," makes clear the fact that the Scripture is "advantageous and profitable" for those who are dikaiosune: walking (currently living) in an ongoing state or condition of rightly-related personal relationship with the Lord. One does not walk with words on a piece of paper; they walk with someone who is alive and personally close! The Scripture, therefore, has been given for the purpose of witnessing to and with that which Jesus Christ is saying to us personally.
OK. Gotta stop there for today. There's a whole lot more to share on the Spirit of Truth, and that's where we'll continue next week.
Blessings on you!

Regner A. Capener
CAPENER MINISTRIES
RIVER WORSHIP CENTER
Sunnyside, Washington 98944
Email Contact: Admin@RiverWorshipCenter.org
All Coffee Break articles are copyright by Regner A. Capener, but authorization for reprinting, reposting, copying or re-use, in whole or in part, is granted –provided proper attribution and this notice are included intact. Older Coffee Break archives are available at http://www.RegnersMorningCoffee.com. Coffee Break articles are normally published weekly.

If you would like to have these articles arrive each morning in your email, please send a blank email to: Subscribe@AnotherCoffeeBreak.com.To remove yourself from the mailing list, please send a blank email to Unsubscribe@AnotherCoffeeBreak.com.
CAPENER MINISTRIES is a tax-exempt church ministry. Should you desire to participate and covenant with us as partners in this ministry, please contact us at either of the above email or physical addresses, or visit: http://www.RiverWorshipCenter.org.