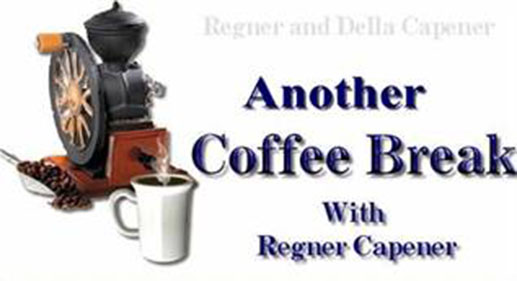 ANOTHER COFFEE BREAK: A NEW ONOMA, Part 7
March 8, 2013
Let's see....how do we start this morning? OK! Coffee's on. Come and get it!
We were doing a little reminiscing a few days ago, talking about a funny experience I had when I was at First Assembly in San Jose back in 1963. Attending Bethany Bible College at the time, I had access to a wonderful group of musicians and singers who would join me periodically as I orchestrated and directed music at the church. And that says nothing about the fine group of musicians and singers, young and old(er) 🙂 that worked with me regularly.
Oops...Almost forgot to mention that I was a fan of Ray Conniff and his orchestra. Really liked the way he used voices as instruments, and thoroughly enjoyed the syncopation he employed between the piano and the bass. We had a 14-year-old piano prodigy at First Assembly, and it was easy to get him to duplicate Conniff's syncopated jazz-styled piano. The two ladies who played stand-up bass were a different issue, and that's what brings me to my story.
Apart from my love and enjoyment of praising and worshiping with brand new spontaneous music as Holy Spirit downloads it into my spirit, I've always enjoyed playing around with musical arrangements of older gospel songs and hymns and re-orchestrating them in more contemporary stylings. One Sunday afternoon the orchestra and chorus was working out with me at the church, and we were doing a Ray Conniff-style version of an old gospel favorite, Just A Closer Walk With Thee.
Our young pianist had things down perfectly. With a trio of trombonists from the Bible College blending with some ladies voices, a sax player and a string section doing their respective parts, and me providing basic rhythm on electric guitar along with a light percussion group, that left us with the bass players to get their parts down.
Besides the other various instruments learned throughout the years, I've been a bass player since I was 12 years old, having learned on a big standup bass that was taller than me at the time. I knew exactly what these two bass players needed to do in order to provide the same "walking bass" sound that Ray Conniff's bass player created. Somehow it just wasn't getting through to these two ladies.
It had been a fairly warm day, so the double entry doors at the front of the church were standing open. Anyone walking past the church could hear what the orchestra was doing. Sure enough, a gentleman walking past heard our practice, came up the front steps and stood in the doorway listening as I frustratedly tried to help our two bass players understand exactly what kind of sound I was looking for.
After doing a run through Just A Closer Walk with the orchestra, the bass players seemed to be stuck mentally on a "country western" style of slap bass, and nothing I could say or demonstrate seemed to get through. The gentleman who'd been standing at the back listening finally came up and stood next to me for a minute. He introduced himself (his name meant nothing to me at the time) and then walked over and took the double bass out of the hands of the lady who'd been playing it, saying, "Do you mind?"
He looked at me and said, "Go for it." I somehow had the notion that this guy was no stranger to the bass, so I nodded to the orchestra and we began another run through the song. He had the sound absolutely down pat! He put together a walking bass sound through the song that was exactly what I was looking for. When we finished, he handed the instrument back to the lady who'd been playing it and said to her, "Think you can do that?" She nodded her head and laughed. "I've got it now!"
When he stepped away from the bass, I said to him, "Who are you, really? Are you from around here?" He shook his head and said, "I'm the bass player for Ray Conniff. We're in town to do a couple of concerts."
It was one of those unforgettable incidents for all of us. Needless to say, our rendition of the old classic spiritual that night was a really fun experience -- and one that has stayed with me ever since! (By the way, wild horses couldn't have kept me away from Ray Conniff's concert the following night. :o))
OK! That's enough reminiscing. Time to get back to our real sharing.
Once again, my objective in sharing these pictures is to show you exactly what the Bride of Christ has been being transformed into -- metamorphosed, if you please -- so that the very character, the nature, the personality, the true authority and power of the Lord Jesus Christ -- AS HE HAS WORKED HIMSELF IN US -- can be put on display in sharp contrast to the spirit of antichrist.
Again, it is important that we remember that The Spirit of Grace and Supplications works toward the fulfillment of the Plan of the Godhead, ordained, orchestrated, and set in motion before time began. There is nothing sloppy about the mercy of His grace. It is precise, and yet encompassing. Everything which unfolds in the development of our lives and our relationship with Jesus Christ has been planned and ordained so that He can receive His purchased inheritance -- a Bride who in every respect fulfills His onoma.
We've already said this, but let me repeat once again. Two words occur in the Greek text of the New Testament to translate out "grace" and "supplications."
The word, grace, is universally translated from charis. If there ever was a word misunderstood or misapplied, this is it!
Thayer's Greek-English Lexicon defines this word like this: (1) that which affords joy, pleasure, delight, sweetness, charm, loveliness; (2) good-will, lovingkindness, favor; (3) the act of favoring; (4) the act of kindness of a master towards his inferiors or servants; (5) charis is used of the merciful kindness by which God the Father, exerting His holy influence upon souls, turns them to The Anointed One and His Anointing, keeps, strengthens, increases them in faith, knowledge, affection, and kindles them to the exercise of spiritual virtues.
While the concept of "unmerited favor" certainly is incorporated in this definition of charis, that description oversimplifies what Jesus Christ gives to us.
The same is true of the word, "supplications." Here, the word in the Greek text is deomai. This word is one which comes out of the concept of "Covenant."
Deomai literally means: to bind oneself to; to present a petition. It comes from the root word, deo, and it means: to be in a bond with, to knit together, to tie, to bind.
This, folks, is exactly how the Spirit of Grace and Supplications works. This spirit binds itself to us. It exercises the grace and graciousness of the Father towards us. It woos us. It draws us. It makes entreaty for us.
With compassion, this Spirit of Grace and Supplications acts on the behalf of the Lord Jesus Christ to bring us to the place of repentance, acceptance and acknowledgement of Jesus as our Lord and Savior.
Because this Spirit is acting on behalf of the Lord, its primary function is to prepare us as a worthy Bride for our Bridegroom, creating in us and with us that which affords joy, pleasure, delight, sweetness, charm, and loveliness to God. It is the act of our Master towards us – who first come as undeserving servants – to bring us to Sonship.
The Spirit of Grace and Supplications turns people towards Jesus Christ, the Anointed One – and His Anointing – so that there can be a "full house," a completed family who is like the Lord in every respect.
This is part of the fulfillment of the Covenant that God made with Abraham. We are being transformed into "friends of God."
We are having God's Covenant with Abraham extended towards us in order that we might become heirs, joint-heirs with Jesus Christ, and recipients of that same Covenant through faith.
Paul puts it like this:
Galatians 3:6-15: "Even as Abraham believed God, and it was accounted to him for righteousness. Know ye therefore that they which are of faith, the same are the children of Abraham. And the scripture, foreseeing that God would justify the heathen through faith, preached before the gospel unto Abraham, saying, In thee shall all nations be blessed.
"So then they which be of faith are blessed with faithful Abraham. For as many as are of the works of the law are under the curse: for it is written, Cursed is every one that continueth not in all things which are written in the book of the law to do them. But that no man is justified by the law in the sight of God, it is evident: for, The just shall live by faith. And the law is not of faith: but, The man that doeth them shall live in them.
"Christ hath redeemed us from the curse of the law, being made a curse for us: for it is written, Cursed is every one that hangeth on a tree: That the blessing of Abraham might come on the Gentiles through Jesus Christ; that we might receive the promise of the Spirit through faith."
It is the Spirit of Grace and Supplications which works in us with and because of this covenant in order to ensure that we are recipients of it. Understand?
Consider another way in which Paul puts it:
Ephesians 2:5-10: Even when we were dead in sins, hath quickened us together with Christ, (by grace ye are saved;) And hath raised us up together, and made us sit together in heavenly places in Christ Jesus: That in the ages to come he might show the exceeding riches of his grace in his kindness toward us through Christ Jesus. For by grace are ye saved through faith; and that not of yourselves: it is the gift of God: Not of works, lest any man should boast. For we are his workmanship, created in Christ Jesus unto good works, which God hath before ordained that we should walk in them.
Let's back up one chapter in Ephesians and look at a different aspect of the Spirit of Grace and Supplications.
Ephesians 1:3-8: Blessed be the God and Father of our Lord Jesus Christ, who hath blessed us with all spiritual blessings in heavenly places in Christ: According as he hath chosen us in him before the foundation of the world, that we should be holy and without blame before him in love: Having predestinated us unto the adoption of children by Jesus Christ to himself, according to the good pleasure of his will, To the praise of the glory of his grace, wherein he hath made us accepted in the beloved. In whom we have redemption through his blood, the forgiveness of sins, according to the riches of his grace; Wherein he hath abounded toward us in all wisdom and prudence;
Are you beginning to see something here?
It is by the Spirit of Grace and Supplications that we have been chosen.
It is the purpose of this particular Spirit of God to show us just how rich this grace is that we have received, and to demonstrate the kheseed of the Lord Jesus Christ.
The Spirit of Grace releases faith to us as a gift in order that we can receive sozo (healing, deliverance, salvation, safety, protection, health, wholeness and prosperity).
Salvation comes to us by and through the Spirit of Grace and Supplications. It is by and through the drawing of this Spirit that we are even able to receive Salvation from sin.
We have been made to sit in the Heavenlies in Christ Jesus by and through the Spirit of Grace.
Ephesians 1:3 begins with the statement that the "Father of our Lord Jesus Christ hath blessed us with all spiritual blessings."
This word "blessed" and "blessings" comes from the Greek eulogeo, which is very like the concept of "supplications" as it occurs in Zechariah 12:10. It means: to speak over, to declare the Word of the Covenant, to command to prosper.
The OT Hebrew word translated "supplications" is tachanun, which comes from the root: chanan, which means: to bless, to bestow favor, to speak prosperity.
With the prefix, tach, added, the word now becomes a request for release of that covenant favor and blessing.
Thus the Spirit of Grace not only blesses and releases blessing and favor, but looks to His companion Spirits of God for release of all they have ready to give.
Because the Spirit of Grace and Supplications was at work during the whole act of Creation, He was involved in the selection and ordaining that we should be placed as full-grown, mature and commissioned sons of God alongside the Lord Jesus Christ as His heirs and joint-heirs.
I don't mean to get overly technical with my explanations and sharing, and my apologies if it comes across like that. There is so much revelation in this picture that it is sometimes hard to condense it all. Anyway, we'll stop for now and pick it up here next week.
Blessings on you!

Regner A. Capener
CAPENER MINISTRIES
RIVER WORSHIP CENTER
Sunnyside, Washington 98944
Email Contact: Admin@RiverWorshipCenter.org
All Coffee Break articles are copyright by Regner A. Capener, but authorization for reprinting, reposting, copying or re-use, in whole or in part, is granted –provided proper attribution and this notice are included intact. Older Coffee Break archives are available at http://www.RegnersMorningCoffee.com. Coffee Break articles are normally published weekly.

If you would like to have these articles arrive each morning in your email, please send a blank email to: Subscribe@AnotherCoffeeBreak.com.To remove yourself from the mailing list, please send a blank email to Unsubscribe@AnotherCoffeeBreak.com.
CAPENER MINISTRIES is a tax-exempt church ministry. Should you desire to participate and covenant with us as partners in this ministry, please contact us at either of the above email or physical addresses, or visit: http://www.RiverWorshipCenter.org.