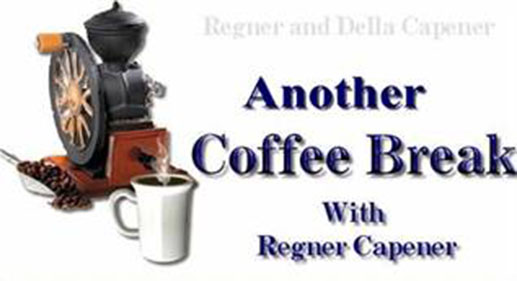 ANOTHER COFFEE BREAK: 40 YEARS BELOW ZERO XIX
Oct 11, '07
Howdy.

Well, let's see if time will permit to get this Coffee Break written and out before this week comes to an end.

Della's mother has been having some heart issues -- we've had her in the hospital twice during the past couple of weeks -- and she is in need of constant monitoring right now, so it has occupied a lot of our time, and I've had time issues even getting to my office. Chelsi -- our daughter-in-law -- flew back to Alaska to help Chris finish getting their house in Alaska ready for sale, and that means we have total care of their four children, getting them off to school, making sure their homework gets done, volleyball games, soccer games -- you know the routine!
Add to that the fact that our youngest son, Joshua, has been with us for the past week or so (down from Alaska) taking care of some personal business, and we've had to run him all over the Yakima Valley.

Those of you who have written and commented on Coffee Breaks, or had questions concerning other things and are needing a response, please bear with me. I will get back to you.

OK. Coffee's on. Last one to pour gets the grounds! Hehehehehe............. Actually, there's plenty of it, so help yourself.
Let's start today with a photo that should have been included in our last Coffee Break. This is the reception following the wedding. Dad and Mom were serving Modoki Masuda and his new bride their first piece of wedding cake.
Although the next picture doesn't really do justice to the floral arrays that existed (beside the fact that the photo was taken on a cloudy day) when the Masuda wedding took place because this picture was taken later in the year after most of the flowers were gone, it does give you a taste of the flora and fauna that surrounded the church at Saint Paul Island.
If I have spent more time dealing with the ministry of Alvin and Lorraine Capener at Saint Paul Island, it is because they spent more time there than any other place in all their years of ministry. Though the church at Saint Paul never reflected (in terms of attendance) the actual gains and impact of the Gospel of Jesus Christ that they preached, this was easily their most profitable period of ministry -- mostly because of the fact that they were able to reach out to people from around the nation and the world who would never have otherwise heard the Gospel.
The island became a pulpit all by itself. From a practical standpoint, it is likely that no one could measure in numbers the people whose lives were changed. In the years since the deaths of both of my parents, I have heard from people from many nations and cities around the world who visited Saint Paul Island during the late 1960's all the way up to the year 2000 and came to know and accept Jesus Christ as their personal Lord and Savior as a direct result of hearing the message of salvation through one or the other (or both) of my parents.
Ministry like that does not come without a cost -- and great personal cost, at that! The apostle Paul expressed it like this: "Are they Hebrews? so am I. Are they Israelites? so am I. Are they the seed of Abraham? so am I. Are they ministers of Christ? (I speak as a fool) I am more; in labours more abundant, in stripes above measure, in prisons more frequent, in deaths oft. Of the Jews five times received I forty stripes save one. Thrice was I beaten with rods, once was I stoned, thrice I suffered shipwreck, a night and a day I have been in the deep; In journeyings often, in perils of waters, in perils of robbers, in perils by mine own countrymen, in perils by the heathen, in perils in the city, in perils in the wilderness, in perils in the sea, in perils among false brethren; In weariness and painfulness, in watchings often, in hunger and thirst, in fastings often, in cold and nakedness. Beside those things that are without, that which cometh upon me daily, the care of all the churches." (II Corinthians -28)
Obviously the apostle Paul endured things none of us can even imagine as he pursued to his death the burden of ministry laid upon him. Even so, he wrote, "But none of these things move me, neither count I my life dear unto myself, so that I might finish my course with joy, and the ministry, which I have received of the Lord Jesus, to testify the gospel of the grace of God." (Acts )
No testimony could better describe Dad & Mom's stance. Despite constant peril, despite the ignorant opposition of brethren and fellow-ministers of the Gospel, despite political opposition and personal slander against them, the (literal) rock-throwing, despite the weariness of having to spend (at least in the arctic) not less than 75% of all physical effort and time just taking care of the necessities to survive the harsh climates, the physical deprivation endured from time to time -- not to mention the constant demands on their time for personal ministry -- were you to ask, they would have said, "What does that have to do with anything? Our lives are here for the Lord to spend as He sees fit so that He receives His reward."
When opposition and attacks came, Dad would get a smile on his face, shrug his shoulders and say, "It just goes with the territory."
Yet they began to face the longest and most sustained attempt on their personal well-being and existence on the island you could possibly imagine. You'll recall the Coffee Breaks where I mentioned the rock-throwing incidents and the eventual death of the Russian Orthodox priest's son in a manner that the priest knew was the judgment of God.
Two of the young men who were part of those attacks blamed Dad and Mom personally for the death of the priest's son, despite the priest's public confession to the contrary. They were so indoctrinated and dominated by religious spirits that their ability to hear and receive truth was completely shut down. They vowed a vow between themselves.
That vow essentially amounted to this: "Whatever it takes, we're going to drive the Capeners from this island, and we're going to take their property away from them to ensure that this heresy is driven from Saint Paul."
I've made mention in previous Coffee Breaks about the Alaska Native Claims Settlement Act (ANCSA, for short) in which Alaska was divided by Congressional fiat into 13 native regions -- each region representing an Eskimo, Indian or Aleut tribal group or designation -- and an amount equal to roughly $8 Billion paid out to the corporations as "restitution" for "illegally taking their land away from them."
It was a case of political insanity that resulted in such upheaval as to effectively take away from the native cultures an indigenous lifestyle they had known for centuries and exchange it for a western-oriented greed, coupled with a welfare mentality that essentially made the people wards of the Federal Government. I don't want to expand too much on this because it is more political and social commentary than anything else, and that's not what this series of Coffee Breaks is about. (When I wax political, my Coffee Breaks are so identified. Hehehehehe.......) I will say that at least two or three of the thirteen native corporations that were formed out of ANCSA actually produced some benefit for their regions.
One of the native corporations formed for the Aleuts was called Tanadgusix Corporation. It was a local governing entity over Saint Paul and Saint George Islands whose mandate was to apportion and distribute the land to the corporation stockholders in such a manner that they would be able to keep and hold within their families the lands and homes they had lived in for decades and centuries. Tanadgusix was separate from the main regional entity, the Aleut Corporation, which had the mandate for all of the Aleutian Islands.
Saint Paul Island had been under the effective governance and control of NOAA (The National Oceanic and Atmospheric Administration), and specifically, the National Bureau of Fisheries. Under ANCSA, any grants of land or titles for property given out by NBF would supersede ANCSA's distribution. The same held true in other native regions and communities.
Dad had been granted the property (roughly equal to about three acres -- by my guestimate) for the church and home by the Bureau of Fisheries, and when Congress was preparing to pass ANCSA in 1972, he was advised in writing by U.S. Senator Ted Stevens (who has been a longtime family friend) that NOAA would grant permanent title to the land, and that it would become exempt from seizure by any native corporate entity when the NBF ceded the islands to Tanadgusix Corporation (TDX).
This process was under way, moving with the due and deliberate speed of a snail (you all know how quickly government bureaucracies function) in 1973 when Richard Nixon resigned as President and the entire White House administration endured a shakeup such as America had never seen. The shakeup only slowed the process of permanent title transfer.
I do not know when the two aforementioned boys (who'd vowed their vow to see the Capeners removed from Saint Paul Island) actually became involved in the political affairs of the islands, but they managed to work their way up the ladder by hook and by crook until both the city government of Saint Paul (separate from TDX) and Tanadgusix Corporation were under their thumbs.
At that point, they took legal action against Dad and Mom, filing suit to remove them from Saint Paul Island and take the land for TDX. The premise of their legal action was that Dad and Mom did not hold (and NOAA had yet to grant in writing) actual title to the land -- and that it was "the will of the islanders that the Capeners leave."
In fact, it was not! Della and I still have the entire case file from that lawsuit, and we were reviewing portions of it just the other day. Dad was compelled to circulate a petition among the native islanders in which the voting members of both the community and TDX expressed their desire and intention that they stay on the island and that permanent title be granted. Of some (roughly) 200 voting people on the island, 153 of them signed the petition instructing the corporate leaders to grant title. A mandate of more than 75% of the voters and corporate stockholders should have sent a clear message, but our two young men weren't buying it.
After months which (turned into years) in which there was much political wrangling, threats and attempts to negotiate for Dad and Mom's departure, the case finally came before a Superior Court judge in Anchorage in 1981 who ruled in favor of TDX. The ruling, however, was stayed pending an appeal to Alaska's Court of Appeals The Appeals court overturned the original decision, and TDX then appealed that decision to the Alaska Supreme Court.
For those of you with a legal bent, the following URL should provide you with interesting insight into this case: http://touchngo.com/sp/html/sp-4142.htm.
A little more than eight years after Dad went home to be with the Lord, on November 4, 1994, the Alaska Supreme Court ruled that TDX's position was faulty, and title passed to Mom. The case was yet appealed to the U.S. Supreme Court, but with changing management at TDX Corporation, Mom struck a deal with TDX's new leaders that made the appeal moot and enabled her to retain title to the land.
Dad had left Mom with a sizeable nest egg for her remaining years -- a nest egg which included some $250,000 in cash and trust funds. The legal battles virtually consumed it all. In her last year of life (2000), Mom was compelled to call us (and other friends and family members) to ask for financial help.
Nevertheless, she did not consider herself "needy." She had won a nearly twenty-year legal battle that set legal precedent in native claims settlement cases.
We'll finish this story, and this series of Coffee Breaks in our next discussion. See you in a couple of days (I hope.)
God NEVER calls His people to do the possible. "Possible" is only the rational mind's way of dealing with human capabilities. God ALWAYS calls His people to do and perform the impossible. "Impossible" only exists in rational thinking. "Impossible" is ALWAYS "probable" and "accomplished" when seen through the eyes of faith.
The Blessing of the Lord be upon you.

Regner A. Capener
CAPENER MINISTRIES
RIVER WORSHIP CENTER
Sunnyside, Washington 98944
Email Contact: Admin@RiverWorshipCenter.org
All Coffee Break articles are copyright by Regner A. Capener, but authorization for reprinting, reposting, copying or re-use, in whole or in part, is granted –provided proper attribution and this notice are included intact. Older Coffee Break archives are available at http://www.RegnersMorningCoffee.com. Coffee Break articles are normally published weekly.

If you would like to have these articles arrive each morning in your email, please send a blank email to: Subscribe@AnotherCoffeeBreak.com.To remove yourself from the mailing list, please send a blank email to Unsubscribe@AnotherCoffeeBreak.com.
CAPENER MINISTRIES is a tax-exempt church ministry. Should you desire to participate and covenant with us as partners in this ministry, please contact us at either of the above email or physical addresses, or visit: http://www.RiverWorshipCenter.org.