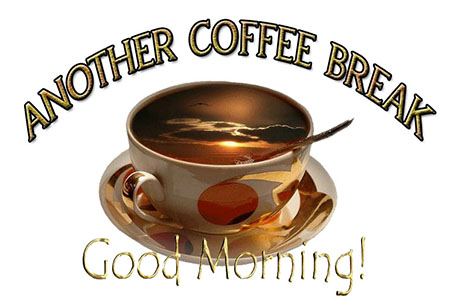 ANOTHER COFFEE BREAK: 40 YEARS BELOW ZERO, Part 14
March 4, 2016
In II Timothy 3:11-13, Paul writes the following:
Persecutions, afflictions, which came unto me at Antioch, at Iconium, at Lystra; what persecutions I endured: but out of them all the Lord delivered me. Yea, and all that will live godly in Christ Jesus shall suffer persecution. But evil men and seducers shall wax worse and worse, deceiving, and being deceived.
Again, he writes in Romans 8:35-39:
Who shall separate us from the love of Christ? shall tribulation, or distress, or persecution, or famine, or nakedness, or peril, or sword? As it is written, For thy sake we are killed all the day long; we are accounted as sheep for the slaughter. Nay, in all these things we are more than conquerors through him that loved us. For I am persuaded, that neither death, nor life, nor angels, nor principalities, nor powers, nor things present, nor things to come, Nor height, nor depth, nor any other creature, shall be able to separate us from the love of God, which is in Christ Jesus our Lord.
And again in II Corinthians 12:10:
Therefore, I take pleasure in infirmities, in reproaches, in necessities, in persecutions, in distresses for Christ's sake: for when I am weak, then am I strong.
In our pushbutton society today, the very thought of being beaten and injured for the sake of our testimony of Christ Jesus is repugnant to most. To borrow an old phrase from a TV commercial of decades ago and twist it a bit, a whole lot of people today "would rather switch than fight." For those, however, who do suffer tribulation, persecution and opposition because of the Gospel, there is no real thought about what they are experiencing.
When our family first moved to Barrow in the 1950's, I became the subject of a "trial by fire" to see what I was made of. Our family represented change in the community – change from centuries of tradition in the native culture and many decades of religious tradition dating back into the late 1800's. As a teenager I was a likely target from the young men in the community who took delight in catching me on the way to school or just walking the streets. They would throw rocks at me, spit on me, curse me and do whatever they could to torment me.
One day on the way home from school, a pair of young men in their twenties followed me, kicking me in the rear, cursing me and picking up rocks to throw at me. Something snapped for me. I slowed down until the oldest of the two men was in striking distance, spun on my heel and landed a haymaker on his chin. At 15 years of age, I weighed a very solid 220 pounds. That one blow flattened my tormentor on the ground. It so frightened me (I had NEVER hit anyone in my life to that time) that I ran home. But it was the end of the torment. Whatever was happening, I had passed the test. Both of those young men later became good friends – one of whom is still alive today and with whom I have talked recently. Both of them later accepted Jesus Christ.
Now that's a strange way to being today's Coffee Break. The point I'm making is that when you represent radical change to the way of thinking, the traditions of the past, and – in this case – rebellion from those who DO NOT WANT to hear about the Lord Jesus Christ because of what they think it will cost them in terms of change, you become the target of persecution and opposition.
Rosa Frankson was exactly that to Point Hope. The fact that she was being beaten and abused because of her testimony and her relationship with the Lord had no effect whatever. When asked she would respond, "They just don't know Jesus."
Dad was standing at the door when she came in, her clothes torn, her nose bloodied and showing rapidly developing bruises. When he saw her condition and learned what had happened, it stirred him to anger. Dad never once engaged in a physical fight with anyone, and he never lost his cool (except perhaps when he paddled the britches of the boy who had flattened my brother on the ground with a rock to the head). When he was stirred, however, look out! He knew and had learned how to exercise authority in moments of crisis.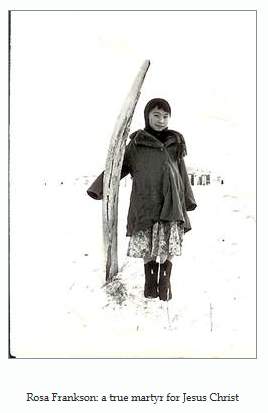 He headed out the door to the Frankson's. His first conversation was with David. David advised him that pressure was being brought to bear on Rosa by the priest who wanted her to stop coming. He was also aware of the shaman's efforts and the threats that were being leveled against certain families if their sons did not stop Rosa's attendance, and passed that bit of information on to Dad.
His next stop was the home of the priest. Without making any accusations against the priest, he let the priest know he was aware of what was happening, and that he would personally take legal action against anyone who promoted this kind of savagery.
From there he headed over to the residence of the shaman. You'd have to see it to appreciate it (and I'm sorry that I can't find the photos I took of the shaman's residence in time to publish them with this Coffee Break) but the shaman lived in a sod hut that had been constructed a hundred years earlier or more. His home was a true picture of what an "igloo" really is/was.
Blocks of sod laid in brick fashion over a framework of whalebones formed a sort of domed (though not really round) structure. When covered by snow, it gave the illusion of a snow house. These dwellings were as warm and comfortable (albeit certainly not as esthetically attractive) as any energy-efficient home built today.
The shaman's home in Point Hope was one of only two remaining sod houses in the village. The other was occupied by the local National Guard leader.
When Dad knocked on the door and the shaman answered, he did not give the shaman an opportunity to speak. "I'm aware of the pressure you've been applying to stop Rosa Frankson from coming to our place and attending meetings; and I'm here to let you know that if this continues, legal action will be taken against you."
No doubt the shaman had never been confronted like that before, and he was speechless. He said nothing and closed the door in Dad's face.
The threats still stood, however, in the lives of the families whom the shaman had spoken to, and he did nothing to withdraw his threats. Although the Episcopal priest didn't exactly back down, he did not renew his pressure on the families in his church.
Two weeks went by without incident. The third week was another story. The same boys who had attacked Rosa before saw her headed towards our house for the usual weekly Esthers club meeting. This time they chased after her, caught her about 150 yards from our house and slammed her to the ground, kicking her unmercifully in the stomach and groin, beating her head and body repeatedly.
When they finally stopped, they looked at her and said, "That'll do it! You'll never go there again." Suddenly conviction took hold. Realizing what they'd done to her and seeing her almost unconscious and bleeding, panic set in and they took off running.
I don't know how long she laid there before she had enough strength to get up, but she limped her way to our house in defiance of the attack, utterly determined to stand by her commitment to the Lord, no matter what! When she came in the door, she was doubled over in pain. Mom grabbed her and helped her to the couch. Dad shook his head in anger. Saying little, he grabbed his coat and cap and headed over to the Post Office where the one single telephone for the community existed.
Dad knew instinctively that Rosa had suffered some pretty severe internal injuries and needed immediate medical attention. He notified the Frankson family, then called the hospital in Kotzebue for a Med-Evac aircraft to pick her up.
At the hospital in Kotzebue, the doctors did their best to patch her up and set some bones that had been broken or fractured. Tests revealed that Rosa had suffered severe internal injury and their prognosis for her was grim. The head physician contacted the Frankson family and advised them that her condition was critical, and that they should be with her.
For three or four days, Rosa hung between life and death. Most of the time she was conscious and cheerful. Whenever the doctors or nurses were in her room she would tell them how wonderful Jesus was. Her ability to keep such joy in the face of her physical circumstances was a source of amazement to the medical staff, AND to her family who were in pretty constant attendance.
When questioned about the boys that beat her, she simply said, "They just don't know Jesus. Once they do, they won't try to beat people up anymore." Her forgiving attitude took the doctors and nurses by surprise. Even her parents didn't know what to make of it.

After three or four days of hanging between life and death, and fading in and out of consciousness, she was awake and talking to the attending nurse. "You need to know Jesus like I do," she said. The nurse teared up, and not knowing what else to do or say, reached over and patted Rosa on the head. "You're going to be OK, Rosa."

Rosa nodded her head and said, "Oh, yes! I know I'm going to be OK. I'm going home to Jesus!"

The nurse ran out and called for the doctor. Her parents had just come into the hospital and they followed the nurse and doctor into the hospital room in time to see Rosa raising her hands toward the ceiling.
"Jesus! Jesus! I see you." A smile lit up her face, her hands sagged back to the bed, and she was gone.
Dad preached her funeral in Point Hope a week later. The place was packed. Rosa's testimony and her willingness to stand by her commitment to Jesus Christ at the cost of her life broke the religious and the demonic barriers in the community in the same way that the deaths of Christians in the Roman arenas nearly 2,000 years ago caused the flame of Christianity to spread around the world. The way she saw things, her gritty determination to keep coming had nothing to do with the Capeners: it had everything to do with Jesus! Sure, our family was an integral part of her life and the changes that had taken place, but it was the Lord who had poured Himself into her.
The same boys who had beaten her were at the altar crying out for forgiveness, yielding their lives to Jesus Christ. That funeral was only the beginning of an outpouring of the Holy Spirit that swept Point Hope. In Kotzebue, the doctors and nurses who had attended her during the last three or four days of her life and saw the sweet presence of the Lord also yielded their lives to Christ.
Rosa Frankson's death not only impacted her family (the Frankson family as a whole made a real commitment to Jesus Christ) and the families of the community who had succumbed to the pressures of the shaman and the Episcopal priest, it impacted the priest himself.
Ahh, but that's next week's story. We'll talk about the shaman then, and what happened to him. See you later.
I remind those of you in need of ministry that our Healing Prayer Call takes place on Mondays at 7:00 PM Eastern (4:00 PM Pacific). Our call-in number has changed to (712) 775-7035. The new Access Code is: 323859#. For Canadians who have difficulty getting in to this number, you can call (559) 546-1400. If someone answers and asks what your original call-in number was, you can give them the 712 number and access code.
At the same time, in case you are missing out on real fellowship in an environment of Ekklesia, our Sunday worship gatherings are available by conference call – usually at about 10:45AM Pacific. That conference number is (605) 562-3140, and the access code is 308640#. We hope to make these gatherings available by Skype or Talk Fusion before long. If you miss the live call, you can dial (605) 562-3149, enter the same access code and listen in later.
Blessings on you!

Regner A. Capener
CAPENER MINISTRIES
RIVER WORSHIP CENTER
Sunnyside, Washington 98944
Email Contact: Admin@RiverWorshipCenter.org
All Coffee Break articles are copyright by Regner A. Capener, but authorization for reprinting, reposting, copying or re-use, in whole or in part, is granted –provided proper attribution and this notice are included intact. Older Coffee Break archives are available at http://www.RegnersMorningCoffee.com. Coffee Break articles are normally published weekly.

If you would like to have these articles arrive each morning in your email, please send a blank email to: Subscribe@AnotherCoffeeBreak.com.To remove yourself from the mailing list, please send a blank email to Unsubscribe@AnotherCoffeeBreak.com.
CAPENER MINISTRIES is a tax-exempt church ministry. Should you desire to participate and covenant with us as partners in this ministry, please contact us at either of the above email or physical addresses, or visit: http://www.RiverWorshipCenter.org.