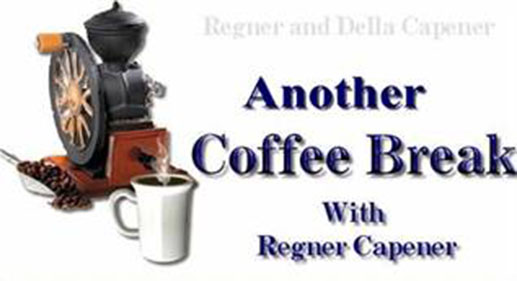 ANOTHER COFFEE BREAK: 2012
Nov 2, '08
Greetings and Salutations!
Most folks who've known me over a period of many years know that my primary ministry tends to be prophetic in nature with a strong emphasis on teaching.
Many of the Coffee Breaks have a prophetic element in them, but I can't recall ever actually sending out one of these posts as a Word of Prophecy. This Coffee Break, therefore, will be quite different from any you may have read.
Before we get started with today's discussion, it is important for us to say something to all of you who've decided NOT to vote in this election.
The Word of the Lord to everyone of us is, "Your vote is an extension of your voice. What you say is what you have. If you speak My Word in agreement with Me, you have what I say you'll have. If you speak in opposition to My Word, you'll receive the same curse that came upon the earth when Adam -- by his act of eating of the Tree of the Knowledge of Good and Evil -- spoke his disagreement with My Word.
"I hold you accountable for your vote in the same way you are accountable for the words that come forth from your mouth. If you've decided not to vote, you've decided to vote, and you've voted with your inaction. In the same way that I kept Aaron from entering the Land of Inheritance because he yielded to the cries of the people, provided them with the means of idolatry, then stood by and did nothing while the Children of Israel worshiped the golden calf and committed sin before me, I will hold you accountable for your choices.
"If you vote according to My Word and My Will, My blessing and favor will be upon you and you will receive your just reward. If you vote according to your pocketbook and the vain and empty promises of those who would deceive you with flatteries in opposition to My Word and My Will, you will suffer the consequences of allying yourself with the sins of this nation. If you neglect to vote rather than trusting My Spirit to lead you in your voting, you have chosen to agree with unrighteousness; you have chosen to refuse to take a stand in agreement with Me; and you will suffer the same consequences of those who've chosen to vote in opposition to Me, My Will and My Word.
Hear this Word, therefore, and know that my heart's desire is to bless you and prosper you, and to prosper this nation. I WILL prosper this nation if you will vote with Me!"
Much of what is shared in today's Coffee Break has also been given to Della, and for that reason this prophetic word is shared as coming from both of us.
Now, let's begin our prophetic view today with a picture from Zechariah 9:12-16.
"Turn you to the strong hold, ye prisoners of hope: even today do I declare that I will render double unto thee; When I have bent Judah for me, filled the bow with Ephraim, and raised up thy sons, O Zion, against thy sons, O Greece, and made thee as the sword of a mighty man. And the LORD shall be seen over them, and his arrow shall go forth as the lightning: and the Lord GOD shall blow the trumpet, and shall go with whirlwinds of the south.
"The LORD of hosts shall defend them; and they shall devour, and subdue with sling stones; and they shall drink, and make a noise as through wine; and they shall be filled like bowls, and as the corners of the altar. And the LORD their God shall save them in that day as the flock of his people: for they shall be as the stones of a crown, lifted up as an ensign upon his land. For how great is his goodness, and how great is his beauty! corn shall make the young men cheerful, and new wine the maids."
When you take a look at this passage in the Hebrew text it absolutely comes alive! Have a look at how it renders when we take verses 12 & 13. (I'm transliterating and putting this in a present-day context, substituting "My Bride" for "Zion" for the sake of understanding what God is saying to His people.)
"You who hope in God, return to the fortress of your expectancy [and faith]; even this day do I declare that I will render to you a double portion [of all you've lost], when I have bent the bow of praise, and filled it with the arrow of double fruitfulness, and raised up my covenant people, Oh My Bride -- against you who value intellect and learning, and the wisdom of man -- and have turned you, My Bride [with your praise] into the sword of a giant."
Never in the history of this nation have so many Christians -- committed Christians -- gathered together in concert and accord, repenting for the sins of this nation, asking for mercy, and praying for God's deliverance in the face of an onslaught of evil that could follow this election. Kim Clement recently received a Word from the Lord that in the days or weeks following the election on November 4th, America would be hit by two great enemies, but that God would deliver us from war as a result of the prayers and intercession which have gone forth.
When David opens up Psalm 144 he prays, "Blessed be the LORD my strength, which teacheth my hands to war, and my fingers to fight: My goodness, and my fortress; my high tower, and my deliverer; my shield, and he in whom I trust; who subdueth my people under me."
What is he talking about? David is referring to the prophetic praise which goes forth from musical instruments (and I will be talking about this more in an upcoming Coffee Break) in the hands of skilled and anointed musicians. This is the kind of praise which brings down enemies. This is the kind of praise which defeats the adversaries of God's people. This is the kind of praise which brings a defense and a covering shield from the onslaught of Satan and those whose "agreement with Hell" (See Isaiah 28:18) targets the purposes of God.
In Zechariah's prophetic word, the Lord speaks to His covenant people (and there is a huge difference between those who are simply "saved" and those who walk in covenant with the Lord Jesus Christ!) Verse 10 of this same chapter draws a picture of the enemies' alliances which have come against and prevented the fruitfulness of God's people, and verse 11 describes just how the Lord -- through and because of His covenant -- releases His people from bondage.
There are many more pictures here that I don't have the time or space to delve into today, but I want to focus for a minute on the significance of the fact that it is the Lord who is bending the bow of praise. It is the Lord who is fitting the arrow of double-fruitfulness to the bow and releasing that arrow against our enemies. It is the arrow of praise released by the Lord which goes forth like lightning. It is the Lord who blows the trumpet (through His people) with a sound that literally shakes and breaks apart the molecular structure of the thrones of wickedness.
How does that happen? It takes place when people come together in a place of agreement in the Spirit and -- directed and commissioned by the Holy Spirit -- begin to sing and to play in prophetic praise. It is the Spirit of God that anoints and directs that praise as a weapon with an arrow twice as powerful and twice as effective as anything we could accomplish in the midst of our "regular" praise and worship.
Don't mistake my meaning, here! Not for a second am I implying that we are not exercising power and authority in the midst of our praise and worship under ordinary circumstances. What I'm saying is that when that praise takes on the prophetic direction of the Holy Spirit, it has an effectiveness we simply cannot measure!
This, my friends, is exactly what God has been doing with praisers and worshipers during the past several years in a dimension the body of Christ has never before seen, preparing them for this day. In the last few months, we have seen a dimension of prophetic praise and worship released in the body of Christ the likes of which are hitherto unknown. It is prophetic because it is targeted by the Holy Spirit against strongholds the enemy has raised up. It is prophetic because it is directed by God for the shredding and demolishing of thrones of wickedness that have been erected across America.
Because the Lord has released such powerful praise in the midst of His people -- and I note specifically, those who walk in covenant with Him -- the tide of wickedness has been turned in this nation. Correspondingly, other nations are reaping the benefit. Great Britain, Canada, Australia, Japan -- just to name a few -- are seeing an explosion of people who are coming to know the Lord Jesus Christ. A harvest of souls is taking place on a massive scale. The Lakeland Outpouring served as a trigger mechanism for what we see taking place right now.
America has at least four more years in which we will see moves of the Spirit on a scale that will make the 1906 Azusa Street Revival seem almost like baby stuff. The prayers and intercession, the prophetic praise and the worship which have gone forth -- and continue to escalate in intensity -- have set the stage for miraculous change in the U.S. and other places throughout the world.
When our new President and Vice-President take office on January 20, 2009 the political landscape will be undergoing a sea change. There are things unfolding as we speak which will greatly subdue the divisiveness and rancor which have marked American politics for the past couple of decades.
The spiritual climate of this country will continue to undergo a shaking as the people of God begin to awaken to their newly-realized realm of authority and power. God has purposed to have for Himself a people throughout this earth who are truly His counterpart, His Other Self! And He is going to have that people!
As that people begin to shine forth, revelation will pour into God's people, revelation of new things, new ideas, new products that will dramatically alter modes of living. One of the things that God has shown to Della is the simplicity of rendering nuclear radiation inert. She is not a scientist or physicist, but God has shown her the use of amplified light in rendering nuclear radiation harmless as well as dealing with other toxic substances. Neither Della nor I claim to understand -- at least at this point -- the science behind such techniques, but God is going to reveal this, whether to us or to people within the scientific community.
Revelations by the Holy Spirit are going to revolutionize our modes of transportation rendering carbon-based fuels irrelevant. Engines which power the various modes of personal and industrial transportation will utilize a means of motive power that has been hitherto regarded as "science fiction." Devices which permit ordinary men to pick up 750 pound steel beams by themselves will alter the construction industry. Communications technology will experience a quantum leap as the revelation of new methods, instruments and devices are given to the people of God.
Let's be clear in our sharing of these prophetic views: it is the revelation of these methods, technologies and scientific breakthroughs that God will bring to His people within the next four years. The implementing of them on a mass scale so as to alter our way of life may well take longer.
Proverbs tells us clearly that "the wealth and riches, the strength and force of [the sinner, KJV] those who have missed God, walk in error and lead others astray (the Hebrew word from which we render this is: chata) has been reserved, protected and hidden for [the just and righteous] those who walk in right standing with the Lord." (RAC Amplified)
That is the undeniable, immutable Word of God. He has promised it, and now will commence to release it to and through His covenant people in order that His Glory may be seen in and through them. Things thought impossible in 2008 will become not just "possible" by 2012 but "fact."
Understanding of an economic order and system that operates and functions outside everything we've grown up with in the current world economic system will be given to the people of God.
Once again, let me be clear. The current world economies are headed for a collapse of such magnitude as to astonish the entire world! I'm NOT saying that is going to happen within the next four years. We're certainly headed there, but God is giving to His people revelation and understanding -- and a period of calm and respite so they can get out of a debt- and credit-based lifestyle -- of how to function and create an economic order that few people today understand.
In the Revelation that the Lord gave to John we are told (See Revelation 18), "And after these things I saw another angel come down from heaven, having great power; and the earth was lightened with his glory. And he cried mightily with a strong voice, saying, Babylon the great is fallen, is fallen, and is become the habitation of devils, and the hold of every foul spirit, and a cage of every unclean and hateful bird. For all nations have drunk of the wine of the wrath of her fornication, and the kings of the earth have committed fornication with her, and the merchants of the earth are waxed rich through the abundance of her delicacies.
"And I heard another voice from heaven, saying, Come out of her, my people, that ye be not partakers of her sins, and that ye receive not of her plagues. For her sins have reached unto heaven, and God hath remembered her iniquities. Reward her even as she rewarded you, and double unto her double according to her works: in the cup which she hath filled fill to her double. How much she hath glorified herself, and lived deliciously, so much torment and sorrow give her: for she saith in her heart, I sit a queen, and am no widow, and shall see no sorrow.
"Therefore shall her plagues come in one day, death, and mourning, and famine; and she shall be utterly burned with fire: for strong is the Lord God who judgeth her. And the kings of the earth, who have committed fornication and lived deliciously with her, shall bewail her, and lament for her, when they shall see the smoke of her burning, Standing afar off for the fear of her torment, saying, Alas, alas, that great city Babylon, that mighty city! for in one hour is thy judgment come.
"And the merchants of the earth shall weep and mourn over her; for no man buyeth their merchandise any more: The merchandise of gold, and silver, and precious stones, and of pearls, and fine linen, and purple, and silk, and scarlet, and all thyine wood, and all manner vessels of ivory, and all manner vessels of most precious wood, and of brass, and iron, and marble, And cinnamon, and odours, and ointments, and frankincense, and wine, and oil, and fine flour, and wheat, and beasts, and sheep, and horses, and chariots, and slaves, and souls of men. And the fruits that thy soul lusted after are departed from thee, and all things which were dainty and goodly are departed from thee, and thou shalt find them no more at all.
"The merchants of these things, which were made rich by her, shall stand afar off for the fear of her torment, weeping and wailing, And saying, Alas, alas, that great city, that was clothed in fine linen, and purple, and scarlet, and decked with gold, and precious stones, and pearls! For in one hour so great riches is come to nought. And every shipmaster, and all the company in ships, and sailors, and as many as trade by sea, stood afar off, And cried when they saw the smoke of her burning, saying, What city is like unto this great city! And they cast dust on their heads, and cried, weeping and wailing, saying, Alas, alas, that great city, wherein were made rich all that had ships in the sea by reason of her costliness! for in one hour is she made desolate."
This, folks, is precisely where the current world economic system is headed. The collapse will be of such magnitude and so swift as to take its leaders and manipulators off guard. There will be no resurrecting the world's economies according to their present structure and mode of operating. How many years we have before this takes place is unclear, but the instruction and command of the Lord is crystal clear: "Come out of her, my people, that ye be not partakers of her sins, and that ye receive not of her plagues."
The very fact that the Lord has given His people this warning should be taken to understand that it is not afar off. Four years? Eight years? I do not know exactly. All I can say is, Heed this warning of the Lord! Get out of debt. Stop living on credit. Allow the Lord to reveal to you a life of blessing and prosperity that has nothing to do with -- and is independent of -- the current world economies.
Here is the promise of God to those who respond: "Rejoice over her, thou heaven, and ye holy apostles and prophets; for God hath avenged you on her." As the world economies fall, God's people will prosper as never before --PROVIDED THEY HAVE OBEYED THE VOICE OF THE HOLY SPIRIT, and have clean hands and a pure heart (Psalm 24:3-4)!! They will see, inherit and receive the wealth and riches, the strength and force the ungodly have used against them.
Receiving our inheritance of this wealth, riches, strength and force, however, is not so much for personal gain (though God certainly wants His people to prosper materially) as it is for the Kingdom of God to prosper and be extended. This is not so we can brag or gloat over what we now have, but rather that it can be used to win the world and enlarge the body of Christ.
There's more to this picture, and as the Holy Spirit so instructs, we will both share with you what we've been seeing in the days and weeks and months ahead.
The Blessing of the Lord: it makes rich and He adds no painful toil and sorrow! (Proverbs 10:22) Be blessed!

Regner A. Capener
CAPENER MINISTRIES
RIVER WORSHIP CENTER
Sunnyside, Washington 98944
Email Contact: Admin@RiverWorshipCenter.org
All Coffee Break articles are copyright by Regner A. Capener, but authorization for reprinting, reposting, copying or re-use, in whole or in part, is granted –provided proper attribution and this notice are included intact. Older Coffee Break archives are available at http://www.RegnersMorningCoffee.com. Coffee Break articles are normally published weekly.

If you would like to have these articles arrive each morning in your email, please send a blank email to: Subscribe@AnotherCoffeeBreak.com.To remove yourself from the mailing list, please send a blank email to Unsubscribe@AnotherCoffeeBreak.com.
CAPENER MINISTRIES is a tax-exempt church ministry. Should you desire to participate and covenant with us as partners in this ministry, please contact us at either of the above email or physical addresses, or visit: http://www.RiverWorshipCenter.org.