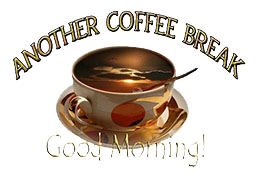 APPOINTMENTS
May 14, 2021
This is the second in a series of older Coffee Breaks that I'm re-publishing while I'm taking time to finish a new series.  Each one of the experiences reported here make it clear that when people make up their minds and settle things in their spirits, they can make an appointment with God in order to see the finish of that which they are asking of the Lord.
Been talking about dealing with evil spirits with some people the past few days, and we will come back to that topic later, but certain events over this past weekend reminded me of something I just thought you might find interesting.
We all know about making appointments, and we all know that there is appointed unto man a day of death, but have you ever thought about making an appointment to die – or even making other kinds of appointments with the Lord?
Let me share with you a few.
I was thinking back to the first time I ever heard of someone making an appointment with God.
Dory and Jenny Pieters were two sisters who married two brothers, both of whom were medical doctors.  Between them, they had five daughters, Laura, Alida, Twila, Terry and Patty.  You never met such a bunch of beauties in your whole life.
They were/are one of the closest-knit families you've ever seen.  That said, the day came when Dory and Jenny were exposed to the Gospel and made a decision to accept Jesus Christ into their lives.  The five girls followed suit.
Laura was hardly bigger than a minute when she accepted Jesus Christ, and Terry and Patty were in their early teens.  Twila was just behind Terry, and Alida was behind Twila by a couple of years or so.
It wasn't very long after the ladies and daughters accepted Jesus Christ that both brothers/husbands decided they didn't want any part of their families' relationship with the Lord; and both brothers divorced both sisters at the same time.  It was a traumatic experience for the two sisters, and their daughters, and because all of them had wonderful singing voices and had been singing together as a family, their music became an outlet for them to deal with the emotional upheaval.
Dory, Jenny & girls all traveled as The Singing Stairsteps.  Not too long after the divorces, songwriter, musician and choral leader, Audrey Mieir, introduced me to them, and in the months that followed (I was Minister of Youth at Bethel Union Church in Duarte, California at the time) I bought a home right across the street from Dory and Jenny.  We had a really musical neighborhood in those days.
One of my friends was the Gospel singer, musician, and recording artist, Andrae Crouch.  He would come over to our house and bang away on our old grand piano.  It didn't take long for the music to waft its way across the street.  Between Andrae's piano playing and singing, my guitar picking and singing, and the Singing Stairsteps, we had ourselves one noisy neighborhood – musically, that is.  It was wonderful!
Dory and Jenny closed off their garage and turned it into a recreation room where the neighborhood kids could gather every morning before going to school.  I led these kids in morning devotions before they left for school.  Of course, for them to have the devotions, they had to miss the school bus, so we used three different station wagons or vans to ferry the kids off to their respective schools after reading and praying with each of them.  Our music was a big attraction, and it didn't take long before we had as many as thirty kids gathering in that converted garage each morning for devotions.
Not long after the divorces, Dory and Jenny began to realize that there had to be a whole lot more in their lives in the way of spiritual growth that needed to take place.  There was a hunger for the presence of the Lord that knew no bounds.  In the midst of their travels, they were asked to come to San Diego and sing in a Pentecostal church.  It was the first time they had ever been exposed to the baptism of the Holy Spirit.  What they saw and heard the night they sang in that church magnified the spiritual hunger beyond all bounds.
Afterwards, they talked about the Holy Spirit among themselves as a family and decided this "baptism" was something they should have.  Dory got on the phone as soon as they got home that night and called the pastor of that San Diego church.
"Brother, we would like to make an appointment with you to receive the Holy Spirit."  The pastor was both stunned and amused.  "You what?  You want to make an appointment…to receive the baptism of the Holy Spirit?"
Dory assured him that she was serious and knew what she was talking about.  She told him they had another singing engagement in San Diego later that same week.
"If it's all right with you," she said, "we'd like to meet together in your office next Tuesday afternoon at 2:30.  You can lay hands on each one of us, and we will receive the Holy Spirit."
Wow!  This is novel!  Never heard of anything like this.  Making an appointment with God.  This ought to be different.  "OK.  Sure.  I'll expect you next Tuesday afternoon.  2:30."
Dory, Jenny, and girls all showed up on schedule.  The pastor laid his hands on each one of them, and each of them in succession received the baptism of the Holy Spirit with the accompanying evidence of speaking in tongues.
That initial experience with the Holy Spirit unleashed a flow of new music and a new dimension in their walk with the Lord in the weeks and months that followed.  Their experience with the Holy Spirit inspired Dory and Jenny to write a new song (lots of them, actually), and they called me up one afternoon and asked me to come over and listen to it.
They began singing, "That magic touch….that changed my life one day….That magic touch ….that kept my feet from going astray…"   And on and on the song went.  Problem was, it was too slow.  So I said to them, "Hang on, girls.  Let me get my guitar.  Let's see if we can put a little life in this song."
I ran across the street and picked up my guitar and came back over.  They started singing it again, and this time I put a Latin beat to the song.  The new, up-tempoed song became a staple in their repertoire, and I recorded a guitar track that they could take with them in their travels.
Jump ahead a few years to our CBN years in Fairbanks.
Besides serving as Senior Pastor of the House of Praise and President of CBN-Alaska, Inc., I also served as an advisor to the area board for Women's Aglow International.   The Women's Aglow board decided to have a ladies' retreat at Chena Hot Springs.  As a pastor and an advisor, they wanted my participation in the retreat, and I was able to help out in the music of the retreat as well.
As the weekend retreat neared, two ladies approached me and asked if they could make an appointment with me to be baptized in water at Chena Hot Springs.  Not a bad idea in Fairbanks, Alaska, if you know what I mean.   I contacted the resort management and made arrangements to have the use of their largest pool (80-degree water) for the Saturday afternoon.  3:00 PM was the appointed time for the water baptism, and the two ladies in question showed up for their appointment.  So did about 20 others including two of the ladies' husbands.
I'd never done water baptisms by appointment before, but I wasn't disappointed.  Those folks came up out of the water drenched in the presence of the Lord.  The shine on their faces was a whole lot more than water-shine!  Some of them came up out of the water speaking in tongues.  They got baptized in the Holy Spirit while they were being baptized in water.
Let me talk about a different kind of appointment, now.
A Canadian pastor and prophetic teacher who had a great influence on me during the Charismatic Renewal of the 1960's, 1970's and 1980's was a fellow by the name of Ern Baxter.  At one time Pastor of Canada's largest church in Surrey, British Columbia, Ern had a gift for putting the Gospel into terms common folks could identify with.
He attributed much of his growth in the Lord, and his success as a pastor to his mother whom he sometimes called "a tough old bird" – a woman who absolutely knew her place in the Kingdom of God.  When Mrs. Baxter reached her eighties (and I forget the actual year this happened), she called Ern and the rest of her family together and announced that she had made an appointment to meet the Lord.  The family was puzzled by her phraseology because they knew that she already knew the Lord.
"No," she explained, "I've made an appointment to die.  I've told the Lord I'm ready, and He is taking me home to be with Him."  Mrs. Baxter was such an integral part of the family's life that Ern objected.  She pooh-poohed his objections and gave him instructions on what to do with certain family items and the disposition of her estate.  She told Ern that he and his wife, Ruth, were to meet her on a certain day at a certain time.  (Sorry, but I've forgotten the day and time.)
Sure enough, Ern and Ruth showed up at Mrs. Baxter's house on the appointed day.  She had a huge smile on her face.  She was sitting in her old rocking chair, rocking back and forth.  There was nothing weak or sickly about her or her countenance that day.  But she'd made her appointment, and she intended to keep it.
After some last-minute instructions to Ern concerning his preaching, she pulled her feet up off the floor onto the rocker extensions, laid her head back in the chair, and was gone.  Just like that!  She had made her appointment with the Lord, and both of them kept it.  She chose the moment to exit this world and surrender her spirit to the Lord.
My dad's sister and our beloved aunt, Avis Daniel, was just about like that.  The only difference was that she was not in good health, having been suffering with congestive heart failure. 
Della was on the road traveling in Mississippi, Georgia, Alabama and South Carolina doing jewelry shows, and had been keeping in contact with Auntie A.  (That was what we called her.)  Nearing the end of her run just prior to the Christmas season in mid-November 2003, she called Auntie A and told her that she was going to fly to Santa Clara (California) and pick her up, and bring her to south Texas to be with us.
Auntie A fussed about leaving her two dogs and cat, and Della told her that we would just bring the pets with her.  So she went out and purchased another portable kennel, and picked up some supplies she thought she'd need in Texas.
In those days, I was on the phone nearly every day with Auntie A, checking up on her, making sure everything was OK, and that her needs were being tended to.  First week of December, she went through some pretty painful bouts and had difficulty breathing.
During that week, I was pretty busy campaigning (in my run for Congress), and missed a few days of talking on the phone.  On Sunday, she called me.
"Reg, I've decided that it's time to go home.  There really isn't any reason for me to come to Texas.  There's nothing that I need to do down there, and I've finished everything the Lord has instructed me to do.  I'm done.  I want to go home this week."
I couldn't believe what I was hearing.  "NOOOO, Auntie A!  Noooo!  We're not ready to let you go, yet.  There's plenty for you to do."
Her voice, though weakened by the physical problems, was firm.  "No, Honey," she said.  "It's time for me to go.  I'm going to get a few things in order this week, and I don't want you praying against me.  Don't you go praying for the Lord to keep me here.  I'm done, and I'm going home."
She meant it, too.  Come Saturday night, she gathered herself together, combed her hair, fixed herself up, set out some papers of importance and things she thought we ought to know about, went to bed, pulled the covers neatly up to her chin, folded them back, crossed her arms and went to sleep with a smile on her face.  She'd made her appointment with the Lord, and kept it.  That's how the neighbor found her the next morning when she came over to check on her.
I've got lots of these kinds of stories – folks who've made appointments to get saved, folks who've made appointments to be baptized in water, folks who've made appointments to be healed, folks who've made appointments to receive the Holy Spirit, and – of course – folks who've made appointments to go home to be with the Lord.
It's a funny thing about these kinds of appointments.  Something happens in a person.  Call it faith.  It becomes a certainty between them and the Lord Jesus Christ.  No matter what the appointment is for, there is both faith and a determination that both ends are keeping that appointment.
One last story for today involves a woman (I'll call her Elsa, for the sake of this story) in Anchorage who was dying of cancer.  The doctors had given her up, and – sadly – so had her husband.  He was just waiting for her to die.  Funny thing, though.  She hadn't given up on the Lord.  Neither had her two young sons, whose faith was bursting at the seams.
Elsa called me up one day and asked if Della and I would come over and lay hands on her.  "I want to make an appointment with the Lord for my healing," she said.  "I know God isn't finished with me….not yet, anyway!"
The appointment was made for the following evening at 7:00PM.
Della and I went over as promised and met with her, her husband and her two sons at 7:00 PM.  You know how it is with folks who are dying with cancer.  Their faces are sunken in, the color of their skin is almost white, and they look like death warmed over.
That was the way Elsa looked when we arrived.
I like appointments!  Especially when those appointments are made with the Lord!  There is a release of faith that's almost indescribable.  To borrow a phrase I used to hear Oral Roberts use 30 or 40 years ago, when you touch someone who's made an appointment with Jesus Christ, that touch becomes "a point of contact" between them and the Lord.  When the Lord touches you, look out!  Things are going to happen!
They did, too, for Elsa!  When we left her later that evening, her sunken cheeks were filling out, the color had returned to her face, and it was obvious that the Lord had kept Elsa's appointment with Him.
Della and I moved from Anchorage not too long thereafter, but we stayed in contact with Elsa for at least a couple of years.  For a woman who was supposed to have been dead from cancer, she was very much alive.
Enjoy the rest of your cup of coffee!  See you tomorrow.  Blessings on you.
In case you are missing out on real fellowship in an environment of Ekklesia, our Sunday worship gatherings are available by conference call – usually at about 10:30AM Pacific.  That conference number is (712) 770-4160, and the access code is 308640#.  We are now making these gatherings available on video usingZOOM.  If you wish to participate by video on ZOOM, our login ID is 835-926-513.  If you miss the live voice-onlycall, you can dial (712) 770-4169, enter the same access code and listen in later.  The video call, of course, is not recorded – not yet, anyway.
Blessings on you!
Regner
Regner A. Capener
CAPENER MINISTRIES
RIVER WORSHIP CENTER
Temple, Texas 76502
Email Contact: CapenerMinistries@protonmail.com
All Coffee Break articles are copyright by Regner A. Capener, but authorization for reprinting, reposting, copying or re-use, in whole or in part, is granted –provided proper attribution and this notice are included intact. Older Coffee Break archives are available . Coffee Break articles are normally published weekly.

If you would like to have these articles arrive each morning in your email, please send a blank email to: AnotherCoffeeBreak@protonmail.com with the word, "Subscribe" in the subject line.  To remove yourself from the mailing list, please send a blank email to AnotherCoffeeBreak@protonmail.com with the word "Unsubscribe" in the subject line.
CAPENER MINISTRIES is a tax-exempt church ministry. Should you desire to participate and covenant with us as partners in this ministry, please contact us at either of the above email or physical addresses, or visit: http://www.RiverWorshipCenter.org.