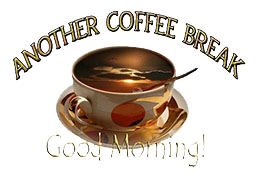 A TRUE LIBERAL
Part 1
May 21, 2021
For the next three weeks, I'd like to tackle a subject that most people first think of politics when they hear the word.  Sure.  The word does have political ramifications, but that's not really what I want to focus on.  The concept of liberal really plays on our relationship with the Lord, and how we respond to Him.  Watch!
How do you like today's title?  Got you guessing?  Think I'm going to talk politics?  Well, Yes and No.  The word, "liberal," is a dirty word in today's speech if you consider yourself a political "conservative."  Today's liberals -- politically speaking, of course -- are anything but liberal, and the newest descriptive term -- "progressive": -- is a farce if I've ever seen one.
Today's Coffee Break, therefore, will be the first of at least two -- and maybe three -- discussions on the true nature of "liberalism" and "conservatism."  
But wait, I'm getting ahead of myself.  We're not going to talk politics -- not yet, anyway.
Gotta pour my coffee, first.  I'm at the tail end of the blend I put together a couple weeks ago -- Dark Roasted Columbian Supremo, mixed with Double-Roasted French and the Kona Coffee Danielle and Anthony sent us from Hawaii.  Got enough for maybe two more pots and I'll have to do another blend, or try something else.
If you talk to today's "liberals" -- especially those who call themselves Christian, they'll tell you that Jesus was a Liberal.  They're right, of course.  He was.  He just wasn't their kind of liberal.  Everything Jesus espoused is the polar opposite of what today's religious and political liberals stand for or represent.
Talk to a conservative (politically speaking, of course) -- most of whom consider themselves to be Christians -- and they'll tell you that by any modern definition, Jesus was a conservative.  Uhhhh, Sorry, Folks!  Jesus was anything but conservative.  In the next few minutes, let's see if we can properly define these two terms and look at what Jesus said and did.  Then we'll see whether He was liberal or conservative.
When we get done with this discussion, you may very well re-define who and what you are -- both politically and spiritually.
Let's get to our dictionary definitions of these terms before we start.
Webster's Unabridged Dictionary defines "conservative" like this:
con·ser·va·tive:a., (1) conserving, or tending to conserve; preservative; (2) tending to preserve old institutions, methods, customs and the like; (3) adhering to what is old or established; opposing or resisting change; (4) having conservative views, espousing slow progress; moderate, prudent, safe;  n.,(1) a person or thing tending to conserve; (2) one who wishes to preserve traditions or institutions, and resists innovation or change; (3) a member of the major right-wing parties of Great Britain, Canada and the United States.
lib·er·al: a.,(1) originally, (obs.) suitable for a freeman; not restricted; (2) free to give or bestow, generous, giving largely -- as, a liberal donor; (3) ample, large, abundant;  free, not literal or strict; (4) not narrow or bigoted;  n.,(1) one who advocates greater freedom of thought or action; (2) one who lives and operates by liberal principles.
OK.  These are the dictionary definitions taken from Webster's Twentieth Century Unabridged.
Now, let's have a look at what Jesus said and did; and I'll pose some questions.
John 10:10:"The thief cometh not, but for to steal, and to kill, and to destroy: I am come that they might have life, and that they might have it more abundantly."
Question.  Is that the statement of a conservative or a liberal?
Let's try the next verse.  John 10:11 says, "I am the good shepherd: the good shepherd giveth his life for the sheep.  But he that is an hireling, and not the shepherd, whose own the sheep are not, seeth the wolf coming, and leaveth the sheep, and fleeth: and the wolf catcheth them, and scattereth the sheep."
Question.  Does this sound like someone who has a liberal mindset?  The hireling who flees rather than putting his life on the line: is he a conservative?
By now -- and we've only gotten started -- I wouldn't be surprised if I had a few thousand angry looks at me from folks who consider themselves "conservative."  But we've only just begun.  Bear with me, folks.
Luke 4:18-19: The Spirit of the Lord is upon me, because he hath anointed me to preach the gospel (euangelion -- angelic tidings, good news)to the poor(ptochos -- beggar, pauper, public mendicancy); he hath sent me to heal the brokenhearted, to preach deliverance to the captives, and recovering of sight to the blind, to set at liberty them that are bruised, To preach the acceptable year of the Lord."
Oops!  Wait a minute!  "He hath sent me to preach the good news and angelic tidings to those who are poor and on public assistance"?  If I read that right, Jesus came to preach provision to those who were living in poverty and on public assistance.  The GOSPEL was the provision, NOT money.  Those who were on public assistance were living in poverty and in bondage to the government, with the government as their source of supply instead of the Lord God.
So what was the good news Jesus preached?  You can be free of the system.  You can be free of your dependence on government as your source.  You can be free of poverty and live an abundant life.
Sounds like a liberal to me!  Are you still with me?
But Jesus didn't come to hand out money, and He sure didn't come preaching taxation so that Rome would have more money to dispense for its social programs; He came to provide folks with a means to be free from the curse that had come upon the earth because of Adam's sin.  Part of that curse was that folks would have to scratch for a living.
Take a quick look at the beginnings of the curse that came upon the earth.  "And unto Adam he said, Because thou hast hearkened unto the voice of thy wife, and hast eaten of the tree, of which I commanded thee, saying,
"Thou shalt not eat of it: cursed is the ground for thy sake; in sorrow shalt thou eat of it all the days of thy life; Thorns also and thistles shall it bring forth to thee; and thou shalt eat the herb of the field; In the sweat of thy face shalt thou eat bread, till thou return unto the ground; for out of it wast thou taken: for dust thou art, and unto dust shalt thou return."
You see it don't you?  Adam and Eve had never had to work for a living prior to their eviction from the Garden.  In the midst of their daily walk with God, they lacked for nothing, nothing was broken, and nothing was missing -- in any area of their lives.
Yup.  Jesus came preaching deliverance to the captives -- and that includes deliverance from the curse.  He didn't come preaching that everyone was going to become an instant millionaire, but what He did preach was abundance -- in every area of life -- liberality, giving (NOT taking), sharing out of agape love, putting one's life on the line for his brother (or sister).
In Luke 6:38, Jesus says, "Give, and it shall be given unto you; good measure, pressed down, and shaken together, and running over, shall men give into your bosom. For with the same measure that ye mete withal it shall be measured to you again."
'Scuse my bad English, but that don't sound like "conservative" to me!
A couple of the Webster's Dictionary definitions of "conservative" are:tending to preserve old institutions, methods, customs and the like; and, adhering to what is old or established; opposing or resisting change.
But listen to what Jesus said.
"Think not that I am come to destroy the law, or the prophets: I am not come to destroy, but to fulfil."  That word "fulfil" is translated from the Greek, pleroo, which means: to make replete, to furnish, satisfy and bring to completion.
Is there anything in that which "preserves old institutions"?  Does Jesus' fulfillment of the Law mean that He was "adhering to what is old and established"?
Well, let's see what He had to see about traditions and old institutions, methods and customs.
This is an episode during Jesus' ministry when the Scribes and Pharisees came asking why His disciples didn't wash their hands before eating as the Law commanded.
Matthew 15:2-9:"Then came to Jesus scribes and Pharisees, which were of Jerusalem, saying, Why do thy disciples transgress the tradition of the elders? for they wash not their hands when they eat bread.  But he answered and said unto them, Why do ye also transgress the commandment of God by your tradition?
"For God commanded, saying, Honour thy father and mother: and, He that curseth father or mother, let him die the death.  But ye say, Whosoever shall say to his father or his mother, It is a gift, by whatsoever thou mightest be profited by me; And honour not his father or his mother, he shall be free.
"Thus have ye made the commandment of God of none effect by your tradition.  Ye hypocrites, well did Esaias prophesy of you, saying, This people draweth nigh unto me with their mouth, and honoureth me with their lips; but their heart is far from me.  But in vain they do worship me, teaching for doctrines the commandments of men."
Doesn't sound much like Jesus appreciated their traditions, does it?  Still think Jesus was a "conservative"?
We might come back to some of the things that Jesus said and did, but let's take a quick look at some of the things that Paul said as he preached the Gospel of Jesus Christ?
II Corinthians 4:15: "For all things are for your sakes, that the abundant grace might through the thanksgiving of many redound to the glory of God." 
II Corinthians 9:6-7: "But this I say, He which soweth sparingly shall reap also sparingly; and he which soweth bountifully shall reap also bountifully.  Every man according as he purposeth in his heart, so let him give; not grudgingly, or of necessity: for God loveth a cheerful giver."
II Corinthians 9:8-10: "And God is able to make all grace abound toward you; that ye, always having all sufficiency in all things, may abound to every good work: (As it is written, He hath dispersed abroad; he hath given to the poor: his righteousness remainethfor ever.  Now he that ministereth seed to the sower both minister bread for your food, and multiply your seed sown, and increase the fruits of your righteousness.)"
Ummm......Helllllooooo? Can someone please tell me where "conservative" fits into any of this?  "God is able to make all grace abound toward you."  ALL grace?  None missing, none broken?  ALL grace?
And how about this?  "That ye, ALWAYS having ALL SUFFICIENCY in ALL THINGS, may abound to EVERY good work."  Sure.  That sounds like "conservative."  Riiiiiiigghhhhttt!!!!  NOT!!!
So how is it then, that Christians have somehow gotten this cockamamie idea that Christianity represents "conservatism" and "conservative thought"?  (I'll answer this shortly.)
We continue with some of what Paul wrote. 
II Corinthians 12:15: "And I will very gladly spend and be spent for you; though the more abundantly I love you, the less I be loved."
Ephesians 3:20: "Now unto him that is able to do exceeding abundantly above all that we ask or think, according to the power that worketh in us, Unto him be glory in the church by Christ Jesus throughout all ages, world without end.  Amen."
Well, here we go again!  "Able to do exceeding abundantly above all that we ask or think"?  EXCEEDING ABUNDANTLY?  ABOVE ALL WE ASK OR THINK?
Philippians 2:5-7:"Let this mind be in you, which was also in Christ Jesus: Who, being in the form of God, thought it not robbery to be equal with God: But made himself of no reputation, and took upon him the form of a servant, and was made in the likeness of men."
Philippians 4:19: "But my God shall supply all your need according to his riches in glory by Christ Jesus."
Now that I've given you a peek into some of the things that Jesus said and did, and the things that Paul preached concerning the Gospel, we need to understand why the body of Christ has become "conservative" -- at least by contemporary definition, and why the so-called "left" in society is called "liberal."
On second thought, I think I'll leave that discussion for Wednesday.  See you then.  Meanwhile have a fabulous day!
What you have today is what you said yesterday.
In case you are missing out on real fellowship in an environment of Ekklesia, our Sunday worship gatherings are available by conference call – usually at about 10:30AM Pacific.  That conference number is (712) 770-4160, and the access code is 308640#.  We are now making these gatherings available on video usingZOOM.  If you wish to participate by video on ZOOM, our login ID is 835-926-513.  If you miss the live voice-onlycall, you can dial (712) 770-4169, enter the same access code and listen in later.  The video call, of course, is not recorded – not yet, anyway.
Blessings on you!
Regner
Regner A. Capener
CAPENER MINISTRIES
RIVER WORSHIP CENTER
Temple, Texas 76502
Email Contact: CapenerMinistries@protonmail.com
All Coffee Break articles are copyright by Regner A. Capener, but authorization for reprinting, reposting, copying or re-use, in whole or in part, is granted –provided proper attribution and this notice are included intact. Older Coffee Break archives are available . Coffee Break articles are normally published weekly.

If you would like to have these articles arrive each morning in your email, please send a blank email to: AnotherCoffeeBreak@protonmail.com with the word, "Subscribe" in the subject line.  To remove yourself from the mailing list, please send a blank email to AnotherCoffeeBreak@protonmail.com with the word "Unsubscribe" in the subject line.
CAPENER MINISTRIES is a tax-exempt church ministry. Should you desire to participate and covenant with us as partners in this ministry, please contact us at either of the above email or physical addresses, or visit: http://www.RiverWorshipCenter.org.